This chicken quesadilla is loaded with all kinds of goodness and the flavor combo is so good. You can also make it as simple as you like!!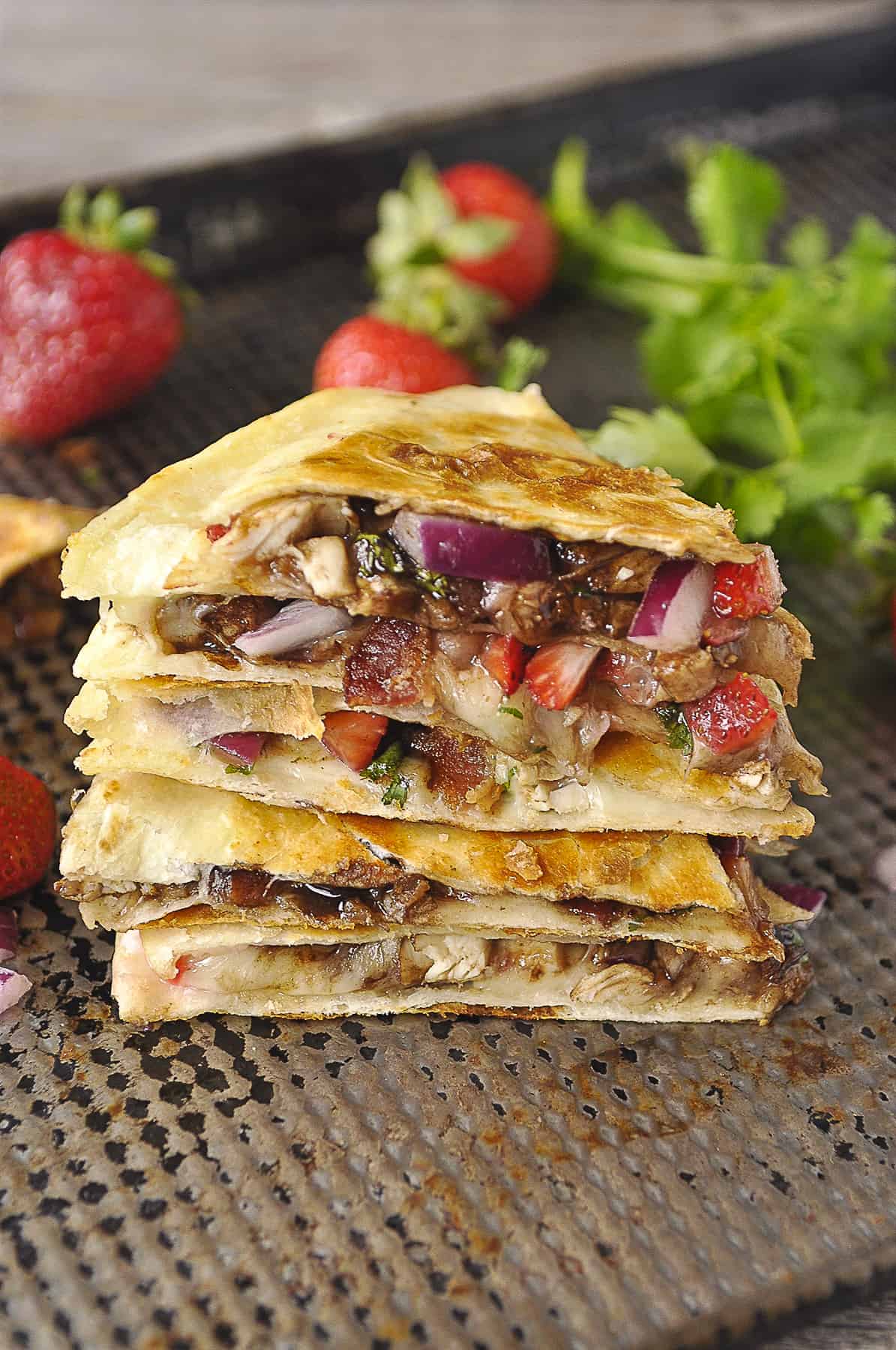 Why You'll Love This Recipe!
The flavor is incredible! I am a huge fan of balsamic vinegar. I pour it over everything and I have even been known to eat it straight off the spoon. The combination of strawberries and balsamic in this recipe is amazing. It may just be the best chicken quesadilla you have ever had!
Keep it simple. You can also make this chicken quesadilla as plain as you'd like, leave out the strawberry, red onion, bacon and the balsamic if you prefer.
What Is a Quesadilla?
A quesadilla is a traditional Mexican dish that is made with a tortilla topped with cheese (and often other ingredients, such as meat and veggies) with another tortilla on top. It's cooked on a griddle or stove.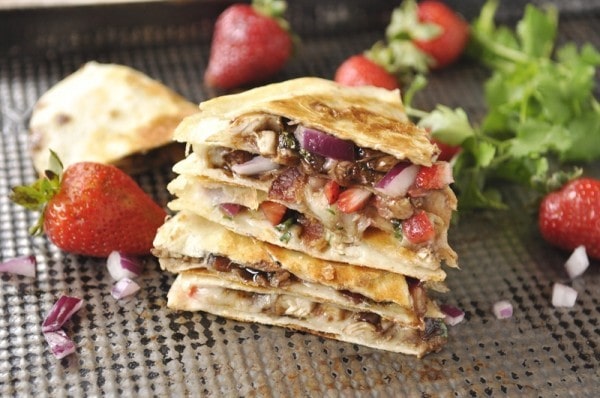 Ingredients Needed
Flour Tortillas. If you prefer you can also use corn tortillas. I like to use the burrito size tortillas for a nice big quesadilla.
Chicken Breast. I find that shredded chicken works best. See FAQ box below for different ways to make shredded chicken. You can also use also cooked ground beef, leftover diced steak, or pork.
Red Onion
Cilantro
Strawberries
Balsamic Vinegar
Mozzarella Cheese. You can also use cheddar, Monterey Jack Cheese, CoJack, Pepper-jack or a combination of your favorited shredded cheese. You want a good melty cheese.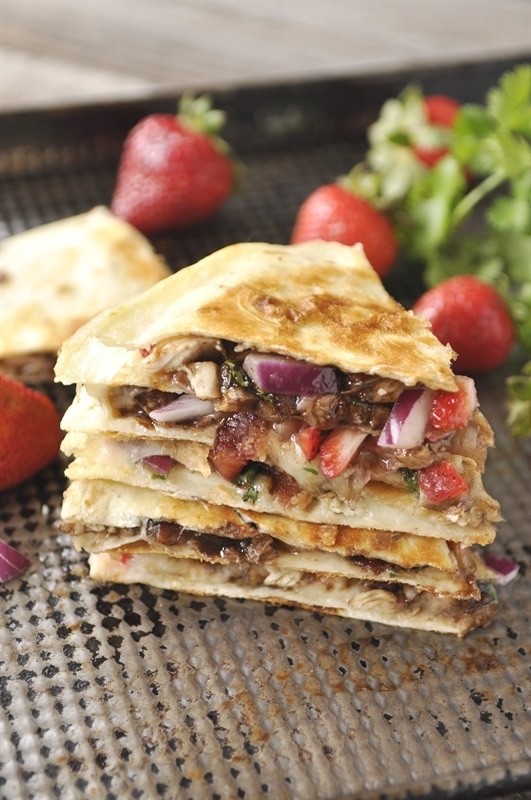 How to Make A Chicken Quesadilla
Layer chicken, diced strawberries, chopped red onion and cilantro on a large burrito size flour tortilla.
Drizzle with your favorite balsamic vinegar.
Top with shredded mozzarella and top with another flour tortilla.
Melt a tablespoon of butter in a frying pan or cast iron skillet.
Place filled quesadilla into pan and cook on medium heat.
Flip to the second side once the bottom tortilla is golden brown.
To help the cheese melt faster, place a lid on your frying pan.
Slice and serve.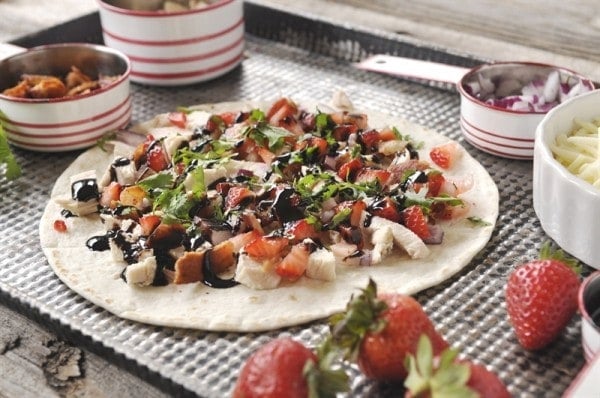 Serve a Chicken Quesadilla with:
Sour Cream
cilantro
Pico de Gallo
Frequently Asked Questions
What else can I put in my chicken quesadilla?
You can add in chopped bell peppers, other meats, taco seasoning and really anything you can think of! It's a great way to use up leftover ingredients in your refrigerator!
How do I store leftover chicken quesadillas?
Store any leftover chicken quesadillas in an airtight container in the refrigerator for up to four days. Reheat the quesadillas on the stove for the best results, but you can also reheat them in the oven or in the microwave.Answer 2.
What is the best way to reheat a quesadilla?
You can reheat it in a skillet on the stovetop on medium until the cheese is heated through. Turn it once during cooking time.
You can also reheat in the microwave. Heat in 30 second increments.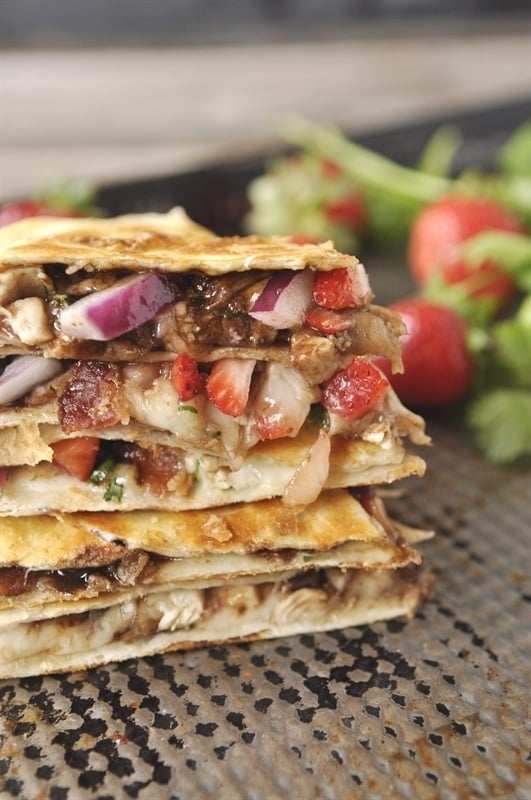 How To Make Shredded Chicken
You can also make your own shredded chicken instead of using a rotisserie chicken.
Microwave. This method is quick and easy and takes about 10 minutes depending on the size of your chicken breasts. Depending on the size of your microwave you can do 2-3 chicken breasts at a time. Find all the details here.
Slow Cooker. If you have time, the slow cooker makes a moist and tender shredded chicken. It takes about four hours on low. If I have to make a large batch of shredded chicken this is the perfect way. Find all the details here.
Instant Pot. This is another great method and I usually do about 6 boneless, skinless chicken breasts at a time. It will take about a total of 45 minutes. Find all the details here.
The sweetness of the balsamic vinegar and the strawberries with the other ingredients is pretty divine!
Try some of these delicious recipes: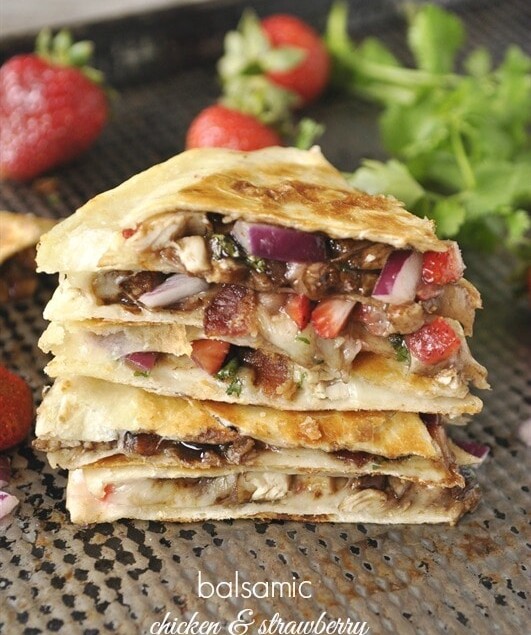 Balsamic Chicken & Strawberry Quesadilla
This unusual flavor combination makes for an unforgettable meal. Balsamic Strawberry and Chicken Quesadillas is just the flavor you didn't know you needed!
Ingredients
4 flour tortillas
2 slices of bacon cooked and crumbled
2 Tbsp red onion diced
3 Tbsp balsamic vinegar
1 cup Mozzarella cheese
2 Tbsp cilantro chopped
1 cup chicken cooked and diced or shredded
4 strawberries diced small
2 Tbsp. butter
Instructions
Layer on top of one tortilla 1/2 of the chicken, strawberries, bacon, onion and cilantro

Drizzle with desired amount of balsamic vinegar

Top with 1/2 of the cheese

Cover with second tortilla

Melt 1 Tbsp of butter in frying pan

Add quesadilla and cook until golden brown and then flip and cook other side until golden brown and cheese is melted.
Tips & Notes:
You can reheat it in a skillet on the stovetop on medium until the cheese is heated through. Turn it once during cooking time.
You can also reheat in the microwave. Heat in 30 second increments.
Nutrition Facts:
Calories: 304kcal (15%) Carbohydrates: 19g (6%) Protein: 14g (28%) Fat: 19g (29%) Saturated Fat: 9g (56%) Cholesterol: 59mg (20%) Sodium: 457mg (20%) Potassium: 152mg (4%) Fiber: 1g (4%) Sugar: 4g (4%) Vitamin A: 425IU (9%) Vitamin C: 7.8mg (9%) Calcium: 180mg (18%) Iron: 1.5mg (8%)
* Disclaimer: All nutrition information are estimates only. Read full disclosure here.