You are going to find yourself making Instant Pot Korean BBQ Beef Bowl with Yum Yum Sauce over and over again! So easy and delicious!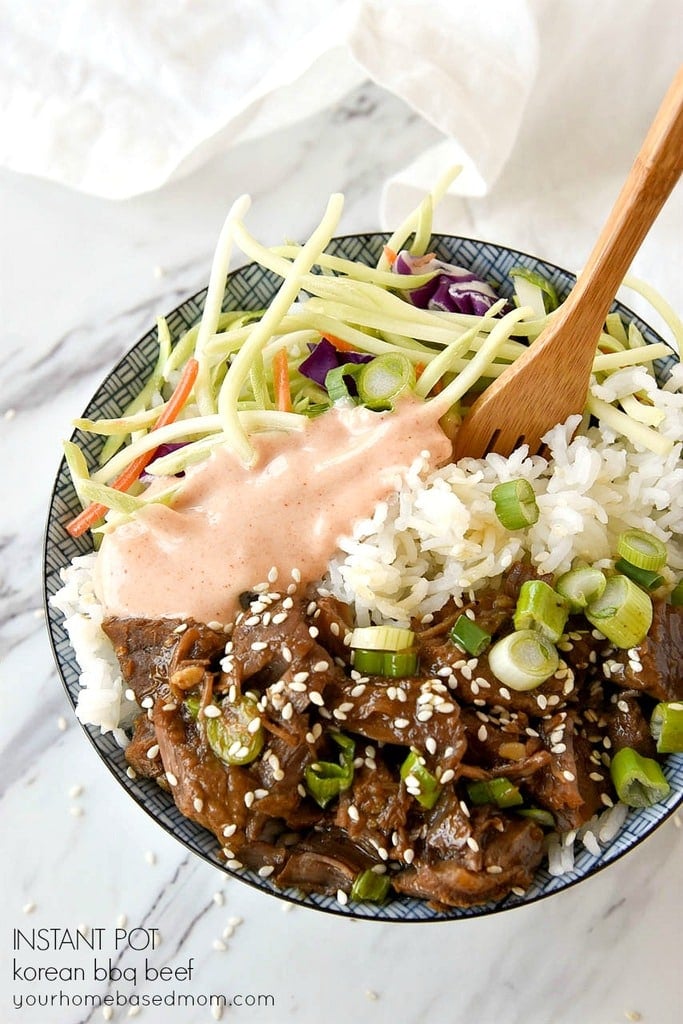 There are so many things I love about this Instant Pot Korean BBQ Beef. First of all, it's easy and uses the Instant Pot. Second, the flavor is crazy good. And third, you can use the beef in lots of different ways such as tacos, by itself or in rice bowl. Finally, the yum yum sauce is amazing!!
And if you don't have an Instant Pot, don't worry! I have included directions on how to make Korean BBQ Beef in your crockpot. Just check out the recipe below!
How to Make Korean BBQ Beef
I used sirloin steak for these Korean BBQ Beef Bowls. You will want to slice the meat into 1/4 inch thick slices. Then put them into the Instant Pot along with a mixture of soy sauce, brown, sugar, garlic, vinegar, ginger, sesame oil and a little heat from some chile-garlic sauce. Cook it on High Pressure for 15 minutes with a 10 minute natural release.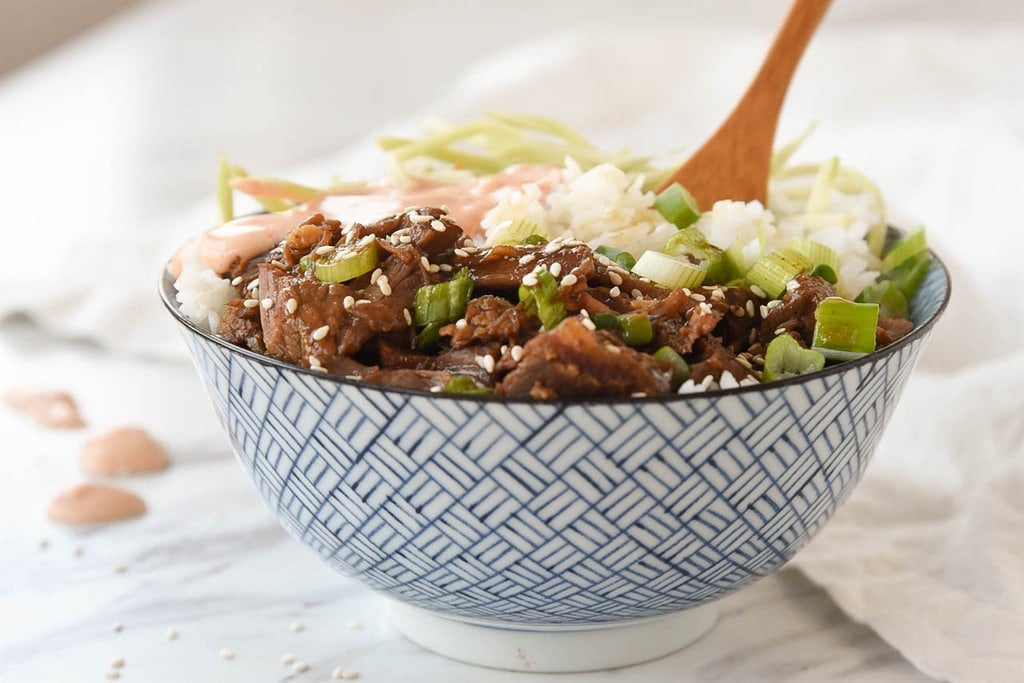 If you are loving your Instant Pot as much as I am, be sure and check out all my Instant Pot recipes.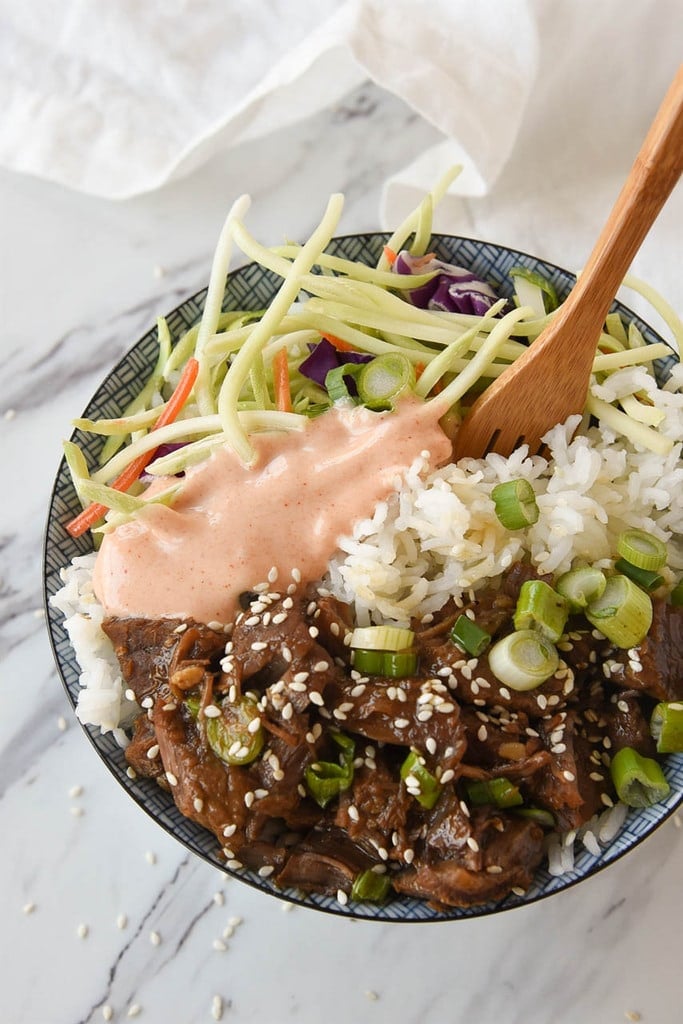 While the beef is cooking, use that time to mix up your Yum Yum Sauce. The flavor in the beef is delicious, but the Yum Yum Sauce takes it off the charts on the delicious scale! The Yum Yum Sauce is mayo based with lots of seasoning. Don't skip this part!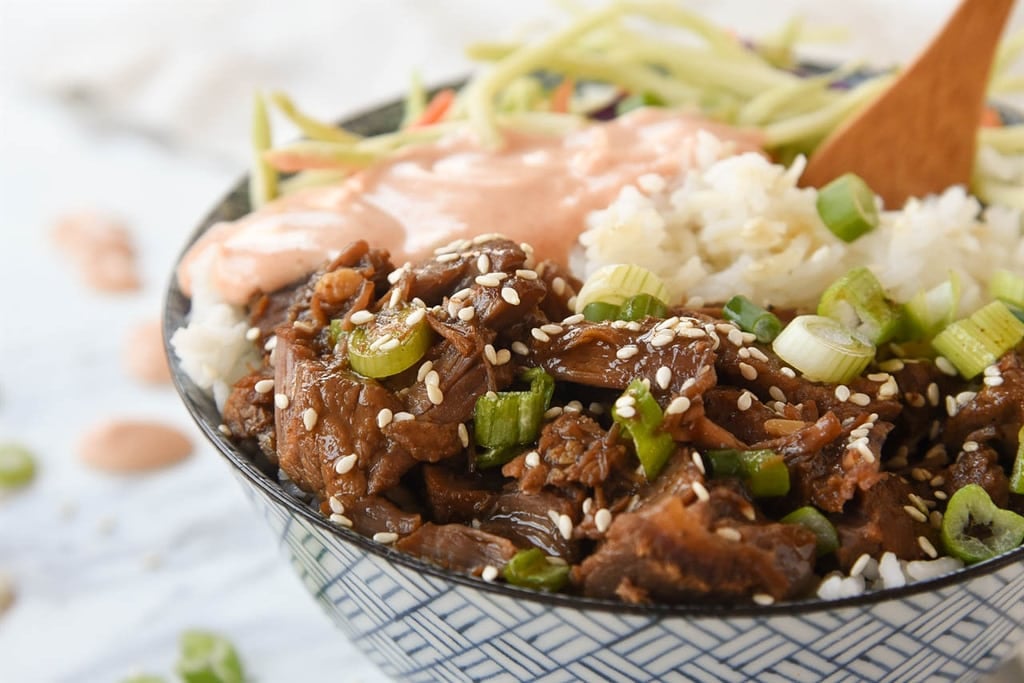 My favorite way to serve it is over rice with a side of broccoli slaw, a garnish of sesame seeds and green onions and lots and lots of Yum Yum Sauce!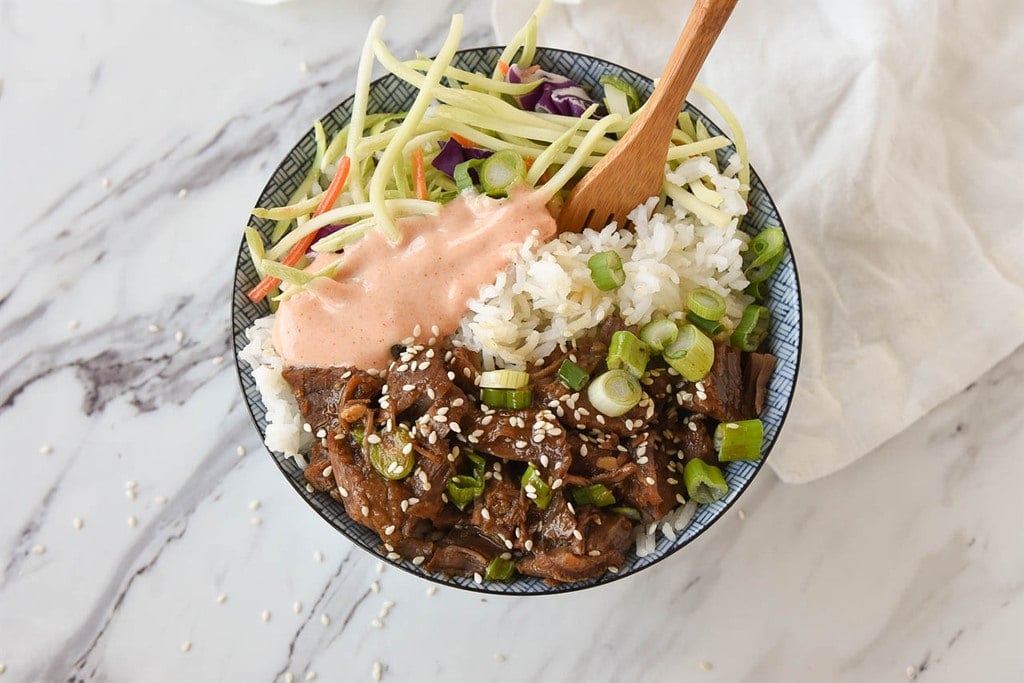 This is the perfect weeknight meal that keeps giving and giving. Make rice bowls tonight and then tomorrow make yourself some delicious Korean BBQ Beef Tacos. Add the broccoli slaw into the tacos too for some yummy crunch. Don't forget to add the Yum Yum Sauce to the tacos too. I prefer to use corn tortillas for the tacos.
Check out more of my Instant Pot Recipes:
Check out all my other Instant Recipes here!
Some of my favorite kitchen tools to make INSTANT POT KOREAN BBQ BEEF:
INSTANT POT – This 6 qt electric pressure cooker helps cook dinner quicker and easier! Has 7 different functions.
RICE COOKER – This 8 cup rice cooker is the perfect size. You get perfect rice every time.
Instant Pot Korean BBQ Recipe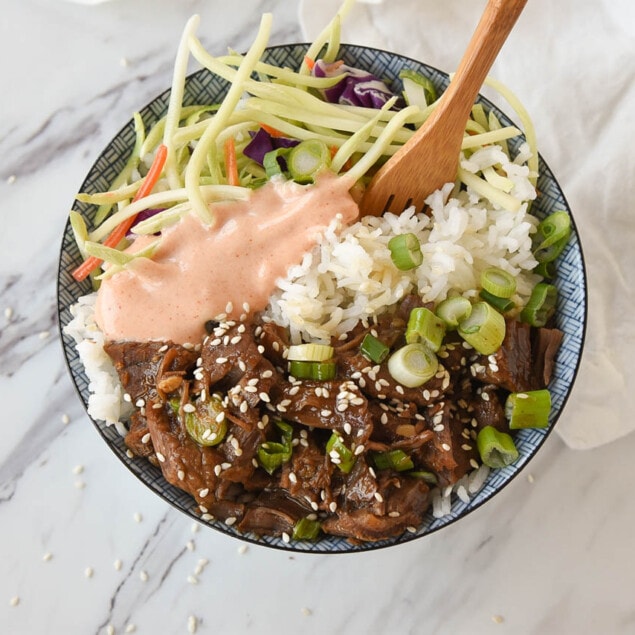 Korean BBQ Beef Bowls with Yum Yum Sauce
Delicious Korean BBQ made in the instant pot and served over rice with Yum Yum Sauce.
Ingredients
2 lbs sirloin steak sliced 1/4″ thick
1/2 cup soy sauce
3/4 cup dark brown sugar
1/4 cup water
3 Tbsp garlic minced
2 Tbsp rice wine vinegar
1 tsp ginger minced
1 Tbsp sesame oil
1/2 – 1 tsp chile garlic sauce
1/2 tsp pepper
1 Tbsp cornstarch
1 Tbsp water
green onions and sesame seeds for garnish
Yum Yum Sauce
1 tsp tomato paste
1 Tbsp melted butter
1 tsp garlic powder
1 Tbsp rice vinegar
1 cup mayonnaise
2 tsp white sugar
1/4 tsp paprika
1/8 tsp cayenne
1/2 tsp salt
2 Tbsp water
Instructions
Mix together soy sauce, brown sugar, water, garlic, vinegar, ginger, sesame oil, chile garlic sauce and pepper in a sauce pan. Bring to a boil.

Mix together cornstarch and water and add into boiling mixture. Turn down heat and stir until thickens.

Place sliced meat into Instant Pot and cover with sauce

Cook in Instant Pot on Manual High Pressure for 15 minutes. Do a 10 minute Natural Release.

Serve over rice with a side of broccoli salad, garnish of green onion and sesame seeds and lots of Yum Yum Sauce
Yum Yum Sauce
Mix together all ingredients. Cover and refrigerate over night. I think it tastes better the next day.
Slow Cooker Directions
Mix together soy sauce, brown sugar, water, garlic, vinegar, ginger, sesame oil, chile garlic sauce and pepper in a bowl. Add meat and sauce to slow cooker. Stir to coat. Cook on low for 4-5 hours or high for 2-3 hours. If sauce needs thickening, mix water and cornstarch together and add into crockpot the last 30 minutes of cook time. Make Yum Yum sauce as directed
Nutrition Facts:
Calories: 474kcal (24%) Carbohydrates: 25g (8%) Protein: 26g (52%) Fat: 29g (45%) Saturated Fat: 6g (38%) Cholesterol: 84mg (28%) Sodium: 945mg (41%) Potassium: 473mg (14%) Sugar: 21g (23%) Vitamin A: 120IU (2%) Vitamin C: 1.1mg (1%) Calcium: 59mg (6%) Iron: 2.4mg (13%)
* Disclaimer: All nutrition information are estimates only. Read full disclosure here.