Now I can make one of my favorite things to eat in NYC at home with this Halal Chicken and Rice recipe.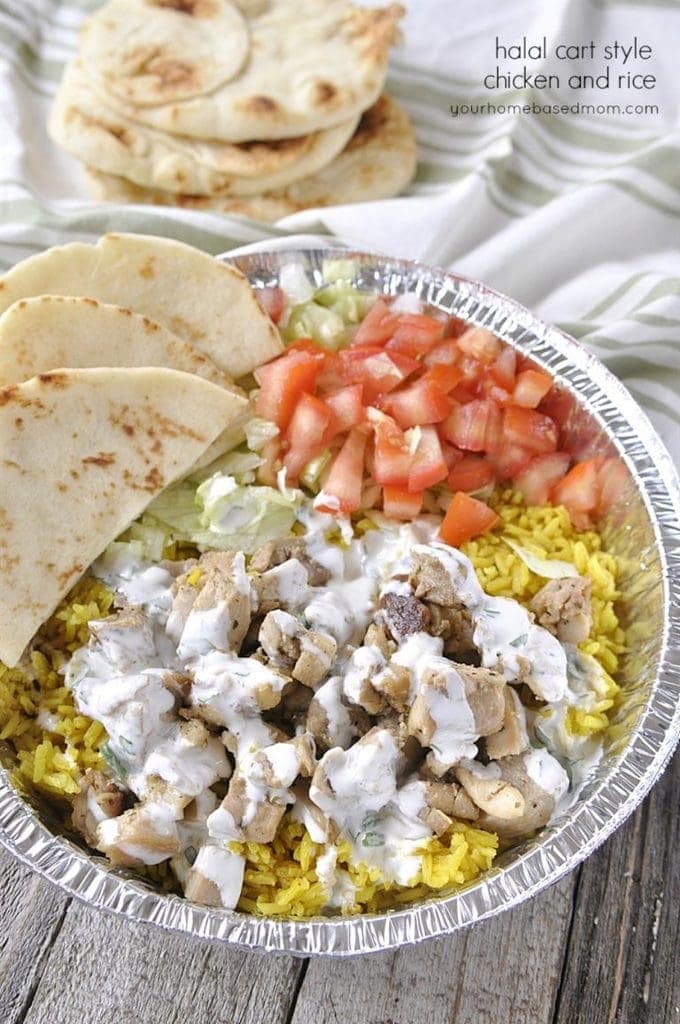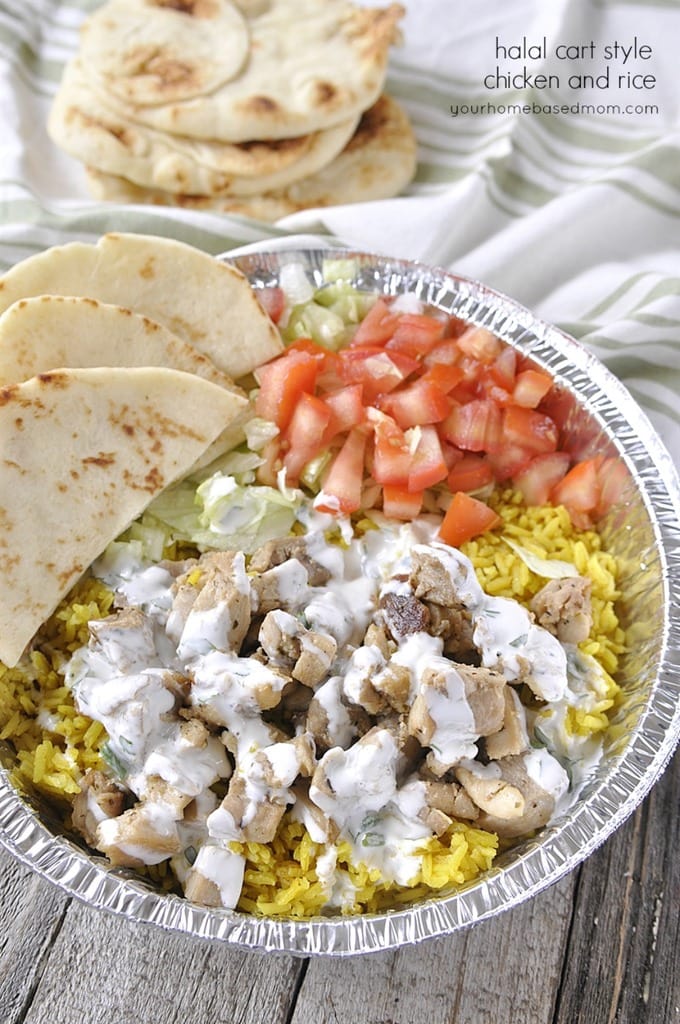 I think I can actually use the word giddy to describe the way I felt when I tried today's recipe!  I've shared a lot of recipes with you here over the years, over 2,000, and today's recipe has to rate up there in the top ten for the "most excited to share with you" award!!
This last year I've made quite a few trips to NYC to visit my daughter.  And I have shared those adventures here on the blog with you, including my favorite places to eat in NYC.
One of my favorite places to eat in New York City is a food cart – the Halal Guys.  And eat there every time I go.  You will see Halal food carts all over the city but they are not all created equally.  Tessa assured us we had to visit the one just across the street from the museum at 53rd and 6th.  It is just down the street from Radio City Music Hall and Rockefeller Center.  I fell in love and crave it non stop when I'm home in Portland.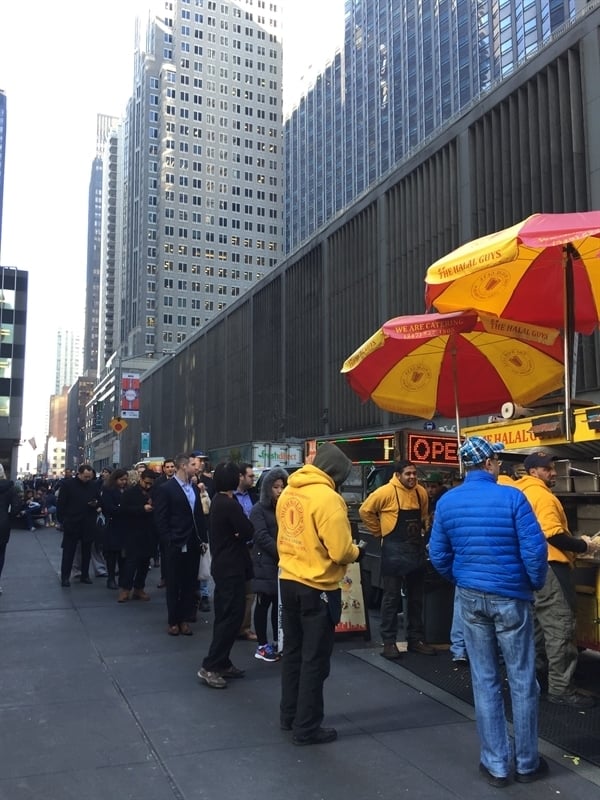 But now, with this recipe, I can make it at home and enjoy it anytime the craving hits!!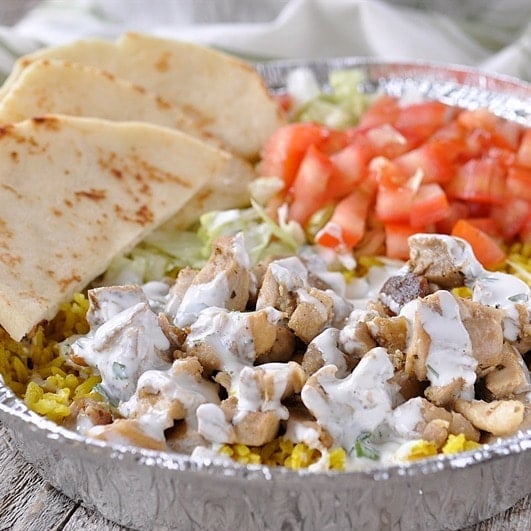 When I came across the recipe on Serious Eats I couldn't wait to make it.  So I headed right to the store to buy the ingredients I needed and had it for dinner that night.  It was just as good as I remembered.  I even had to serve it in a foil cake pan like they do in NYC.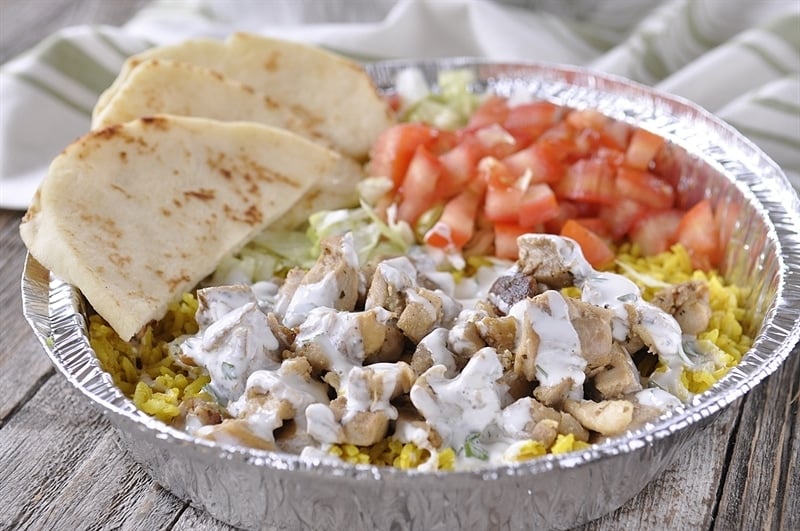 How to Make Halal Chicken
You start by marinading your chicken.  I used boneless, skinless chicken thighs but if you are opposed to thigh meat use chicken breasts instead.  The chicken is marinaded in a combination of lemon juice, oregano, coriander, garlic and salt and pepper. Be sure and set some of the marinade aside to add back into the cooked chicken later.
After the chicken marinates for a few hours I cooked it in my cast iron pan and then chopped it up. Add in that reserved marinade and any drippings in the pan to the chopped meat.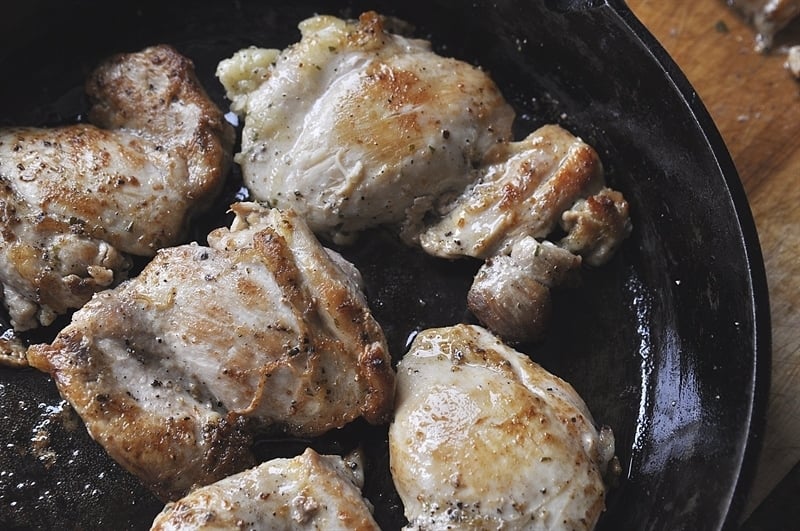 The rice is also an important part of the whole experience.  It is made with turmeric and cumin.  If turmeric is a spice you don't usually have on hand, go buy some or borrow from a neighbor.  It gives the rice that pretty yellow color and some good flavor.  You toast the rice in the spices until it is lightly toasted.
But the crowning glory of this dish is the white sauce – YOU MUST HAVE THE WHITE SAUCE!  The white sauce is made with mayo, greek yogurt, sugar, vinegar, lemon juice and parsley and you are going to want to eat it by the spoonfuls, all by itself!!
In addition to the rice and white sauce, add in some chopped lettuce and tomato and of course a side of naan bread.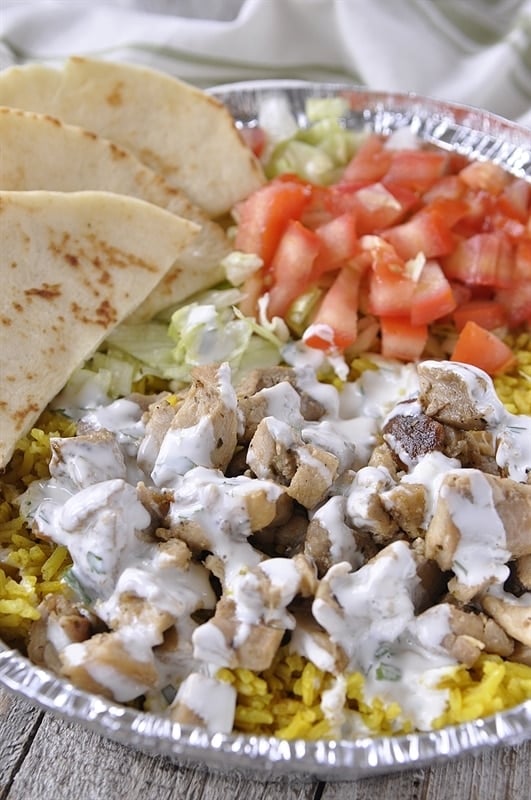 Have I conveyed to you how much I love this stuff – it is seriously the best!  Head to the store now, don't stop, make this for dinner, thank me later!
Halal Chicken Recipe
Halal Chicken and Rice
Delicious Halal Chicken and Rice, just like you would buy at your favorite cart in New York City.
Ingredients
Chicken
2 tablespoons lemon juice
1 tablespoon chopped fresh oregano
1/2 teaspoon ground coriander
3 garlic cloves roughly chopped (about 1 1/2 tablespoons)
1/4 cup light olive oil
Kosher salt and freshly ground black pepper
2 pounds boneless skinless chicken thighs, trimmed of excess fat (6 to 8 thighs)
1 tablespoon vegetable or canola oil
Rice
2 tablespoons butter
1/2 teaspoon turmeric
1/4 teaspoon ground cumin
1 1/2 cups long-grain or Basmati rice
2 1/2 cups chicken broth
Kosher salt and freshly ground black pepper
Sauce
1/2 cup mayonnaise
1/2 cup Greek yogurt
1 tablespoon sugar
2 tablespoons white vinegar
1 teaspoon lemon juice
1/4 cup chopped fresh parsley
Kosher salt and freshly ground black pepper
To serve:
1 head iceberg lettuce shredded
1 large tomato chopped
Pita bread or naan bread warmed
Instructions
Chicken:
Combine the lemon juice, oregano, coriander, garlic, and olive oil in a blender and blend until smooth and well combined.

Season the marinade to taste with salt and pepper.

Place the chicken in a 1-gallon zipper-lock bag and add half of the marinade (reserve the remaining marinade in the refrigerator).

Turn the chicken to coat, seal the bag, and marinate the chicken in the refrigerator for at least 1 hour and up to 4 hours, turning occasionally to redistribute the marinade Do not marinate for longer than 4 hours. If need to wait longer, remove chicken from mariade and pat dry and refrigerate until ready to use.

When ready to use, season with salt and pepper, going heavy on the pepper.

Heat the oil in a 12-inch heavy-bottomed cast iron or stainless-steel skillet over medium-high heat until it is lightly smoking.

Add the chicken pieces and cook without disturbing until they are lightly browned on the first side, about 4 minutes.Turn the chicken and reduce the heat to medium and cook until the chicken is cooked through and the center of each thigh registers 165°F. on an instant-read thermometer, about 6 minutes longer.

Transfer the chicken to a cutting board and allow to cool for 5 minutes.

Chop the chicken into 1/2- to 1/4-inch chunks. Transfer to a medium bowl, add the remaining marinade, cover loosely with plastic, and refrigerate while you cook the rice and prepare the sauce.
Rice:
Melt the butter over medium heat in a large heavy pan. Add the turmeric and cumin and cook until fragrant but not browned, about 1 minute. Add the rice and stir to coat.

Cook, stirring frequently, until the rice is lightly toasted, about 4 minutes.

Add the chicken broth. Season to taste with salt and pepper. Raise the heat to high and bring to a boil.

Cover, reduce to a simmer, and cook for 15 minutes without disturbing. Remove from the heat and allow to rest until the water is completely absorbed and the rice is tender, about 15 minutes.
Sauce
In a small bowl, combine the mayonnaise, yogurt, sugar, vinegar, lemon juice, parsley, Whisk to combine. Season to taste with salt and pepper. Refrigerate until ready to use.
To serve:
Return chicken, reserved marinade, and all pan juices to the skillet. Cook over medium-high heat, stirring occasionally, until heated through. To serve, divide the rice, lettuce, tomato, and toasted pita bread evenly among four to six plates. Pile the chicken on top of the rice. Top with the white sauce. Serve immediately. Have extra sauce on hand!
Nutrition Facts:
Calories: 668kcal (33%) Carbohydrates: 42g (14%) Protein: 39g (78%) Fat: 36g (55%) Saturated Fat: 9g (56%) Cholesterol: 113mg (38%) Sodium: 595mg (26%) Potassium: 750mg (21%) Fiber: 1g (4%) Sugar: 3g (3%) Vitamin A: 355IU (7%) Vitamin C: 12.9mg (16%) Calcium: 67mg (7%) Iron: 2.1mg (12%)
* Disclaimer: All nutrition information are estimates only. Read full disclosure here.