Nothing beats the smell of homemade bread fresh out of the oven. This Whole Wheat Bread not only smells amazing but the taste is fantastic.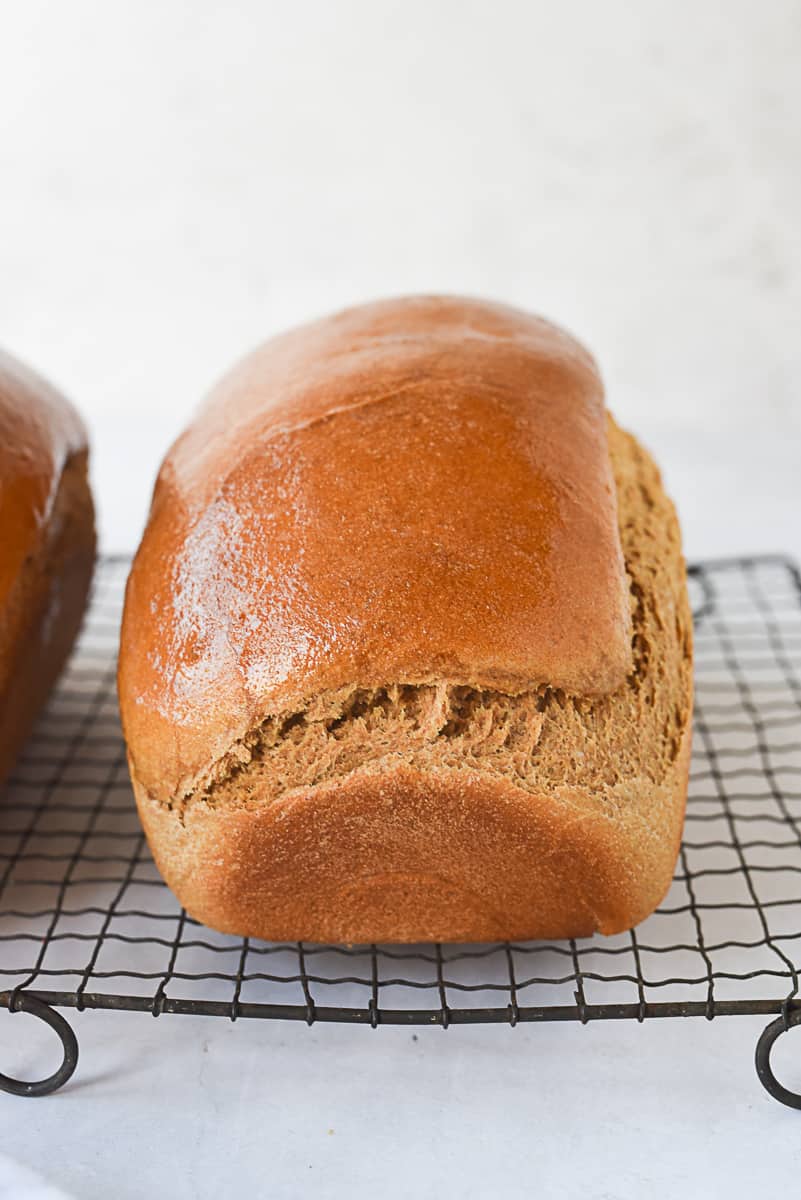 If you have never made whole wheat bread before this is a perfect recipe to start with. The raise time is 30-60 minutes the first rise and only 10 minutes for the second rise. You can have fresh homebaked bread in an hour and a half!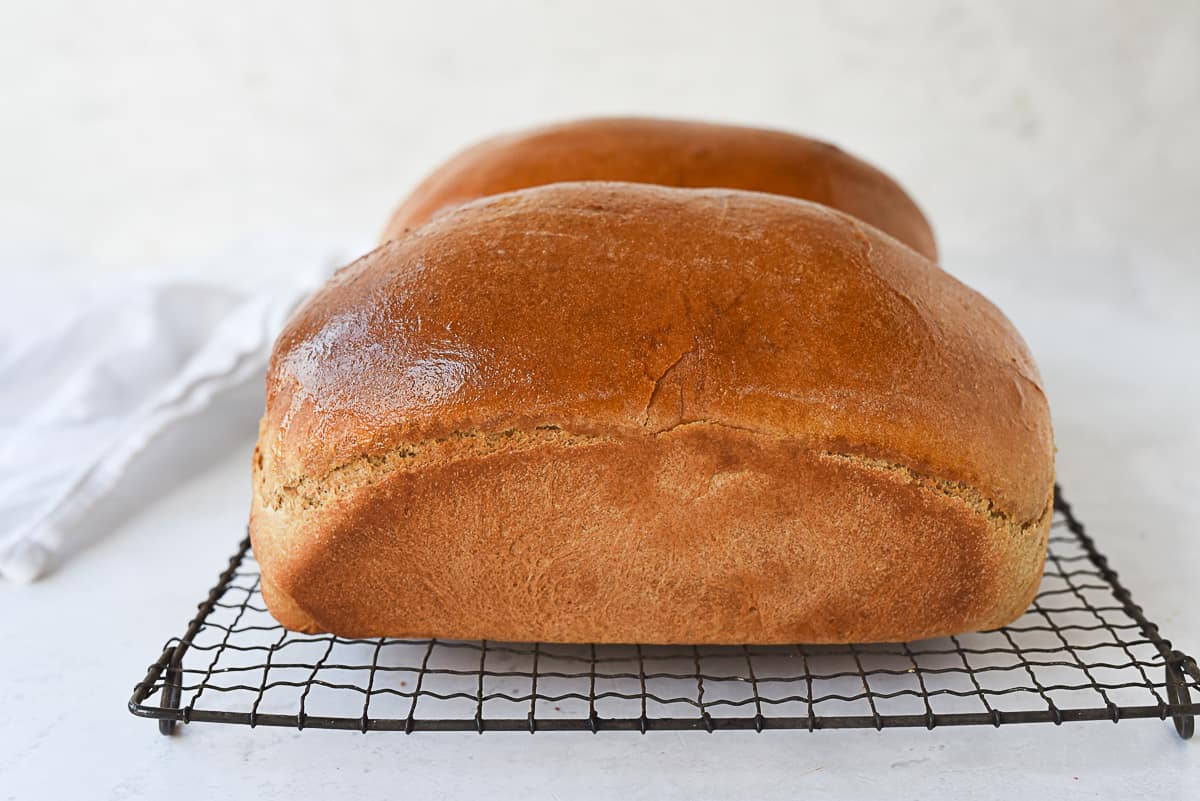 The Best Whole Wheat Flour for Bread
My friend who gave me this recipe uses freshly ground hard white wheat flour for the recipe. Hard white wheat has a higher gluten content and makes better bread. Even though it has the word "white" in its name, this flour is 100% whole wheat.
I used store bought flour. If you use flour you purchase at the grocery store, it will have settled and packed down in the packaging. To help keep the measurements more consistent, stir the store bought flour around to fluff it up before you measure it.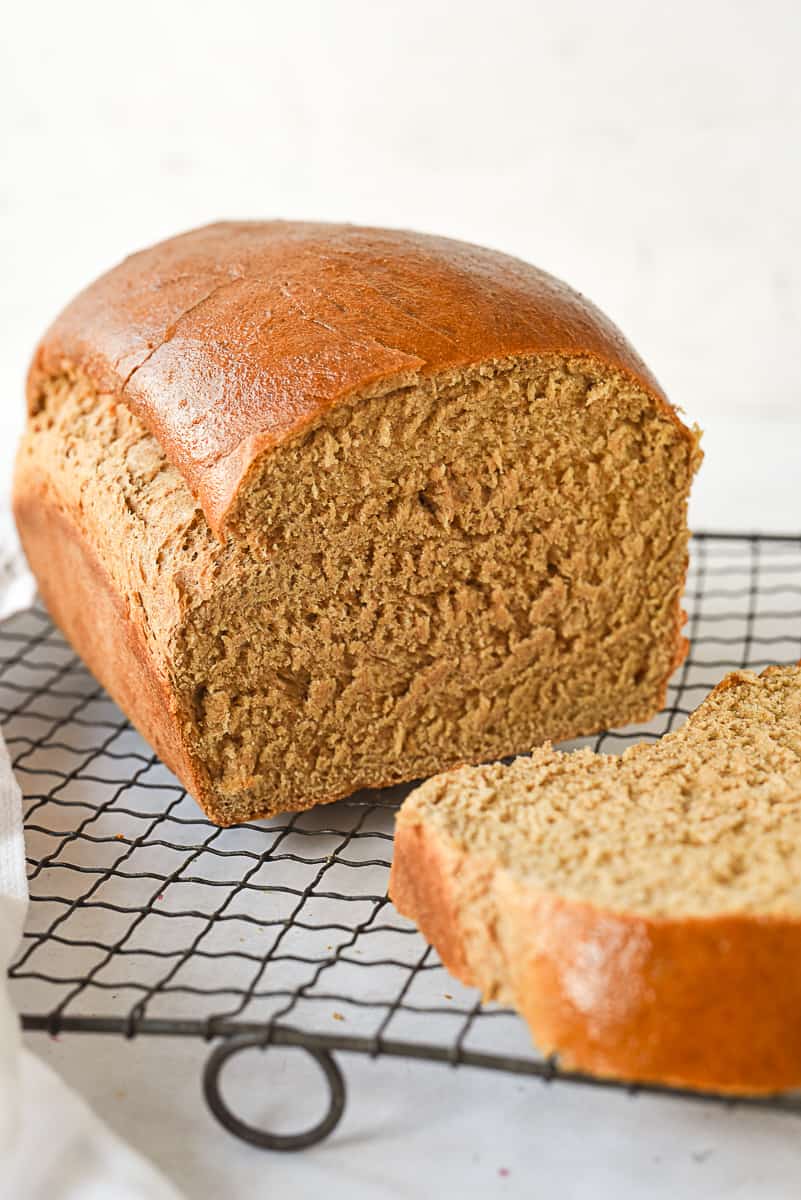 My favorite brand of store bought wheat flour is King Arthur's unbleached white whole wheat flour.
How to Make Whole Wheat Bread
Whole Wheat Bread can be a bit heavy but this recipe uses mostly whole wheat but also a small amount of all purpose flour which helps make it less heavy.
I use my stand mixer with the dough hook but this can also be done by hand.
Proof your yeast in 1 cup of water. Be sure your water temperature is between 105-110 degrees F.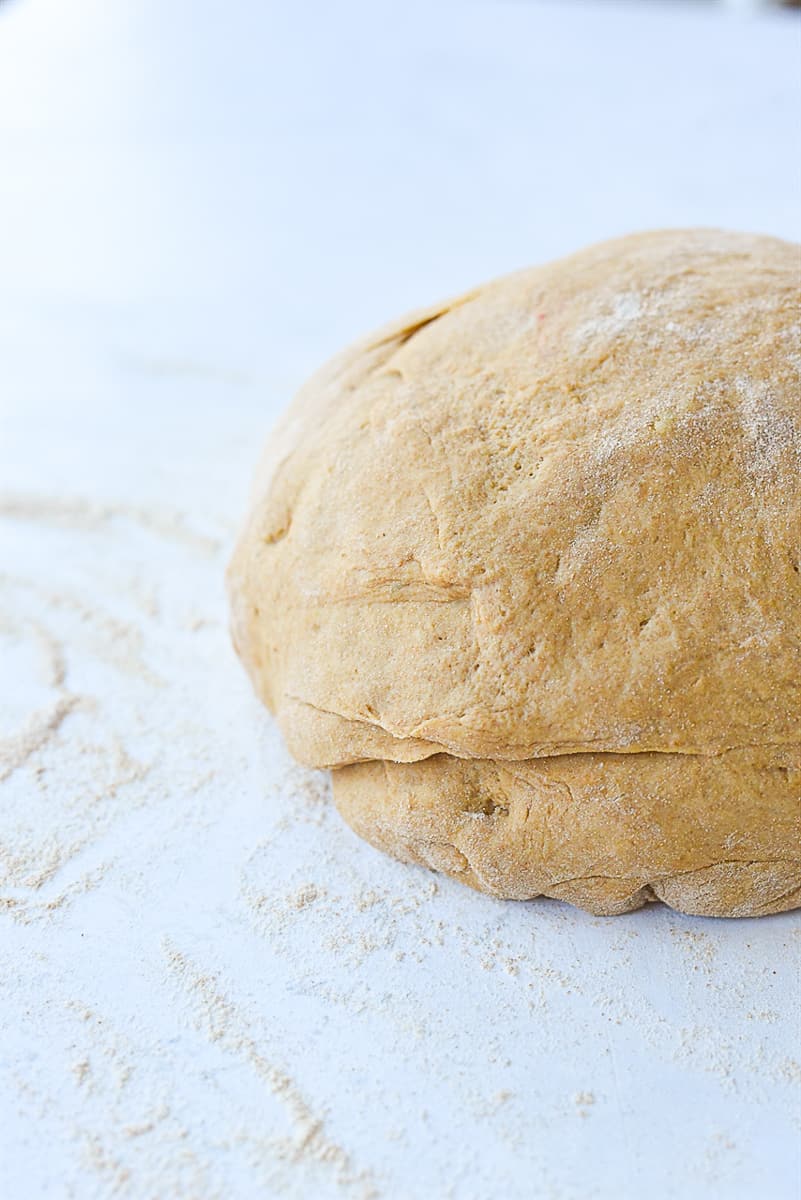 Add your ingredients into the bowl of the mixer, adding in yeast mixture. Don't add in all of your flour at one time, add it in a cup at a time. You may not need all of it.
Knead dough for about 5-10 minutes. Add additional flour as needed.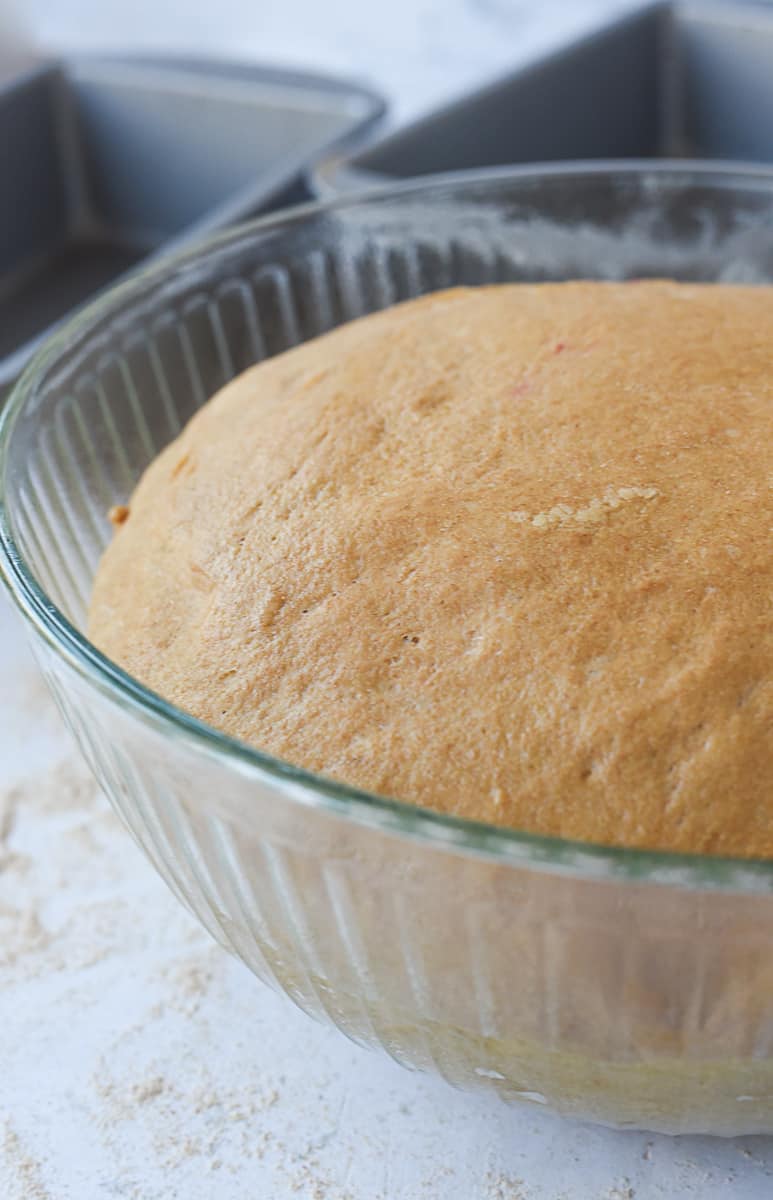 Dough will be smooth and pull away from the sides of the bowl when it is done.
Place dough in a greased bowl and cover with a towel. Let rise until double. It will take 30-60 minutes depending on the temperature of your house.
Cut dough in half using a bench scraper or knife.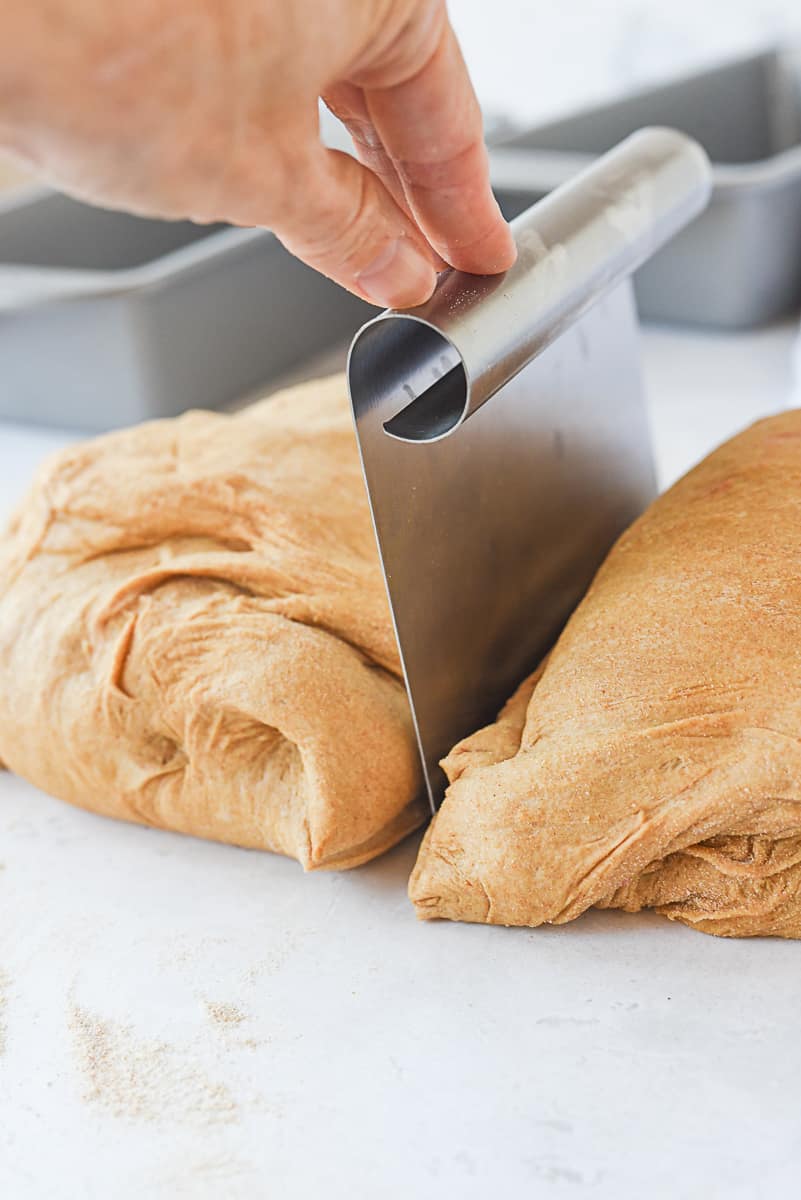 Form each half into a loaf and place in a greased 9 x 5 loaf pan. Cover and allow to rise for 10 more minutes. (yes, that's all)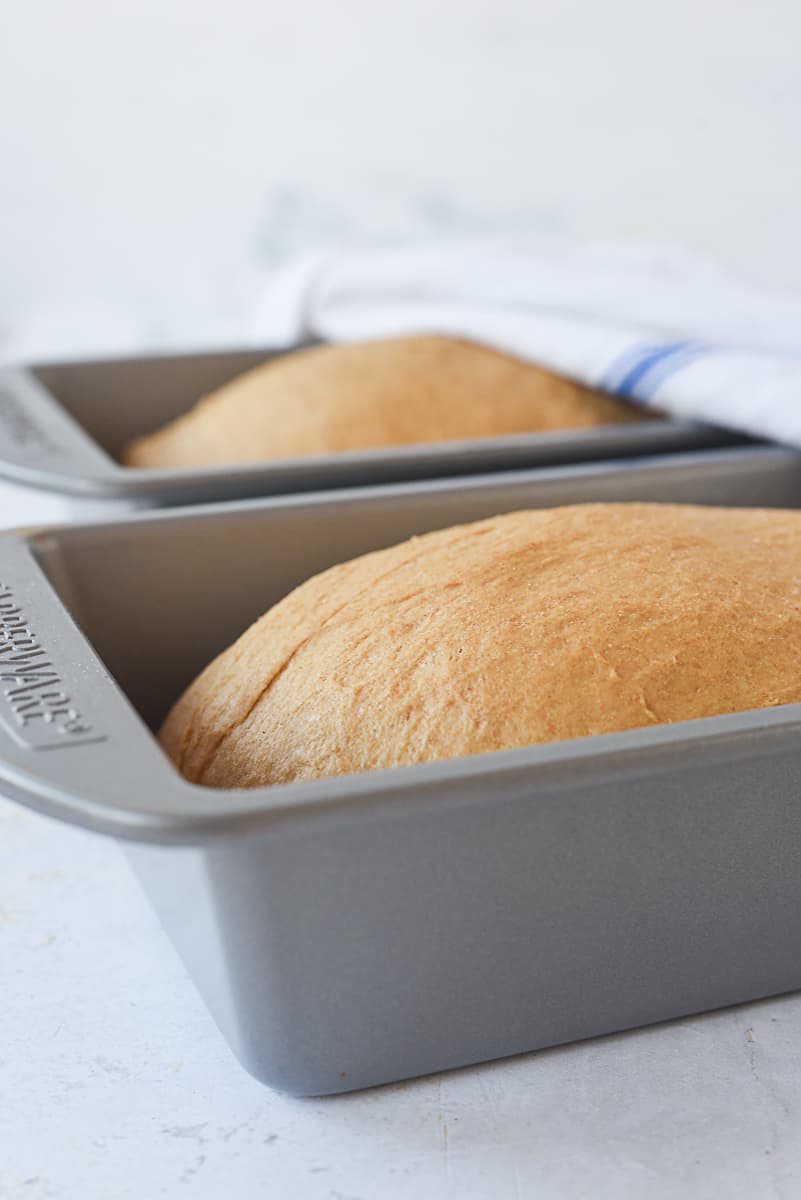 Baking Homemade Bread
Preheat oven to 375 degrees F. Bake bread for 30-35 minutes.
Remove from the oven and inhale that glorious smell!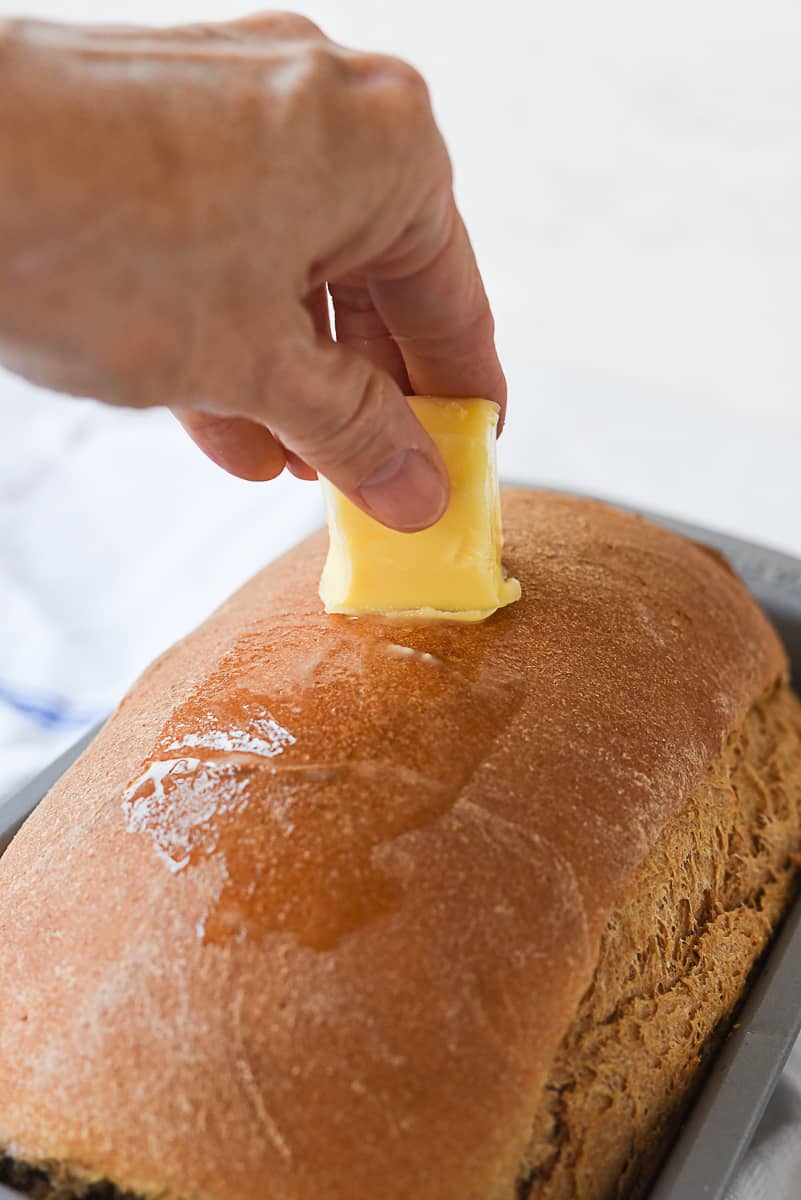 And of course the very best part is when this lovely loaf of whole wheat bread comes hot out of the oven! Rub the top of the warm loaf with some butter to give it a nice shine. It smells amazing.
Allow the bread to cool, out of the pan, on a cooling rack.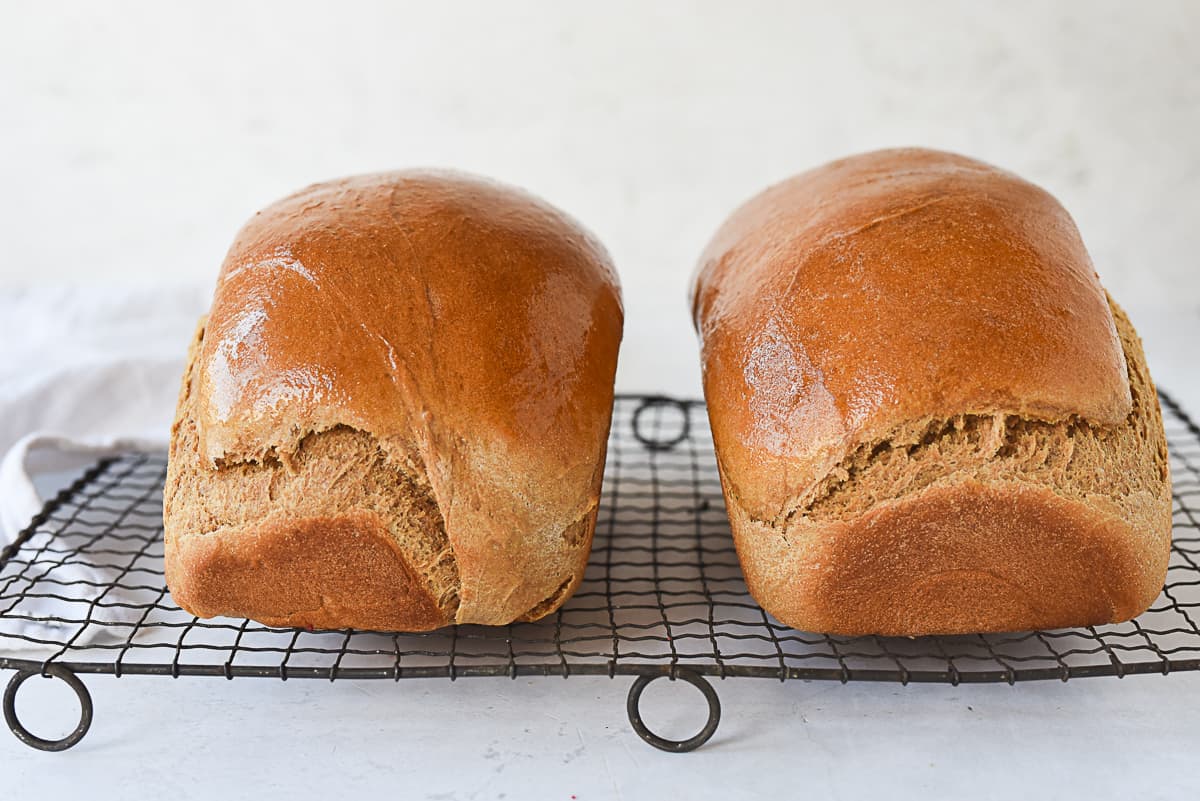 Isn't she pretty? Go ahead, admire your beautiful work and how amazing it smells!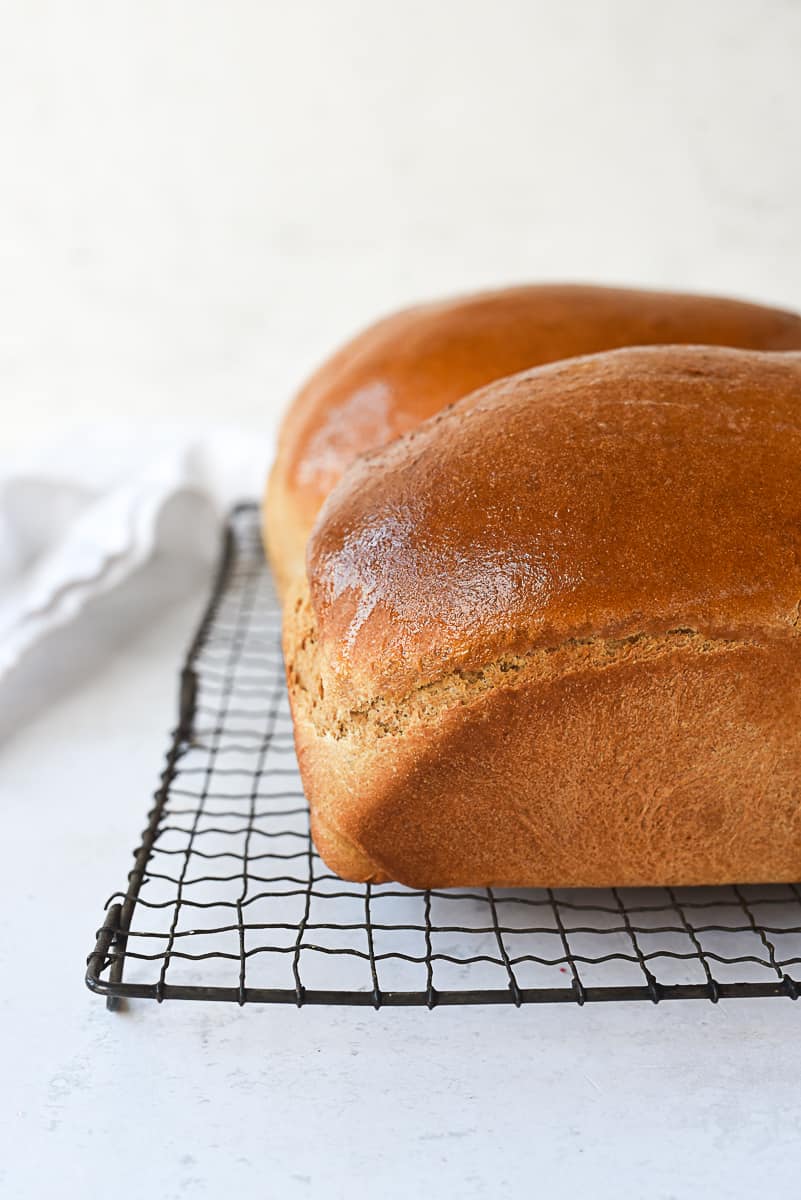 Once it is almost cool, still a little warm, it is ready to cut into. That is the hardest part of making whole wheat bread, waiting for it to be cool enough to slice it.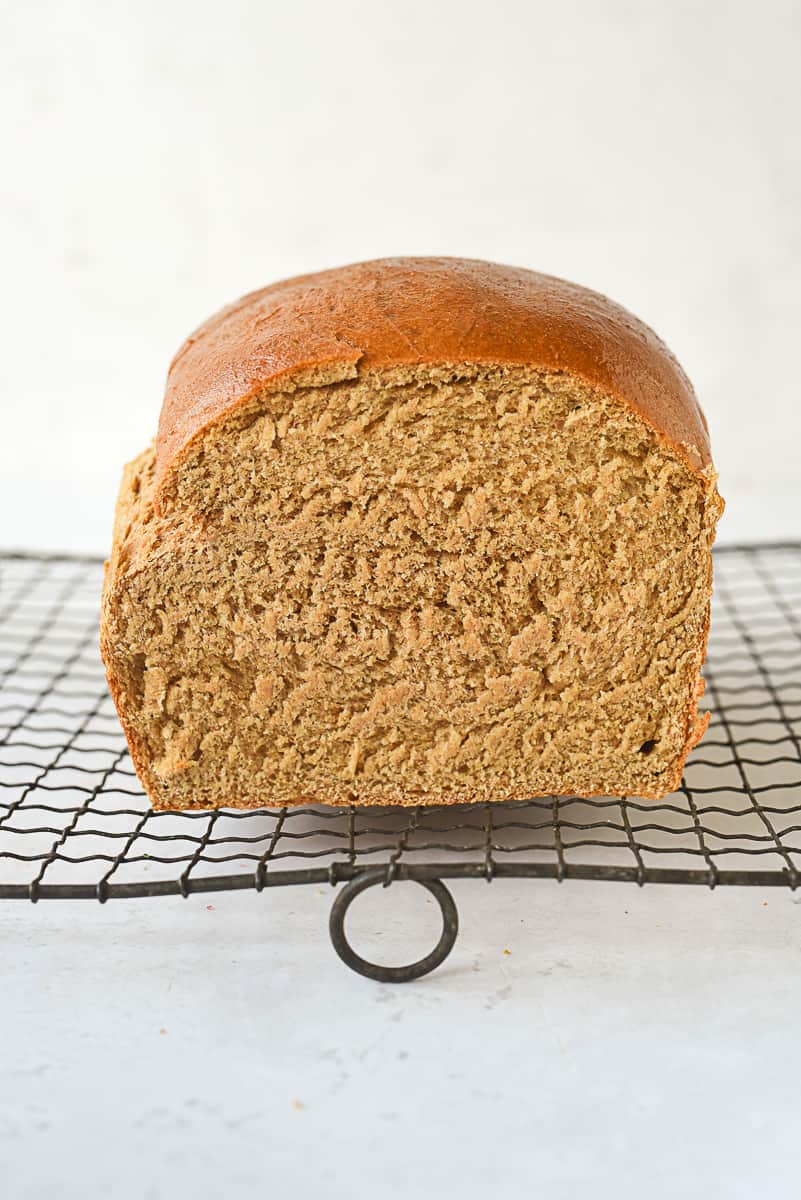 Enjoy your bread with butter, jam or even better, some honey butter.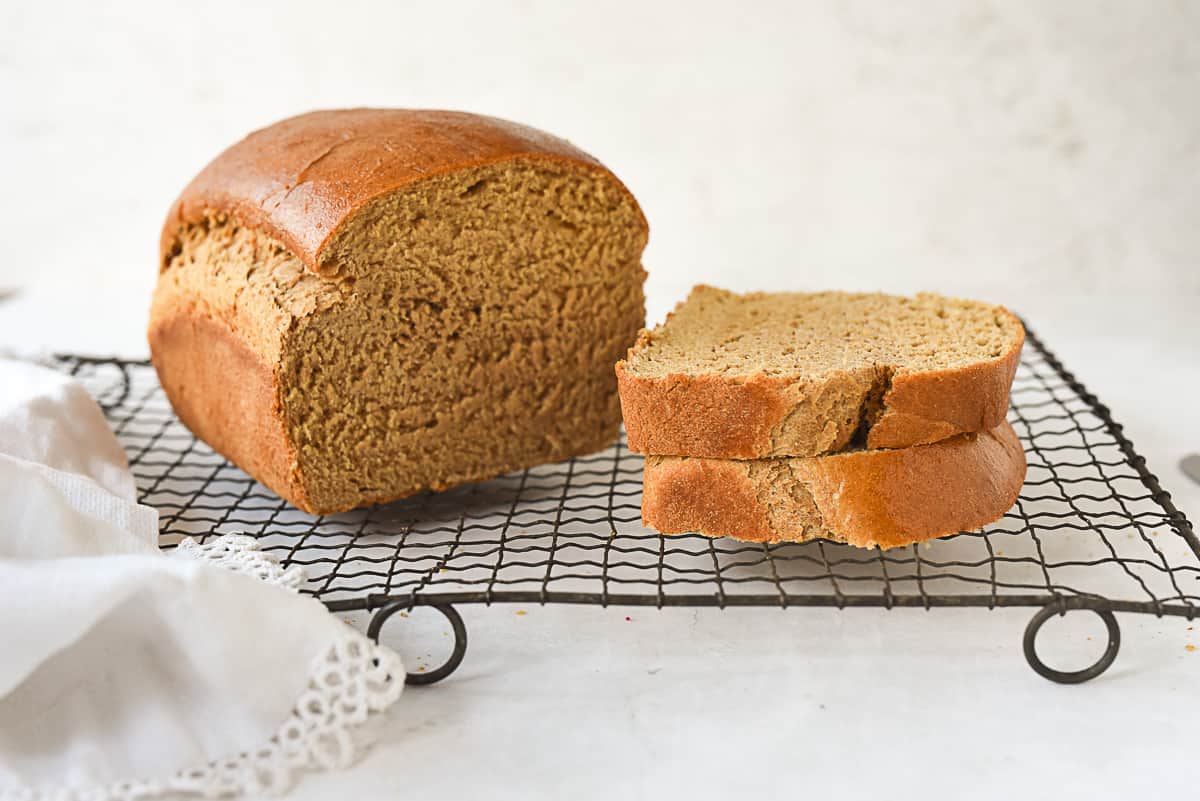 Check out more of my bread recipes:
For all of my other favorite kitchen products and tools visit my Amazon Store. 
Did you know I wrote a cookbook?  Check out the Holiday Slow Cooker Cookbook for 100 delicious recipes.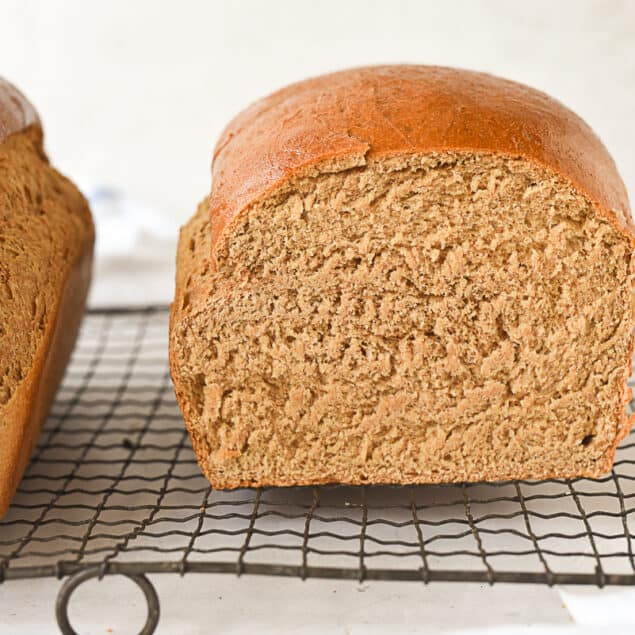 Wheat Bread Recipe
Nothing beats the smell of homemade bread fresh out of the oven. This Whole Wheat Bread not only smells amazing but the taste is fantastic.
Ingredients
2 ¾ cup warm water
4 tsp dry active yeast
1/3 cup oil
1/3 cup honey
¼ cup molasses
1 ½ tsp salt
2 cups all purpose unbleached flour
6-6 1/2 cups whole wheat flour
Instructions
Dissolve the yeast in one cup of the warm water. Let sit for 10-15 minutes until foamy.

Into the yeast mixture, add in the oil, honey, molasses, salt, remaining water and 5 cups of the flour. one at a time, until well combined. Dough will be sticky.

Allow to rest 10 -15 minutes.

Then, knead in enough flour to make a moderately stiff dough that is just barely tacky but not sticky, and knead for about 4 minutes.

Put in a lightly oiled bowl, turn once to coat, and cover with a towel to let it rise until double (30-60 minutes).

Turn on the oven to 375, punch down and form into two loaves and place into greased bread pans. Allow to rise for ONLY 9-10 minutes, then bake for 32-35 minutes.

These loaves have even more oven spring than my original recipe, so don't fret if they haven't risen very high before you bake them.
Tips & Notes:
Recipe makes 2 loaves
Nutrition Facts:
Calories: 243kcal (12%) Carbohydrates: 46g (15%) Protein: 7g (14%) Fat: 5g (8%) Saturated Fat: 1g (6%) Sodium: 179mg (8%) Potassium: 227mg (6%) Fiber: 5g (21%) Sugar: 8g (9%) Vitamin A: 4IU Calcium: 25mg (3%) Iron: 2mg (11%)
* Disclaimer: All nutrition information are estimates only. Read full disclosure here.