This is a sponsored post written by me on behalf of Albertsons. All opinions are 100% mine.
Whether you are hosting a party for friends or just a fun family movie night, making homemade ice cream sandwiches is sure to be a huge hit.  Let everyone choose their favorite flavor ice cream and cookie and combine the two!
Ice Cream is always a good idea! Some of our other favorite ways to enjoy it are in this ice cream pie, an ice cream float or in fried ice cream!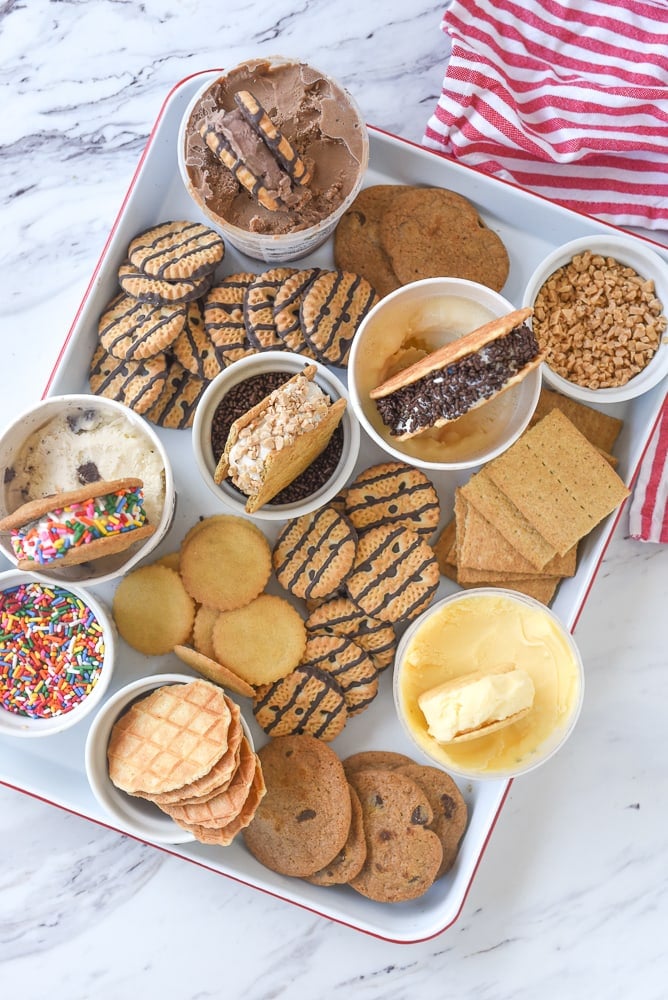 DIY Ice Cream Sandwiches
Choose your ice cream.  When making homemade ice cream sandwiches I like to have at least four different flavor selections when feeding 4-6 people and using pints of ice cream.  I also always like to make sure I have some non dairy and reduced calorie options. 
For today's ice cream sandwich snack board I used  several of Albertson's Open Nature® non-dairy desserts. We are self proclaimed ice cream snobs at our house and we were blown away by the taste and texture of the Open Nature alternative to traditional ice cream.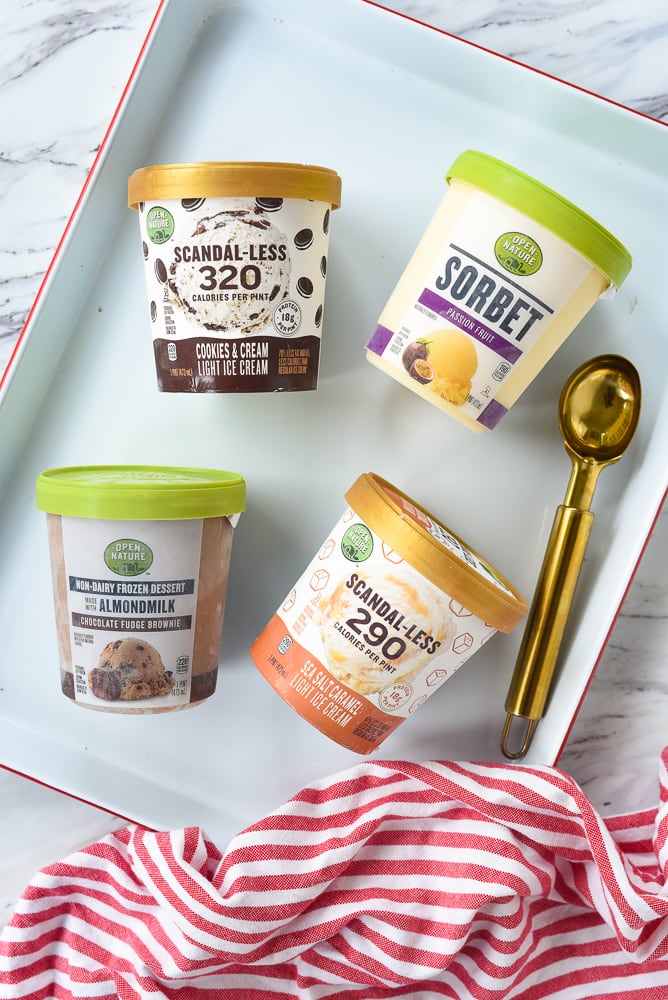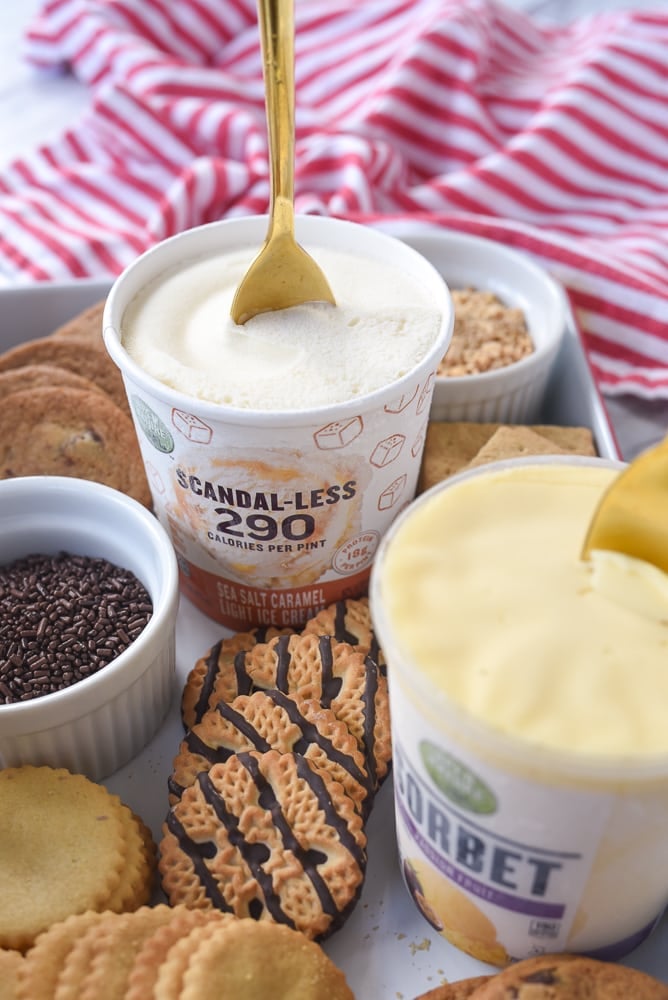 For our homemade ice cream sandwiches we also tried the Open Nature® Scandal-less light ice cream products and loved them. I have tried other low calorie ice creams in the past and wasn't impressed but the flavor and texture of the Scandal-less ice cream was great. They are a little bit more icy in texture than a dairy based ice cream but I loved the texture. My favorite was the Sea Salt Caramel – it was so good!! It is a true guilt-free indulgence with 60-80% less calories than regular ice cream. There are only 240-370 calories per pint!!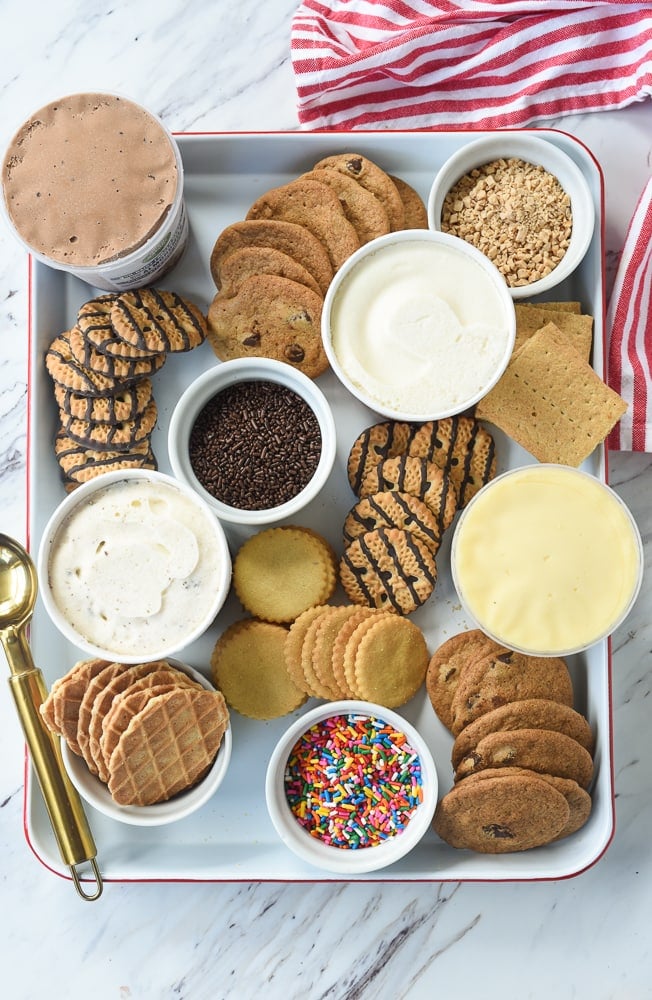 Homemade Ice Cream Sandwich Bar Ingredients
Ice Cream or non dairy frozen dessert. Have a variety of flavors. I like to have both chocolate and vanilla based ice creams as well as a fruit flavored one.
Choose a snack board. Use a cutting board or tray to hold all your ingredients. I love this white enamel tray and use it for all kinds of snack boards.
Add a selection of cookies. If you want to make some homemade cookies, these are some of my favorites – chocolate chip, peanut butter , snickerdoodles and sugar cookies. I like to have a variety of cookie flavors. These lemon cookies would be amazing too!
Add some sprinkles or other toppings to roll the sides of the ice cream sandwich in. I used rainbow and chocolate sprinkles along with some crushed up toffee pieces.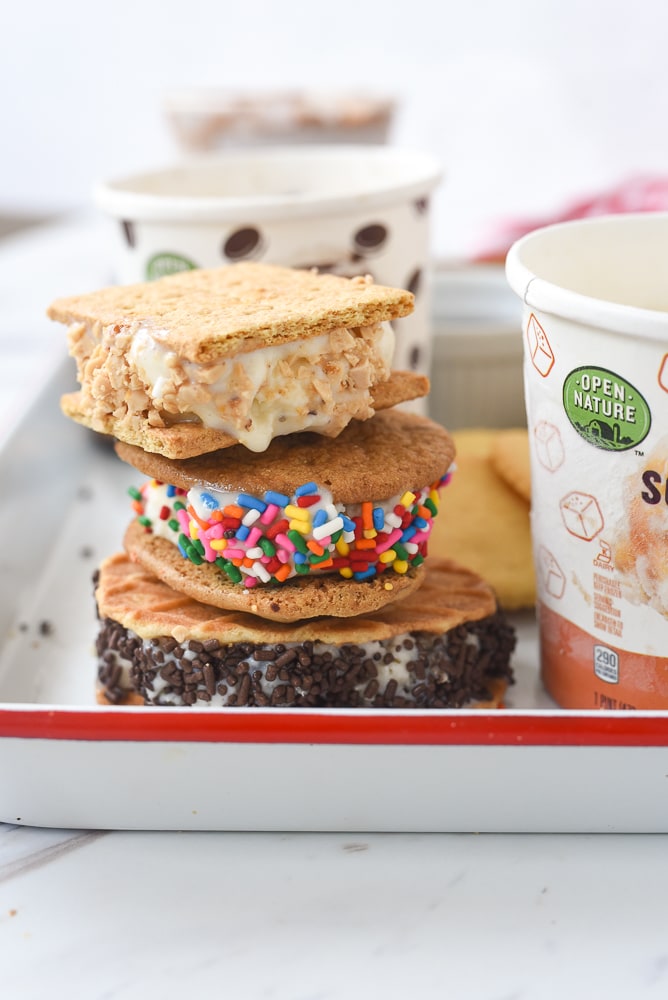 Make your ice cream sandwich. Let your family and friends choose their favorite combination. Pick a cookie and add a scoop of your favorite flavor ice cream. Add another cookie on top of the ice cream and then dip the sides of the ice cream sandwich into your favorite topping.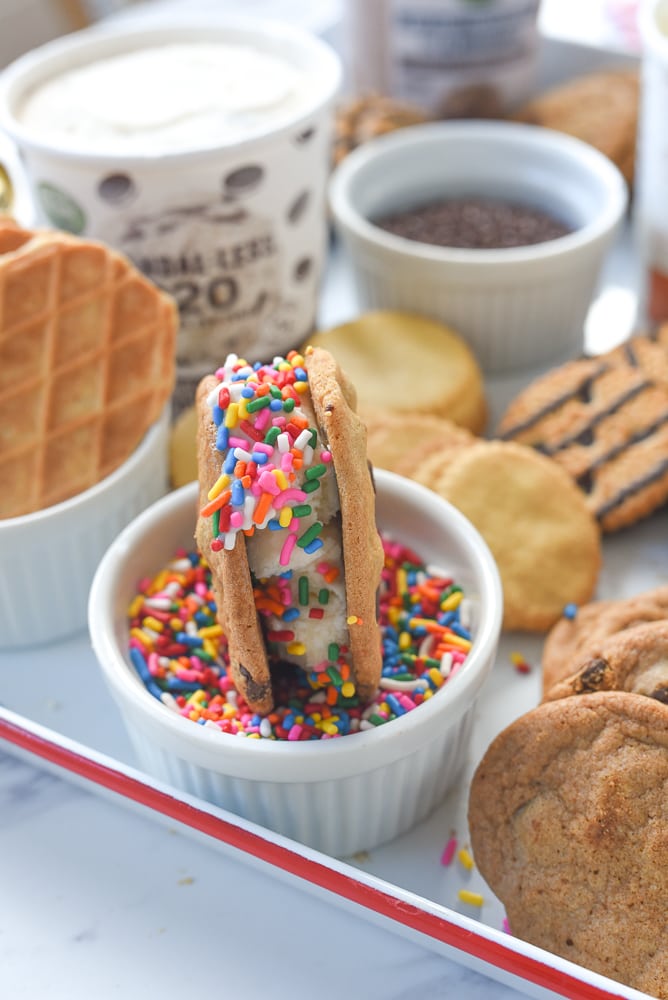 Homemade Ice Cream Sandwiches
It's fun to see all the crazy combinations everyone comes up with. You can even use more than one flavor of ice cream in a sandwich and use two different cookies! Go crazy!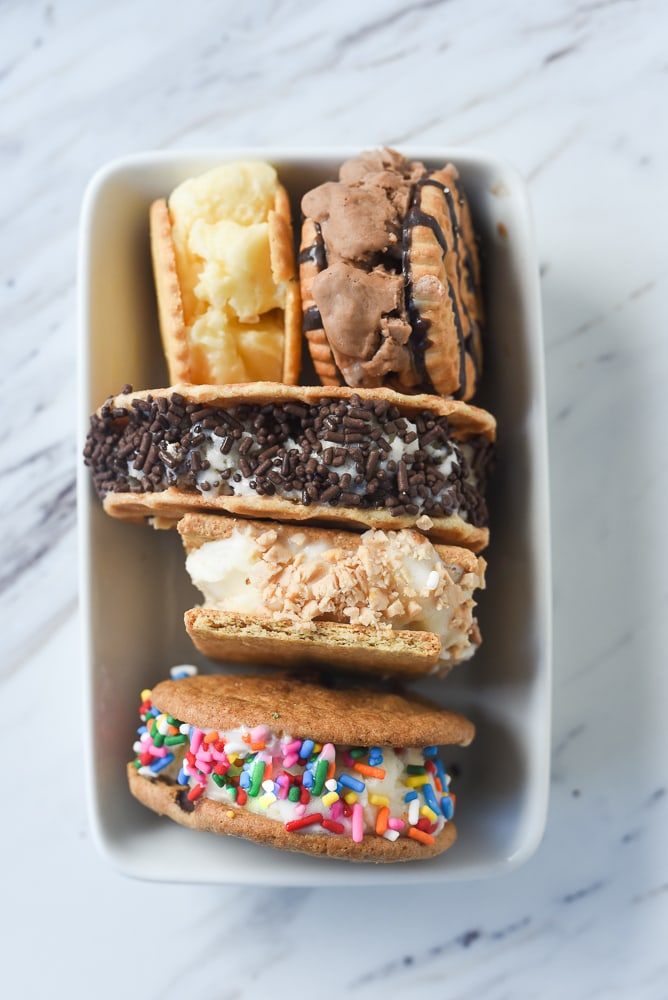 My favorite combinations were the lemon cookie with the passion fruit sorbet. I also loved the crispy chocolate chip cookie with the sea salt caramel ice cream, dipped in rainbow sprinkles. Rainbow sprinkles just make everything better!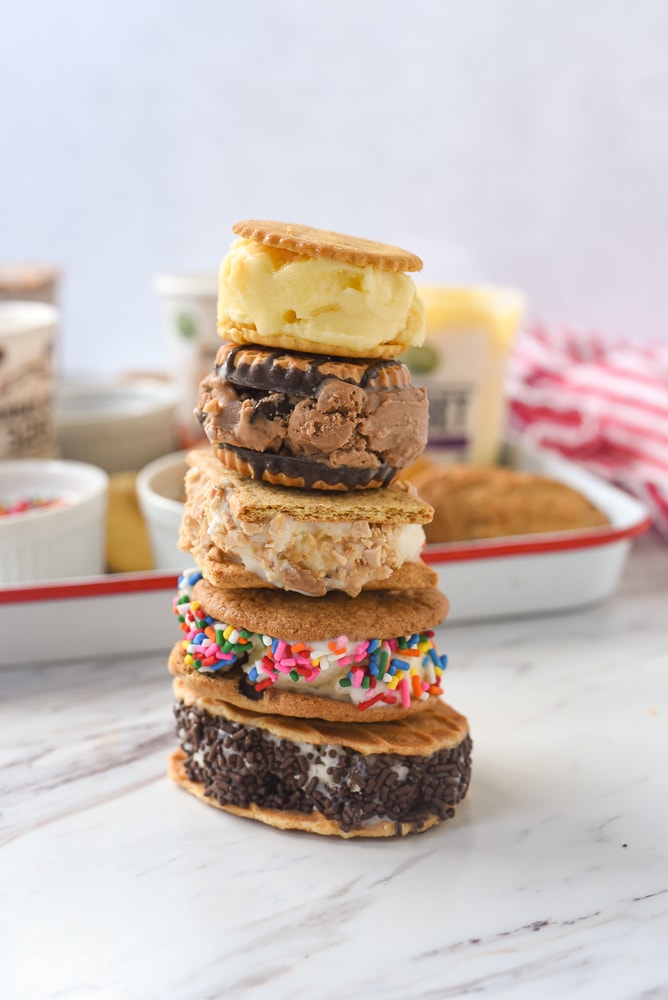 It's the perfect summer time family activity. It would be the perfect addition to your 4th of July BBQ, a family movie night or any summer celebration or gathering. Signature SELECT™ and Open Nature® provide high quality ice cream and non-dairy frozen dessert options for the whole family. They are available at a great a price in the Portland area exclusively at Albertson's stores.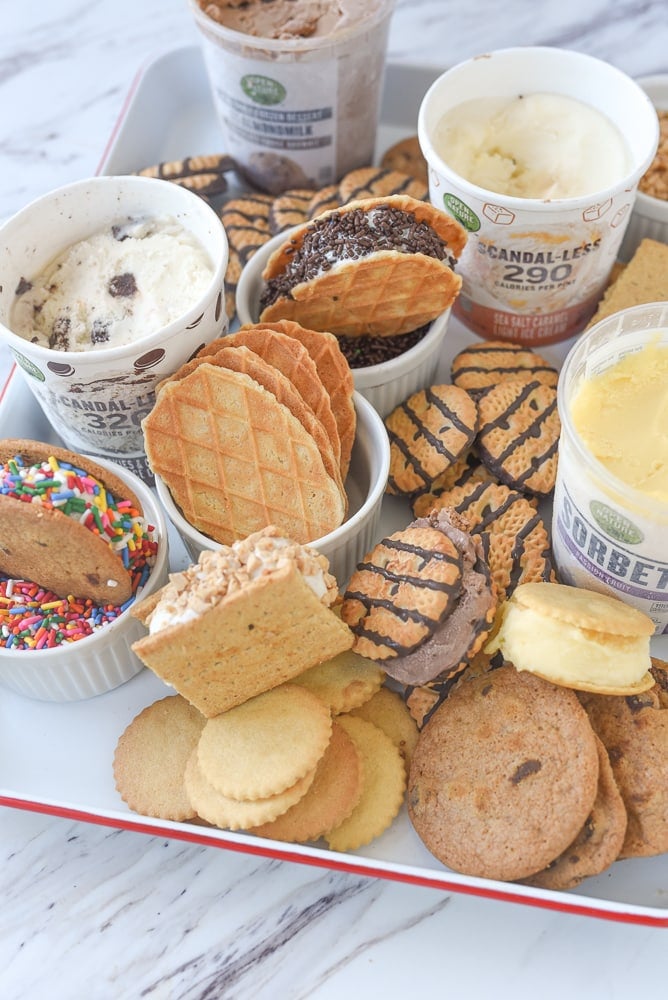 I shopped at Albertsons, but you can also find [product, offering etc.] at the Albertsons Companies family of stores, including Albertsons, Safeway, ACME Markets, Jewel-Osco, Vons, Randalls, Shaw's Supermarket, Star Market, Tom Thumb and Vons. OR ONLINE