Whether you are hosting a party for friends or just a fun family movie night, making homemade ice cream sandwiches is sure to be a huge hit. Let everyone choose their favorite flavor ice cream and cookie and combine the two!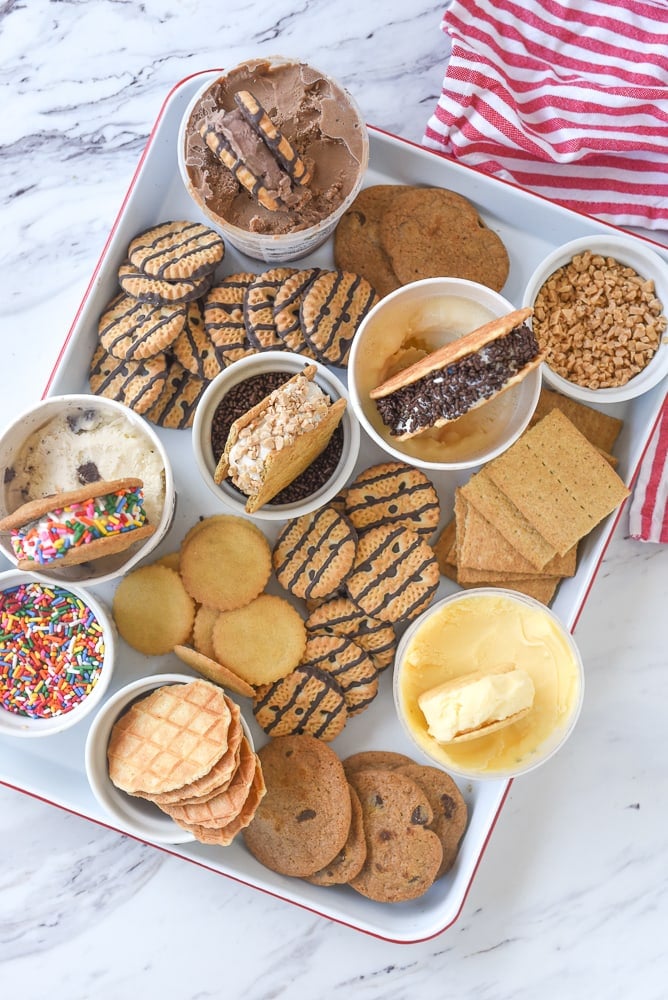 Homemade Ice Cream Sandwich Bar Ingredients
Ice Cream or non dairy frozen dessert. Have a variety of flavors. I like to have both chocolate and vanilla based ice creams as well as a fruit flavored one.
Choose a snack board. Use a cutting board or tray to hold all your ingredients. I love this white enamel tray and use it for all kinds of snack boards.
Add a selection of cookies. If you want to make some homemade cookies, these are some of my favorites – chocolate chip, peanut butter , snickerdoodles and sugar cookies. I like to have a variety of cookie flavors. These lemon cookies would be amazing too!
Add some sprinkles or other toppings to roll the sides in. I used rainbow and chocolate sprinkles along with some crushed up toffee pieces.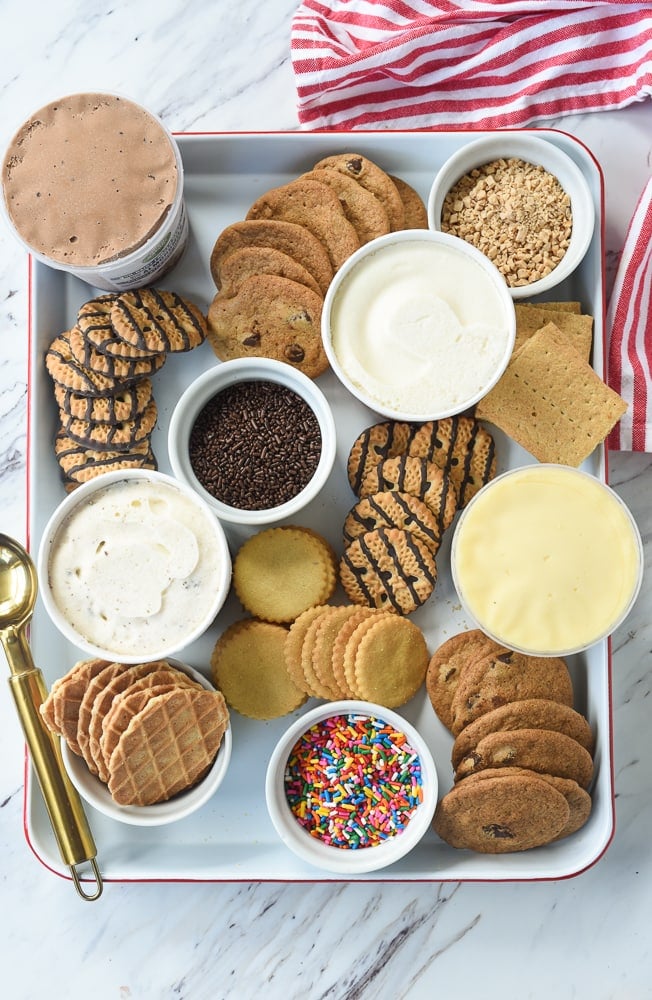 Make your ice cream sandwich. Let your family and friends choose their favorite combination. Pick a cookie and add a scoop of your favorite flavor ice cream. Add another cookie on top of the ice cream and then dip the sides of the ice cream sandwich into your favorite topping.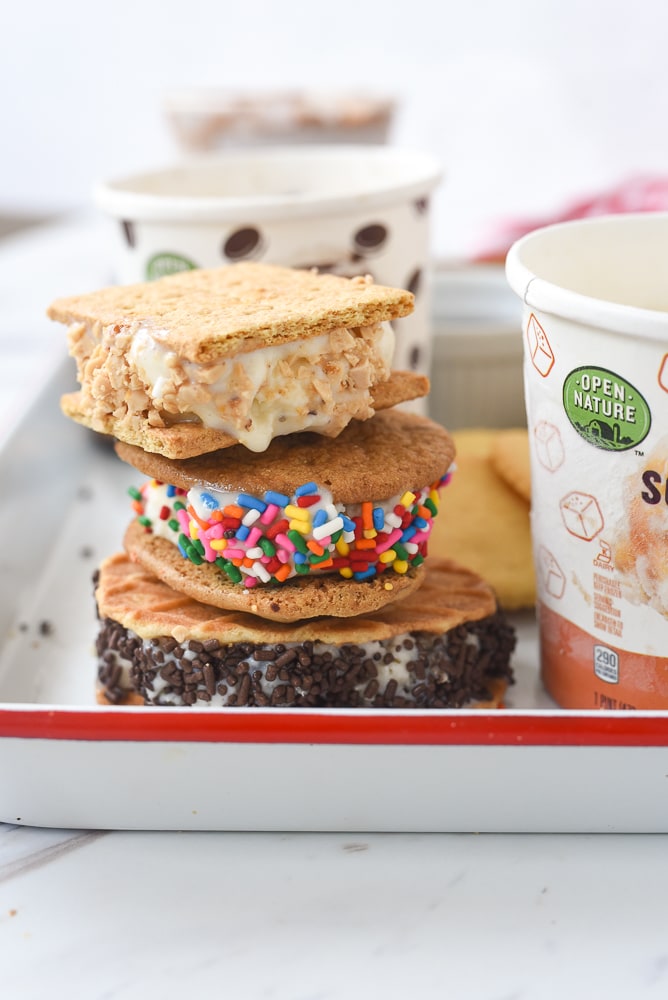 Homemade Ice Cream Sandwiches
It's fun to see all the crazy combinations everyone comes up with. You can even use more than one flavor of ice cream in a sandwich and use two different cookies! Go crazy!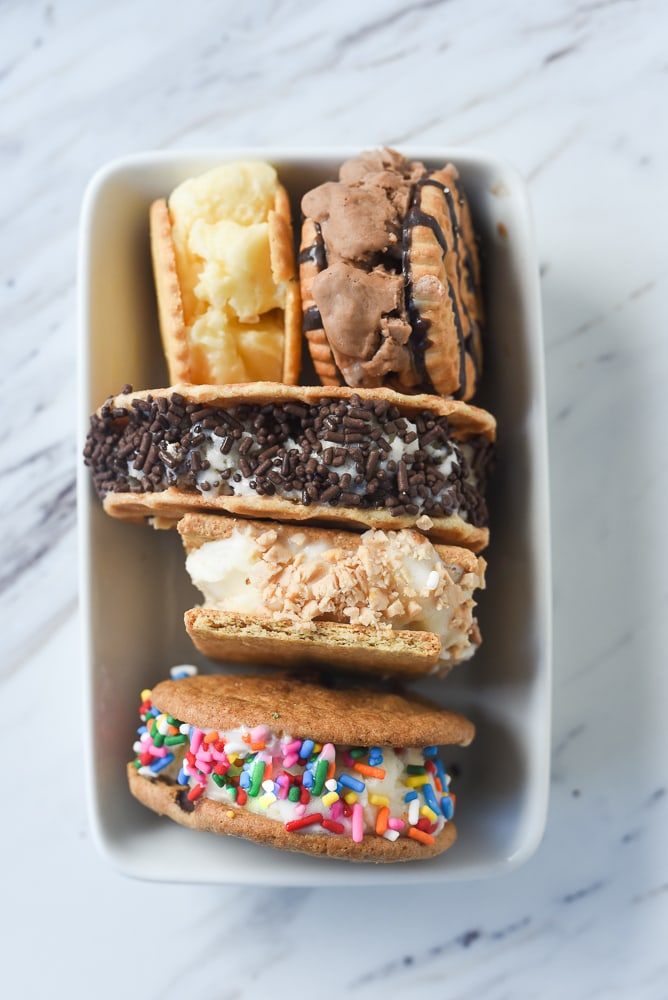 My favorite combinations were the lemon cookie with the passion fruit sorbet. I also loved the crispy chocolate chip cookie with the sea salt caramel ice cream, dipped in rainbow sprinkles. Rainbow sprinkles just make everything better!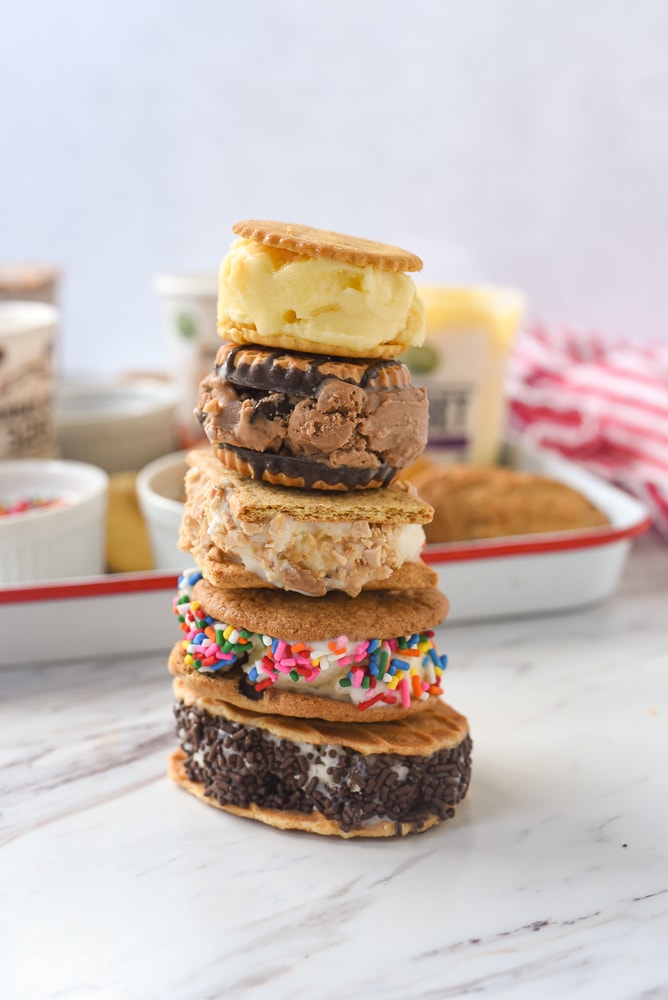 It's the perfect summer time family activity. It would be the perfect addition to your 4th of July BBQ, a family movie night or any summer celebration or gathering.