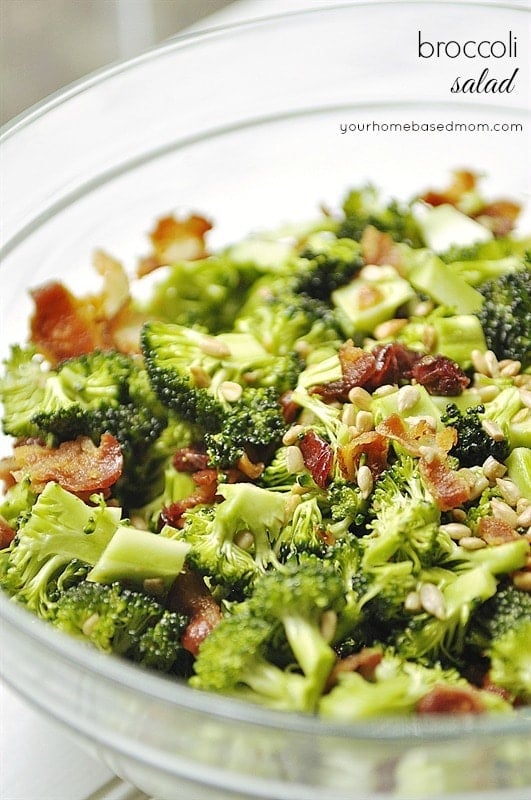 It is finally feeling like summer around our house.  Let's hope it lasts.
I don't know about you but I always feel like eating a little healthier in the summer.  Maybe it is all those fresh fruits and vegetables at the farmer's Market?
So in honor of summer finally arriving in Portland this week is going to be dedicated to healthy recipes (or at least as healthy as I get).  In other words, there will be no cookie or cupcake recipes this week!!
I think a pretty standard recipe in everyone's recipe box is broccoli salad.  You know the one.  The one that has a mayo, sugar and vinegar dressing over it.  Yeah, that one.  So good.
Well, this is a healthier version of that salad.
It still has the yummy bacon and sunflowers on it as well as some green onions and cranberries.
But instead of the mayo dressing it is covered with a nice light oil and rice vinegar mixture.  And there is just a little bit of sugar added in.
The trick to this salad for me is to cut the broccoli nice and small.  No big stalks of broccoli for me.  Jim is an expert at cutting up the broccoli just the way I like it.   I also like to peel the stalk of the broccoli and cut it up – it is nice and tender inside.
Do you have a favorite recipe that you have made a healthier version of?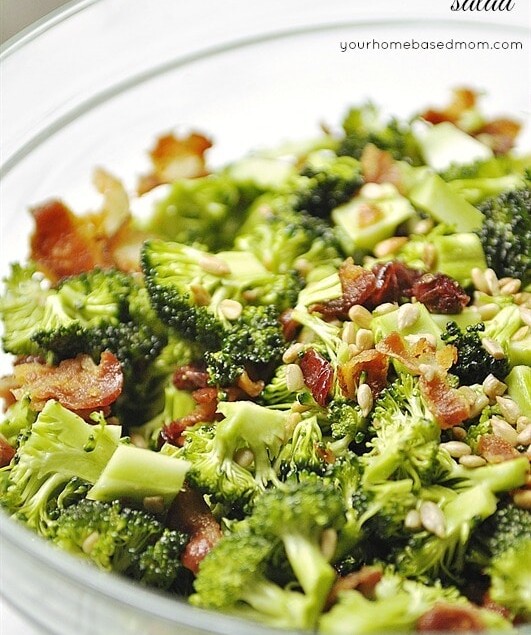 Broccoli Salad
Ingredients
Salad:
6 C fresh uncooked broccoli florets
1/2 C thinly sliced green onions
1/2 C craisinets or dried cherries
1/4 C sunflower seeds
4 strips of bacon cooked and crumbled
Dressing:
3 Tbsp canola oil
3 Tbsp seasoned rice vinegar available in the Asian aisle
2 Tbsp sugar
Instructions
Mix together the dressing ingredients and pour over salad ingredients

Keep in the refrigerator until ready to serve.

If it is going to be in the refrigerator for a while wait to add the sunflower seeds and bacon so they don't get soft. You want them crisp.