A mini strawberry pie with a creamy filling topped with fresh strawberries and a strawberry glaze. These individual pies are the perfect dessert and just the right amount for two people.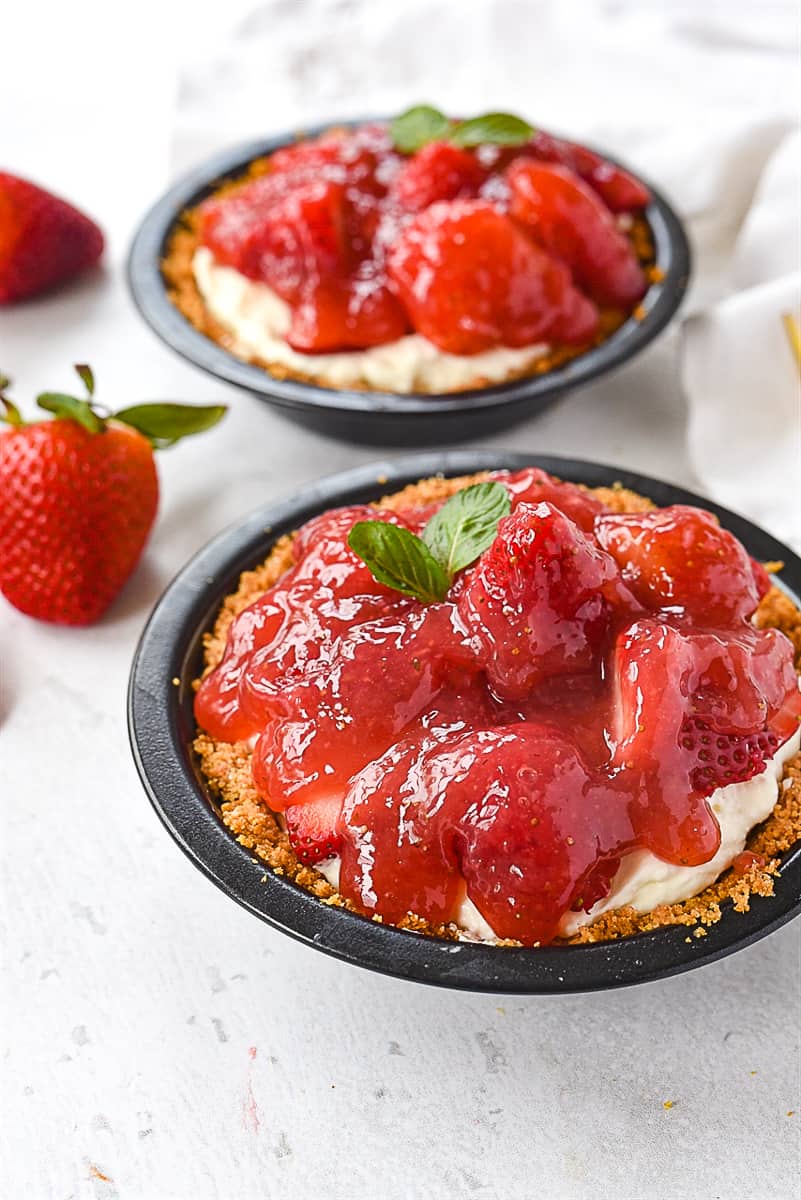 Individual Strawberry Pie
Since becoming a reduced size family the thing I missed most (other than my children) was all my favorite treats I stopped making because they just made too much. I have limited self control and I was tempted to eat it all. Well, I decided I had to find a solution and these small batch recipes is it! I made a list of all my favorite desserts and treats and I set to work to figure out how to make them in smaller amounts. You can find all my Recipes for Two here.
Near the top of my list was this recipe for Individual Strawberry Pies. Find the full size Strawberry Cream Pie here. This recipe is definitely my husband's favorite.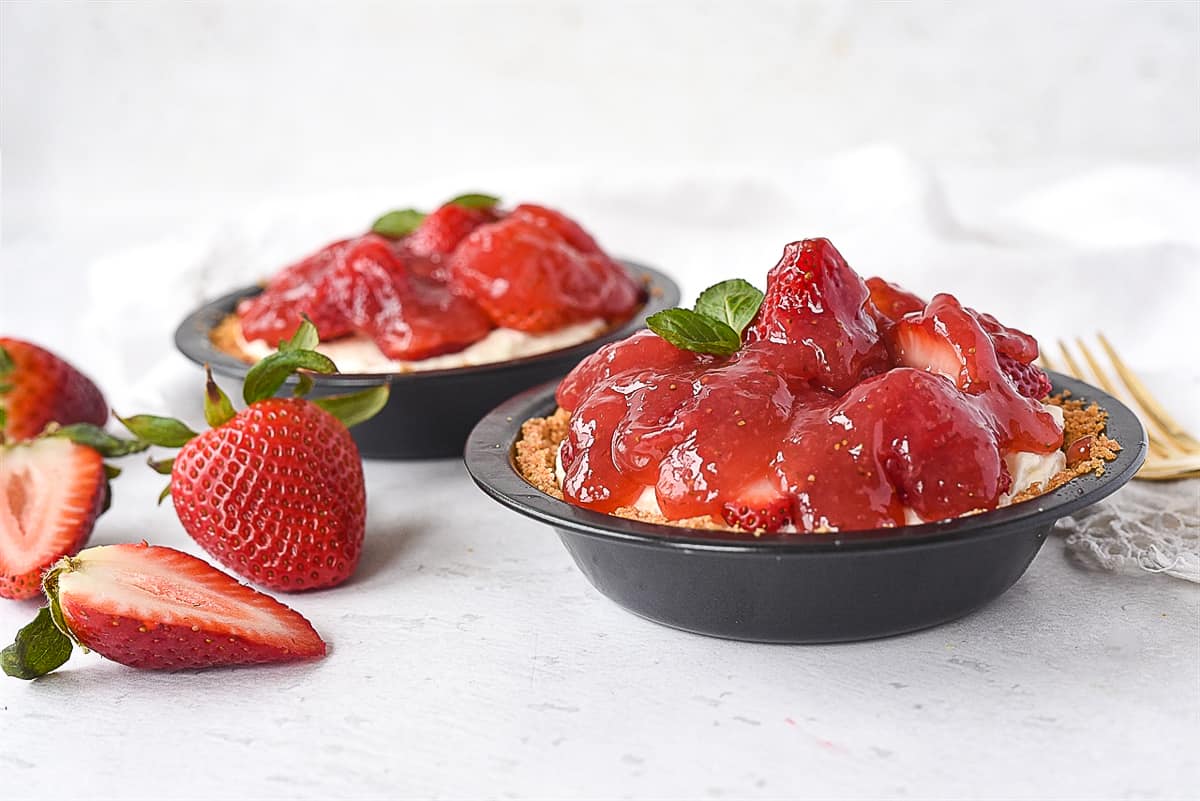 How to Make Individual Strawberry Pie
For these pies you will two 5 inch pie pans. You can also use disposable pie tins that you can find here.
You can make this pie with a pastry crust or a graham cracker crust but I prefer graham cracker. For a full tutorial on how to make a full size graham cracker crust check out this post.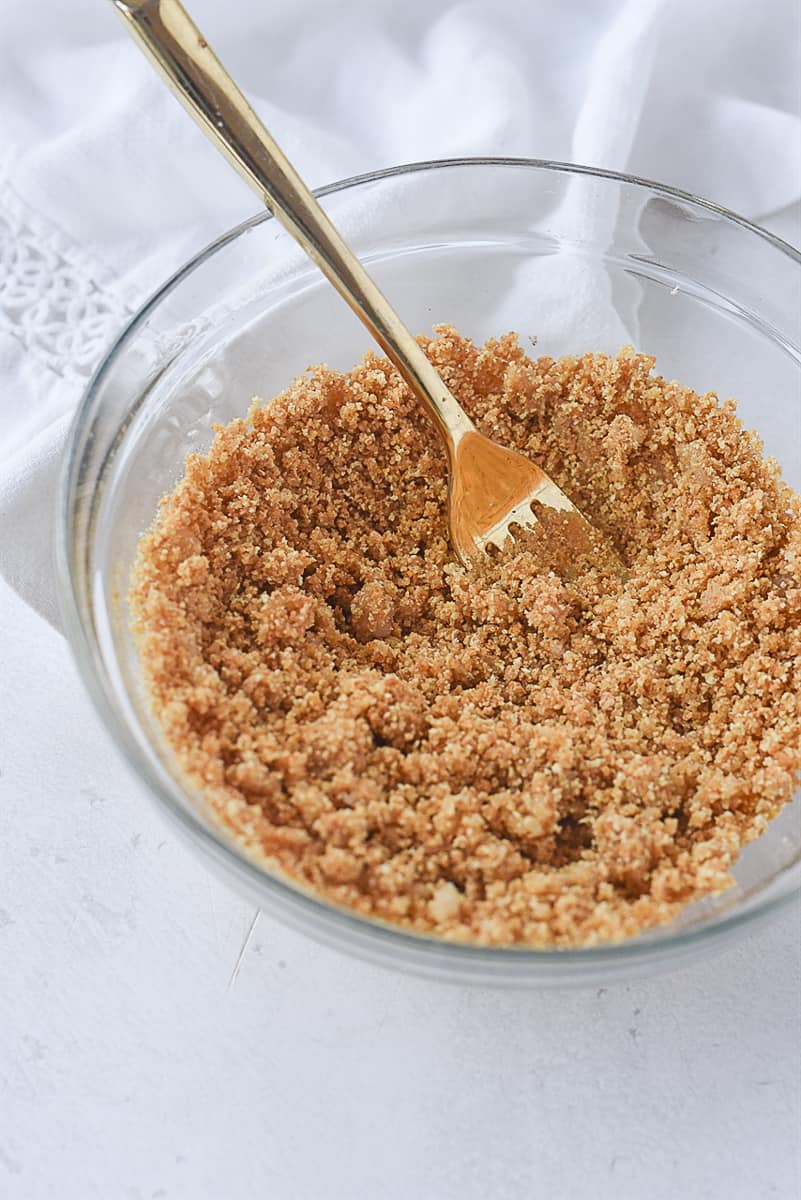 Graham Cracker Crust
You will need 2/3 cup of graham cracker crumbs which is four sheets or 8 squares of graham cracker. I use my blender or food processor to make the crumbs. but you can also place the crackers in a zipper plastic bag and smash them with your rolling pin.
Combine crumbs with sugar and melted butter and stir until it looks like wet sand.
Divide crumbs between two mini pie tins and press crumbs into bottom and up the sides of the pie tin.
Bake at 350 degrees F. for 7-8 minutes or until edges begin to turn golden brown.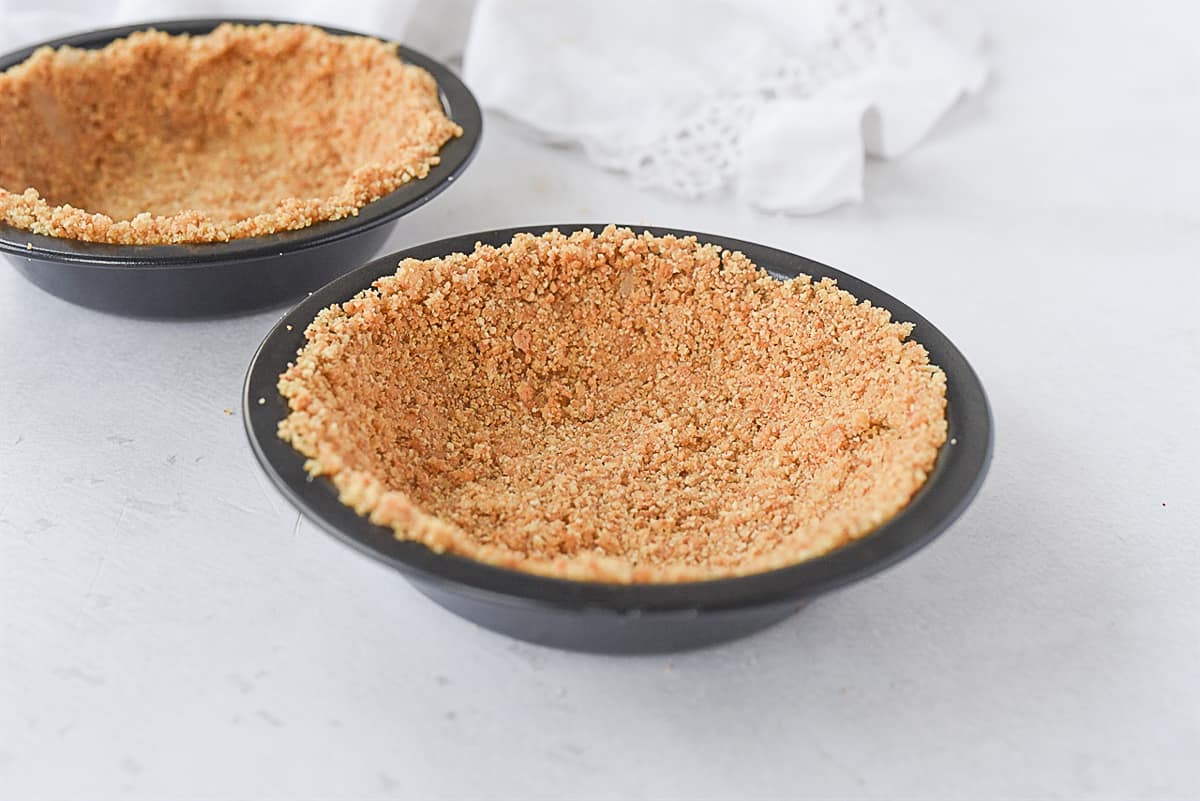 Cream Filling
Start with softened cream cheese, allow it to sit at room temperature for several hours.
Cream cream cheese, sugar and vanilla.
Beat until smooth and creamy.
Whip whipping cream.
Fold whipped cream and cream cheese mixture together until combined.
Divide the filling between the two crusts.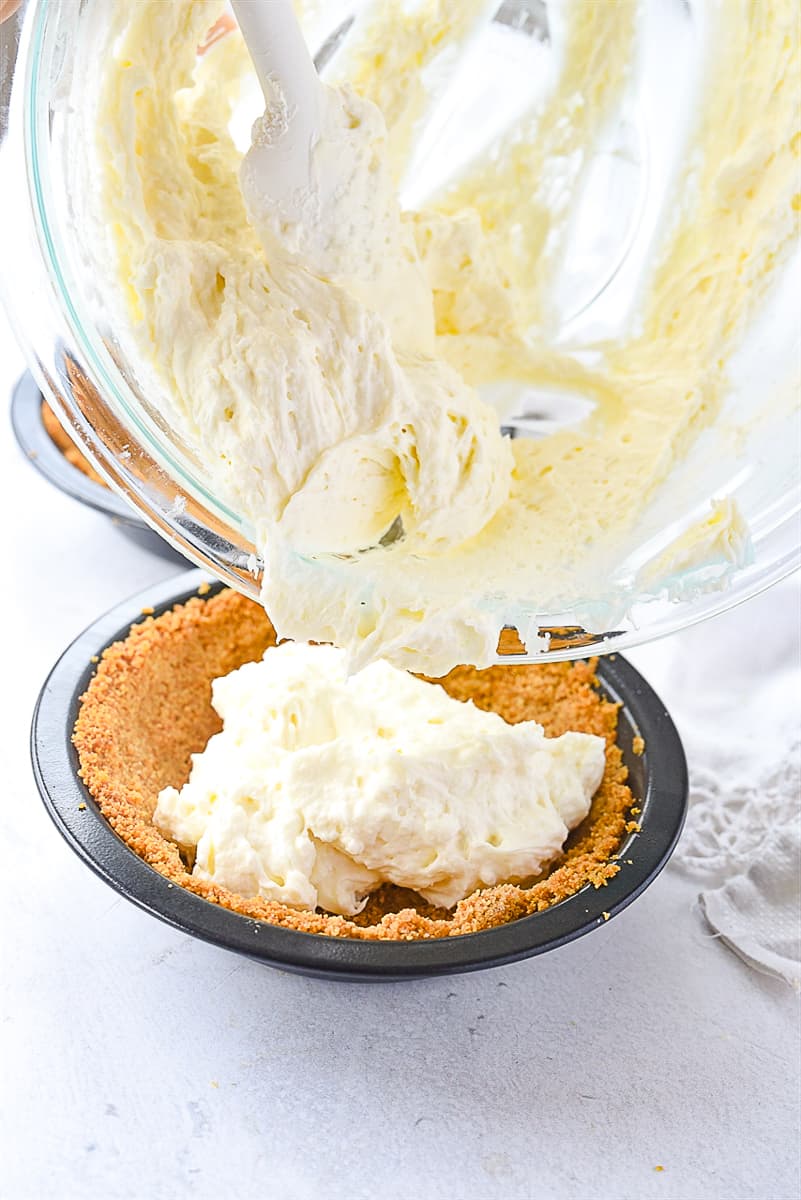 Depending on the size of your strawberries, place whole strawberry or sliced strawberries into cream filling. If my strawberries are large, I cut them in half. If they are smaller I use the whole strawberry.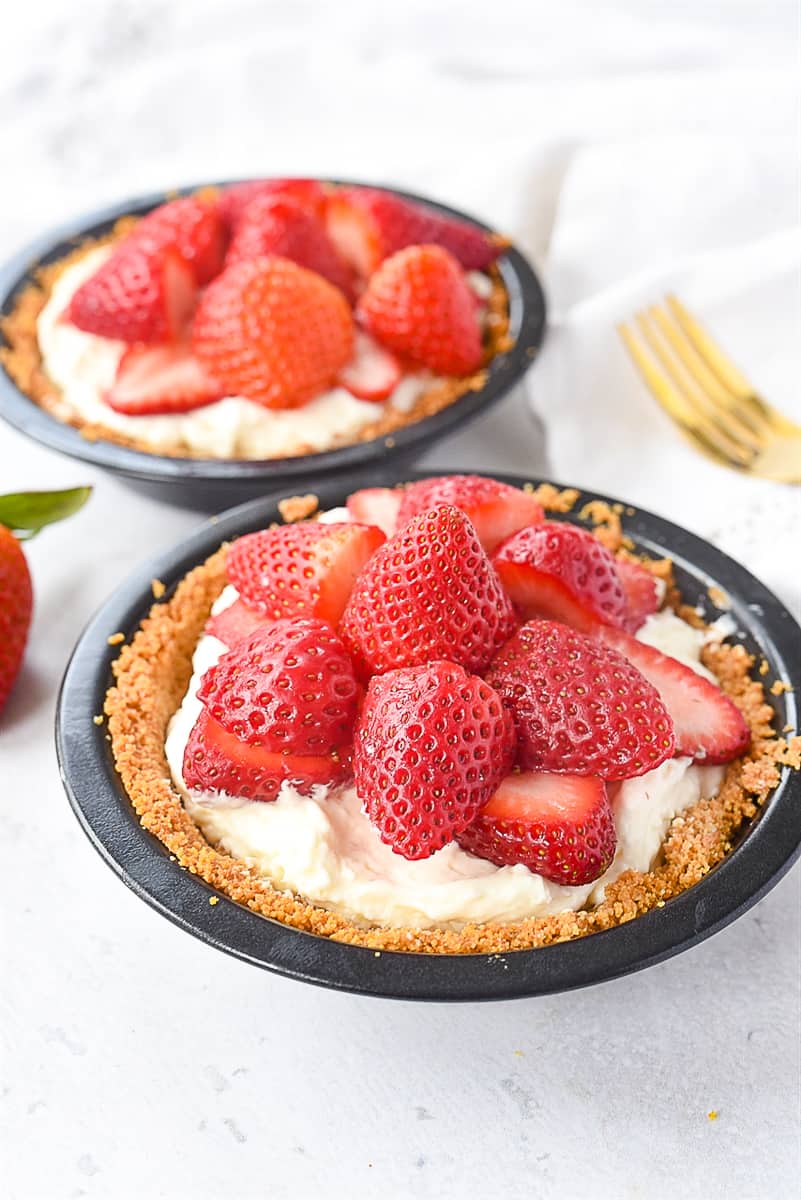 Place the pies into the refrigerator to chill while you make the glaze.
How to Make Strawberry Pie Glaze
Mash strawberries using a food processor.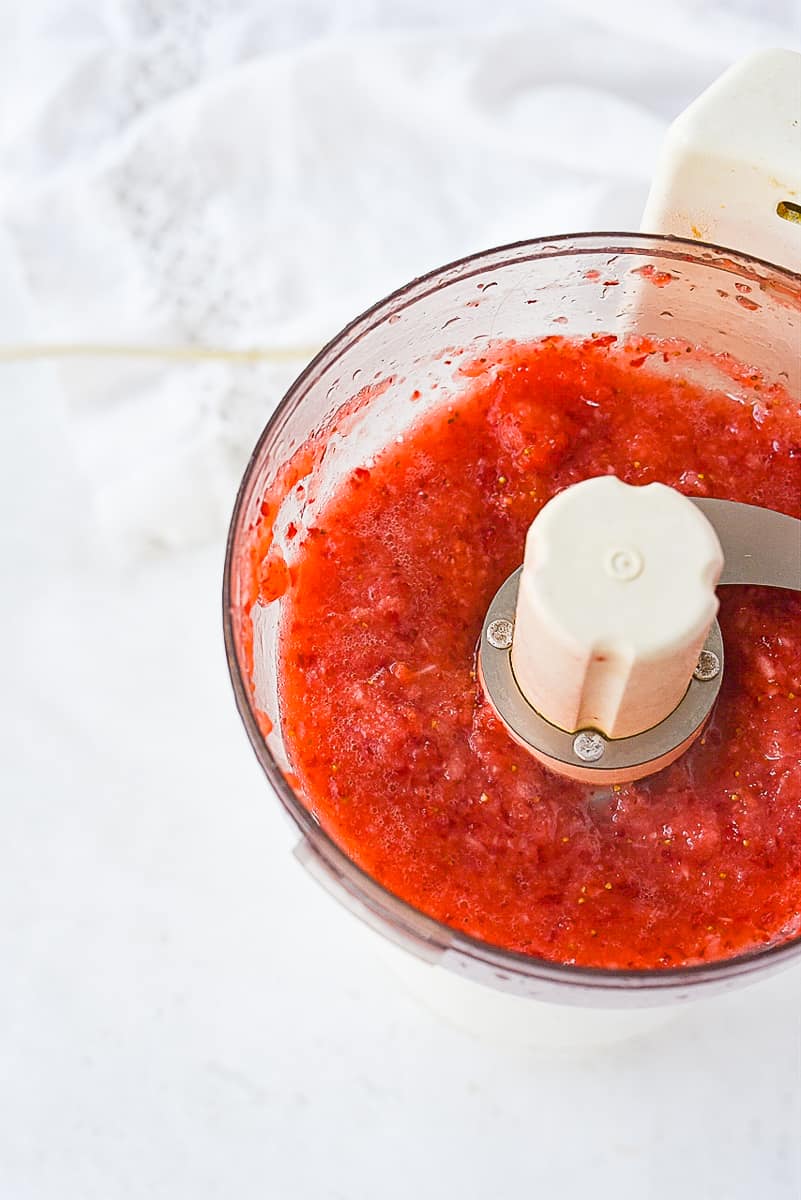 Place in a small sauce pan over medium heat and stir in sugar, cornstarch and water. It will look cloudy at first.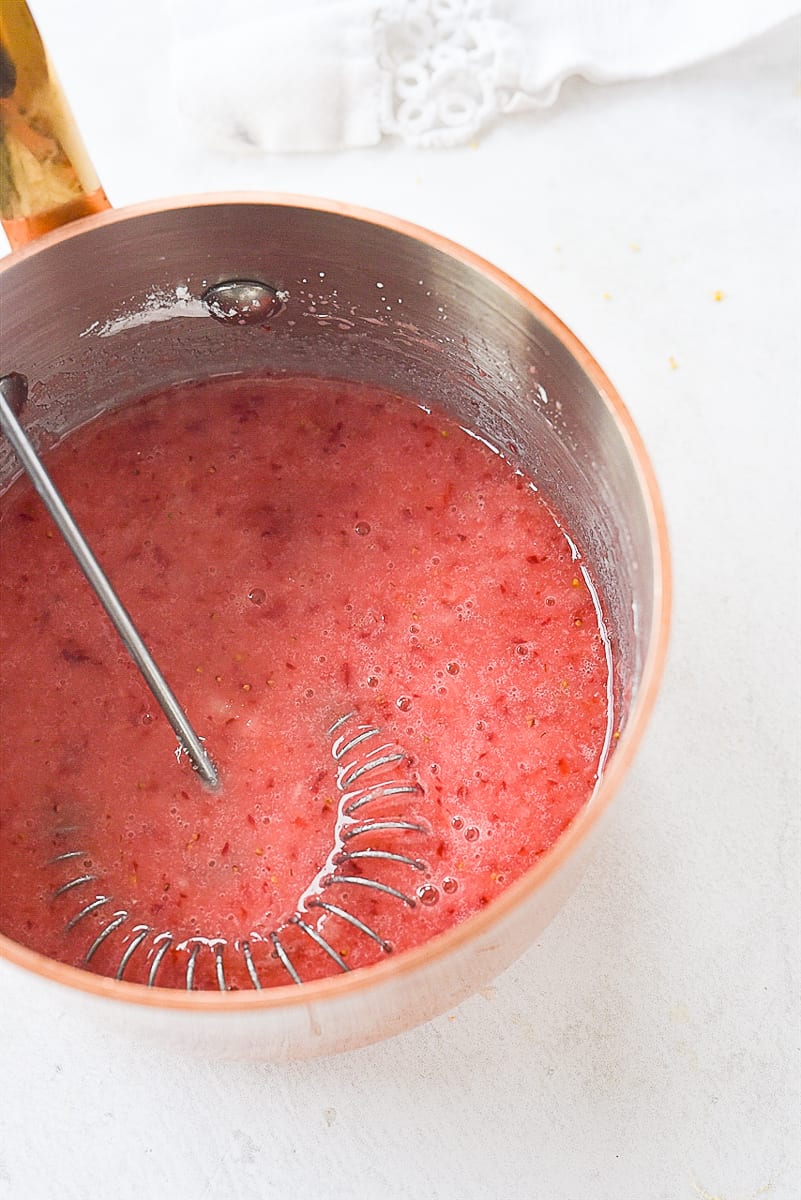 Stir over medium heat until it goes to a low boil and begins to thicken and turn glossy.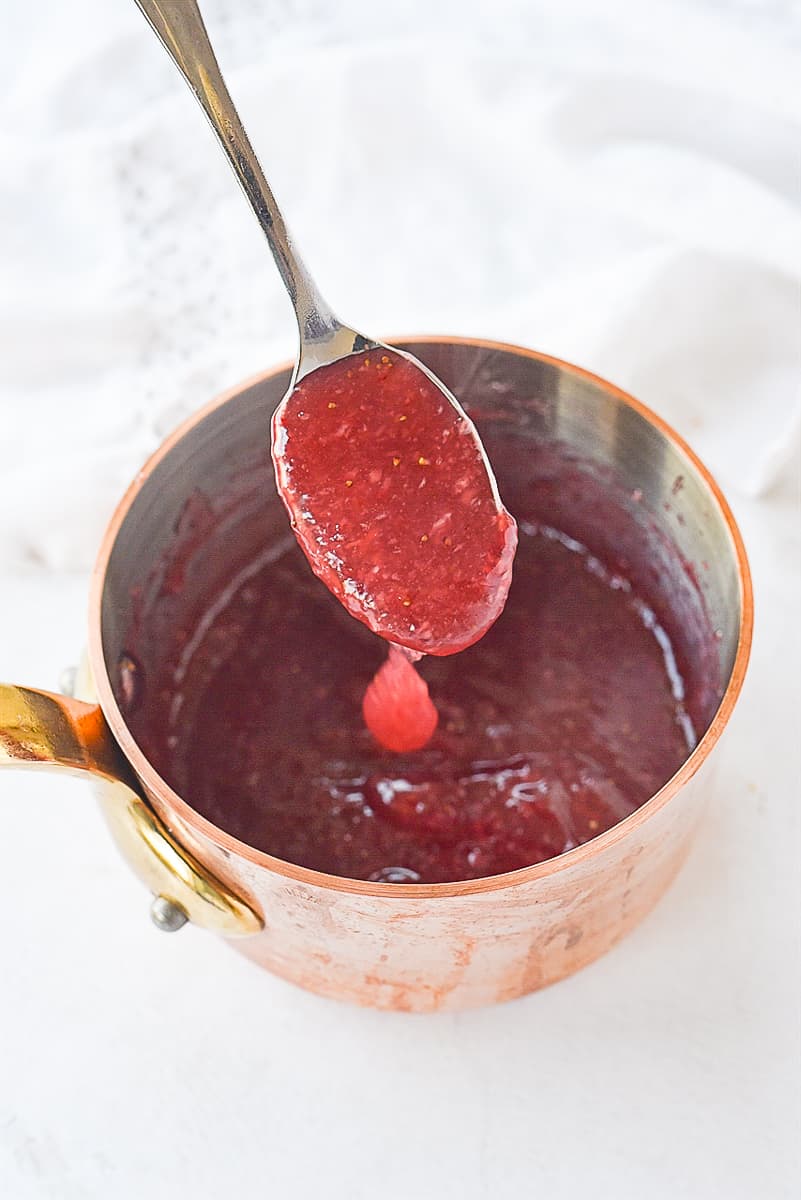 Allow glaze to cool for 10-15 minutes. Spoon glaze over strawberries.
Refrigerate pies for at least 3 hours.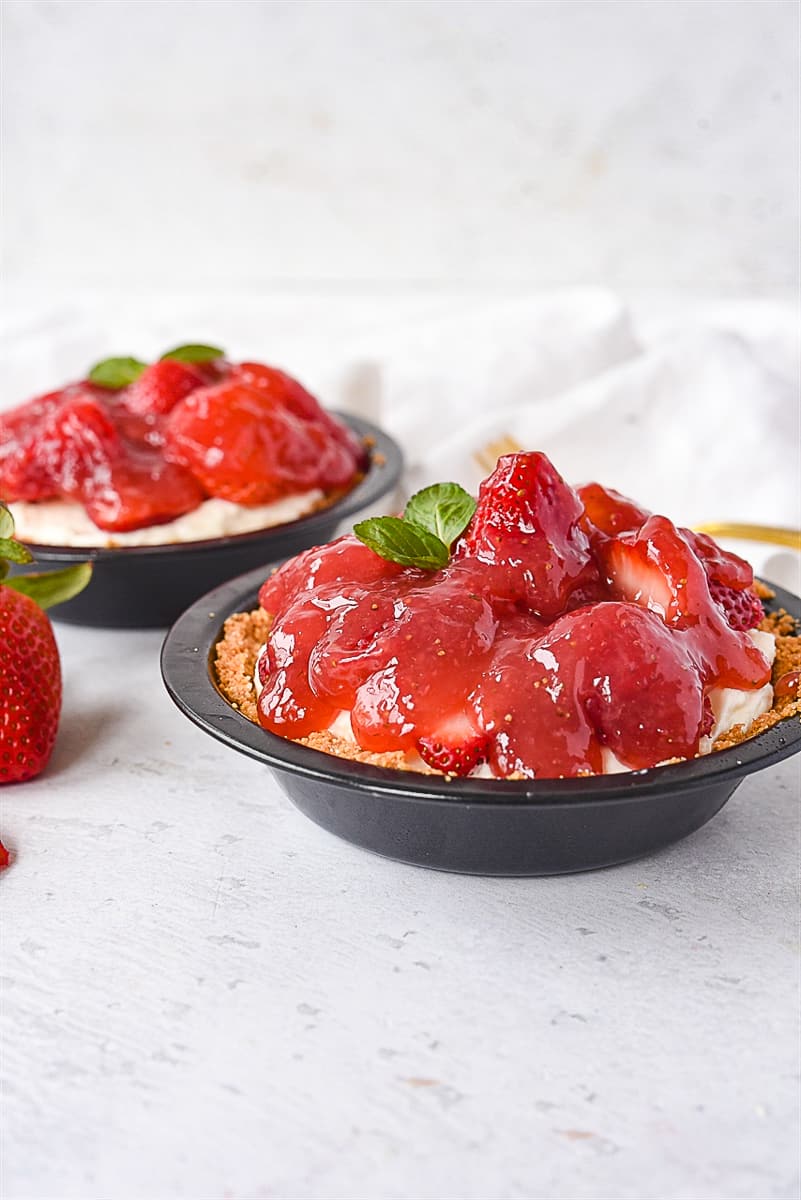 Frequently Asked Questions
Can I use other fruit?
This pie would work well with any kind of berry such as blueberry, raspberry or blackberry. You could also make it using fresh peaches.
How long will Strawberry Pie last?
This pie will last 3-4 days in the fridge but is best served within 1-2 days. It needs to stay refrigerated.
Can Strawberry Pie be frozen?
I do not recommend freezing this pie. The fresh strawberries will get mushy when you thaw the pie and the texture and flavor will suffer. This is a pie you want to eat fresh.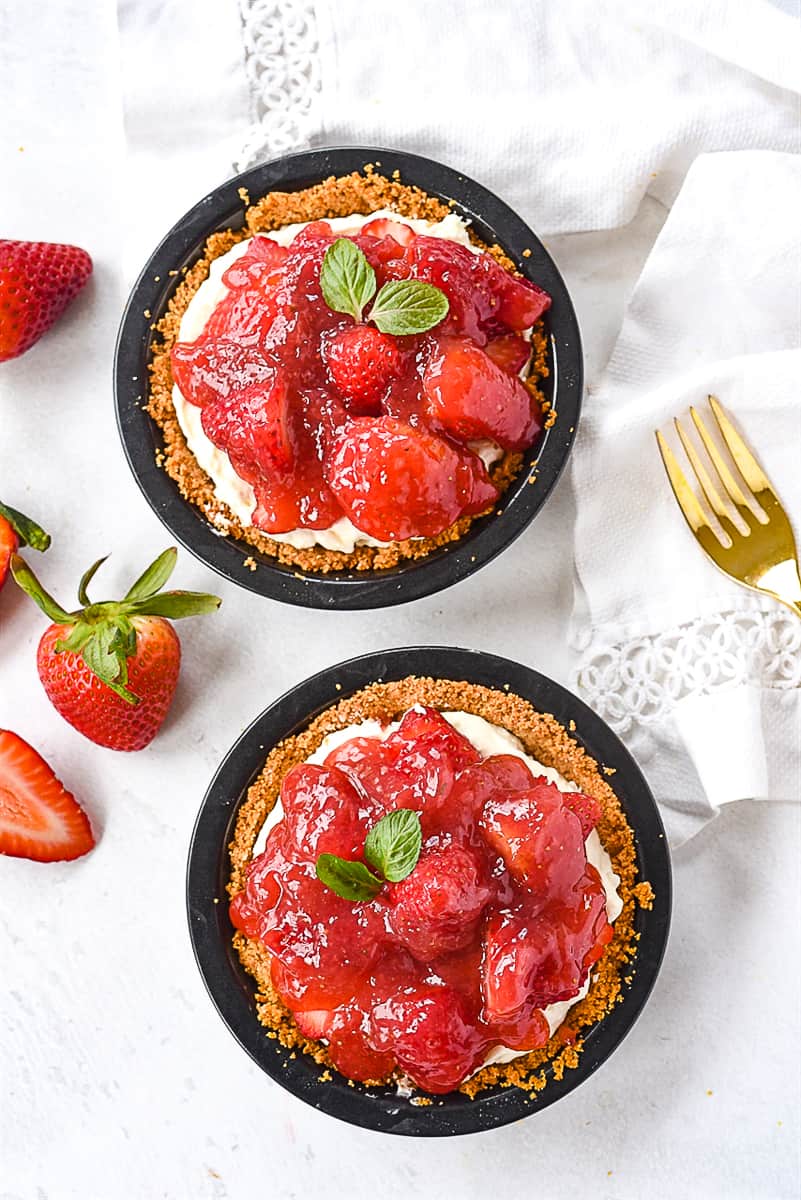 Check out these other small batch dessert recipes:
Be sure and follow me over on You Tube for weekly cooking demos.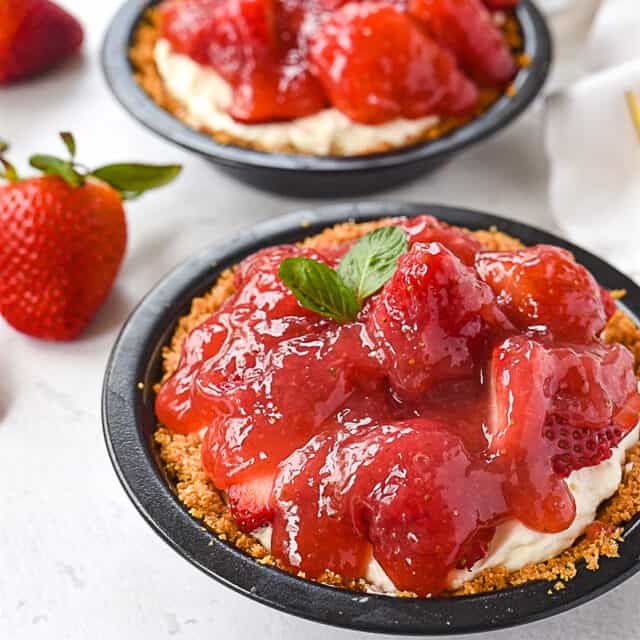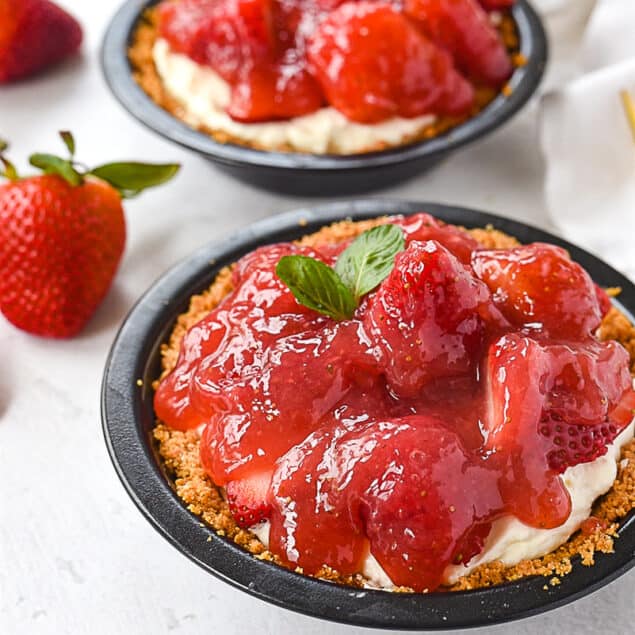 Mini Strawberry Pie
A mini strawberry pie with a creamy filling topped with fresh strawberries and a strawberry glaze. These individual pies are the perfect dessert and just the right amount for two people
Ingredients
Graham Cracker Crust
2/3 cup graham cracker crumbs 4 sheets or 8 squares1
1/8 cup granulated sugar
3 T butter melted
Cream Filling
4 oz cream cheese softened
1/4 cup granulated sugar
1/2 tsp vanilla
1/2 cup heavy whipping cream whipped
2 cups strawberries
Strawberry Glaze
1/2 cup strawberries mashed
1/2 cup granulated sugar
1 1/2 Tbsp cornstarch
1/4 cup water
Instructions
Graham Cracker Crust
Combine graham cracker crumbs, sugar and butter. Stir until it resembles wet sand.

Press mixture into bottom and sides of pie tin.

Bake at 350 degrees for 5-8 minutes or until golden brown on edges. Allow to cool.
Cream Filling
Blend cream cheese and sugar together. Add in vanilla.

Whip cream until soft peaks form. Fold whipped cream into cream cheese mixture until combined.

Spread mixture evenly in cooled crust.

Place whole or sliced strawberries on top of cream filling. Refrigerate.
Strawberry Glaze
Smash strawberries by hand or in food processor.

Combine sugar and cornstarch in a small sauce pan.

Add water and strawberries.

Cook and stir over medium heat to boiling, stir constantly until mixture thickens and becomes glossy. About 5 minutes or so.

Cool mixture and spoon over top of strawberries.

Refrigerate pie for 3 hours or until ready to serve.
Nutrition Facts:
Calories: 863kcal (43%) Carbohydrates: 74g (25%) Protein: 8g (16%) Fat: 62g (95%) Saturated Fat: 36g (225%) Trans Fat: 1g Cholesterol: 189mg (63%) Sodium: 541mg (24%) Potassium: 400mg (11%) Fiber: 4g (17%) Sugar: 53g (59%) Vitamin A: 2178IU (44%) Vitamin C: 85mg (103%) Calcium: 145mg (15%) Iron: 2mg (11%)
* Disclaimer: All nutrition information are estimates only. Read full disclosure here.