Cake Mix Cookies are easy and delicious and make a great base for an ice cream sandwich.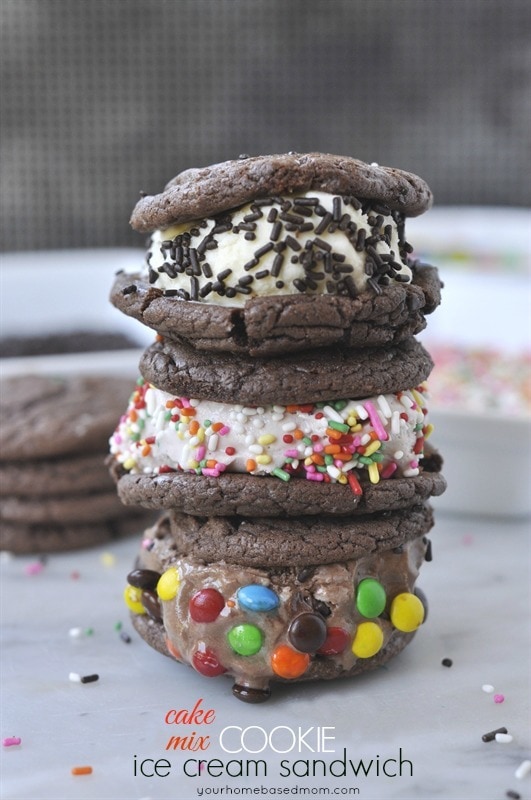 I volunteered to be in charge of dessert for our cul de sac 4th of July celebration.  Celebrating together as neighbors has been a tradition for as long as we have lived in our home – over 20 years. It is a much anticipated party!  I decided I needed to do something really fun for dessert.  I love getting my guests involved in putting their food together so I decided to provide all the makings for ice cream sandwiches.  I'll be back tomorrow with all the details on how I put the ice cream sandwich bar together but today I want to share with you the cookies I used for the ice cream sandwiches.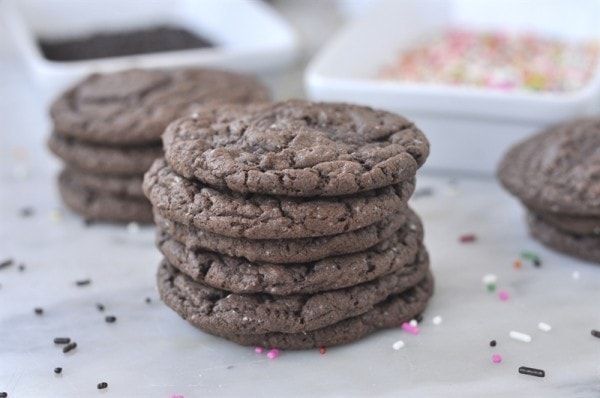 A cake mix cookie is easy to make, delicious and the perfect cookie for an ice cream sandwich because they are nice and soft.  They don't crack or crumble when you put your sandwich together. They are simple because they only require 3 ingredients.  A cake mix (I used Duncan Hines Devils Food Cake), 2 eggs and 1/2 C oil. The recipe has been around for years and years and I don't even remember where I first got it.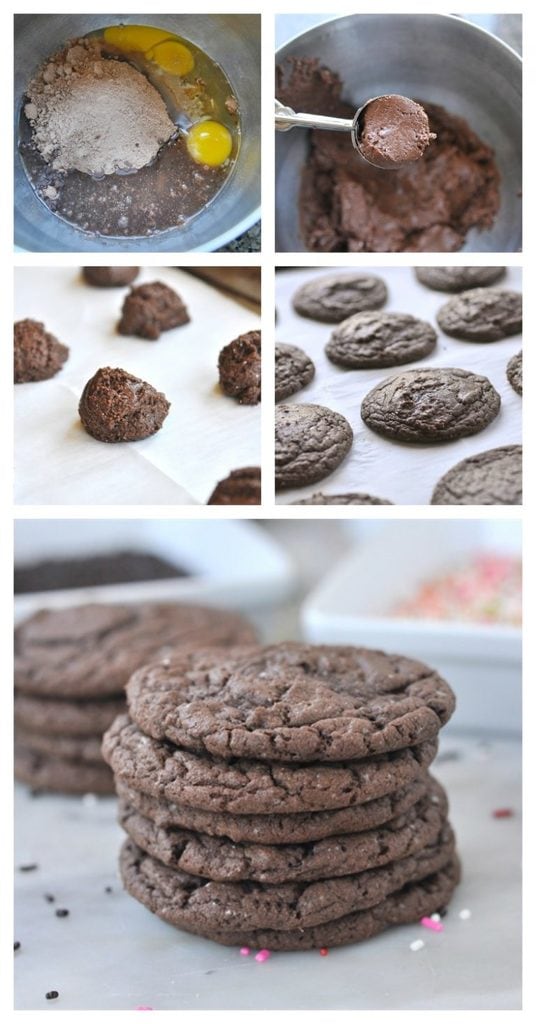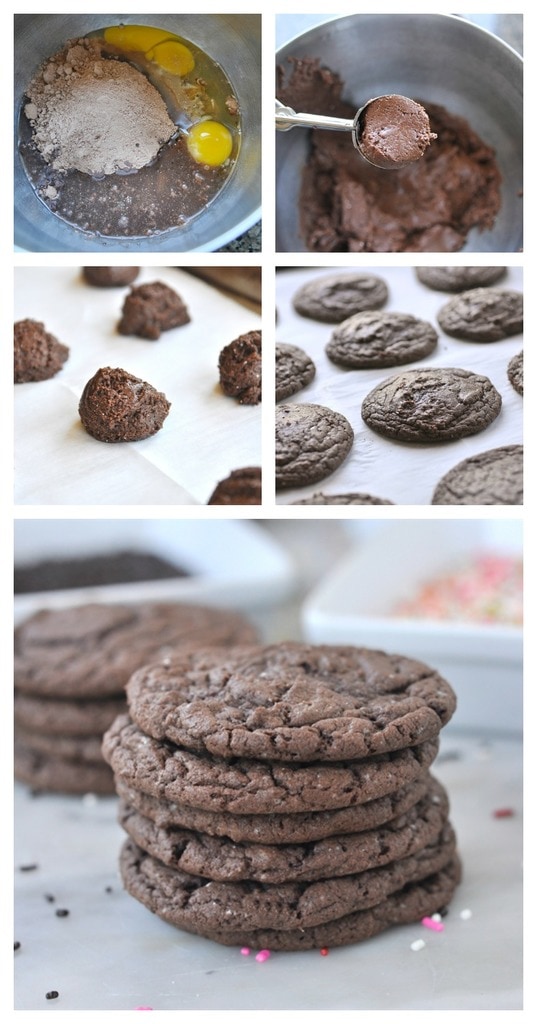 Just mix up the ingredients and bake.  Make your scoops according to the size of ice cream sandwiches you want to make.
The cookies flatten out just the right amount for an ice cream sandwich.  All you have to do is add ice cream!  A scoop of ice cream between two cookies. Have fun with your flavor combinations.
Of course you can jazz them up a bit with some sprinkles, mini M & M's, nuts or what ever  your favorite ice cream topping is.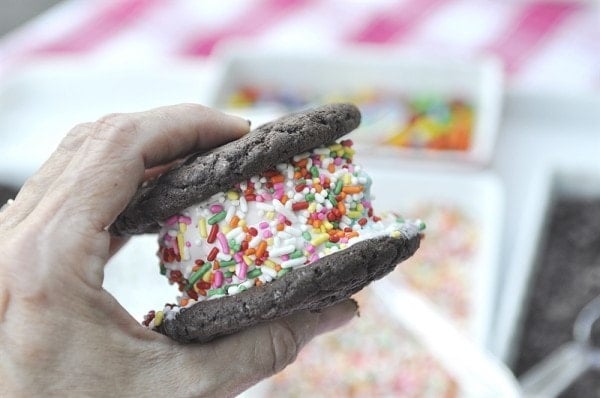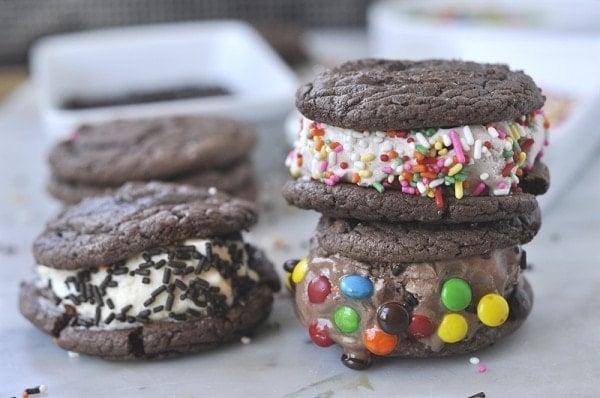 You can use all different flavor of cake mixes.  I also did a batch of cookies using funfetti cake mix which was a big hit – by adults and kids.  Everyone loves funfetti!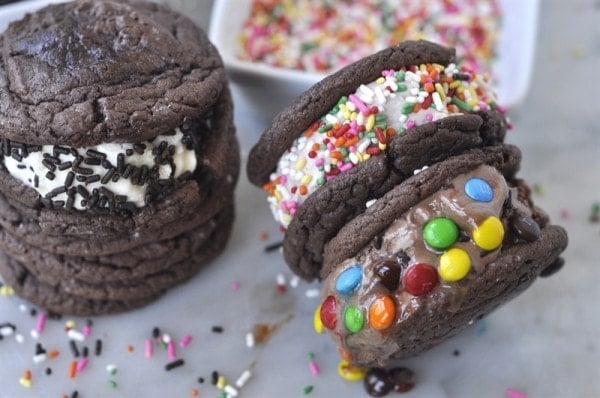 All that is left to do is to take a big bite!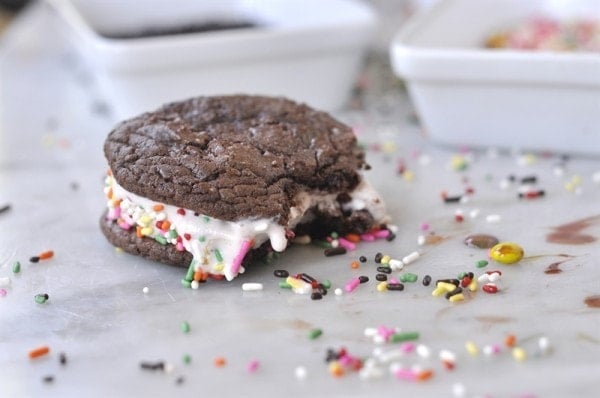 Other ice cream treats:
Blueberry Ice Cream – Cookies & Cream Ice Cream – Soda Pop Ice Cream


Cake Mix Cookie Ice Cream Sandwiches
Ingredients
1 cake mix
2 eggs
1/2 C canola or vegetable oil
Instructions
Combine dry cake mix, eggs and oil together.

Mix until blended

Scoop onto cookie sheet and bake at 350 for 8-9 minutes.

Cool.

Fill with ice cream, sprinkle with desired topping.