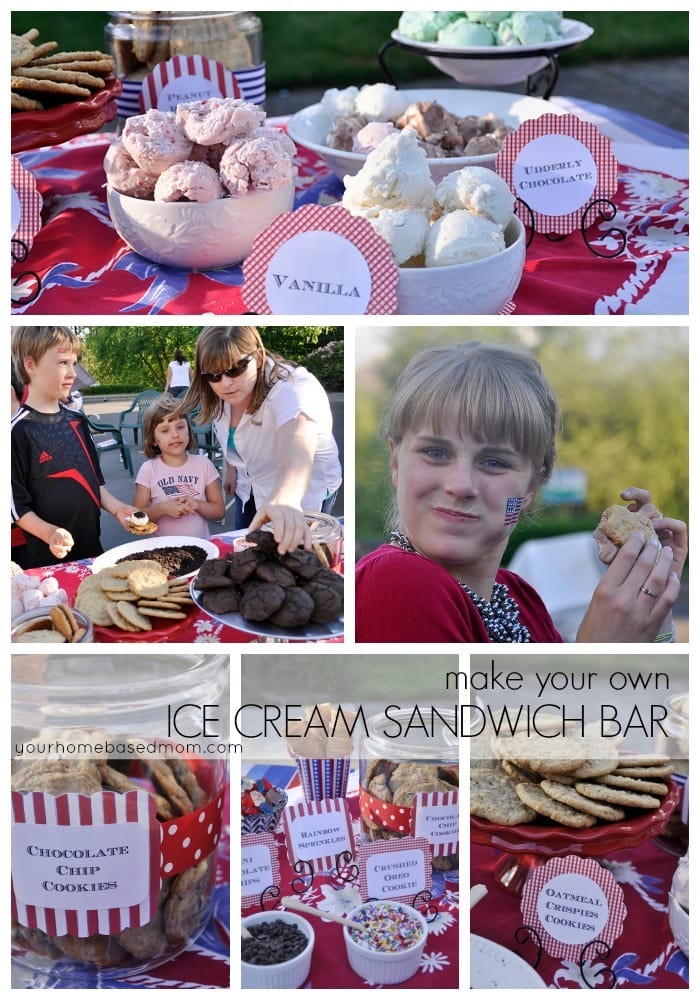 I hope you all enjoyed a fun holiday weekend!
Our Fourth started out with church and then a fun cul de sac party/BBQ.  I decided to put together an ice cream sandwich bar for part of the dessert.  I think I had as much fun putting it together as the neighborhood kids did eating it.
I baked up 3 different batches of cookies and my neighbor Katie provided a batch too.
There were Oatmeal Crispies.
My neighbor Katie provided a batch of chocolate Whoopie cookies – yum!
and there were Peanut Butter cookies too but I didn't get a picture of them.
Then there were four different types of ice cream.  I scooped the ice cream ahead of time and froze the scoops on a cookie sheet.  It made it much easier to serve than trying to scoop ice cream during the party.  We had vanilla, strawberry, mint chocolate chip, and Udderly Chocolate, our family favorite from Tillamook Ice Cream.
So they chose two cookies and their favorite flavor ice cream to make an ice cream sandwich.  It was fun to see what combinations they came up with.
And then the fun part.  They got to roll the edges of their ice cream sandwich in the different toppings.  We had mini chocolate chips, mini M & M's, rainbow sprinkles and crushed Oreo cookie.
I provided ice cream cones too for those who didn't want to make a sandwich.  The kids and adults had a great time making their own ice cream sandwich!
But of course the best part was eating them!!
I think the kids would agree that making and eating your own ice cream sandwich is almost as fun as shooting off the neighbor's potato gun!
Here are my two cute patriotic girls!

And I was there too but this is where you usually find me, if it's not in the kitchen, behind the camera.  Thanks  Katie for snapping this photo!
Putting together an ice cream sandwich bar is easy and fun and it could be adapted for any holiday.  It would make a very fun addition to a birthday party too!   You could pick ice cream flavors and toppings  to match your color scheme.  Ooh…. the possibilities are endless.  I can't wait to do another one.  Anyone have a birthday coming up???
Enjoy!
Stay Updated!
Need more recipes and creative ideas? Sign up and get a FREE copy of my ebook! Do you think your friends would love this too? Please share my blog with them. Thanks!