Guests will love making custom ice cream cookies at your ice cream sandwich bar. The perfect party treat for a warm summer day.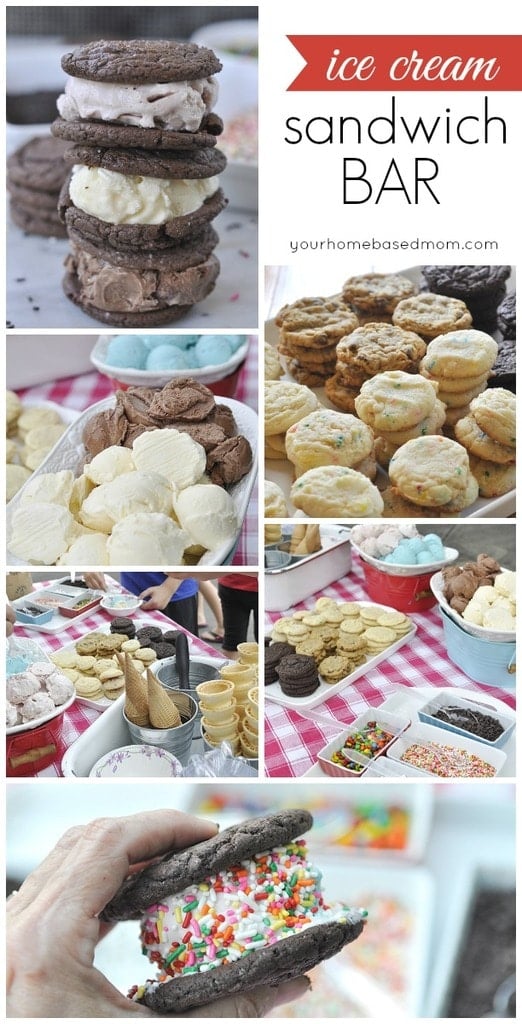 Summer is here and that mens it is time for outdoor barbecues, patriotic parties, and all manner of neighborhood gatherings.  I love getting my family and friends together this time of year.  And one of my favorite things to do is put together an ice cream sandwich bar.  I have done them a few times for our neighborhood 4th of July celebration.  They are always a huge hit.  Who doesn't love enjoying ice cream cookies?  And getting to come up with your own ice cream cookie sandwich creation makes it even more enjoyable.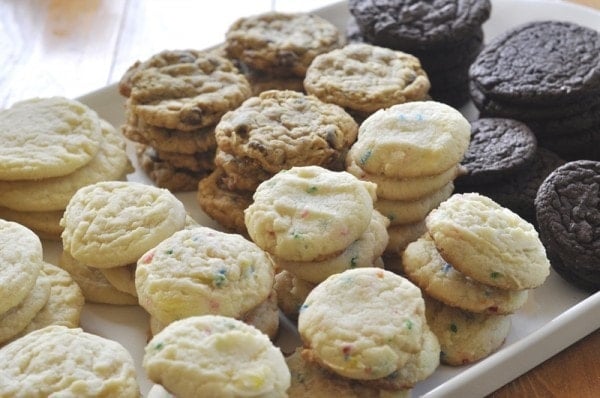 How to Make an Ice Cream Sandwich Bar
For this year's ice cream sandwich bar I had four different types of cookies:  chocolate cake mix cookies,  funfetti cake mix cookies, chocolate chip oatmeal cookies and sugar cookies.  Four is the magic number.  People fell like they have a lot of selection, without overwhelming them with choices.  Another great tip is to have two different size cookies.  That way people can have a smaller or a larger ice cream sandwich.  I like to go with the smaller one and then I can have a second one because  my first one was small!  That allows me to try two different ice cream cookies!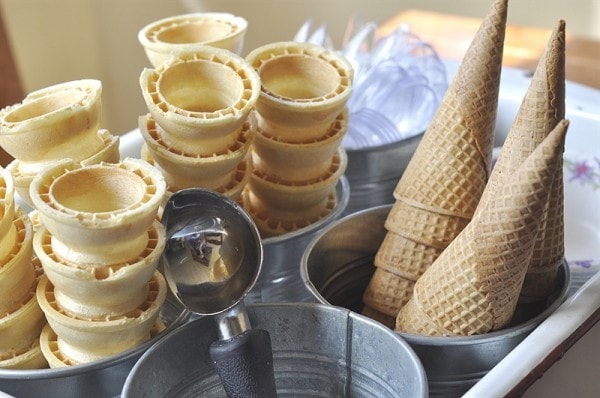 To make things easier, and help the line move faster, I pre scoop all of the ice cream.  You just scoop it onto baking sheets and slide them into the freezer until you are ready to serve.    I had vanilla, chocolate, strawberry and homemade Blue Moon Ice Cream.  And for those guest that don' feel like an ice cream sandwich, I always provide cones and bowls.  The bowls can come in handy for those enjoying ice cream sandwiches too.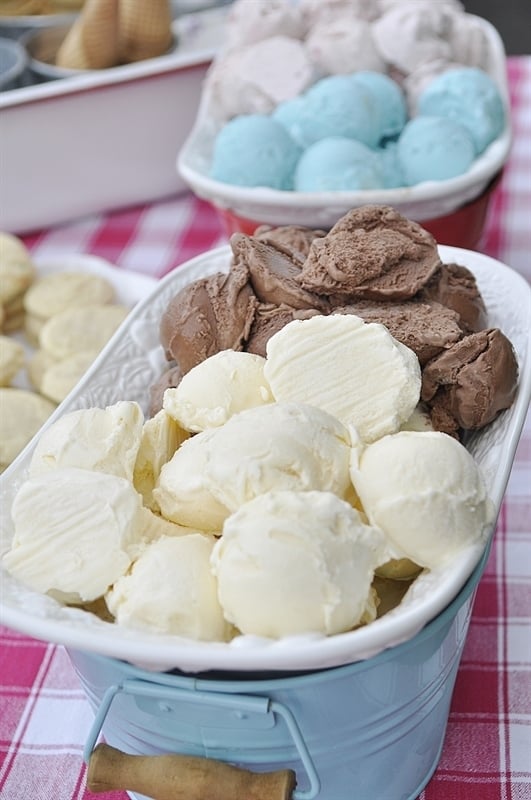 To keep the ice cream frozen, I put the scoops into bowls and then set the bowls into containers full of ice.  Depending on your temperature,  you might need to use dry ice to keep the ice cream from melting too quickly.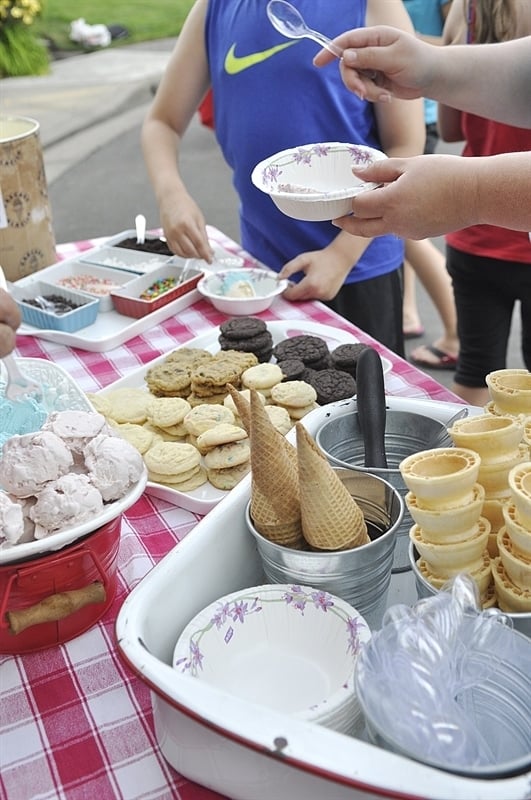 To top it all off, I love having a selection of toppings that guests can roll their ice cream sandwich in.  Some of my favorites are rainbow sprinkles, mini M & M's, crushed Oreo cookie, mini chocolate chips and mini marshmallows.  But you can use whatever toppings you love.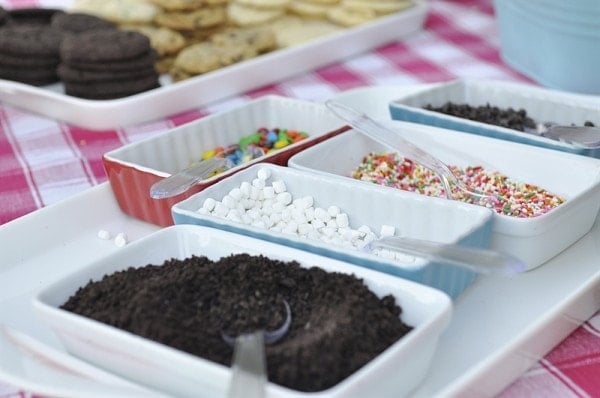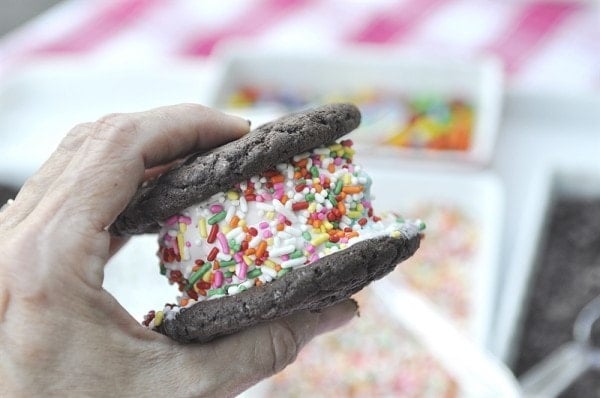 I think the process of making the ice cream sandwiches is almost as fun as eating them!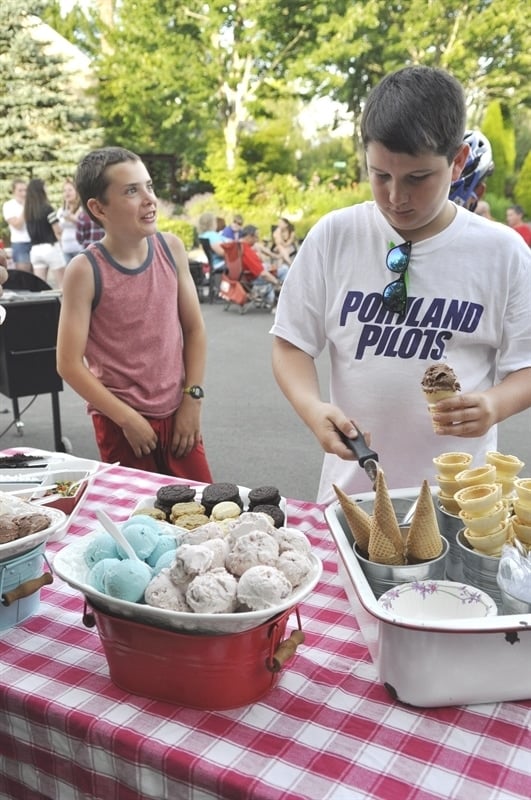 But eating them is definitely the best.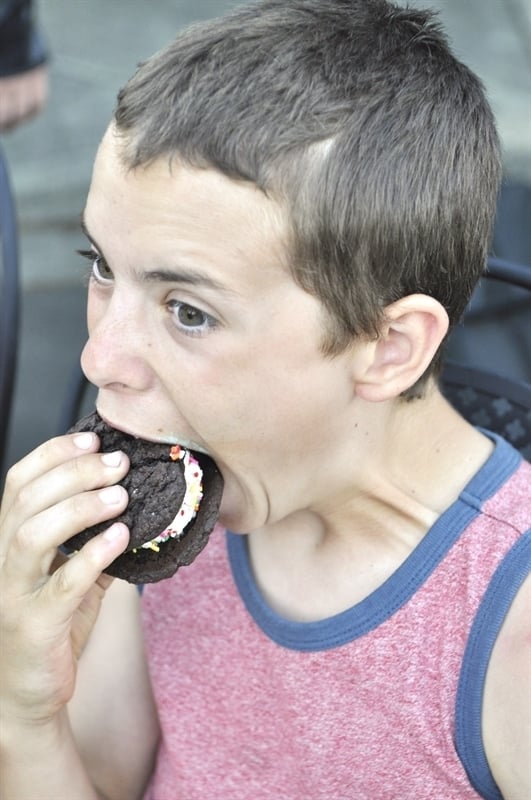 You should also check out the fun Ice Cream Soda bar we have enjoyed at our neighborhood parties!