Blue Moon Ice Cream is a childhood favorite for me!  The fruity flavor and fun color is always a hit.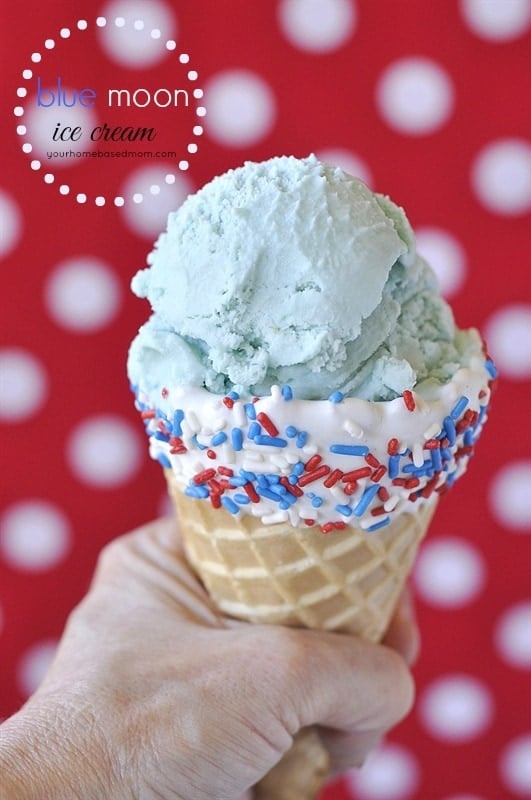 Today I am sharing with you a recipe for one of my"food memories."   I have always had this memory of blue ice cream.  But this ice cream wasn't the typical bubble gum blue ice cream.  I remember going to the local drive in and ordering blue ice cream.  But I didn't have a memory of what it tasted like.  I just remembered it being blue.  And I have never seen it since.  But recently my best friend from childhood posted a picture of blue ice cream on her Facebook page and I knew that it was the blue ice cream memory I've had for years.
So my memory was of Blue Moon ice cream.  I grew up in Wisconsin and Blue Moon ice cream is typically only found in Wisconsin and the upper midwest states.  The story of where Blue Moon ice cream came from is a little mysterious.  If you want to read more about the history of Blue Moon ice cream check out this article.
So what does Blue Moon ice cream taste like?  It has a fruity flavor and has been described as tasting like the leftover milk after eating a bowl of Fruit Loops.  That made sound odd, but it is delicious!
How to Make Blue Moon Ice Cream
The flavor comes from a combination of lemon, vanilla and raspberry extract.  Raspberry extract can be a bit of a challenge to find.  I never could find it at any of my local grocery stores so I ordered it on Amazon.  You can also use pureed raspberries in place of the extract which I did for one batch.  It was yummy but I definitely liked it better with the raspberry extract.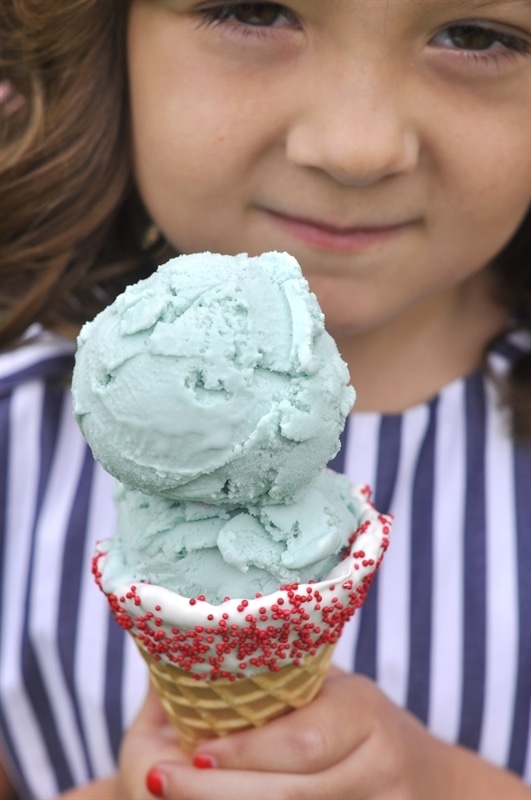 The flavor of Blue Moon did not disappoint my childhood memories.  It is yummy and everyone that I shared it with loved it!
The blue color comes from blue food coloring.  Next time I'll add a little more blue food coloring to get a darker blue.
I figured what child wouldn't love blue ice cream?  So I invited the daughter of a friend over to come check it out.  It got two thumbs up!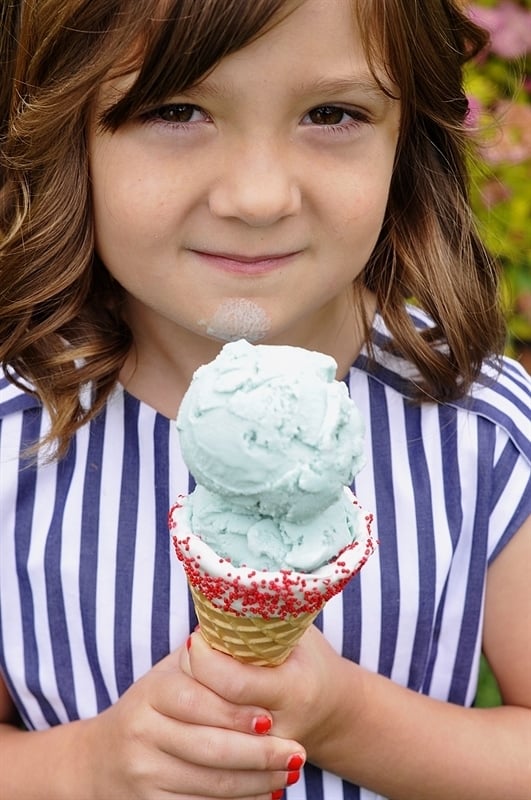 Her mom and brother enjoyed it too!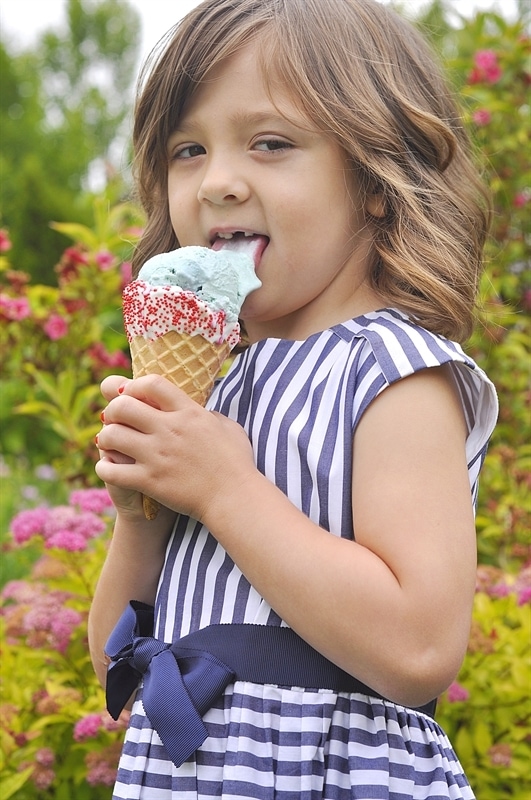 Dipped Waffle Cones
To make the fun red, white and blue waffle cones I used here is a quick tutorial: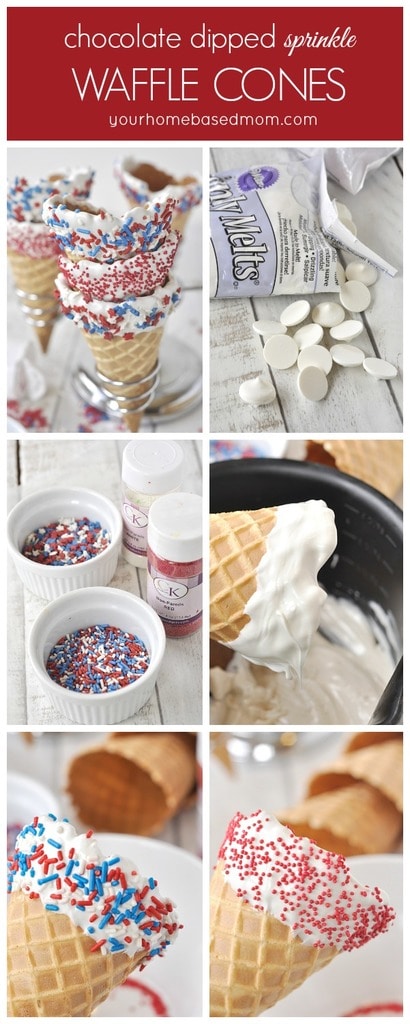 First, Melt chocolate and dip top of cone into chocolate.
Next, Sprinkle with sprinkles.
Finally, Allow chocolate to set
Blue Moon Ice Cream Recipe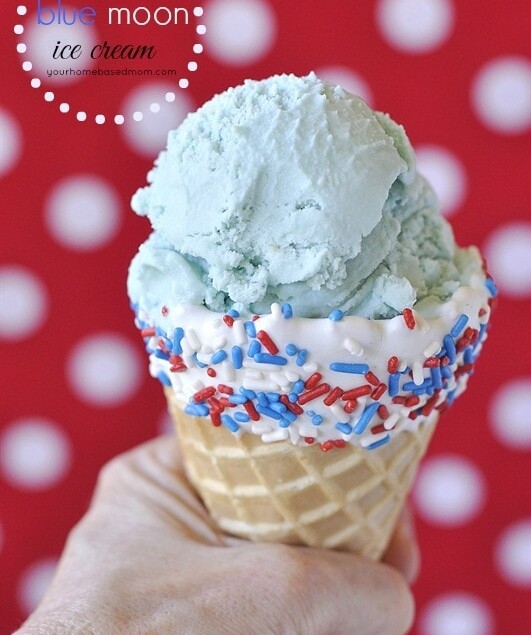 Blue Moon Ice Cream
Ingredients
1 C whole milk
1/2 C sugar
1/4 tsp salt
1 tsp vanilla extract
1 1/2 C heavy whipping cream
1/2 tsp blue food coloring or amount needed to get desired color
3 tsp vanilla pudding mix the powder
1 tsp raspberry extract or 1 C raspberries pureed
1 tsp lemon extract
Instructions
Scald 1 C milk in a pan (heat it just until it begins to boil)

Add in sugar and salt and stir

Add in whipping cream, vanilla, pudding, raspberry and lemon extract

Add blue food coloring to desired color

Chill in fridge until cold

Process in ice cream maker