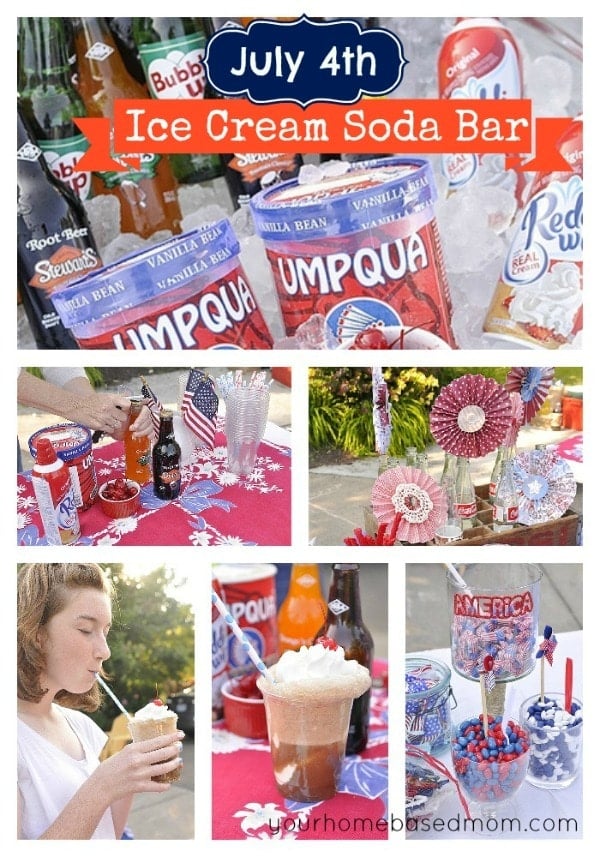 I hope you all enjoyed a fun and safe Fourth of July.
Our day started out with a 5K around a local neighborhood and then we helped cook sausage for a free pancake breakfast our church put on for the local neighborhood.  I think we fed about 300!
I headed home and went to work in the kitchen fixing all kinds of yummy things for our neighborhood BBQ later in the day.  I"ll be sharing several of them over the next week.
The afternoon started off with some water games for the kids.  We had perfect summer weather which was such a nice change from all the rain we have been having.


We are blessed to have wonderful neighbors and it is always a fun time when we are together.  And there is always lots of great food!  Yesterday was no exception.  I think we could have fed two neighborhoods.

My neighbor Debbie added some cute patriotic candy decor to the table.


And I brought out a few decor items too. The paper rosettes I made last year came in handy.


Sheri made her annual 4th of July popcorn balls that were so cute with red and blue sprinkles!.


For dessert my neighbor Katie put together a fun little ice cream soda bar.  We used the container I have put together for the Wedding Carnival this summer to hold the supplies.  I purchased the large metal containers at Home Depot and spray painted them red.  I cut the stars out of white vinyl.  This will be our water bottle holder for the Wedding Carnival.

In the beginning of the evening it was the beverage holder and then it got switched over to the ice cream soda bar!


We just filled it with ice and then the soda, ice cream, cherries and whipping cream!
We had lots of fun flavors of soda – rootbeer, orange, grape and Bubble Up. All in fun vintage style bottles.
It was a hit with the kids and the big kids(adults)!

A totally fun idea for your next party or neighborhood get together.
After the food there was a little neighborhood dance party with some YMCA and the macarena.

And the annual shooting off of the potato gun.

And of course there were fireworks too.


But one of the best parts is just hanging out with all the lovely people that live in our neighbor!

Hope it was Happy Fourth for you!

Stay Updated!
Need more recipes and creative ideas? Sign up and get a FREE copy of my ebook! Do you think your friends would love this too? Please share my blog with them. Thanks!