An Ice Cream Soda Bar is a fun way to keep guests cool at an outdoor summer party. Everyone at out 4th of July bash enjoyed their ice cream float!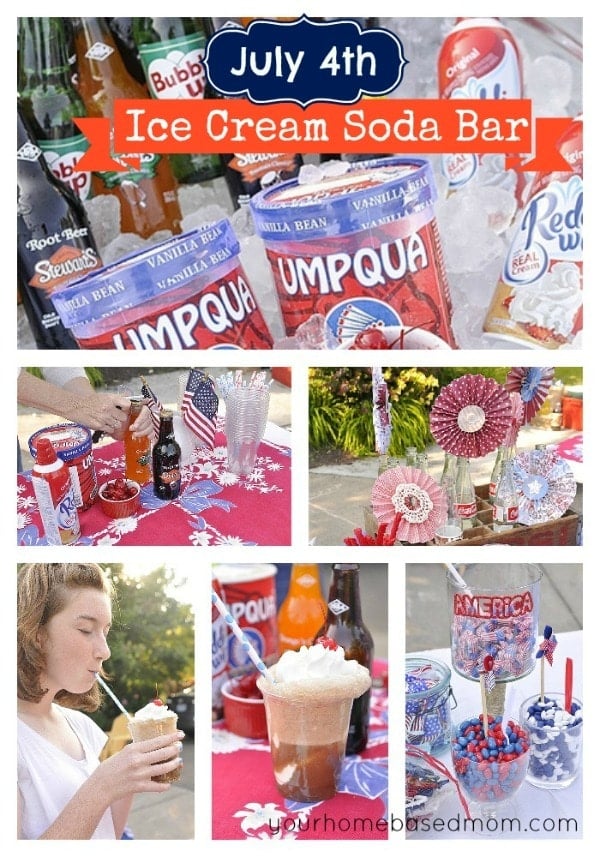 Our 4th of July is always busy.  Our day starts out with a 5K around a local neighborhood and helping cook food for the pancake breakfast at our church.  Then I head home and go to work in the kitchen fixing all kinds of yummy things for our neighborhood BBQ later in the day.
The afternoon starts off with water games for the kids.  A great way to keep cool outside in July.

And then there is the food.  Lots of yummy food.  We are blessed to have wonderful neighbors and it is always a fun time when we are together. I  think we could feed two neighborhoods with the amount of food we have.

And I brought out a few decor items too. The paper rosettes I made last year came in handy.

My neighbor Debbie added some fun patriotic candy. 
Sheri made her annual 4th of July popcorn balls that were so cute with red and blue sprinkles!

But the highlight of the party was the Ice Cream Soda bar.  For dessert my neighbor Katie put together a fun little station for making ice cream floats.  We used these cute patriotic containers I made.  I purchased the large metal containers at Home Depot and spray painted them red.  Then I cut the stars out of white vinyl.  Perfect for cooling off drinks at any patriotic party.
Ice Cream Soda Bar

In the beginning of the evening it was the beverage holder and then it got switched over to the ice cream soda bar!

We just filled it with ice and then the soda, ice cream, cherries and whipping cream!
We had lots of fun flavors of soda – rootbeer, orange, grape and Bubble Up. All in fun vintage style bottles.
It was a hit with the kids and the big kids.  And by big kids I mean adults.
A totally fun idea for your next party or neighborhood get together.
If you are looking for more fun treats to keep your party guests cool this summer, make sure to check out our ice cream sandwich bar!