Tender, marinated grilled flank steak with tomato olive relish is not only delicious but so pretty too!  A showstopper at your next meal or dinner party for sure.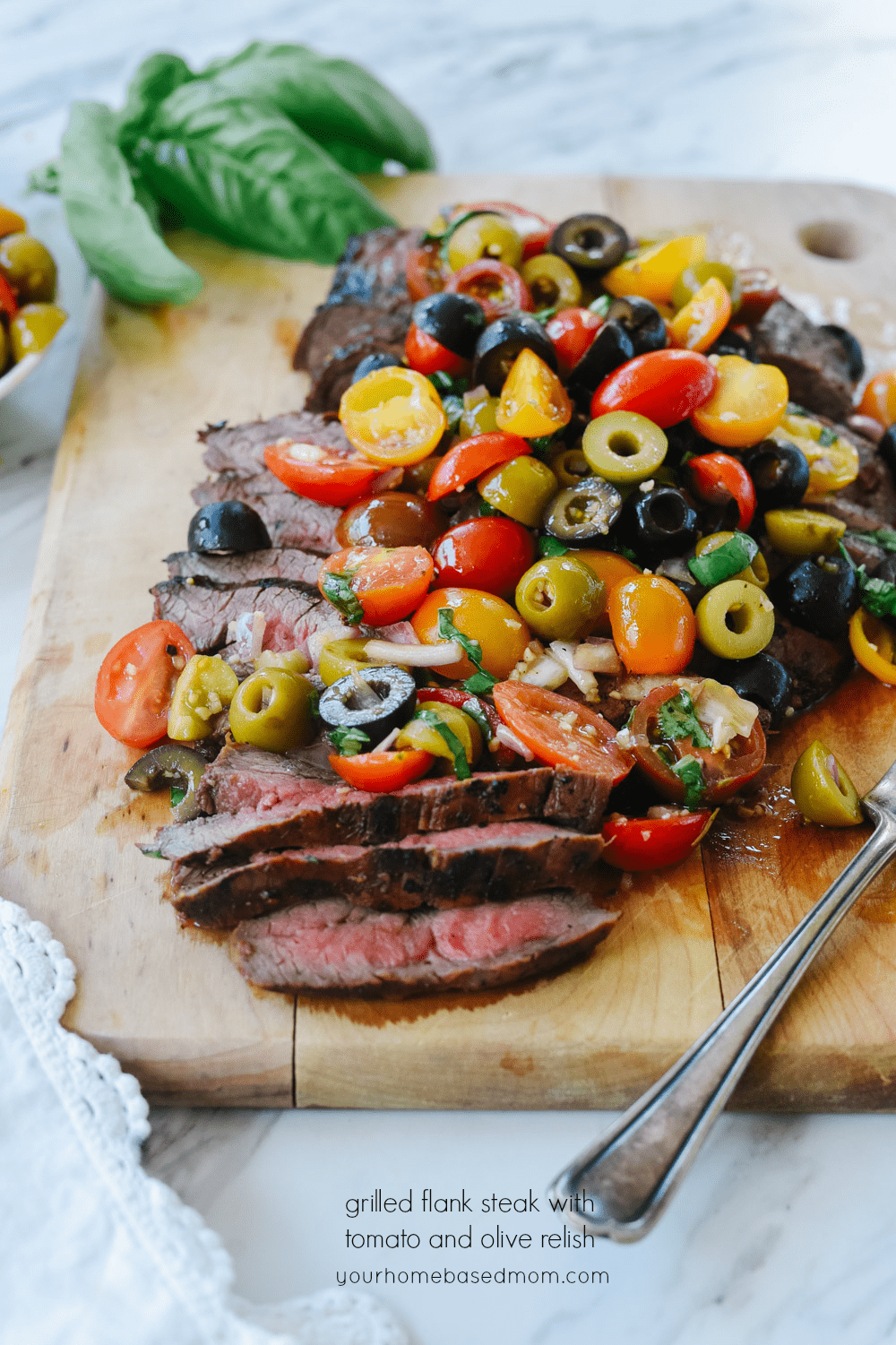 This post is sponsored by California Ripe Olives but all opinions are my own.
Summer has arrived in Portland, Oregon, I just hope it is here to stay.  We don't let rain stop us from firing up the grill though!  Flank steak is one of our family's favorite things to throw on the grill and the thing my kids request whenever they come home to visit.  I always like to use a marinade with flank steak which helps make the meat more tender. Flank steak cooks quickly on the grill, in about ten to fifteen minutes, if you like your meat medium like we do.
Flank Steak
Try to let your steak marinade overnight for up to 24 hours if possible. The longer it can marinade the more tender and flavorful your meat will be.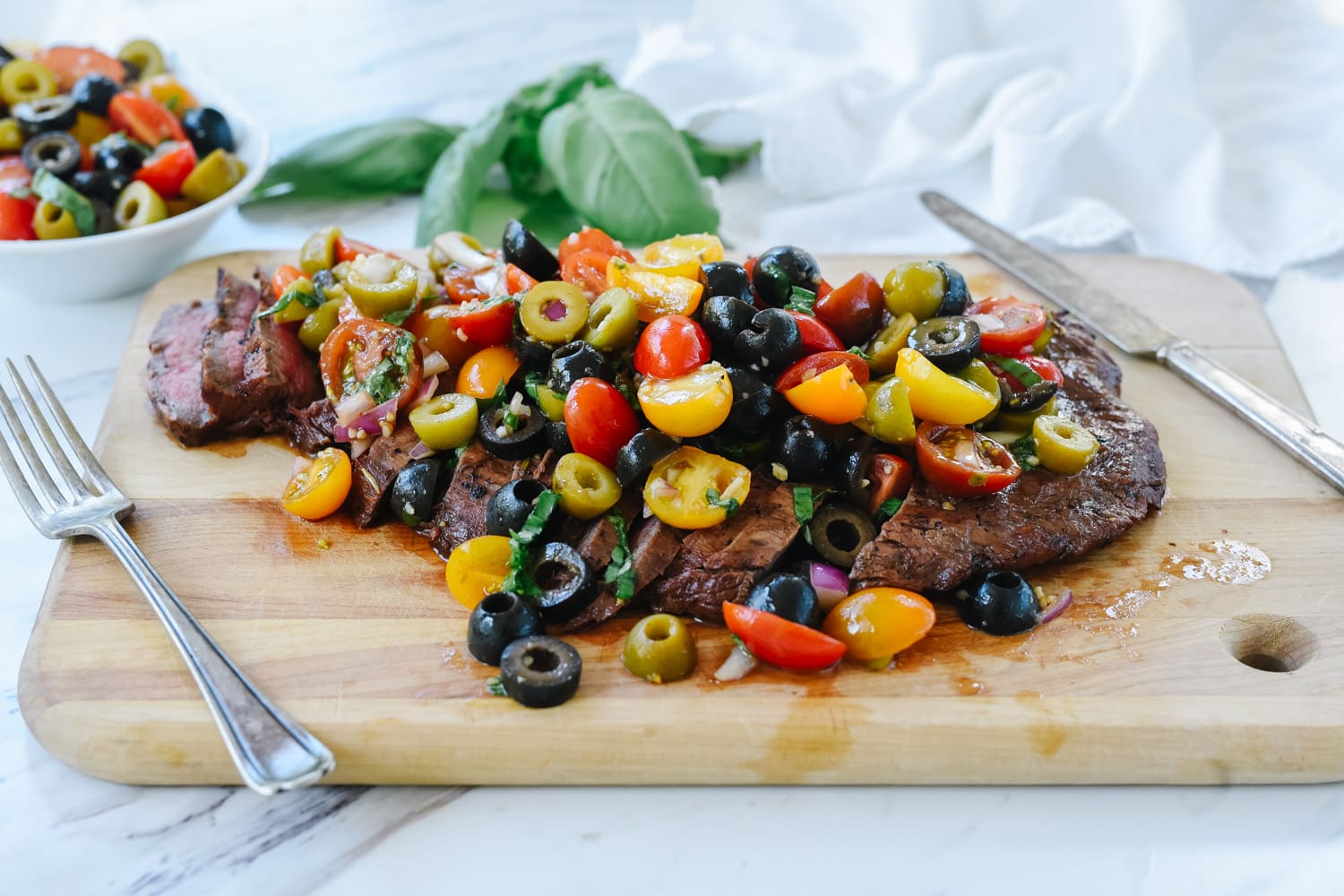 Before grilling your steak, mix up a delicious tomato olive relish to dress up your meal and add even more flavor and some spectacular color!!
After taste testing this dish for me my husband declared it was "heavenly!" In fact, he made the same comment a few more times that evening. Needless to say, it was a huge hit at our house and the combination of the tender flank steak with the delicious tomato olive relish is a winner!!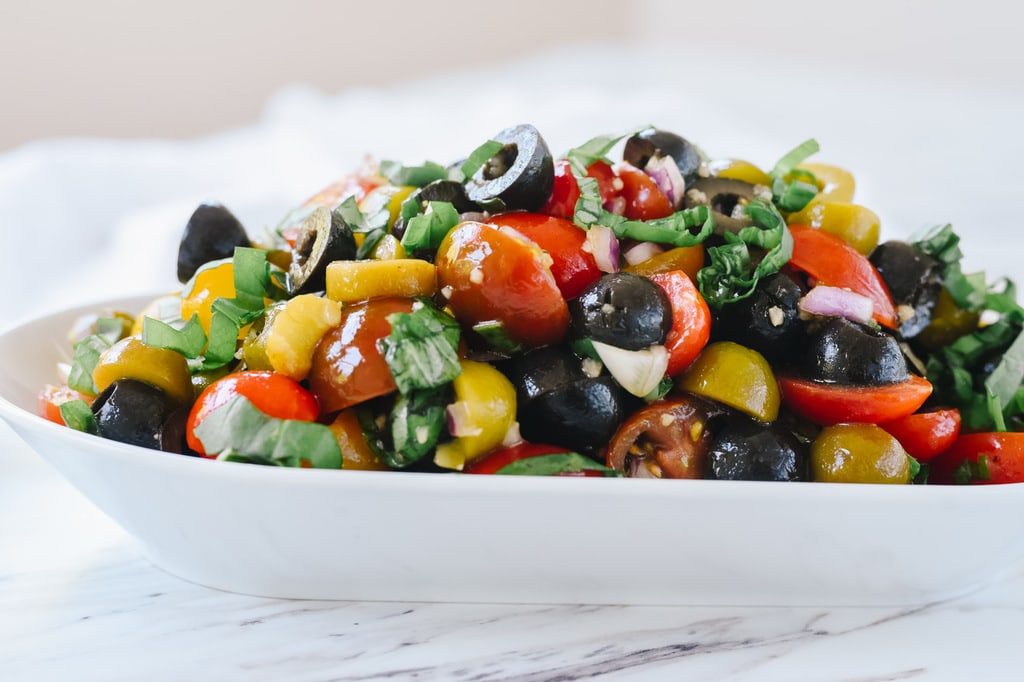 How to Make relish
A relish is typically a combination of chopped vegetables, fruits or herbs served as a condiment. I used a combination of California Black and Green Ripe Olives, red onion, grape tomatoes, fresh basil, olive oil, ginger, balsamic vinegar and salt and pepper.
I love using both black and green olives in the relish. The flavor of the two olives is very similar but the green olives have a more "buttery" flavor to them that I love. I thought I loved black olives until I tasted a California Green Ripe Olive. So good! I first tasted one while on a trip to California with the California Olive Committee and I fell in love with the green olives. My olive of choice is always California Ripe Olives, I love that the industry is made up of hundreds of family owned farms, many of them multi-generational. I love their commitment to a top-quality product and that it is a family run and operated industry.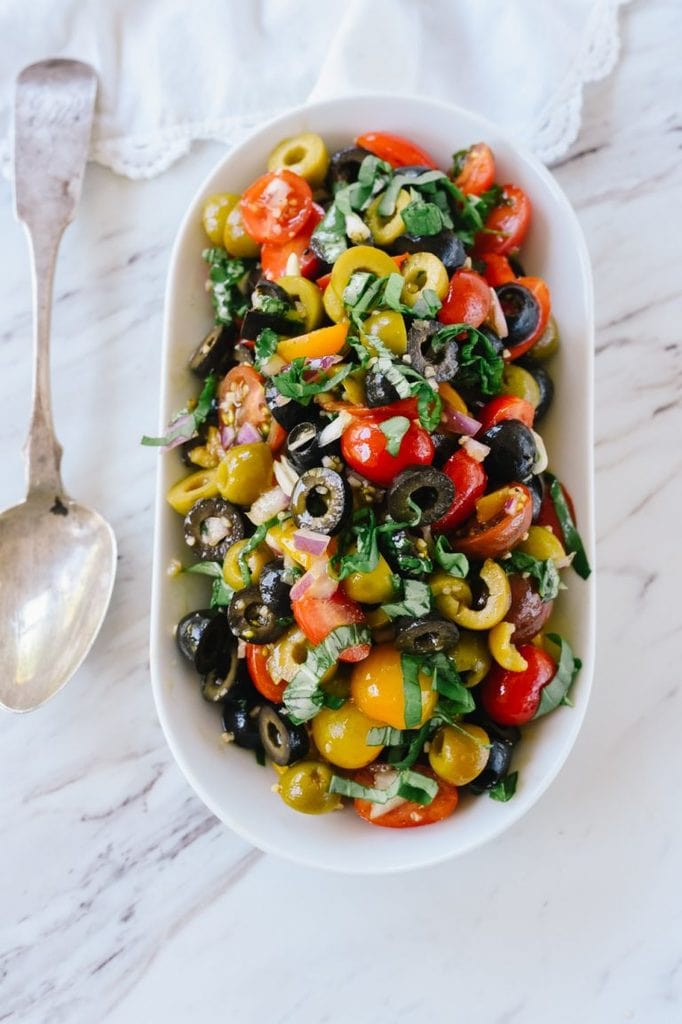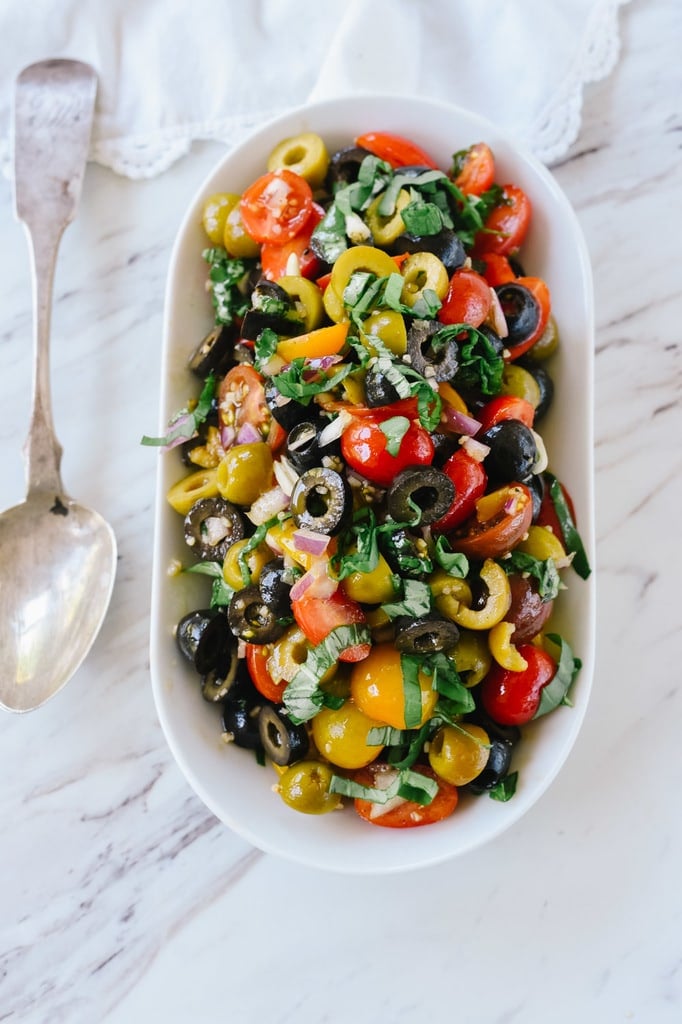 Make up the relish up a few hours before serving to give the flavors time to meld together. I cut the grape tomatoes in half, diced up the red onion, fresh garlic and fresh basil and sliced the olives in half too. Good quality olive oil and balsamic vinegar are the best for great flavor. Just salt and pepper to taste.
Using multi colored grape tomatoes adds even more fun color to the relish.
Just stir to combine and refrigerate until ready to serve.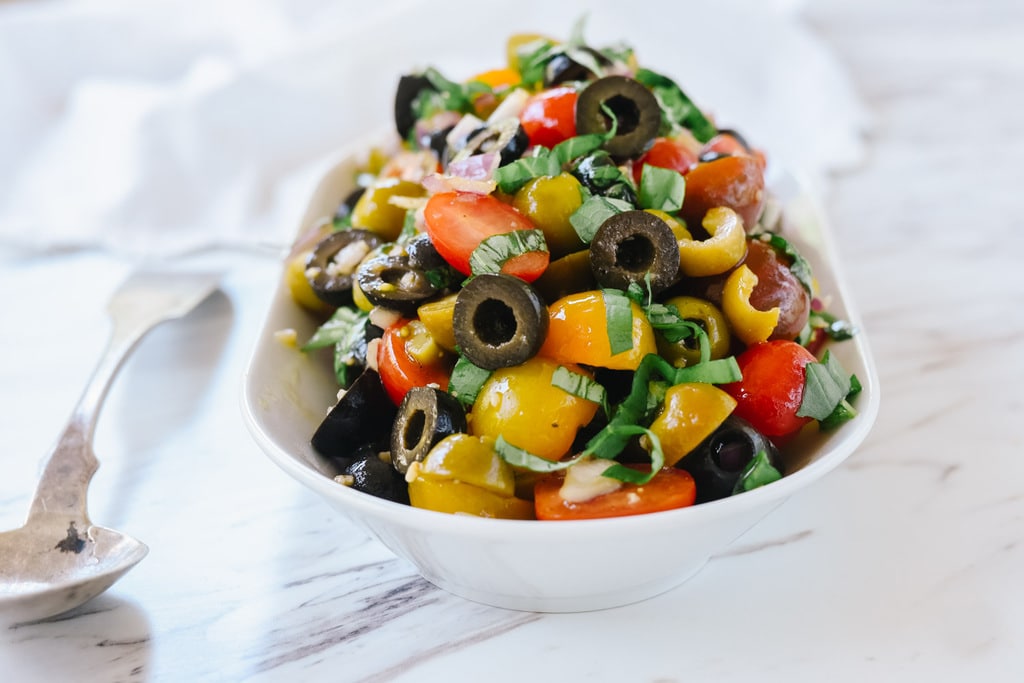 How to Grill Flank Steak
Grill your flank steak over medium heat.  Cook on each side for about 5-7 minutes, depending on how thick your flank steak is.
For medium, grill the flank steak to 155 degrees F, medium is 160 degrees F. Use a meat thermometer for best results.  Cutting into your steak to check the doneness will release the juices and dry your meat out. After you remove your meat from the grill it will continue to cook so always remove your flank steak from the grill about 5 degrees F before your desired temperature.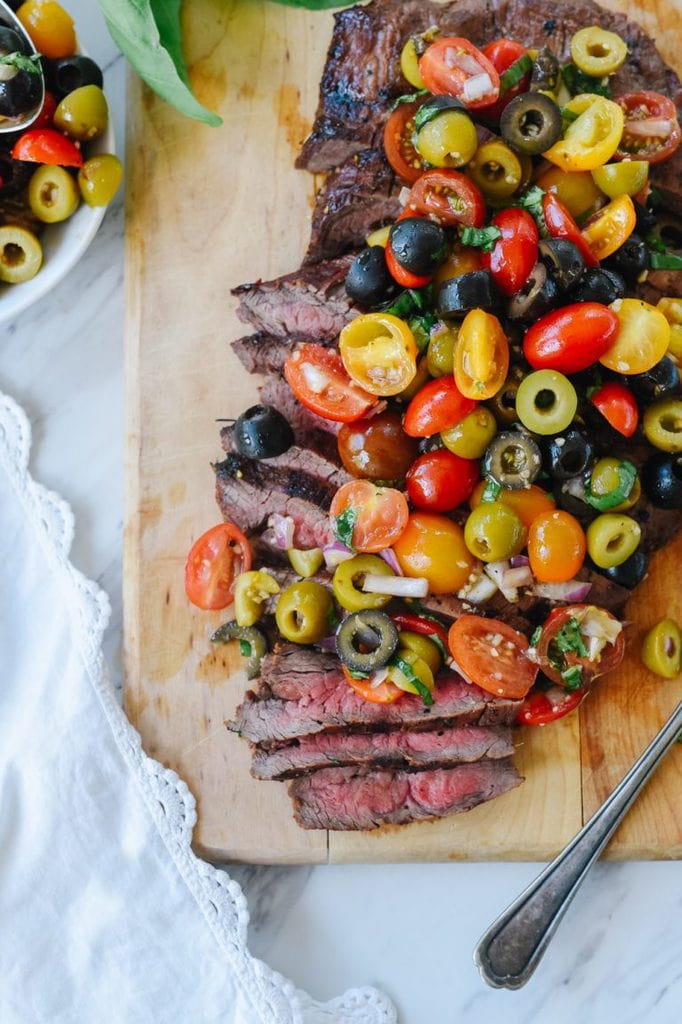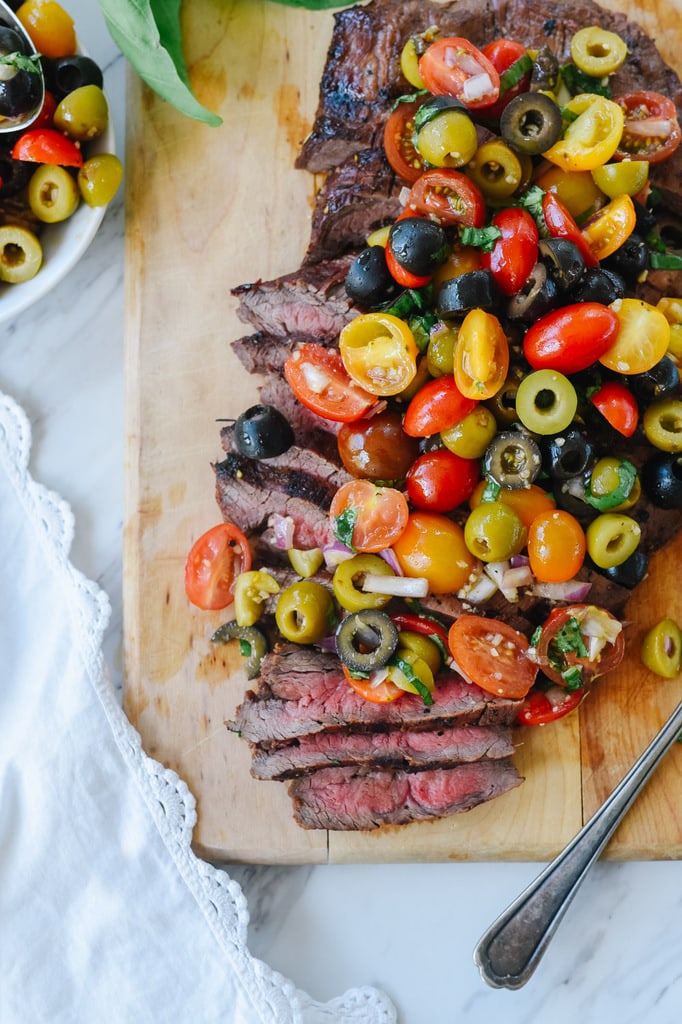 Slice your flank steak going against the grain for the most tender cut. Place on a serving dish and then top with your tomato olive relish and serve!

This recipe will be the perfect addition to your summer grilling repetoire and sure to be a hit at your next neighborhood cookout or holiday BBQ.
What to serve with grilled flank steak
Tomato Olive Relish Recipe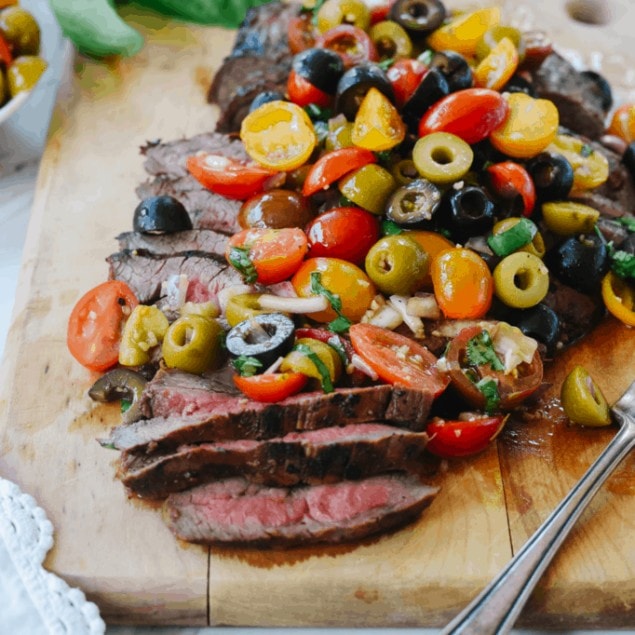 Grilled Flank Steak with Tomato Olive Relish
Tender, marinated grilled flank steak with tomato olive relish is not only delicious but so pretty too!  A showstopper at your next meal or dinner party for sure.


Ingredients
Grilled Flank Steak
1.5 lb. flank steak
1/3 cup honey
1/3 cup soy sauce
1/4 cup red wine vinegar
1 tsp garlic minced
1 tsp dried rosemary
1/4 tsp red chili flakes
Tomato Olive Relish
2 cups grape or cherry tomatoes sliced in half
1/2 cup olive oil
2 Tbsp red onion chopped small
1/4 cup basil thinly sliced
2 tsp garlic minced
1 6 oz. can California Black Ripe Olives cut in half
1 6 oz. can California Green Ripe Olives cut in half
1 Tbsp balsamic vinegar
salt and pepper to taste
Instructions
Grilled Flank Steak
Mix marinade ingredients together and pour over flank steak in a zippered plastic bag.

Refrigerate steak for up to 24 hours. Turn a few times during this time to make sure marinade is covering the both sides.

Remove from refrigerator and allow to sit at room temperature for about 20 minutes before grilling

Cook over medium heat grill, 5-7 minutes per side until temperature reaches 155 degrees F. for medium meat. Remove from grill and allow to sit for 5 minutes.

Slice against the grain. Serve with tomato olive relish on top.
Tomato Olive Relish
Slice grape tomatoes and olives in half and place in bowl.

Add in all remaining ingredients and place bowl in refrigerator for 1-2 hours before serving if possible.

Serve on top of sliced grilled flank steak.
Nutrition Facts:
Calories: 389kcal (19%) Carbohydrates: 18g (6%) Protein: 25g (50%) Fat: 24g (37%) Saturated Fat: 5g (31%) Cholesterol: 68mg (23%) Sodium: 542mg (24%) Potassium: 422mg (12%) Fiber: 1g (4%) Sugar: 16g (18%) Vitamin A: 80IU (2%) Vitamin C: 0.8mg (1%) Calcium: 32mg (3%) Iron: 2.3mg (13%)
* Disclaimer: All nutrition information are estimates only. Read full disclosure here.