Sweet Tomato Relish is the perfect solution to a bumper crop of cherry tomatoes.  It tastes amazing on everything and all by itself!!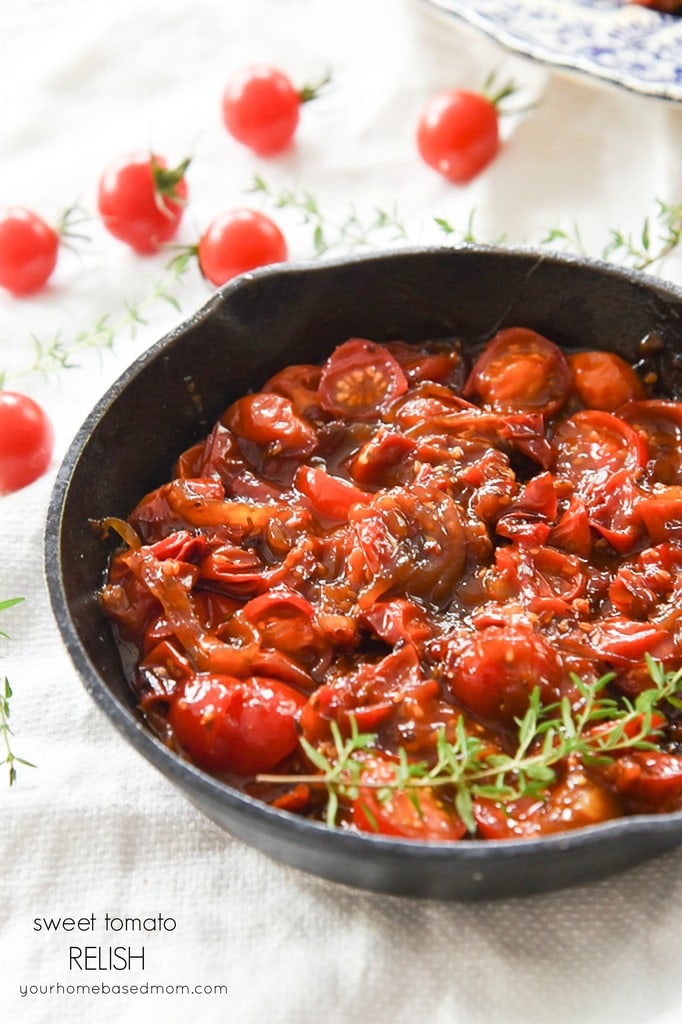 So Oregon has had record breaking heat this summer and NO rain!  As a result, we are now dealing with ash and smoke filled skies at our house because of wildfires raging in the area.  It's scary stuff and we could sure use some rain and prayers!  An upside of all that heat and no rain is that we have an amazing crop of tomatoes this year.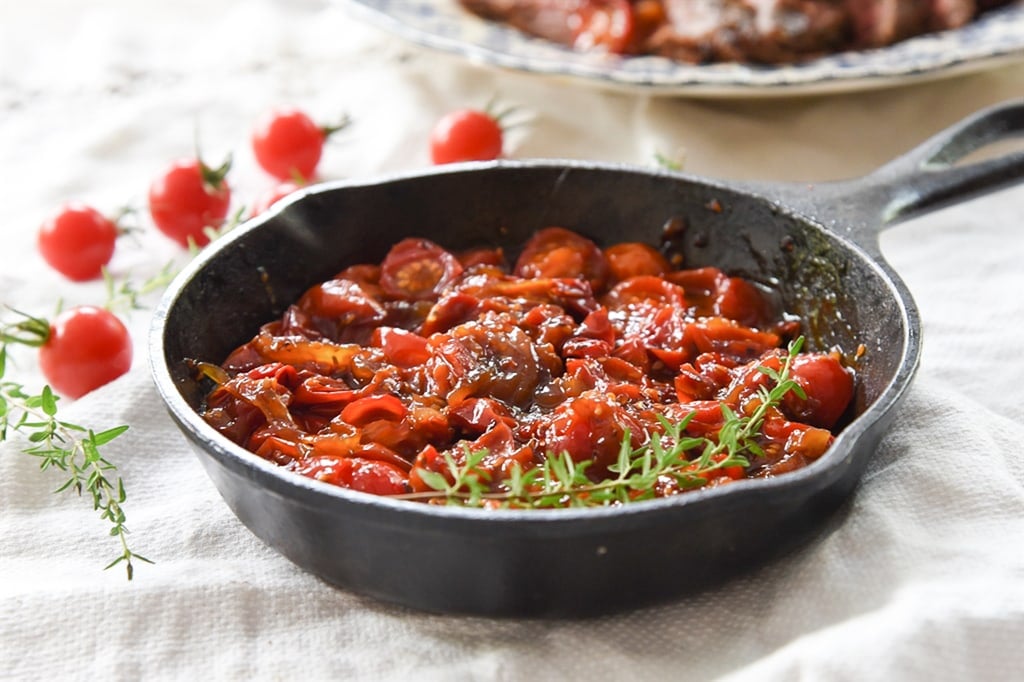 The cherry tomatoes are really going crazy and it seems like every day my husband comes in with a new bowl full.  If you live near me come on over!  If you see a man wandering the neighborhood with a bowl full of tomatoes, it is my husband looking for someone who needs tomatoes!  In my attempts to find something to do with them other than just eat them right out of the garden or put them in salads I made up a batch of sweet tomato relish.  It was a good decision.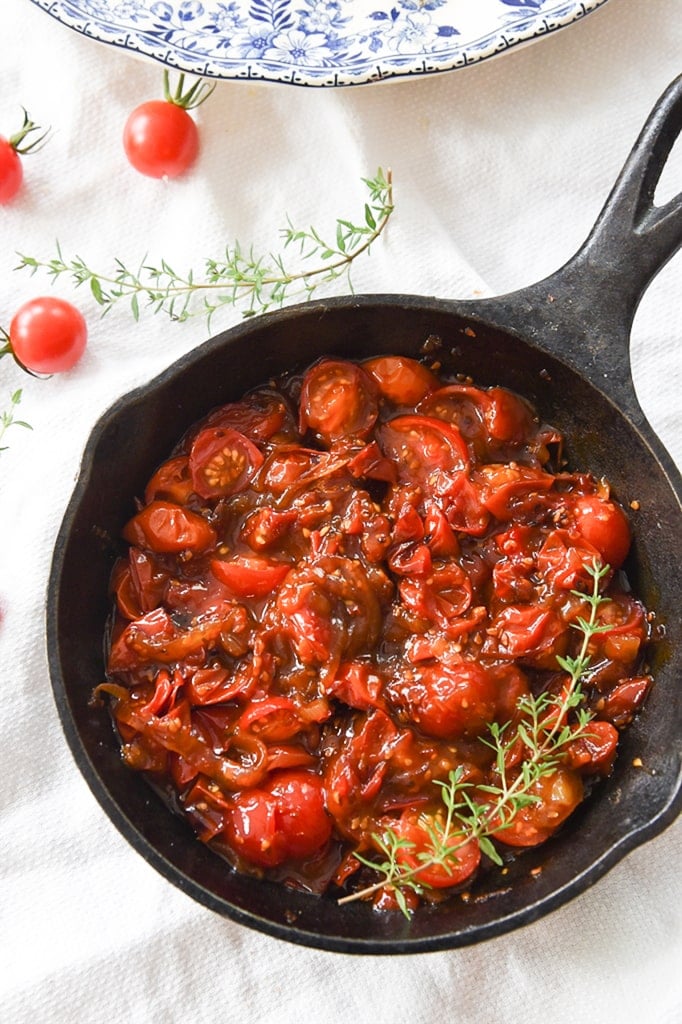 I first made this sweet tomato relish years ago and served it with this delicious buttermilk chicken.  After you taste this sweet tomato relish you are going to want to eat it on everything!  Seriously, I mean everything.  It is the perfect thing to not only top your chicken with but it's amazing on beef, pork, fish and I can't wait to put it on hamburgers.  It would be delicious used on bread as a bruschetta too.  I served it this weekend on this yummy rosemary and lemon flank steak (recipe coming on Friday) and my husband kept commenting and commenting on the sweet tomato relish.  He thought the steak was good too.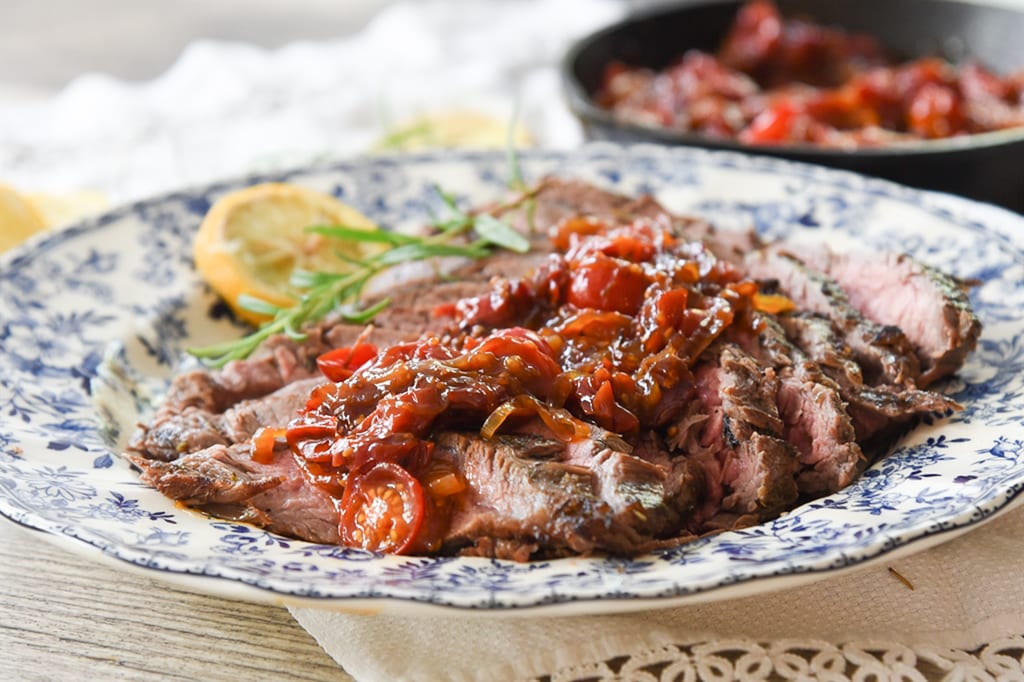 After you taste this sweet tomato relish you are going to hope for a bumper crop of tomatoes every year.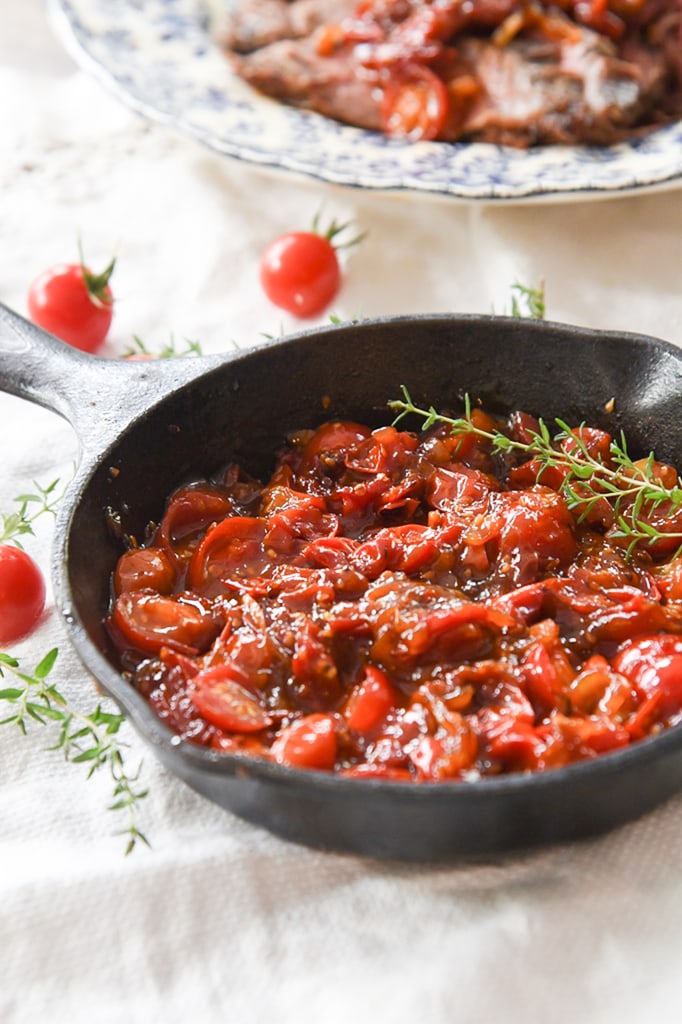 A few other favorite tomato recipes:
Sweet Tomato Relish
WP Recipe Maker #53662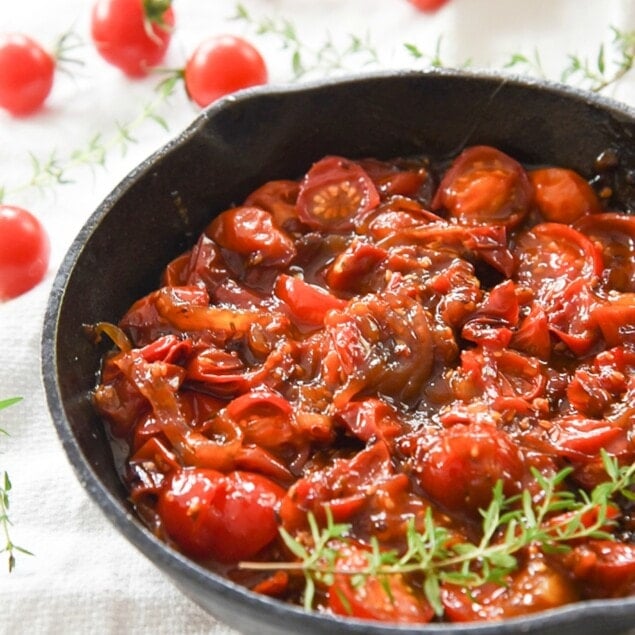 Sweet Tomato Relish
Tomatoes reduced with onion, brown sugar, and thyme.
Ingredients
2 cups cherry tomatoes cut in half
1/2 cup sweet onion sliced
1/4 cup brown sugar packed
1/4 cup granulated sugar
1/2 tsp dried thyme
2 Tbsp olive oil
Instructions
Heat olive oil in pan

Add onions and saute until the onions are soft.

Add in tomatoes, sugar and thyme

Stir and simmer until thickened

Smash the tomatoes with the back of a spoon if needed.
Nutrition Facts:
Calories: 91kcal (5%) Carbohydrates: 15g (5%) Protein: 1g (2%) Fat: 4g (6%) Saturated Fat: 1g (6%) Sodium: 7mg Potassium: 102mg (3%) Fiber: 1g (4%) Sugar: 14g (16%) Vitamin A: 182IU (4%) Vitamin C: 9mg (11%) Calcium: 12mg (1%) Iron: 1mg (6%)
* Disclaimer: All nutrition information are estimates only. Read full disclosure here.