Cooking pork to perfection is easier than you think with these tips for perfect, juicy and tender breaded pork chops every time. Top these pork chops with a lemon butter sauce for a delicious, elegant and easy meal!
We are big pork fans at our house. We love the world's most tender Instant Pot Baby Back Ribs, Chinese BBQ Pork just like you get at a Chinese restaurant and my blog's most popular recipe, Crock Pot Pork Roast.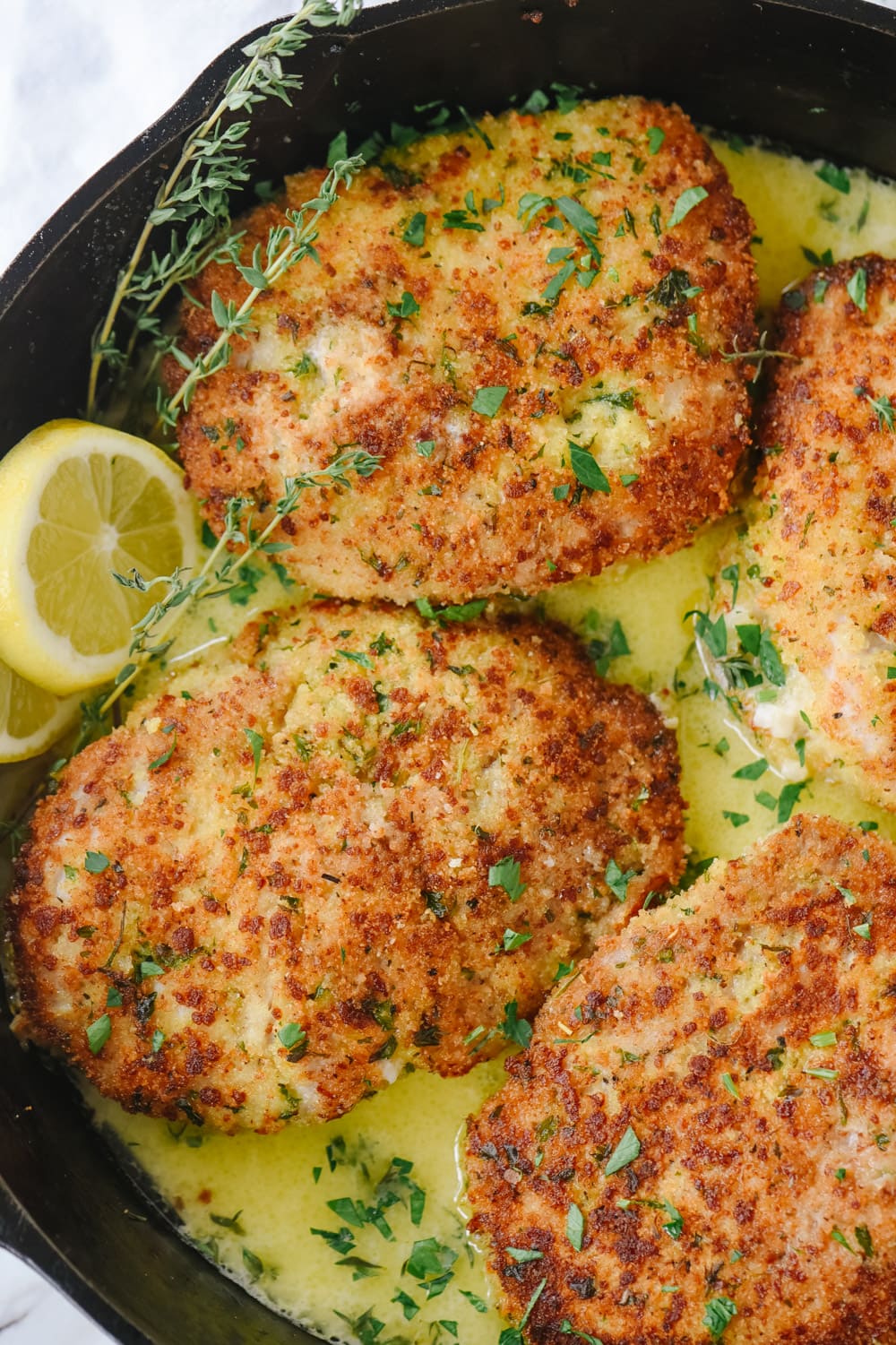 We have always eaten a lot of pork at our house. Pork tenderloin is a favorite at our house and my boys love their ribs. You can find all my pork recipes here.

This is a sponsored conversation written by me on behalf of the National Pork Board. The opinions are all mine.
A year ago my husband came home from a business trip raving about some pork chops he had while out of town. I have heard about those pork chops on a regular basis for the last year.
I finally decided I needed to see if I could recreate them at home, never having eaten them myself. Now that's a cooking challenge but I was up for it. My husband described them as lightly breaded and covered with a buttery lemon sauce. Today's recipe for Breaded Pork Chops with Lemon Butter Sauce received two thumbs up from my husband and although not exactly like his dream pork chops, they were pretty darn close!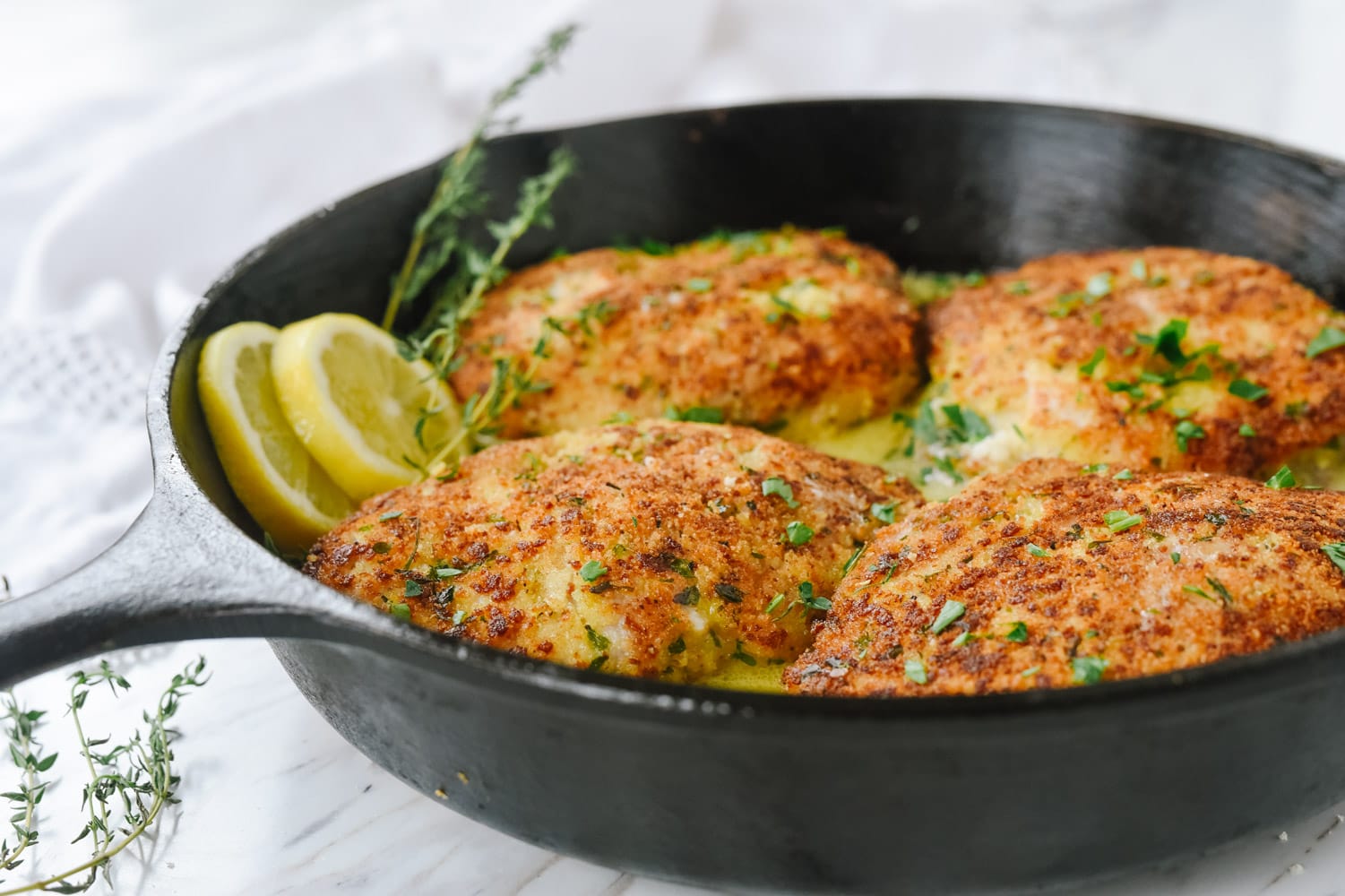 When the National Pork Board invited me to Illinois to tour and experience life on a pig farm, I was excited to go. I am a total city girl and haven't spent much, if any time on a farm so this was a big learning experience for me and I was amazed by the whole experience!! Besides learning so much about the process of farrowing and raising pigs I came home with an immense appreciation for the American farmer and what is involved in getting our food from farm to table. So amazing!!
Pig Farming
We had the opportunity to visit the Borgic Farm, which is a multi generational family owned and run sow farm. The family's love and commitment to what they do is very evident. They work daily to make sure the pigs are healthy and well taken care of. Their facilities were so clean and high tech. The farmer's are also very concerned about the environment and sustainability and work hard to ensure they are leaving as small a carbon footprint as possible.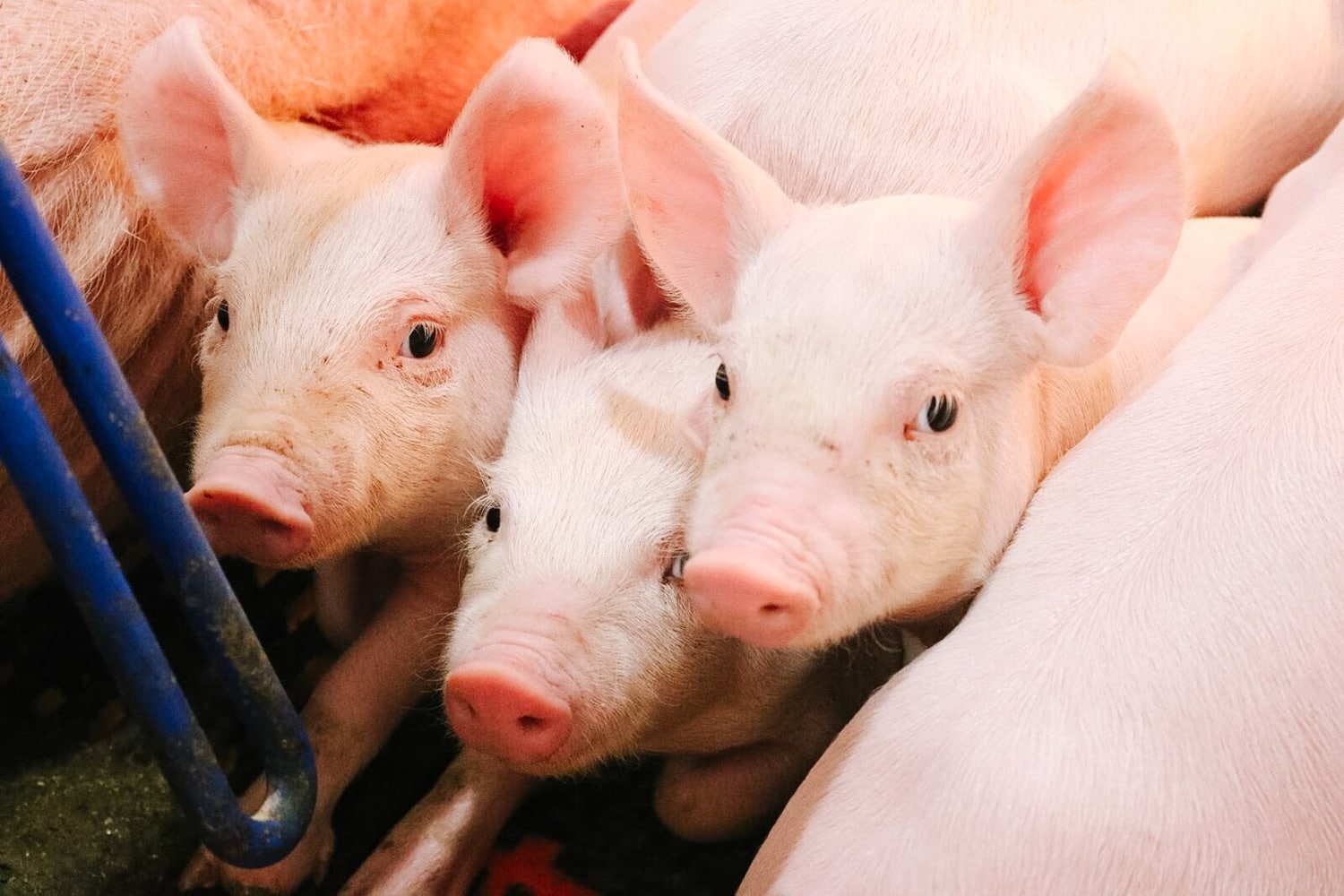 Shower In Shower Out
One of the processes that surprised me and actually made me a bit nervous was that of "showering in" and "showering out" To insure that no disease or germs are brought into the pigs every one that visits or works at the farm must go through this process. So much care is taken to make sure the pigs remain healthy. I even had to get special clearance to visit the farm since I had been out of the country within two weeks of the trip. That's just one of the many measures in biosecurity they have to protect the pigs.
So before visiting the pigs, we showered at the pig farm. We put on clean clothes they provided for us. And then we had to shower again as we left the farm, putting our own clothes back on. Thus, the photos with no makeup! We visited a sow or "farrowing" farm which is where the pigs are born and kept until they are about a month old and then they are sent to a "finishing farm." Getting to hold a minutes old baby pig was definitely a highlight of the trip.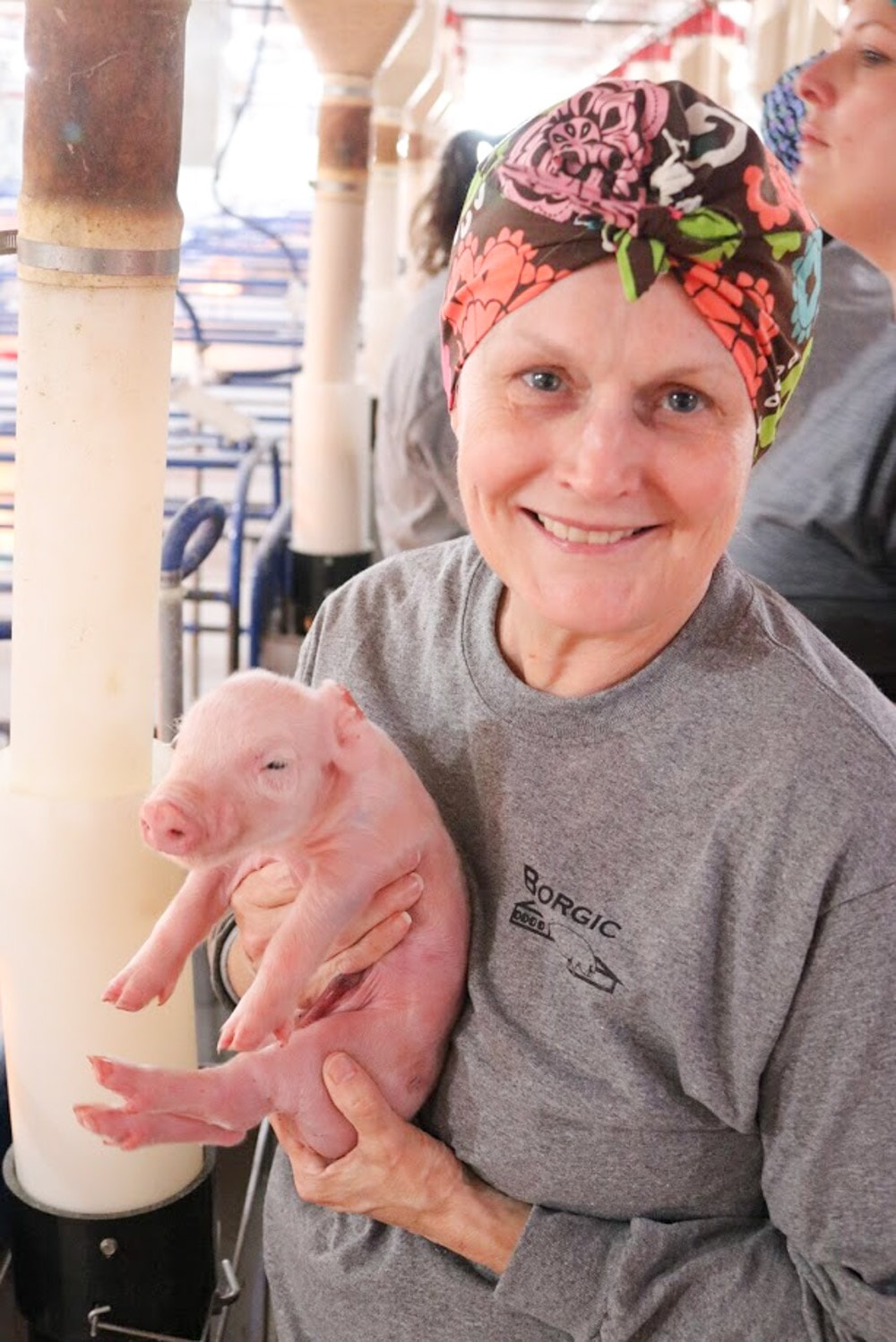 We also got to see how the farmer's grow and harvest their own corn which is used to feed the pigs. They then use the pig manure to fertilize their corn fields.
During the trip we met with farmers who are involved in all different parts of the process of raising pigs, each of them expressed their love and pride for what they do.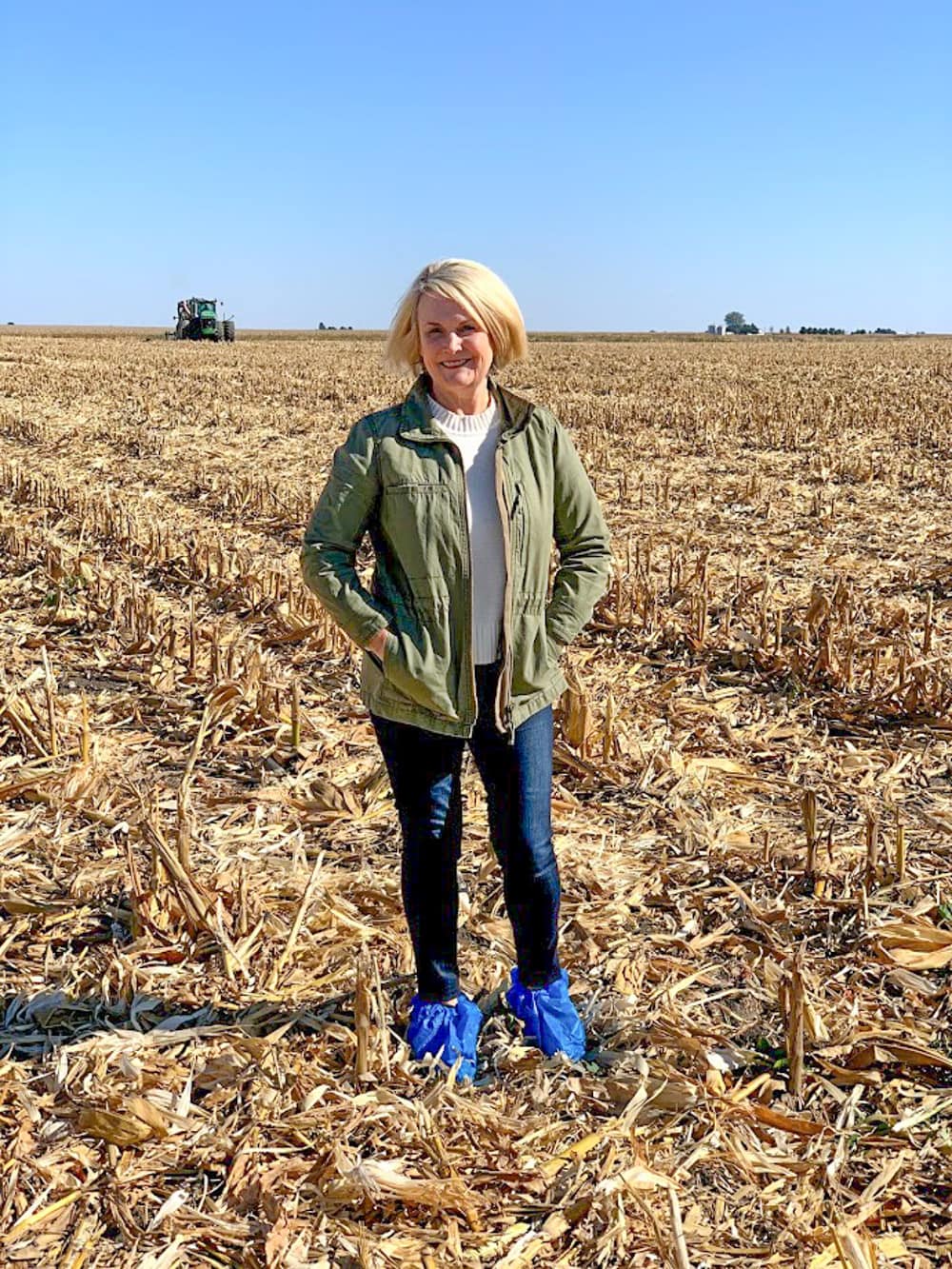 Tips for Buying Pork
The second day of the trip we spent time in the kitchen at a local community college with Chef Neel and Chef Kurt. They taught us how to shop for pork, how to prepare it and how to cook it. Neel knows his way around a knife and he took half a pig and cut it all the way down, showing us where each cut of pork comes from. It was fascinating. Chef Kurt then prepared the different cuts of pork for us and we had a literal pork feast!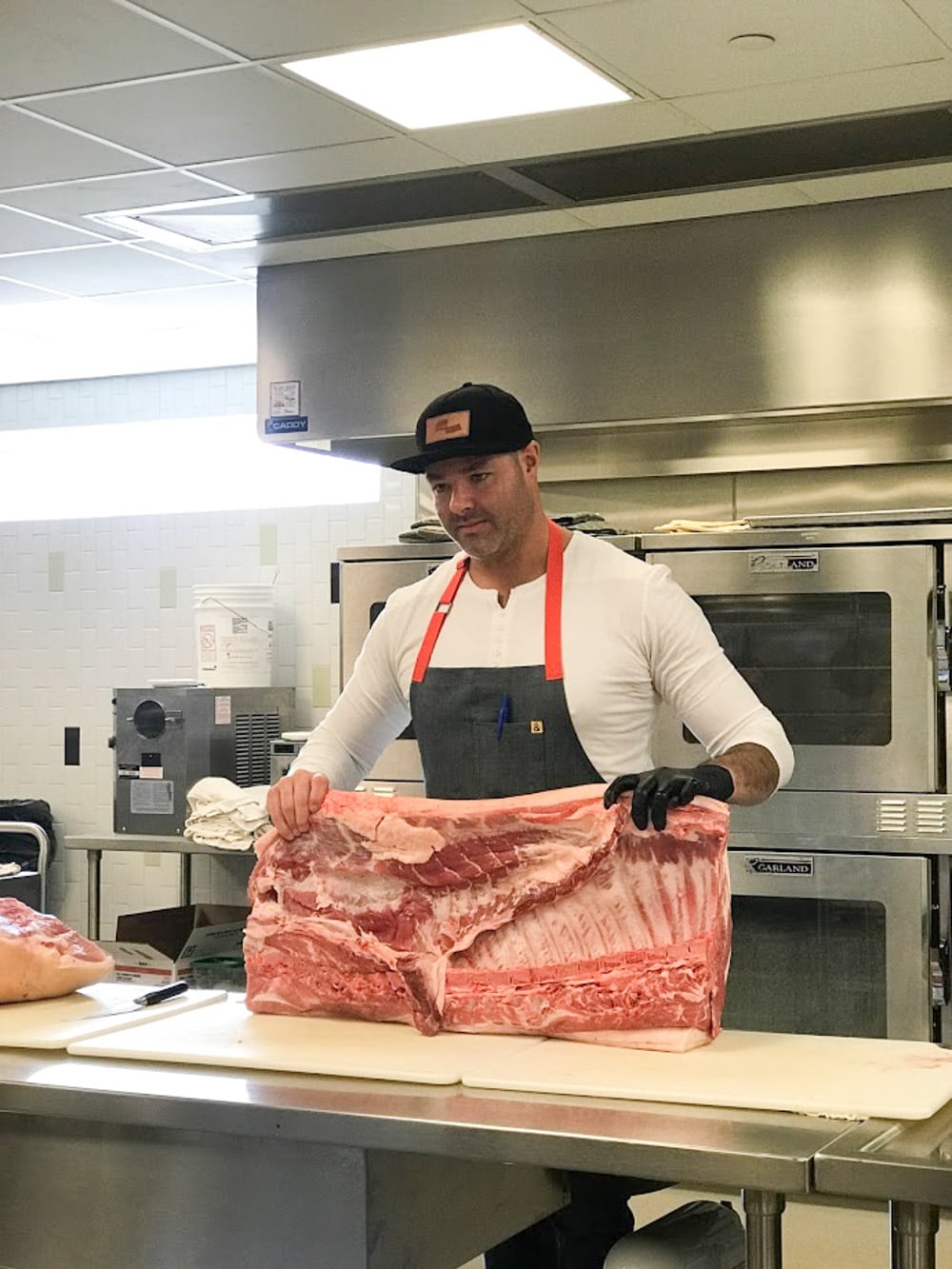 I learned so much about pork and I'm excited to share some of those tips with you today.
Freshness: Always check the expiration date. Buy your pork no more than a week prior to using it to ensure good coloring and flavor.
Color: Look for a reddish pink color which indicates a high water holding capacity which translates to a juicy and flavorful cut of pork. You do not want pork that is pale or grayish white.
Marbling: Marbling is an indication of fat content. The more fat the more flavor.
Hormone Free: All pork, by law, is hormone free. It is illegal to use hormones in pork production.
How to Cook Pork
One of the most important things I learned during our trip was that most people overcook their pork and I admit I use to be one of them. I've always treated pork like chicken and would cook it to 160-165 degrees F. Cook pork more like a steak. Pork is cooked and safe to eat at 145 degrees F. Not only is it safe to eat, but it is so much more delicious! The National Pork Board along with the FDA promote cooking pork to 145 degrees F and then giving it a 3 minute rest which will allow the temperature to rise to 145 degrees F. Yes, your pork can be pink! Using a meat thermometer ensures your pork is the right temperature.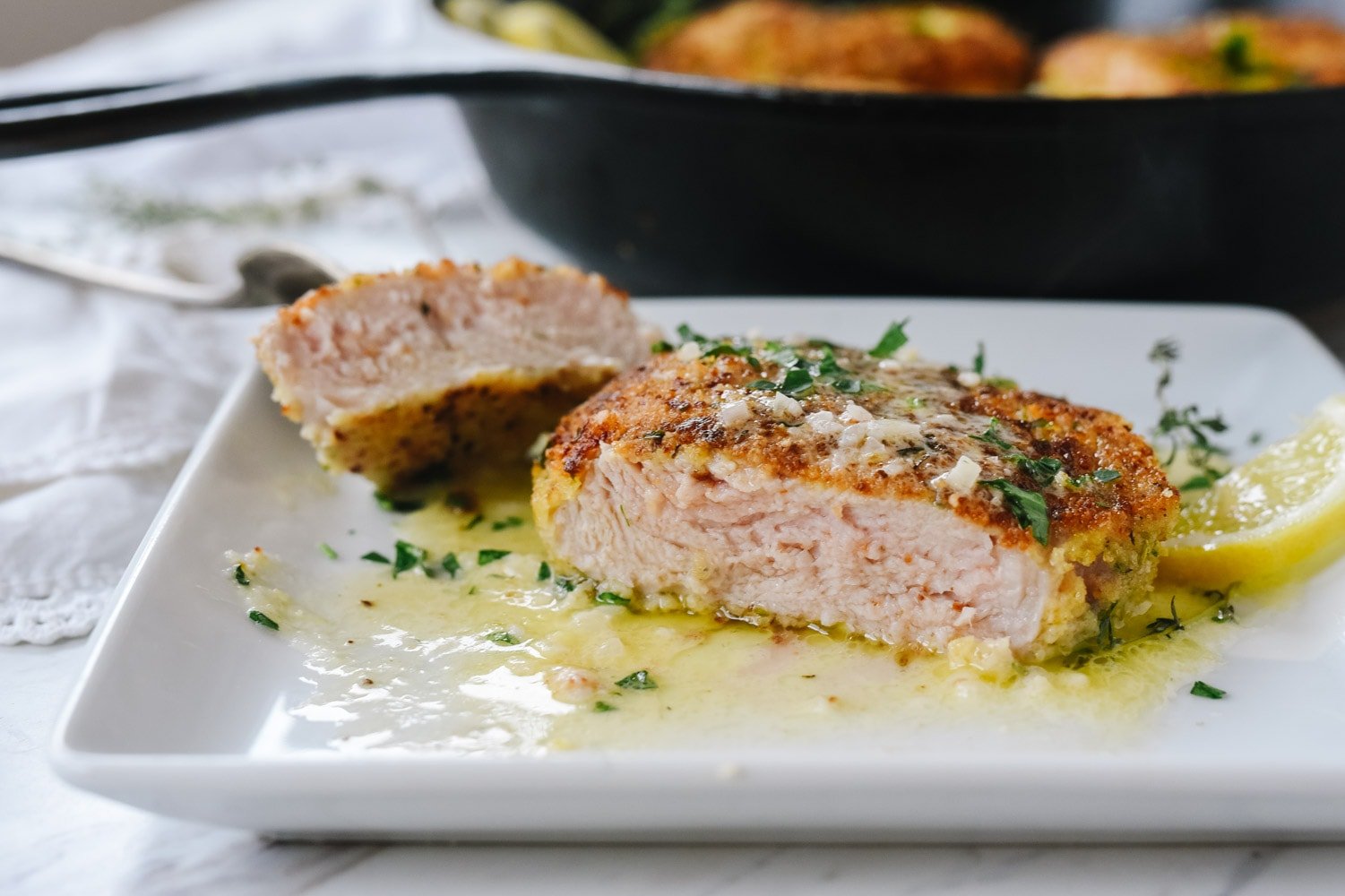 You will be amazed with what a difference this makes in the flavor, texture and tenderness of your pork.
145-160 degrees F – Medium Rare
150-155 degrees F – Medium
155-160 degrees F – Medium Well
160 degrees – Well Done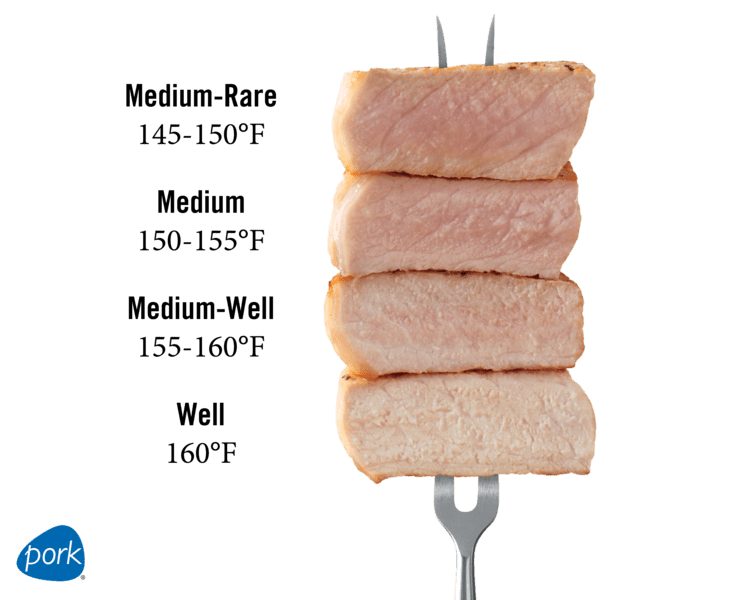 How to Make Breaded Pork Chops
For my breaded pork chops, I used pork loin chops. I purchased a pork loin and sliced my own pork chops about 1 inch thick but you can also purchase thick pork chops. Notice the beautiful red color of these pork chops and the marbling which gives them so much flavor.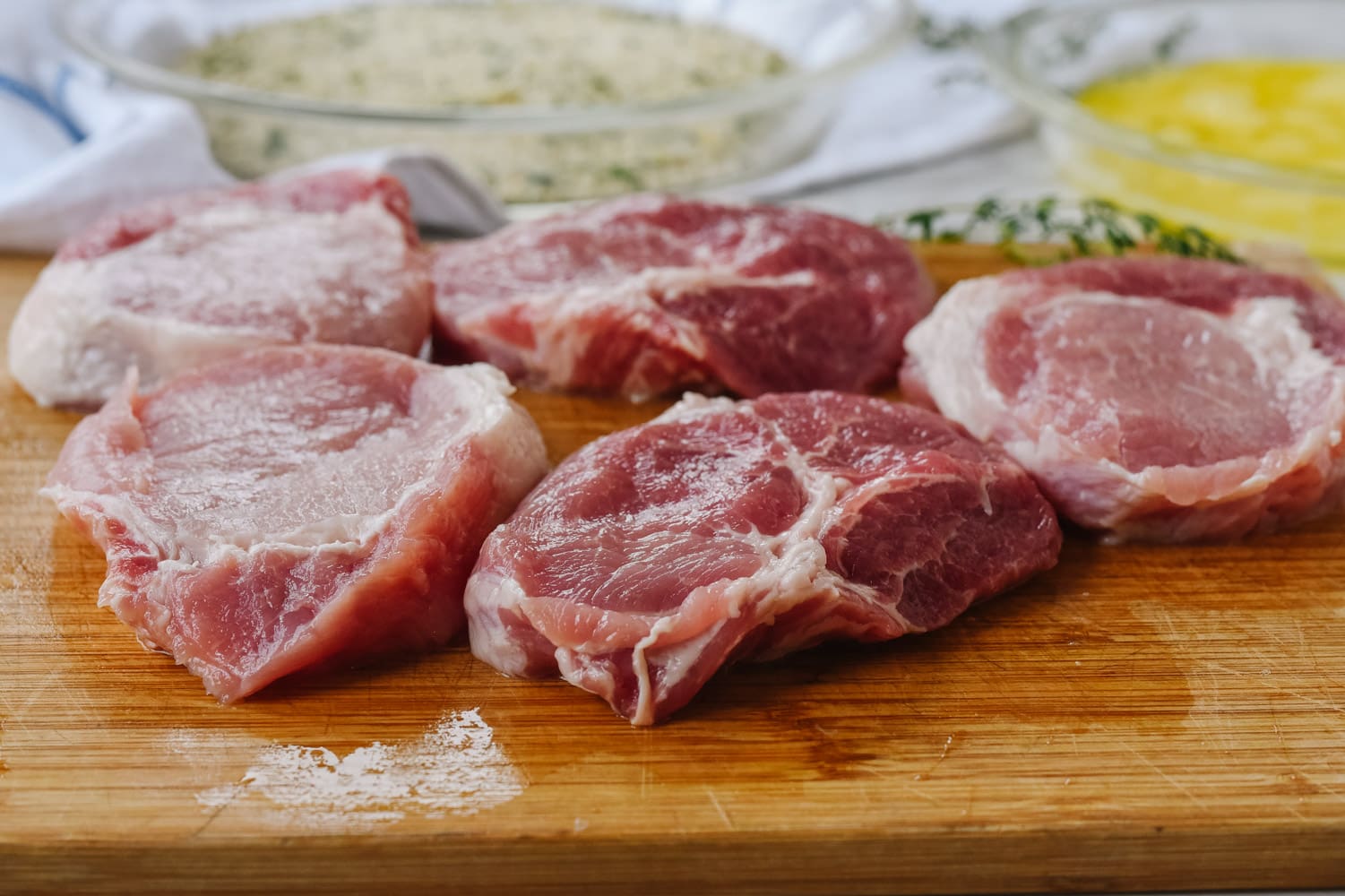 Beat together two eggs and milk in a dish.
Mix together bread crumbs, cheese, Italian seasoning, garlic powder, parsley, salt and pepper in another bowl.  
Dip both sides of your pork chop into the egg mixture and then into the breading mixture.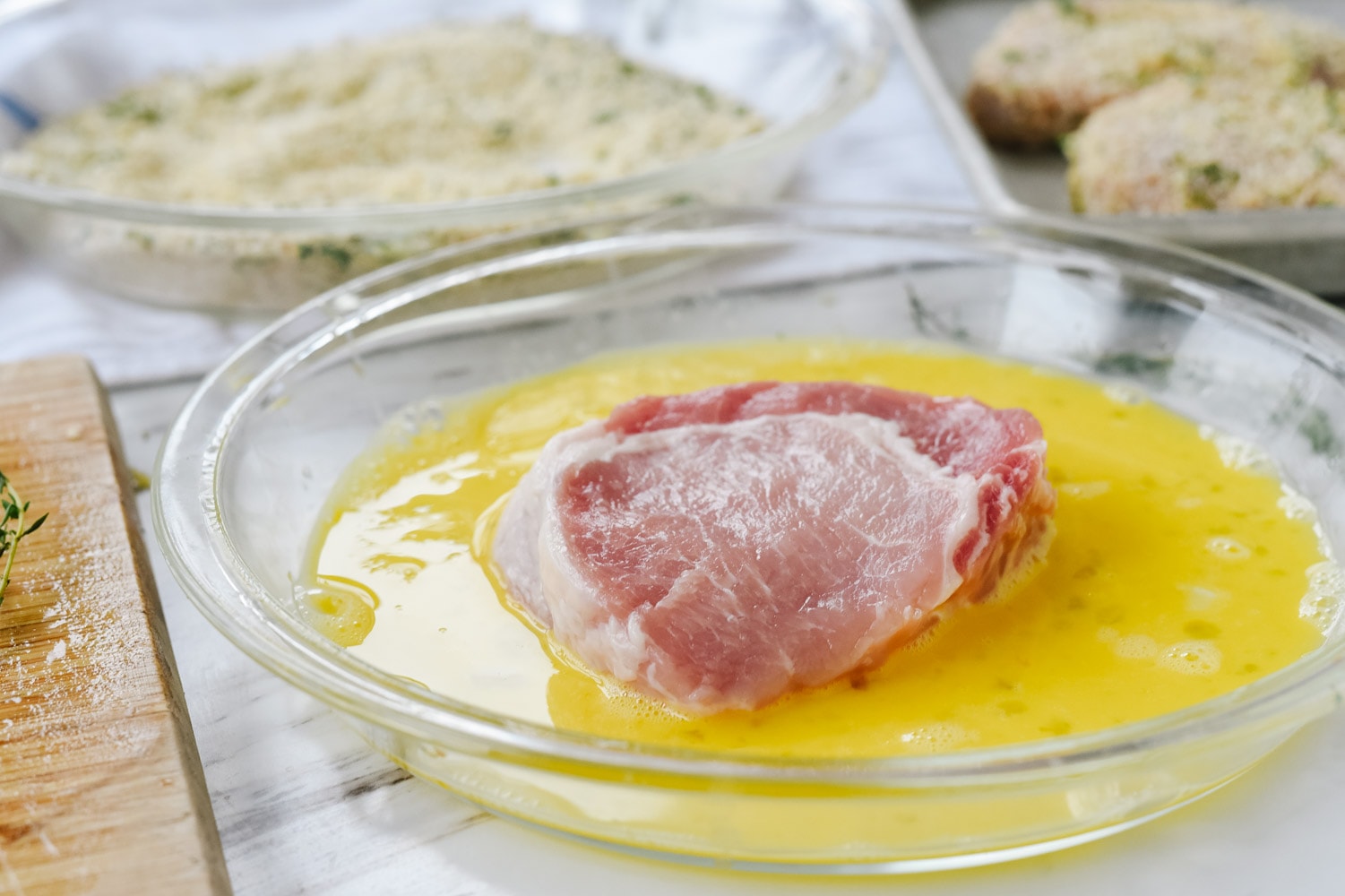 Cover both sides completely.  This is a nice light breading made by combining bread crumbs, shredded Parmesan cheese, parsley, and Italian seasoning.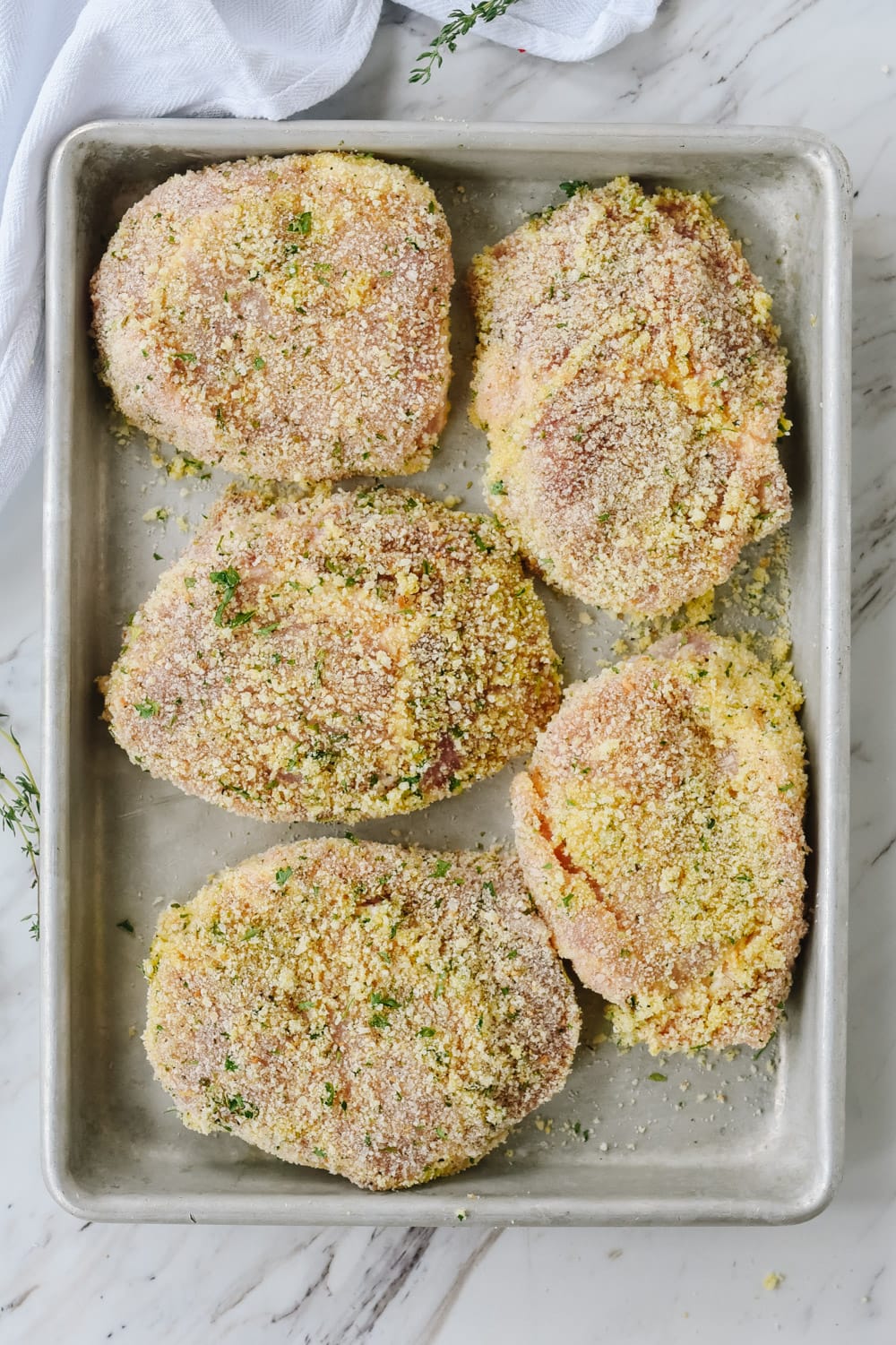 Put olive oil into a heavy pan, I like to use my cast iron skillet.  Be sure the pan is oven safe as you will put the pan directly into the oven after browning the pork chops. 
Heat the pan and oil over a medium heat and brown the pork chops on both sides, about 3-4 minutes a side. Be sure and do it over medium heat so they don't brown too quickly.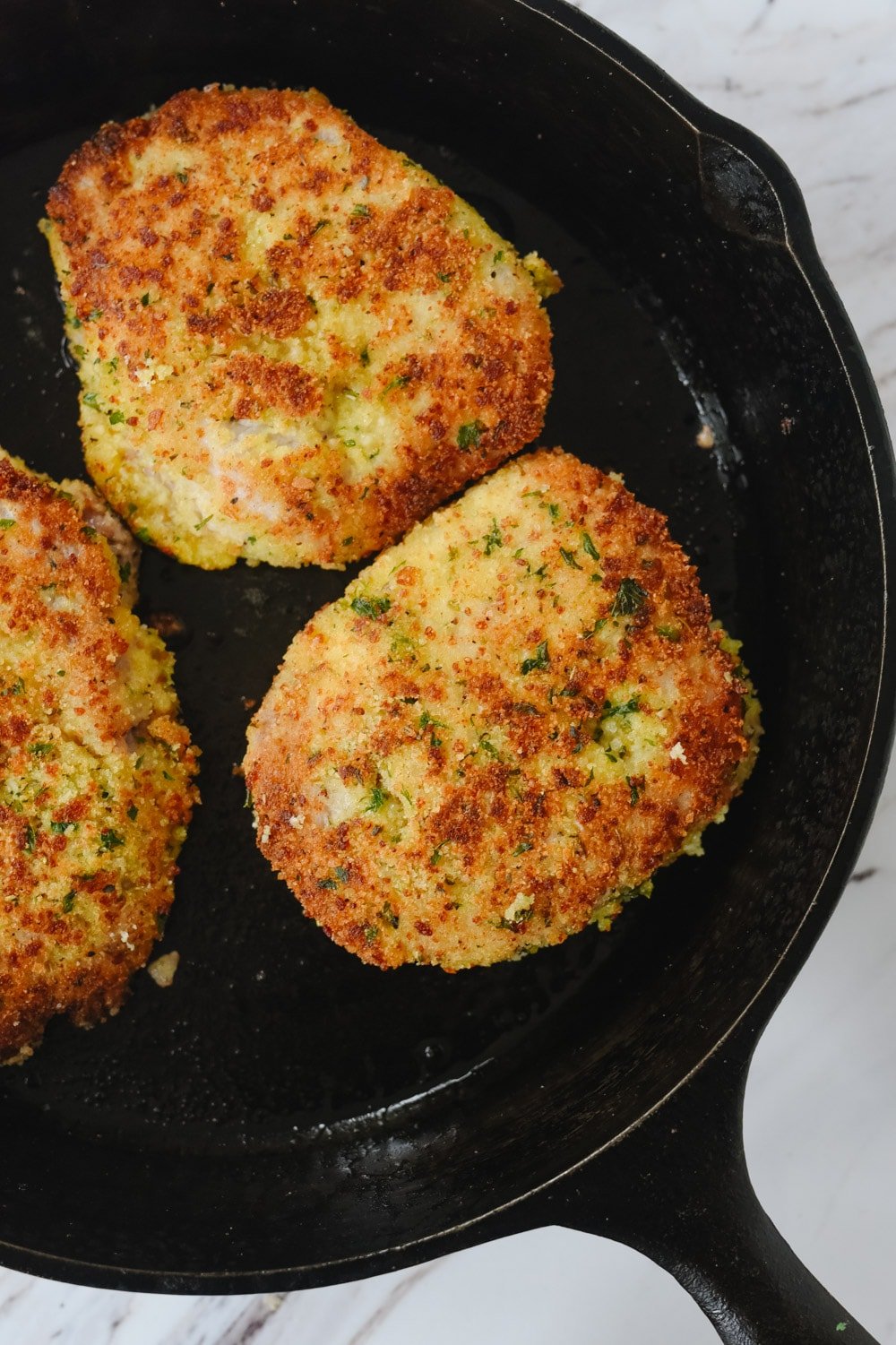 After browning, use a meat thermometer to check the temperature.  Be sure and insert the thermometer into the thickest part of the chop.  The temperature will probably be around 120 degrees F. 
To finish the cooking process, put your pan into a 350 degree oven and continue baking until meat reaches 145 degrees F. Remove from the oven and let it rest for 3 minutes.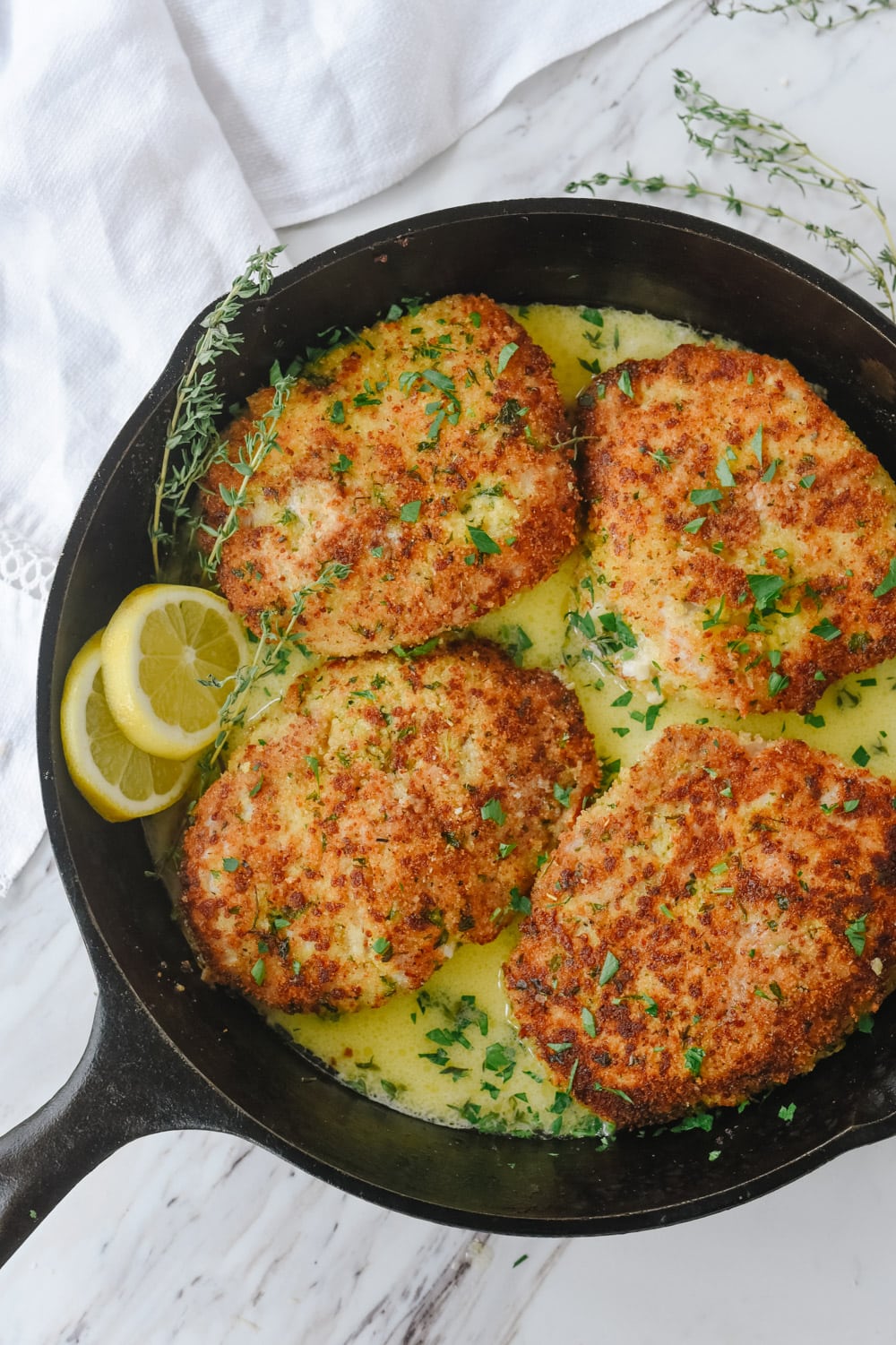 Lemon Butter Sauce Recipe
While the pork chops are finishing up in the oven make your lemon butter sauce.  This sauce is delicious and the perfect accompaniment to the breaded pork chop. 
Combine wine, lemon juice, whipping cream, shallots and garlic in a pan and bring to a simmer over medium heat. 
Reduce the heat and simmer until the mixture reduces by about 70 percent. 
Whisk in butter and stir until it is nice and smooth.  It will thicken up more as it cools. 
Serve the sauce poured over the top of the pork chop.  Or just add it to the pan the pork chops are in.
What Can I Substitute for White Wine?
Because we are not wine drinkers and I don't have it in the house I use a substitute for white wine.
Equal parts white wine vinegar and chicken broth.
For this recipe I used 1/4 cup white wine vinegar and 1/4 cup chicken broth. Although the flavor is not exactly the same, it is a good substitute and still delicious.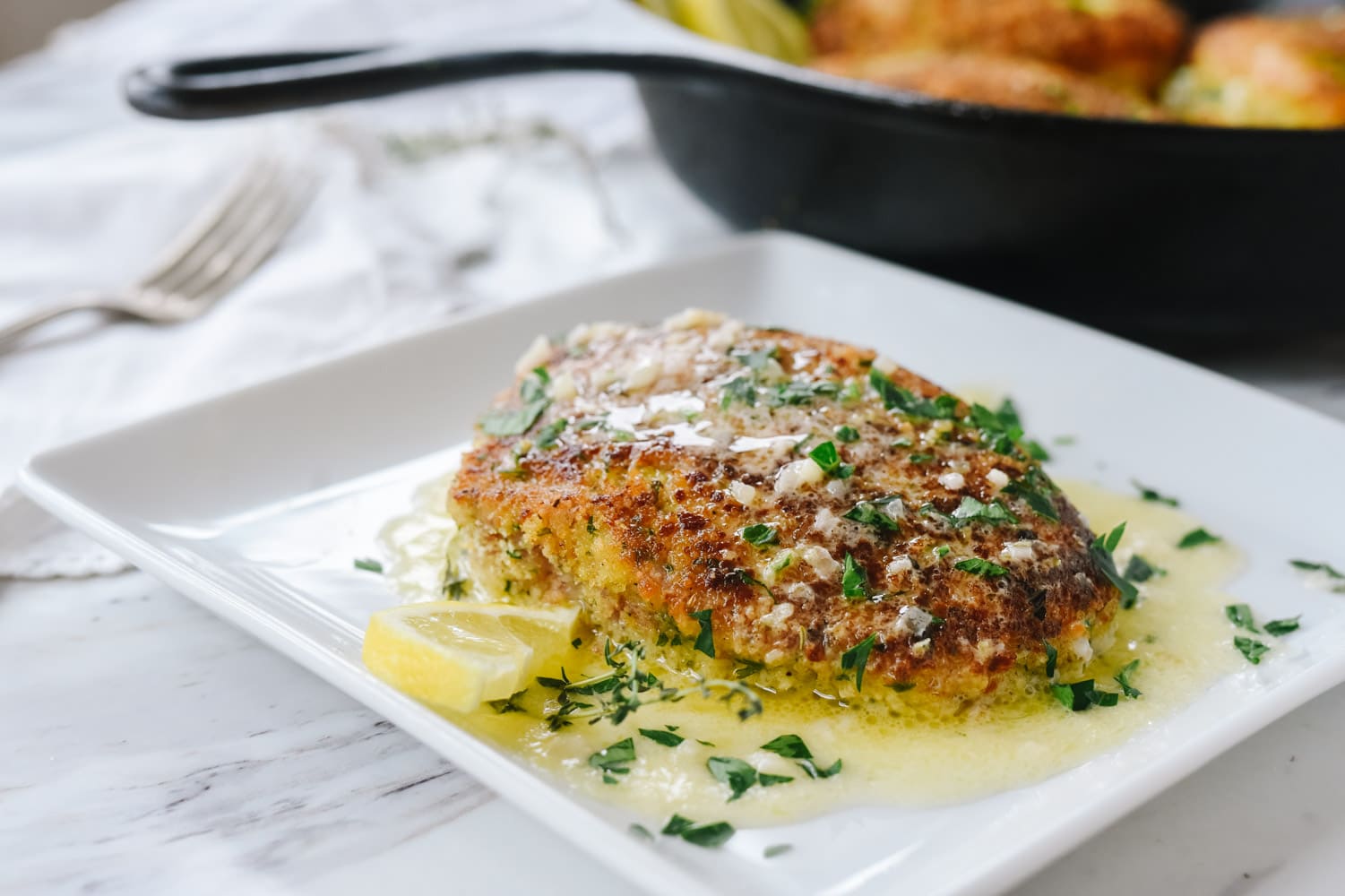 I am so grateful for the experience I had with the National Pork Board and the peek I had into the pork industry. I came home with a new found appreciation for everything that goes into getting pork to my local grocery store. Also, having seen and heard about all the steps they take to make sure the pigs are the cleanest and healthiest they can be assures me that the pork I am buying at my local store is of the highest quality.
Be sure and check out these other pork recipes here on the blog:
For all of my other favorite kitchen products and tools visit my Amazon Store.
Did you know I wrote a cookbook? Check out the Holiday Slow Cooker Cookbook for 100 delicious recipes.
Breaded Pork Chop Recipe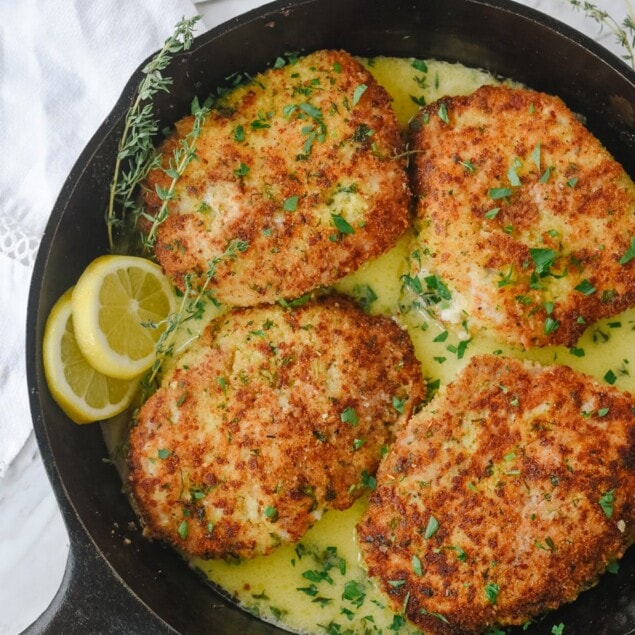 Breaded Pork Chops with Lemon Butter Sauce
Cooking pork to perfection is easier than you think.  I'm sharing some great information and guidelines for perfect, juicy and tender breaded pork chops every time.  Top these pork chops with a lemon butter sauce for a delicious, elegant and easy meal!


Ingredients
6 boneless pork loin chops 1 inch thick
2 eggs
2 Tbsp milk
1 cup bread crumbs
1/2 cup parmesan cheese shredded
1 Tbsp Italian seasoning
1 tsp salt
1 tsp pepper
1 tsp garlic powder
2 tsp parsley dried
2 Tbsp olive oil
Lemon Butter Sauce
1/2 cup white wine dry or substitute 1/4 cup white wine vinegar and 1/4 cup chicken broth
2 Tbsp lemon juice
2 Tbsp heavy whipping cream
2 tsp shallots finely chopped
2 tsp garlic minced
1/2 tsp lemon zest
1/2 cup butter cut into cubes
parsley for garnish
Instructions
In a bowl place eggs and milk and beat together.

In another bowl, combine breadcrumbs, cheese, seasonings.

Dip pork chops into egg coating both sides and then into breadcrumb mixture. Coat well.

Heat oil in a heavy, oven safe pan. Add pork chops and brown on both sides, about 3-4 minutes per side.

Check temperature of pork, should be about 120 degrees F. Place pan in a 350 degree F oven and finish cooking process. Remove pan when pork reaches 145 degrees F. Allow it to rest for 3 minutes before serving. Be sure to check the temperature in the thickest part of the pork chop.
Lemon Butter Sauce
In a small sauce pan combine wine, or substitute, lemon juice, lemon zest, cream, shallots, and garlic.

Bring to a simmer and simmer until reduced by about 50-75 percent.

Add in cubed butter and stir until it combines and is nice and smooth. Cook for another 5-6 minutes. Mixture will thicken slightly, it will thicken more as it cools.
Nutrition Facts:
Calories: 418kcal (21%) Carbohydrates: 16g (5%) Protein: 37g (74%) Fat: 21g (32%) Saturated Fat: 7g (44%) Cholesterol: 157mg (52%) Sodium: 744mg (32%) Potassium: 600mg (17%) Fiber: 1g (4%) Sugar: 2g (2%) Vitamin A: 232IU (5%) Vitamin C: 2mg (2%) Calcium: 175mg (18%) Iron: 2mg (11%)
* Disclaimer: All nutrition information are estimates only. Read full disclosure here.