These crock pot smothered pork chops are so tender! Smothered in sautéed onions and bacon!
Some of our other favorite pork chop recipes include these Lemon Hazelnut Pork Chops which we make over and over! Breaded Pork Chops with Lemon Butter Sauce are amazing and Herbed Pan Fried Pork Chops are quick and easy.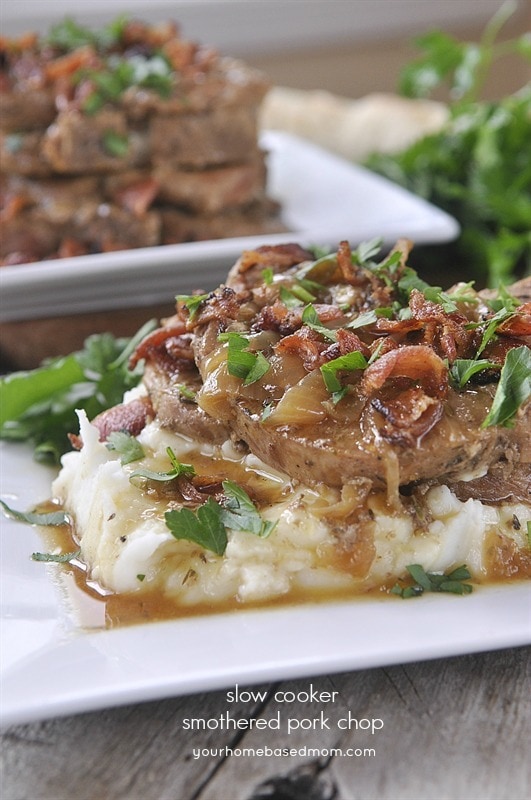 Slow Cooker Monday is here!  I had an email several weeks ago asking me if I had a good crock pot pork chop recipe on the blog and I had to reply that I didn't but I probably should.  I set out to find a really good  crock pot smothered pork chop recipe.  And I think I found it.  I hope you'll give it a try and let me know what you think.
How to Make Smothered Pork Chops in the Slow Cooker
For this recipe, use bone in blade cut pork chops.  Put them in the the crock pot along with some sautéed onions, chicken broth, brown sugar, soy sauce, bay leaves and a little tapioca for a thickener.
Let the crock pot smothered pork chops cook for about 4 hours on high. Or you could do 6-7 hours on low.  You want them nice and tender but not falling apart.
Remove the pork chops from the slow cooker to a serving platter and cover them with foil to keep them warm.  Remove the bay leaves.
Stir some vinegar into the sauce  and season with salt and pepper to taste.  While the pork chops were cooking I fried up some crisp bacon.
My husband likes his pork chops with mashed potatoes. And they are the perfect thing to soak up the yummy juices.  Serve the pork chop with the onions on top and then some crispy bacon and some parsley for some pretty color.  This is a total man friendly meal.  My husband loved it.  He was glad there were plenty of leftovers for lunch.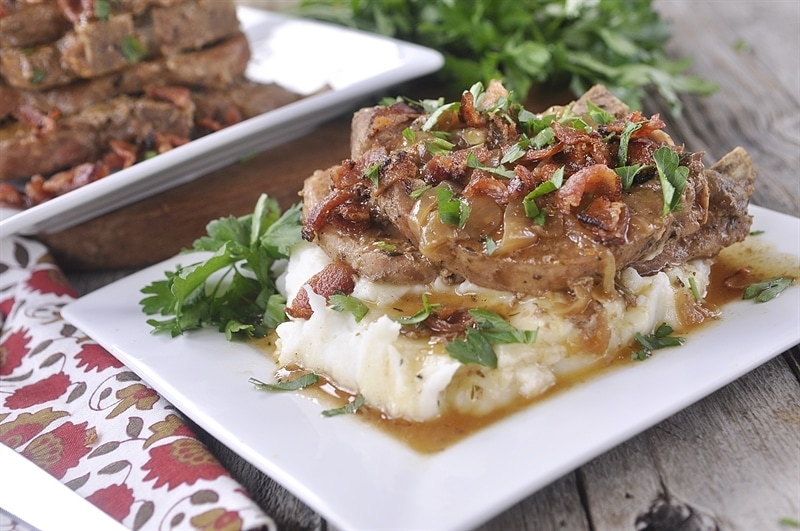 For all of my other favorite kitchen products and tools visit my Amazon Store. 
Did you know I wrote a cookbook?  Check out the Holiday Slow Cooker Cookbook for 100 delicious recipes.
Crock Pot Smothered Pork Chops Recipe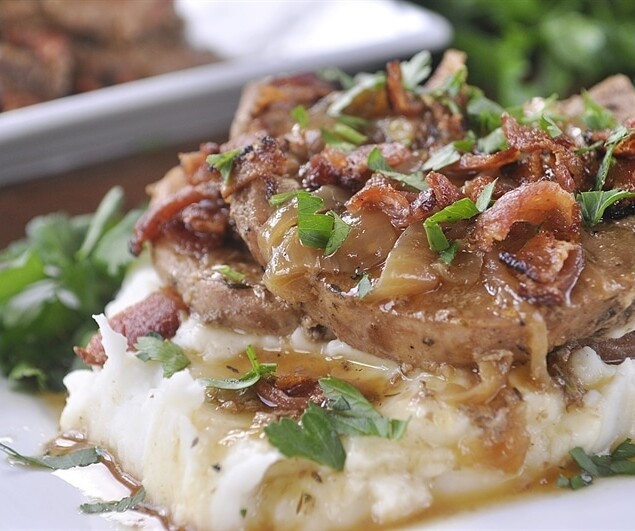 Crock Pot Smothered Pork Chops
Delicious smothered pork chops made in your crock pot!
Ingredients
5 strips bacon cut into small pieces
2 onions sliced thinly
4 tsps brown sugar
4 garlic coves minced
1 tsp dried thyme leaves
salt and pepper
3 C chicken broth
1/4 C soy sauce
2 Tbsp tapioca
2 bay leaves
6 bone in blade cut pork chops
1 Tbsp apple cider vinegar
fresh parsley for garnish
Instructions
Cook the bacon until crisp.

Place bacon on a paper towel covered plate, leaving bacon fat in pan.

Using 2 Tbsp of the remaining bacon fat add the onions, 2 tsps brown sugar, garlic, thyme and 1/4 tsp of salt and cook, stirring often until onions soften and caramelize. About 15 minutes.

Add in 1 C of chicken broth, scrape bottom to remove browned bits. You want those!

Place mixture in slow cooker and add remaining 2 C chicken broth.

Add in remaining 2 tsps brown sugar, soy sauce, tapioca and bay leaves. Stir to combine

Season pork chops with salt and pepper and add to slow cooker. Push down into liquid.

Cover and cook on low for 6-7 hours or high for 4-5 hours.

Place pork chops on serving plate and cover with foil.

Remove bay leaves from sauce and as much fat from the surface as possible.

Stir in vinegar and add any additional salt and pepper if needed.

Pour sauce over the top of the pork chops and add bacon and parsley.
Nutrition Facts:
Calories: 339kcal (17%) Carbohydrates: 12g (4%) Protein: 32g (64%) Fat: 16g (25%) Saturated Fat: 5g (31%) Cholesterol: 101mg (34%) Sodium: 972mg (42%) Potassium: 710mg (20%) Sugar: 4g (4%) Vitamin C: 11.6mg (14%) Calcium: 36mg (4%) Iron: 1.6mg (9%)
* Disclaimer: All nutrition information are estimates only. Read full disclosure here.