I am not a big fan of mall food  – that is unless we are eating at the Nordstrom Cafe.  A delicious little cafe tucked away upstairs next to the Point of View Department at our Nordstroms.  Their food is wonderful and my favorite dish to order there is their Cilantro Lime Chicken Salad.
I was craving it the other day and didn't want to make a trip to the mall so I decided to create my own version at home.  I needed to take a salad to a St. Patrick's Day dinner.  Now I must admit cilantro and lime are not too Irish but they are green!  And so was the lettuce so I decided it qualified.  Let's just say, after they tasted it, none of the dinner guests complained.  It was delicious.
Since it was a side dish for our yummy dinner of corn beef and cabbage I didn't put the chicken in but for dinner last night I turned it into the main dish by adding chicken just like Nordstrom's does.  I don't know what it is about a chop salad that I love so much but I love a good chop salad so I made it into a  cilantro lime chicken chop salad.  I think it is having everything chopped up into nice little small bite size pieces.
I chopped up some tomato, chicken, lettuce and red pepper and combined it with some corn and roasted pumpkin seeds.  Isn't it pretty!
I combined all of that with a dressing made up of rice vinegar, lime juice, garlic, chipotle chilies, honey, oil and cilantro.
I served some nice crunchy bread with the Cilantro Lime Chicken Chop Salad and we had a complete meal.
Other favorite salads that are a meal:
Enjoy!
Leigh Anne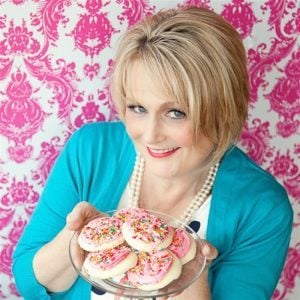 You can also visit me on Facebook, Pinterest, Twitter or Instagram.
Cilantro Lime Chicken Chop Salad
Ingredients
Dressing
Makes slightly more than 1 cup
1/3 C seasoned rice vinegar
1/4 C lime juice
1 tsp garlic
2 tsps chipotle chilies in adobo sauce chopped small
2 tsps honey
1/2 tsp salt
3/4 C canola oil
1 C cilantro
Salad
Use amounts need for the number of people you are feeding.
romaine lettuce chopped
tomato chopped
roasted red pepper chopped
corn
pumpkin seeds toasted
monterey jack cheese shredded (I accidently left it out!)
Chicken cut up
Instructions
Dressing
Chop cilantro

Puree chilies in food processor

Add all dressing ingredients except oil and cilantro to processor and blend

Slowly add oil into processor to form emulsion

Add in cilantro and pulse to combine

Toss the dressing with chopped romaine lettuce, corn, chicken, tomatoes, cheese, roasted red pepper and toasted pumpkin seeds.