Fresh corn on the cob and cherry tomatoes from the garden make this Cherry Tomato Corn Salad easy and delicious!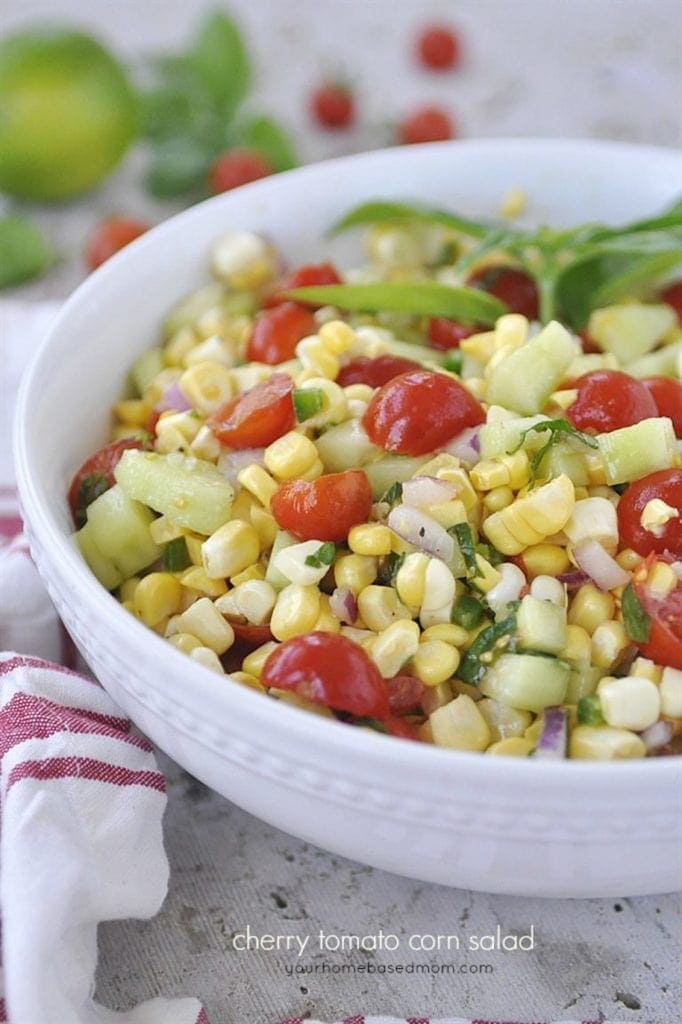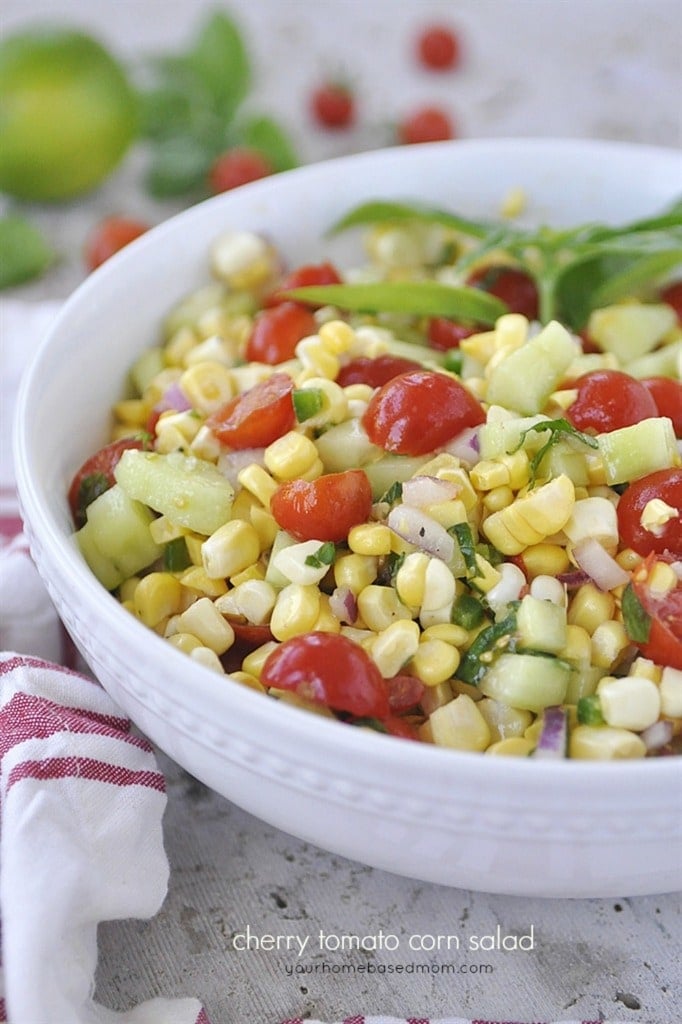 If there was a best time of year to make this corn salad, now is it!  My garden is going crazy with cherry tomatoes and there is lots of fresh corn in the grocery stores and farmer's market.  This salad can also be made with frozen corn and store bought cherry tomatoes any time of year but fresh is always best, so make this now!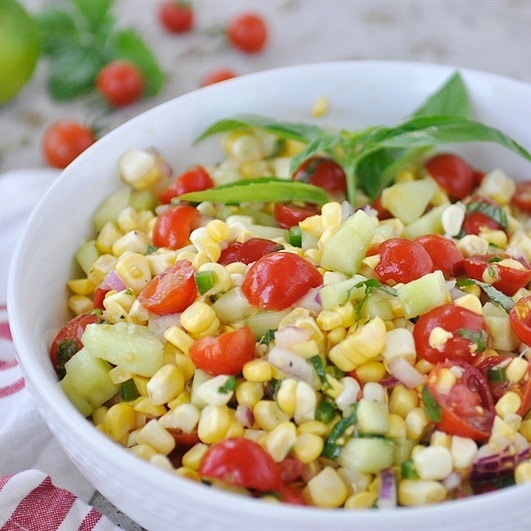 This is the time of year my husband can often be seen walking up and down our neighborhood with bags of cherry tomatoes, looking for someone to take them off his hands!  This year is no exception.  I've got lots of yummy recipes that I love using cherry tomatoes in like these yummy roasted cherry tomatoes,   buttermilk chicken, arugula salad pizza and roasted cherry tomato, chicken and garlic pasta.  Check out some of these recipes if you have a surplus of cherry tomatoes!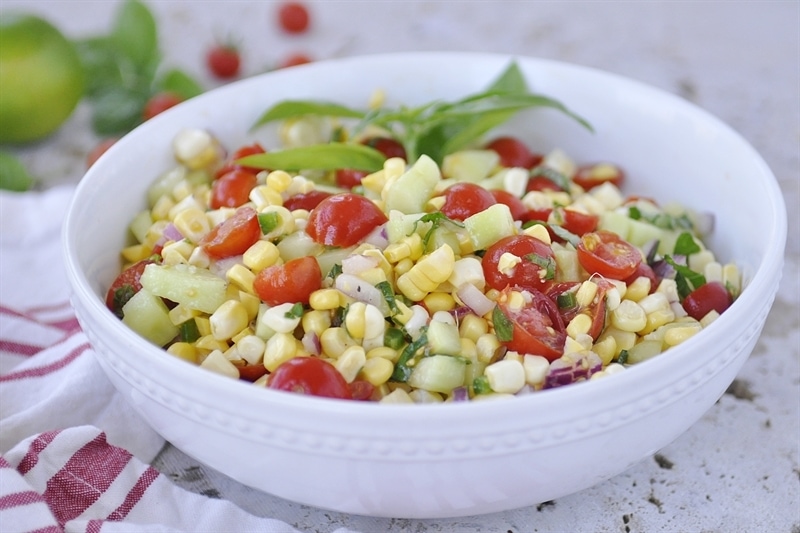 For this corn salad, in addition to fresh corn and cherry tomatoes you will need some cucumber, jalapeno pepper, red onion, a basil/lime dressing.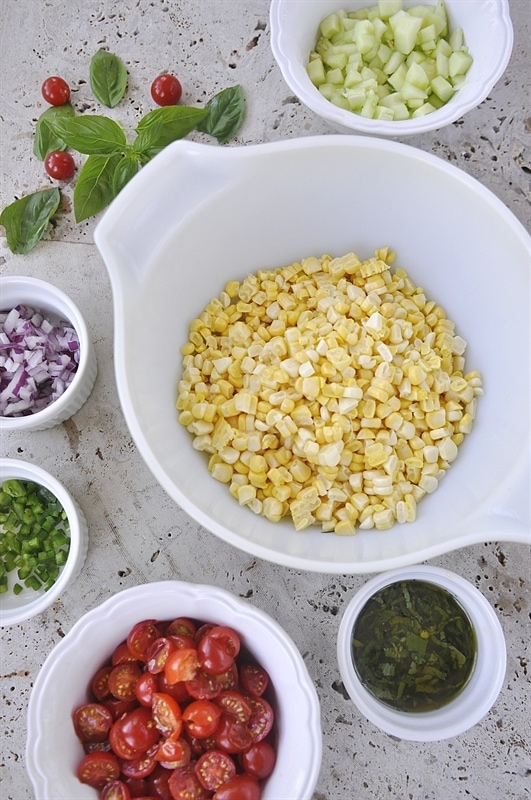 Combine all the yummy ingredients except for the dressing together in a bowl – isn't it pretty!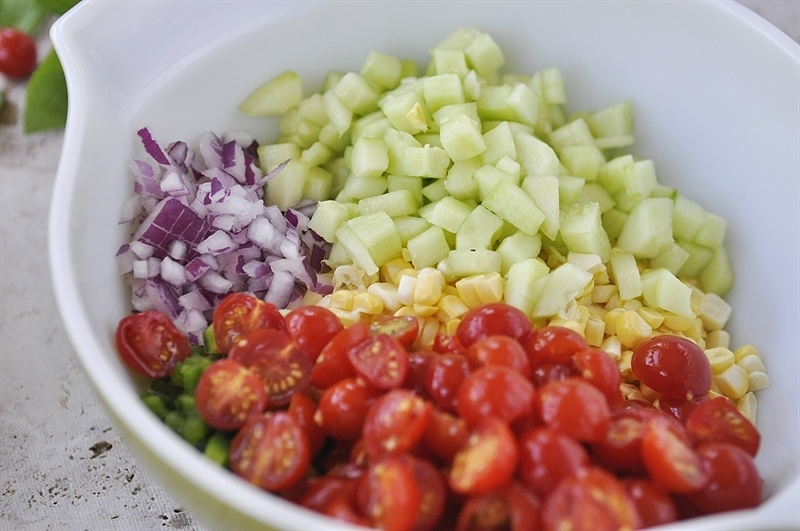 Toss gently together, you don't want to smush the tomatoes and then add the dressing and stir to coat.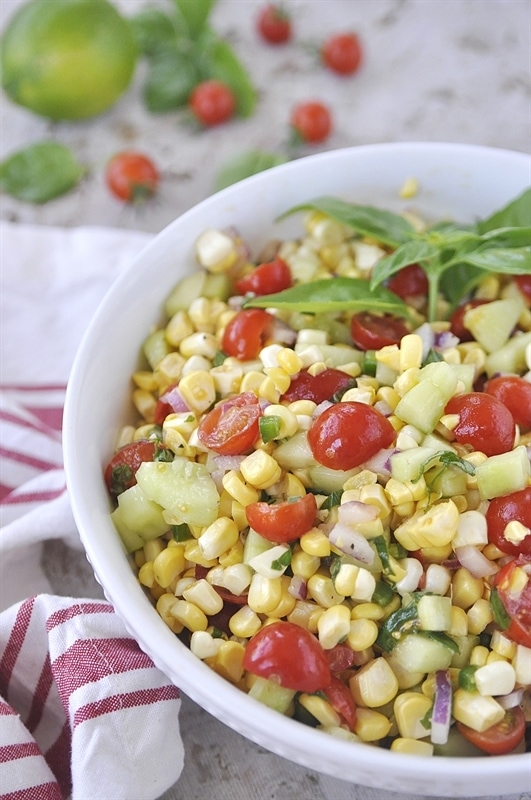 It's almost too pretty to eat, but eat it anyway!  My husband especially liked the addition of the cucumber into the salad and the little bit of jalapeno gives you a nice surprise once in a while but if you don't want the little bit of heat, just leave it out.  I like to refrigerate this salad after I make it for a few hours to allow the flavors to all blend together.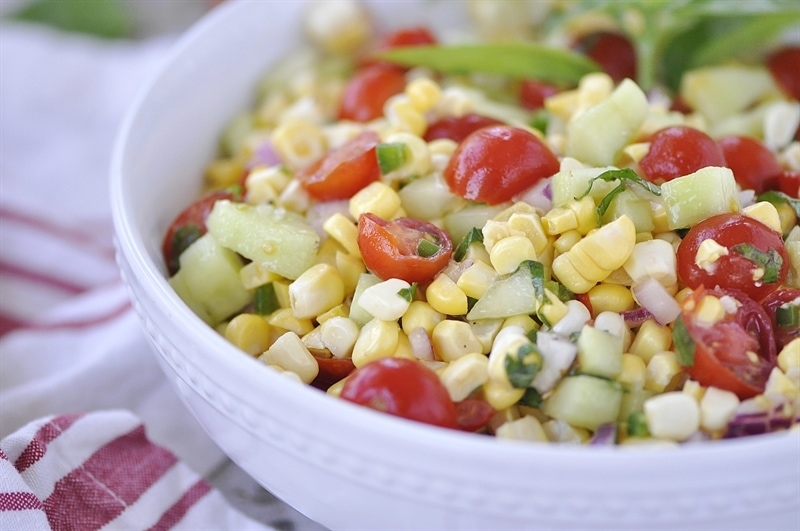 So take advantage of fresh corn and cherry tomato season and make this salad – it's perfect for the upcoming holiday weekend and any cookouts or potlucks you might be attending.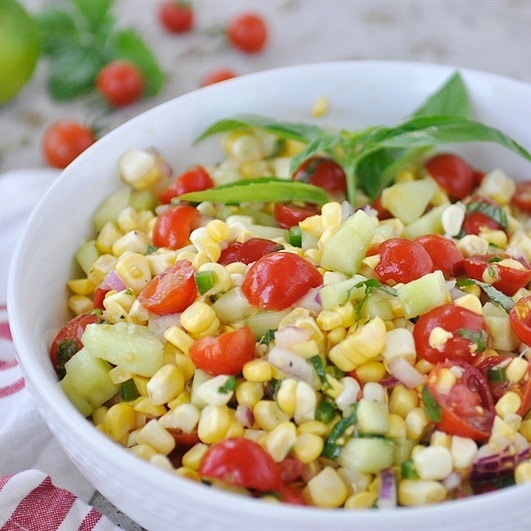 Cherry Tomato Corn Salad
Ingredients
1/4 cup thinly sliced fresh basil
3 Tbsp olive oil
2 tsp fresh lime juice
1 tsp granulated sugar
1/2 tsp salt
1/4 tsp pepper
2 cups fresh corn off the cob
2 cups cherry tomatoes halved
1 cup cucumber peeled and diced
1 jalapeno pepper seeded and chopped
1/2 cup red onion diced
Instructions
Mix together basil, oil, lime juice, sugar, salt and pepper. Stir and allow flavors to blend.

Mix together corn, tomatoes, cucumber, jalapeno and red onion in a bowl. Stir gently to combine.

Pour dressing over mixture and toss to coat.

Refrigerate until ready to eat.