Bruschetta Chicken is delicious and a lovely way to enjoy those garden fresh tomatoes!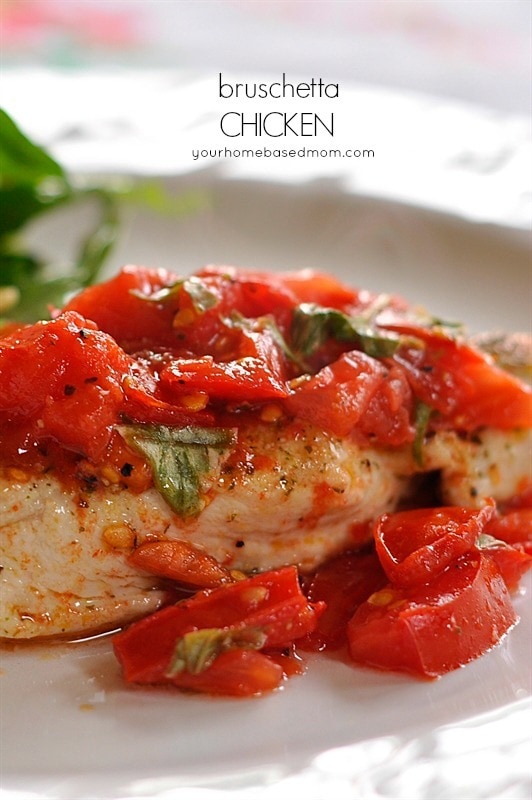 If you are one of the lucky ones that has red tomatoes in their garden you are going to want to give this recipe a try.  I, unfortunately, have no more red tomatoes left.  It was a bad year for tomatoes.
Even if you don't have tomatoes in your garden you are going to want to pick up some tomatoes at the grocery store (I prefer the "on the vine" ones) along with some fresh basil and give this recipe a try.
Because our tomato crop was poor this year I didn't get my fill of bruschetta like I usually do.  This recipe, which my sister in law Jayna shared with me, helped me get my bruschetta fix.  It is an easy and quick dinner to put together and would be perfect served with some buttered noodles or pasta.
You may even want to make a little extra of the tomato/basil mixture and enjoy it on some toasted bread rounds!
I pounded my chicken breast so it was an even thickness and it also cooked quicker and more evenly that way.  Instead of Italian seasoning I used some of my Johnny's Garlic Spread and Seasoning sprinkled on the chicken breasts as they browned.
Bruschetta chicken is perfect for a quick weeknight dinner. It was a big hit at our house.  Thanks for sharing Jayna!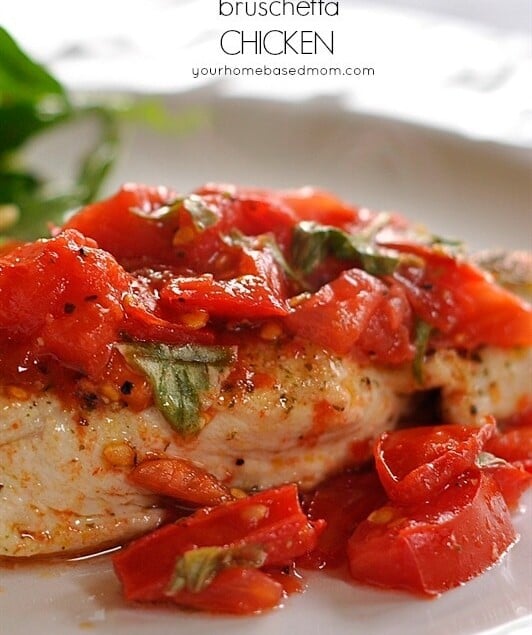 Bruschetta Chicken
Ingredients
Bruschetta:
About 5 medium tomatoes diced
3-5 cloves fresh garlic minced
2 T chopped fresh basil
1/2 onion chopped
Olive oil
Sea Salt
Pepper optional
To make the chicken:
Chicken Breasts approx. 4
olive oil
Favorite Italian Seasoning or Johnny's Garlic Spread and Seasoning
Instructions
Bruschetta:
Combine all vegetables and stir in olive oil a little at a time

It will probably take 2-3 Tbsp of oil

Salt and pepper to taste

You can eat this as is on toasted baguette slices or over fresh mozzarella also
To make the chicken:
Pound your chicken to an even thickness and brown in olive oil and a little Italian seasoning or garlic or whatever your favorite Italian flavor is

Cover with bruschetta and simmer until tomatoes start to break down and chicken is cooked through(15-20 minutes depending on thickness of chicken)

I covered my pan with a lid to help it break down a little quicker

Serve over your favorite pasta with Italian bread and a salad