This Slow Cooker Sweet & Sour Beef Brisket is easy thanks to the slow cooker and delicious thanks to the sauce!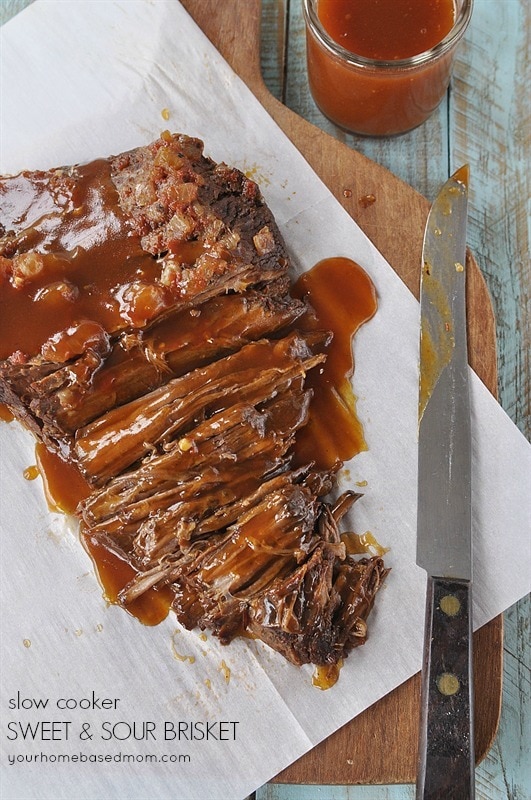 Thanks to the vinegar and chili sauce you get a bit of tang and thanks to the brown sugar and ketchup you get the sweet. Sweet & Sour is a perfect flavor combination in my book. This brisket is also called Jewish Style Sweet and Sour Brisket because it is traditionally served for Rosh Hashanah and Passover, but I hope it will become a year round favorite at your house like it has at ours.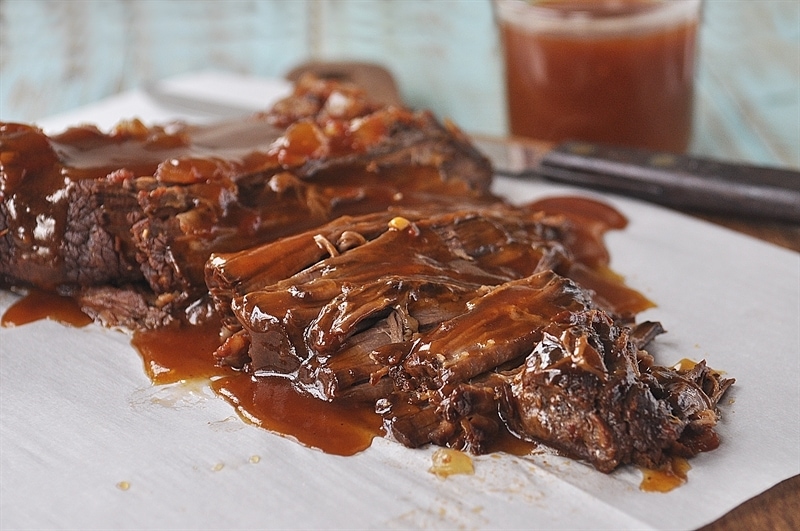 I've made this beef brisket twice in a week and since I rarely make the same thing twice in one week that should give you some indication of how good it is!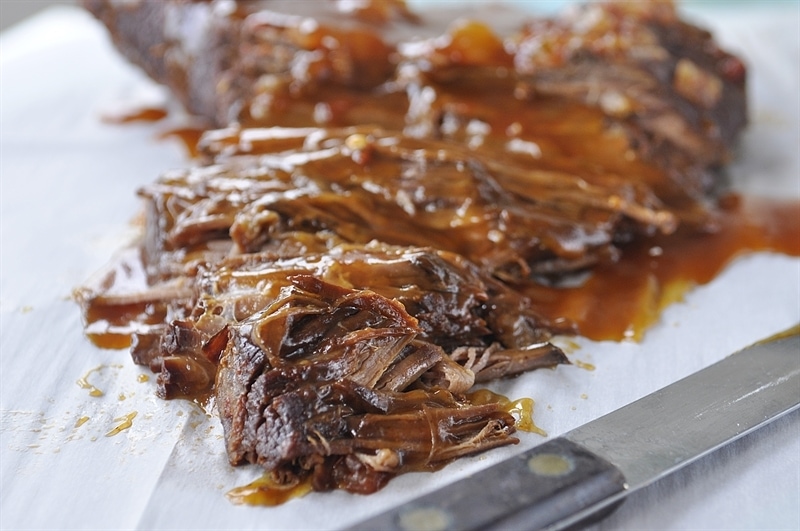 Beef brisket is one of my favorite cuts of meat to use in the slow cooker. It turns out so tender and flavorful. You don't have to brown the meat before hand either.  Just pop it in the slow cooker, cover it with the sauce and let it cook for about 9 hours on low or 5 to 6 on high. Because of it's longer cooking time it makes the perfect thing to put in the slow cooker before you head to work or if you know you are going to have a busy day and don't have much time to think about, let alone prepare dinner. Turn that slow cooker on in the morning and you don't have to think about it again until you are ready to eat! That's my kind of dinner.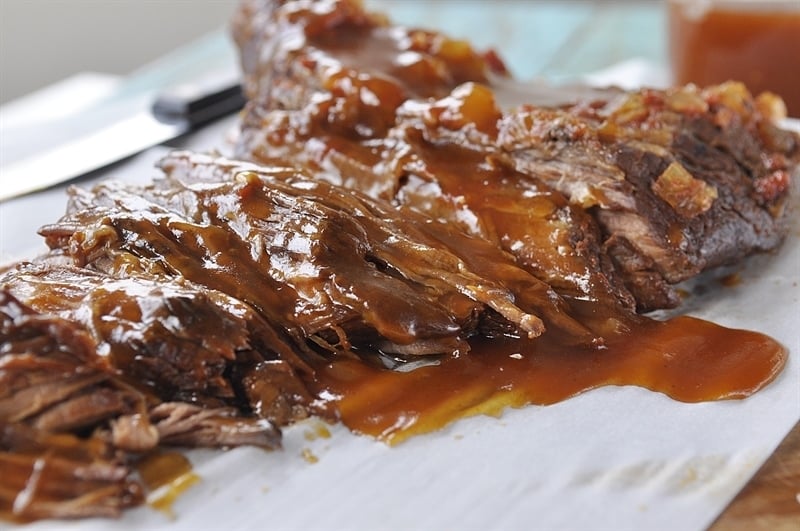 I like to remove the meat from the sauce and slice it. Then I strain the juices in the slow cooker and add a little cornstarch to it and stir it in a sauce pan over medium heat to let the sauce thicken up like a BBQ sauce.  Spread the sauce over the meat and serve. If I have a little extra time I'll place the sliced meat in a 9 x 13 pan, pour the sauce over it, making sure it gets down in between the slices of meat and then cover with foil and put it in the oven for 20 minutes or so at 350 degrees  to let the meat absorb more of the sauce.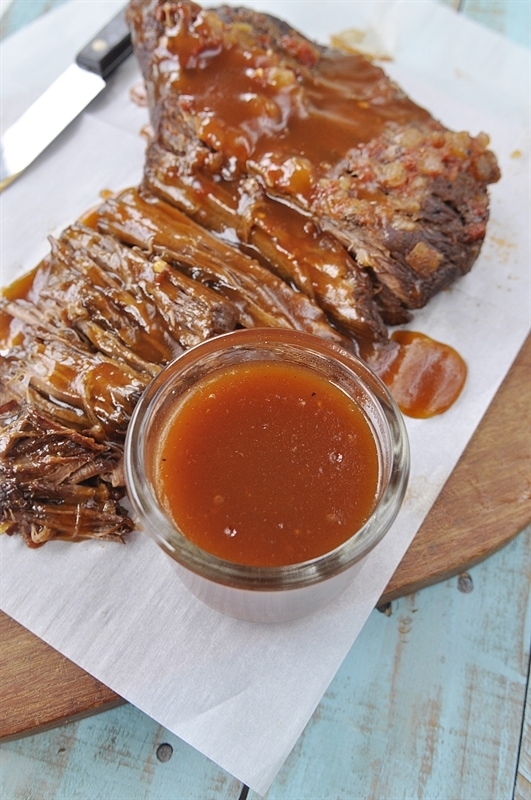 Some of my other favorite brisket recipes are:
Slow Cooker BBQ Beef Brisket – Slow Cooker Beef Brisket – Brisket Tacos with Mango BBQ Sauce
Printable Recipe for Slow Cooker Sweet & Sour Beef Brisket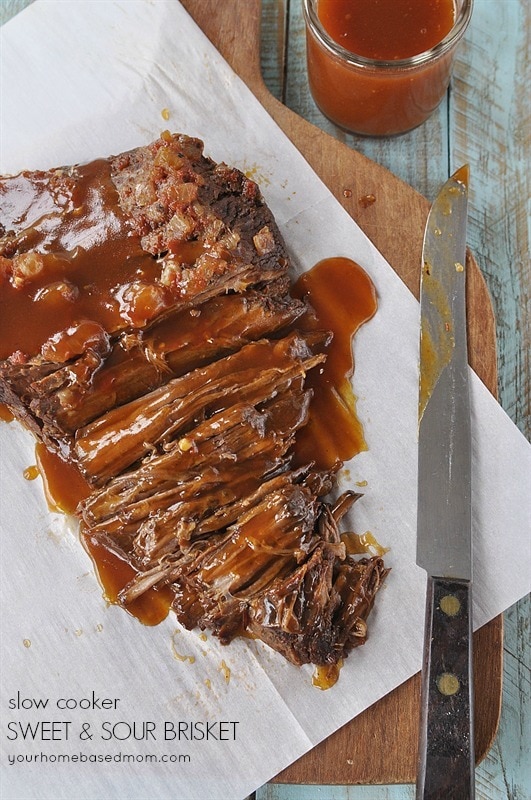 Slow Cooker Sweet & Sour Beef Brisket
Ingredients
3-4

lb

beef brisket

1

cup

beef broth

1/2

cup

ketchup

1/2

cup

chili sauce

1/2

cup

apple cider vinegar

1

cup

onions

diced

1

tsp

garlic

minced

1

cup

brown sugar

1/2

Tbsp

salt

2

Tbsp

cornstarch
Instructions
Place the brisket in a 6-qt slow cooker.

Mix together all the remaining ingredients and pour over the brisket.

Cover with the lid and cook on low for 9 hours or high for 5 to 6 hours.

Remove the brisket from juices and slice or shred meat going across the grain.

Strain the juices and add 2 Tbsp cornstarch into 1/2 cup of juices. Add the cornstarch mixture and remaining juices into a sauce pan and stir over medium heat until the sauce begins to boil and thicken.

Serve the thickened sauce over sliced meat.

For even more flavor, place sliced meat into a baking pan and pour some of the sauce over the top, making sure to get the sauce down in between the slices. Cover with foil and bake in a 350 degree F oven for 20-30 minutes to allow sauce to set up. Serve remaining sauce on the side.

Stay Updated!
Need more recipes and creative ideas? Sign up and get a FREE copy of my ebook! Do you think your friends would love this too? Please share my blog with them. Thanks!