Taquitos are rolled tacos filled with chicken, beef or pork and cheese. Fried to perfection for a delicious way to use leftovers!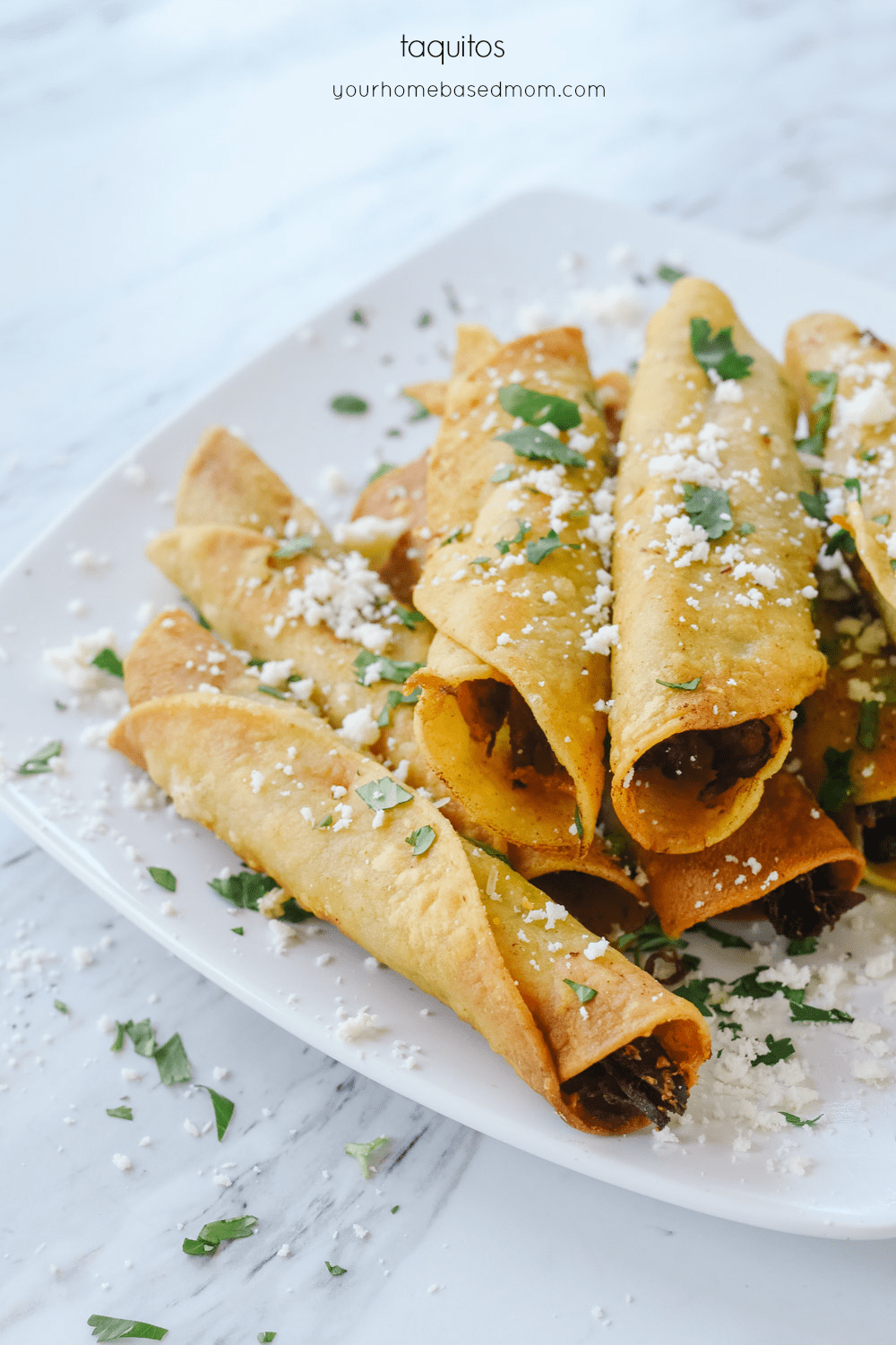 Why You'll Love This Recipe!
One on going problem that an empty nester has is leftovers. Fortunately for me, my husband enjoys leftovers and is perfectly willing to eat the same thing for dinner and for lunch the next day or two. I'm not as big a fan of leftovers, that is unless you can dress them up in another form. Taquitos are a fun and delicious way to use leftovers and change things up.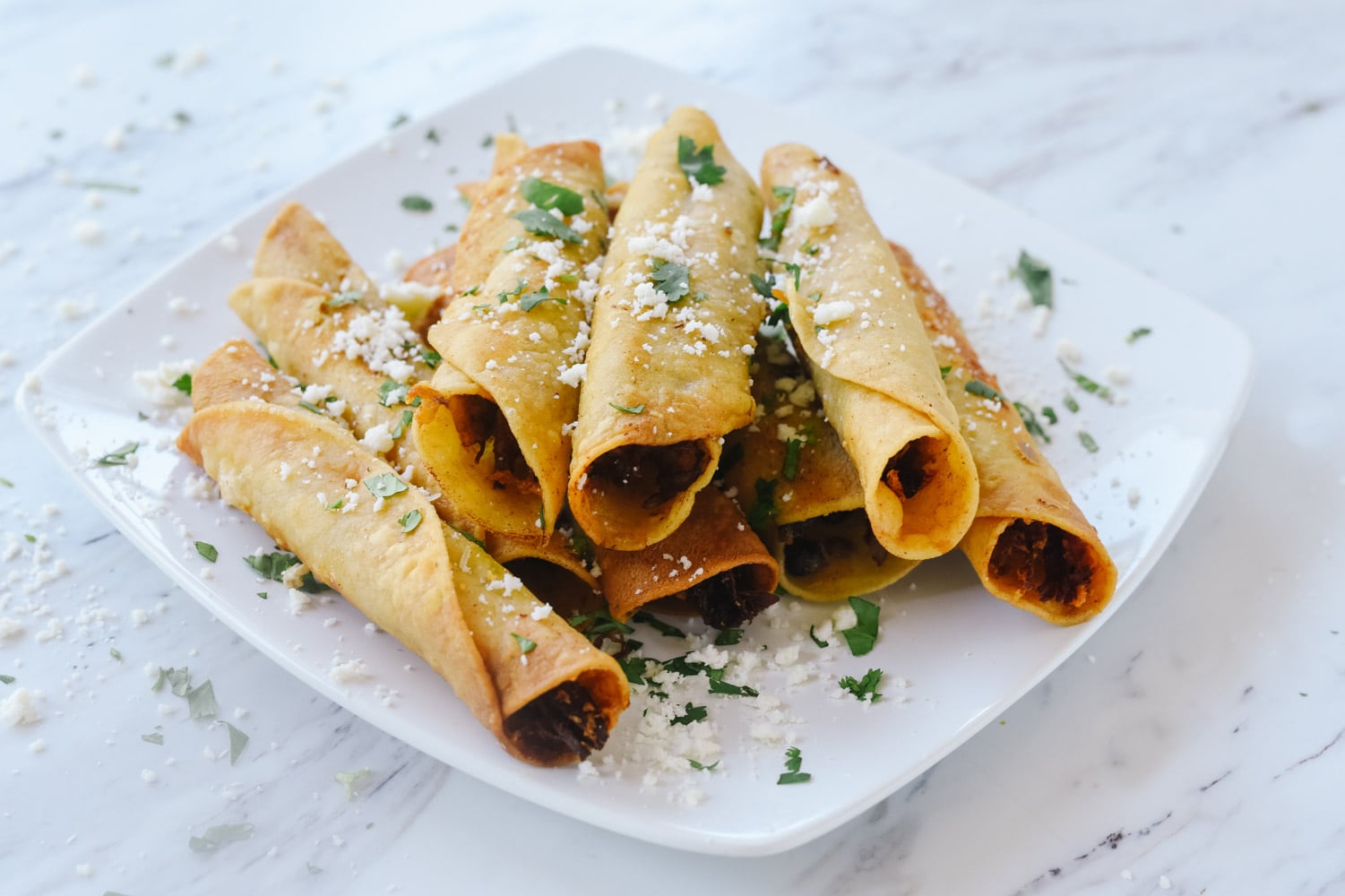 What is a Taquito?
Taquitos are a rolled-up corn tortilla that contains a filling, including beef, pork chicken and cheese. The rolled up tortilla is then fried in oil. It is often topped with sour cream and guacamole.
Ingredients Needed
Meat. Shredded chicken, beef or pork.
Green chiles. I used the chopped canned.
Garlic salt
Corn tortillas
Sour cream
Salsa
Cheese. Use cheddar cheese, Monterey Jack cheese or a Mexican blend. You can also add queso fresco to garnish the top.
Oil for cooking. Use canola or vegetable oil.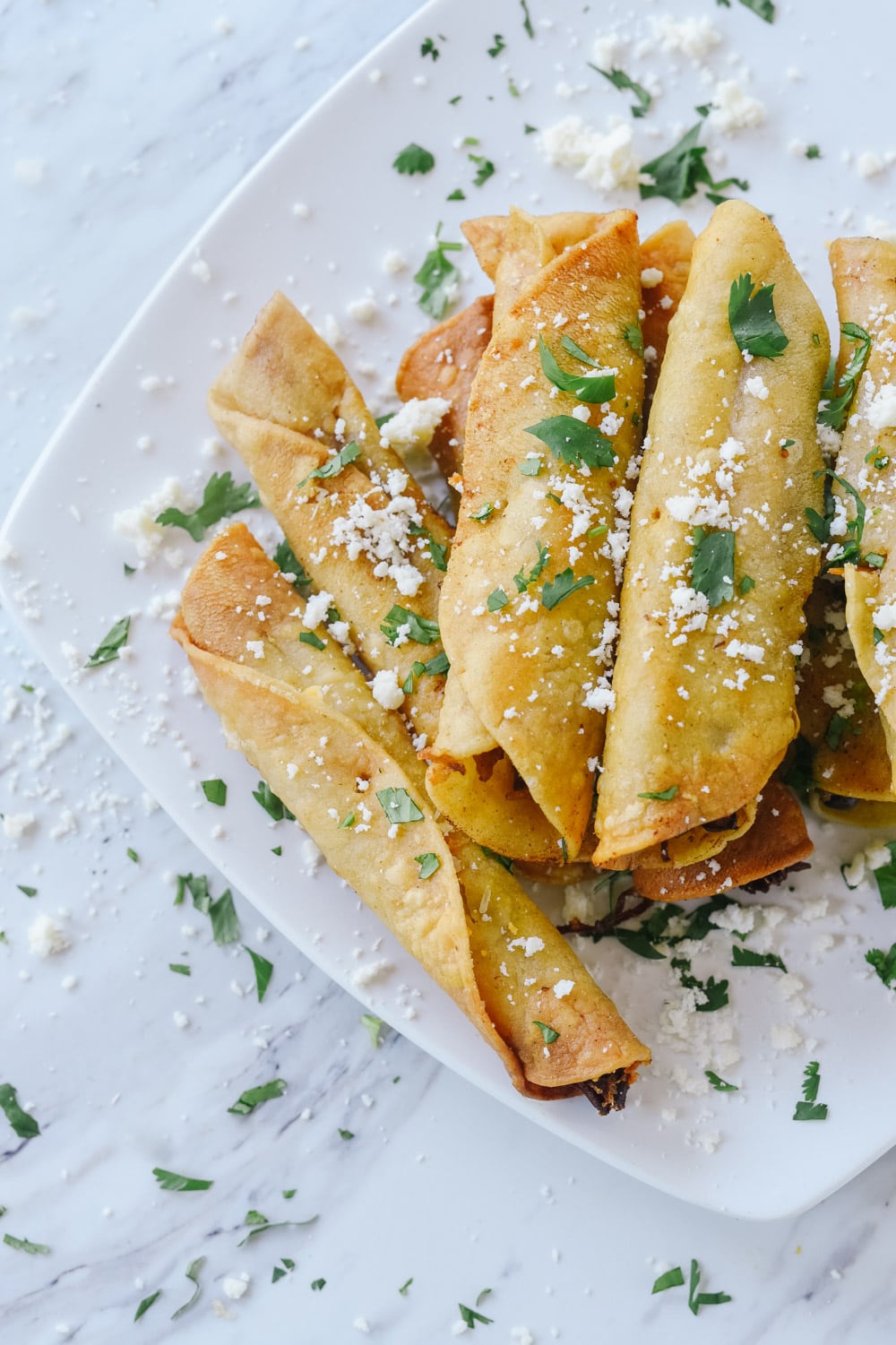 How to Make Taquitos?
Shred the left over meat. You will need 1 1/2 cups of meat. If the meat isn't already seasoned add in some diced green chilies, 1/2 cup cheese and garlic salt. Stir to combine.
Soften tortillas to make them easier to work with. Wrap them in a paper towel and microwave them for about 30 seconds. I do about 5-6 at time. If you don't have a microwave, wrap them in foil and warm in the oven for a few minutes. You just want them soft, so they don't crack when you roll them.
Fill tortillas with a couple of tablespoons of meat and cheese mixture onto the middle of the tortilla and roll.
Hold them closed with a toothpick until you are ready to fry them.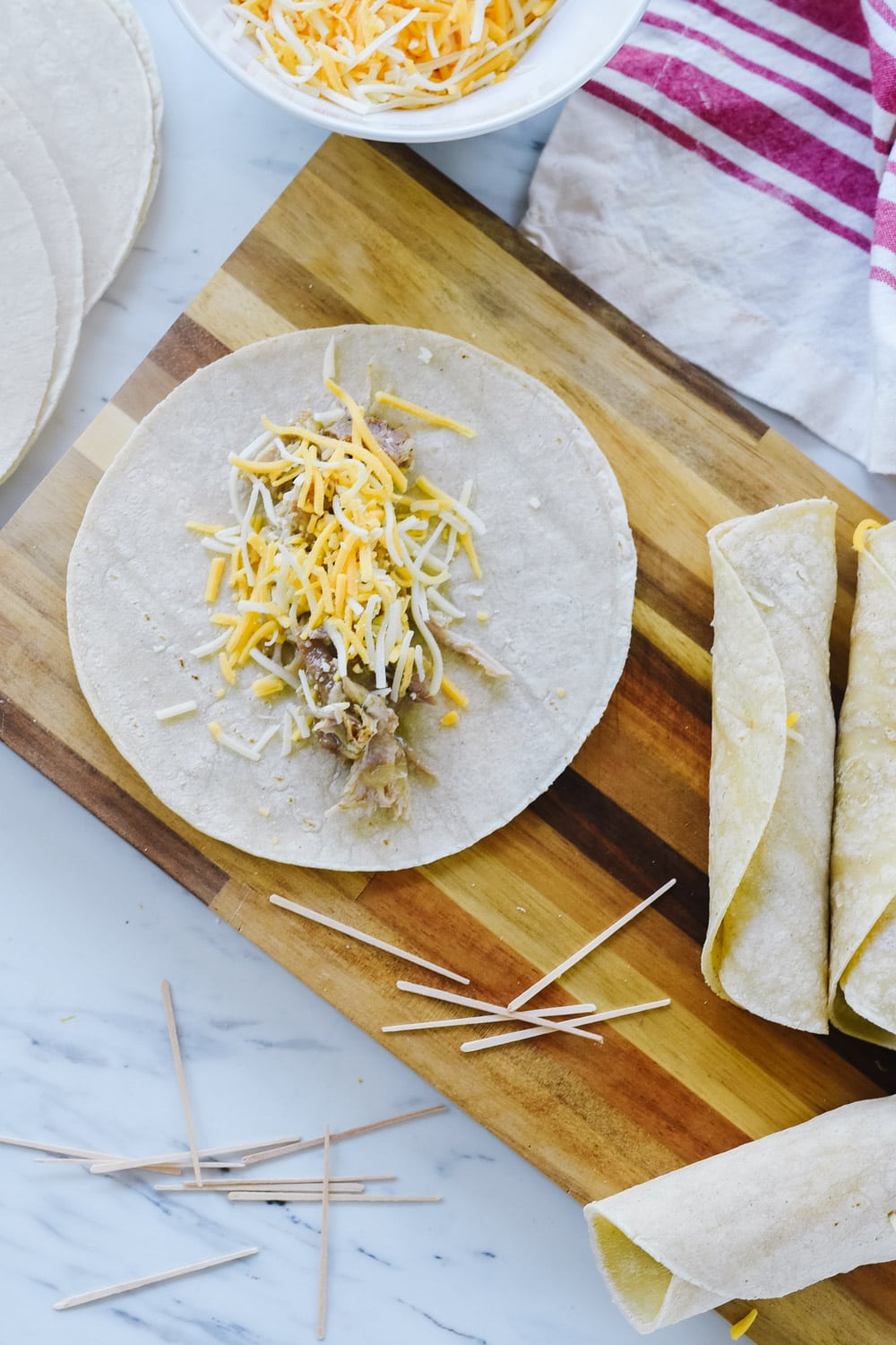 Heat your oil in a large frying pan to 350-375 degrees F. I love using my Thermapen to check the oil temperature. You can also check the oil temperature by sticking a piece of tortilla into it and see if it sizzles or not. If it sizzles it is ready.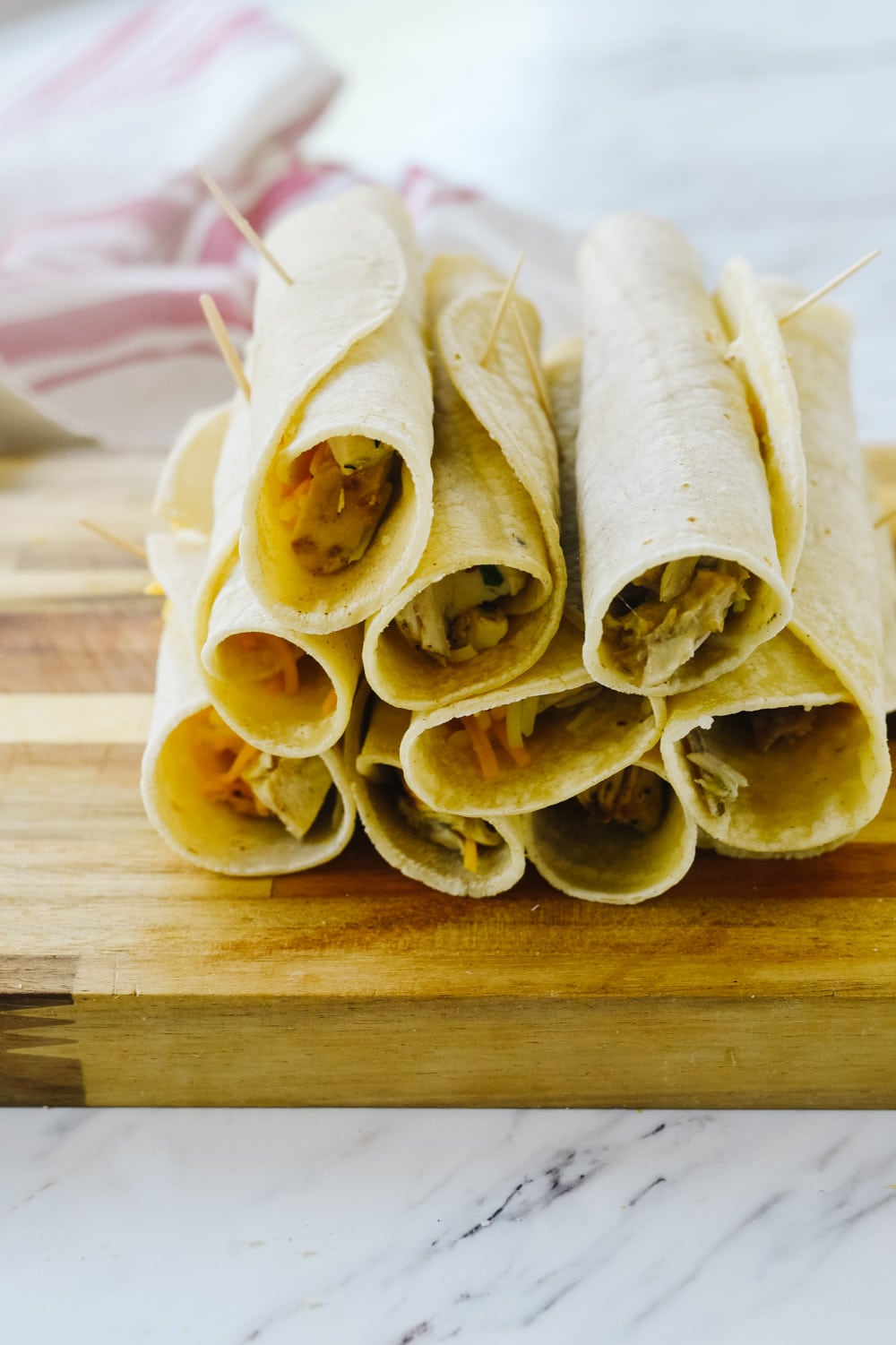 Fry the taquitos, seam side down, until they are crisp and lightly golden brown. Turn over to the next side and do the same. It will take about 5 minutes per side.
Place and drain onto a paper towel when done.
Favorite Things to Put In Taquitos
Leftover rotisserie chicken
Ground beef seasoned with taco sauce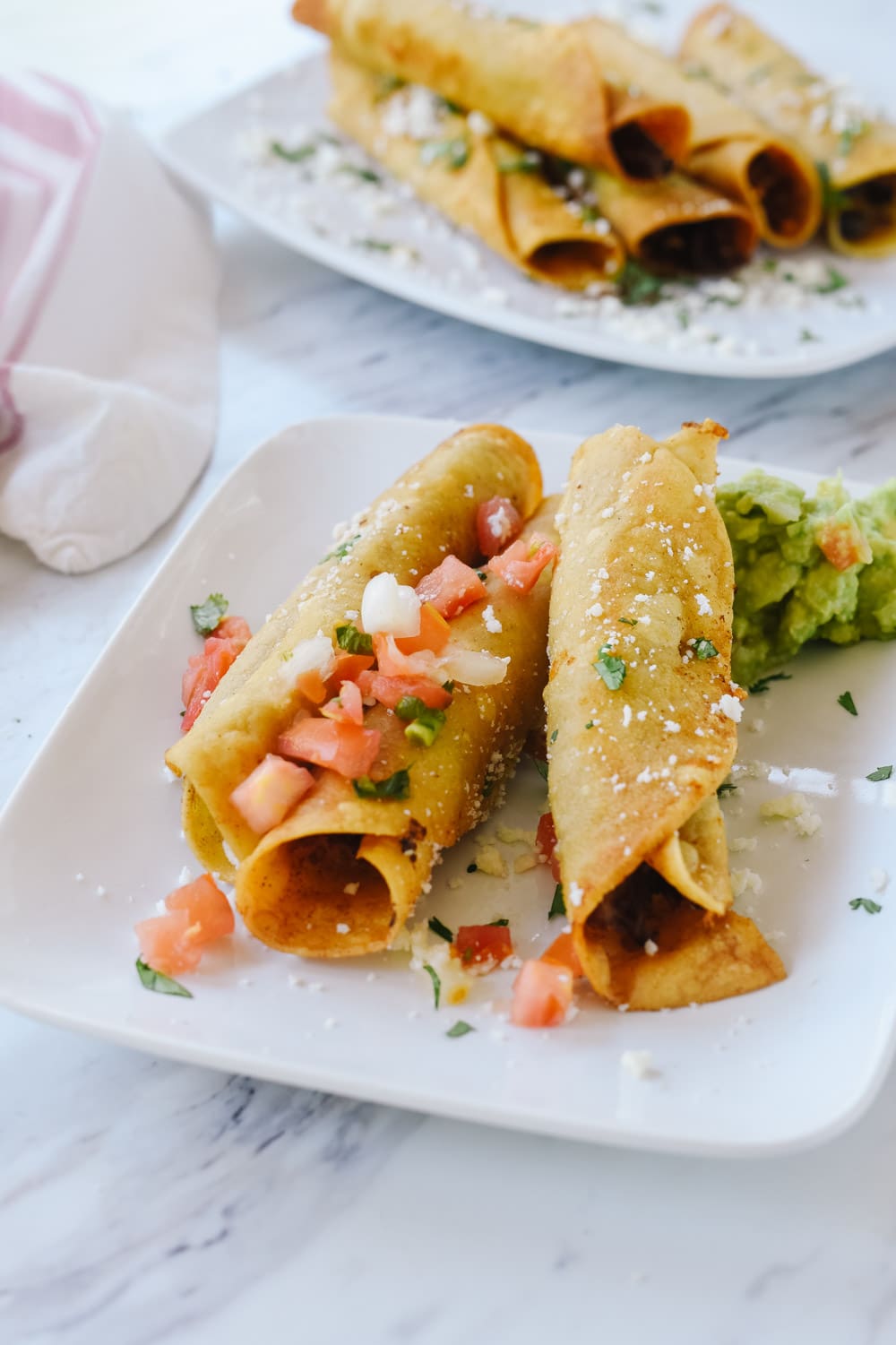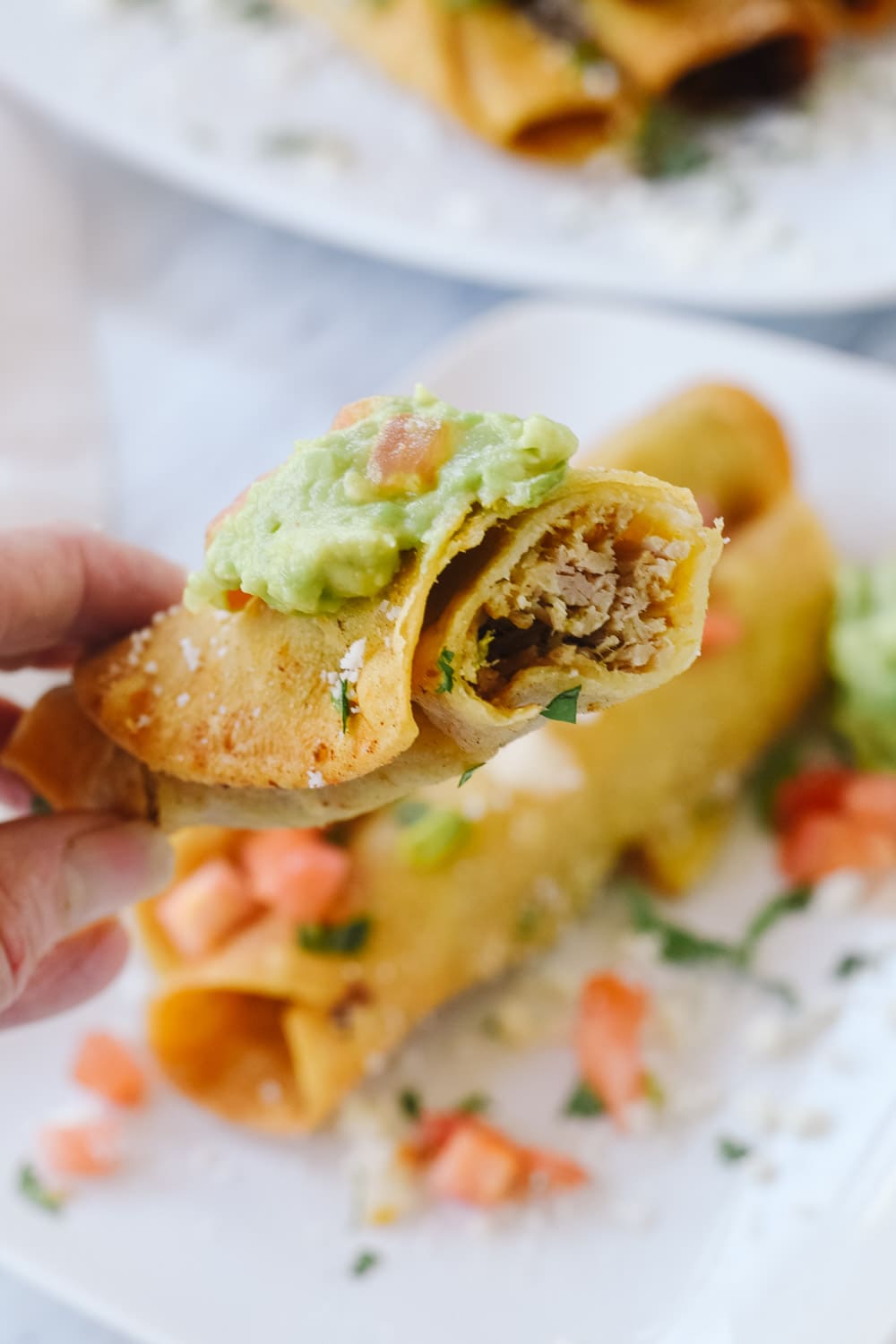 Frequently Asked Questions
Can taquitos be baked?
Yes, they can!  Preheat your oven to 450 degrees F.  Lightly spray a baking sheet with cooking spray and place the taquitos on the sheet.  Spray the top of the taquitos lightly with cooking spray and bake for 15-20 minutes or until golden brown.
Can taquitos be made with flour tortillas?
Rolled tacos made with larger flour tortillas are called Flautas. They can be fried or baked just like a taquito.  I have a Chicken Flauta Recipe on my site that you can use.
Can I freeze them?
Yes, but freeze them before you cook them. After you've filled and rolled them, carefully wrap them in foil and place them in a freezer-safe, sealable bag or air tight container and then freeze. When you're ready to cook them, you can take them from the freezer and cook frozen, they will just take a little more time to cook if they are frozen.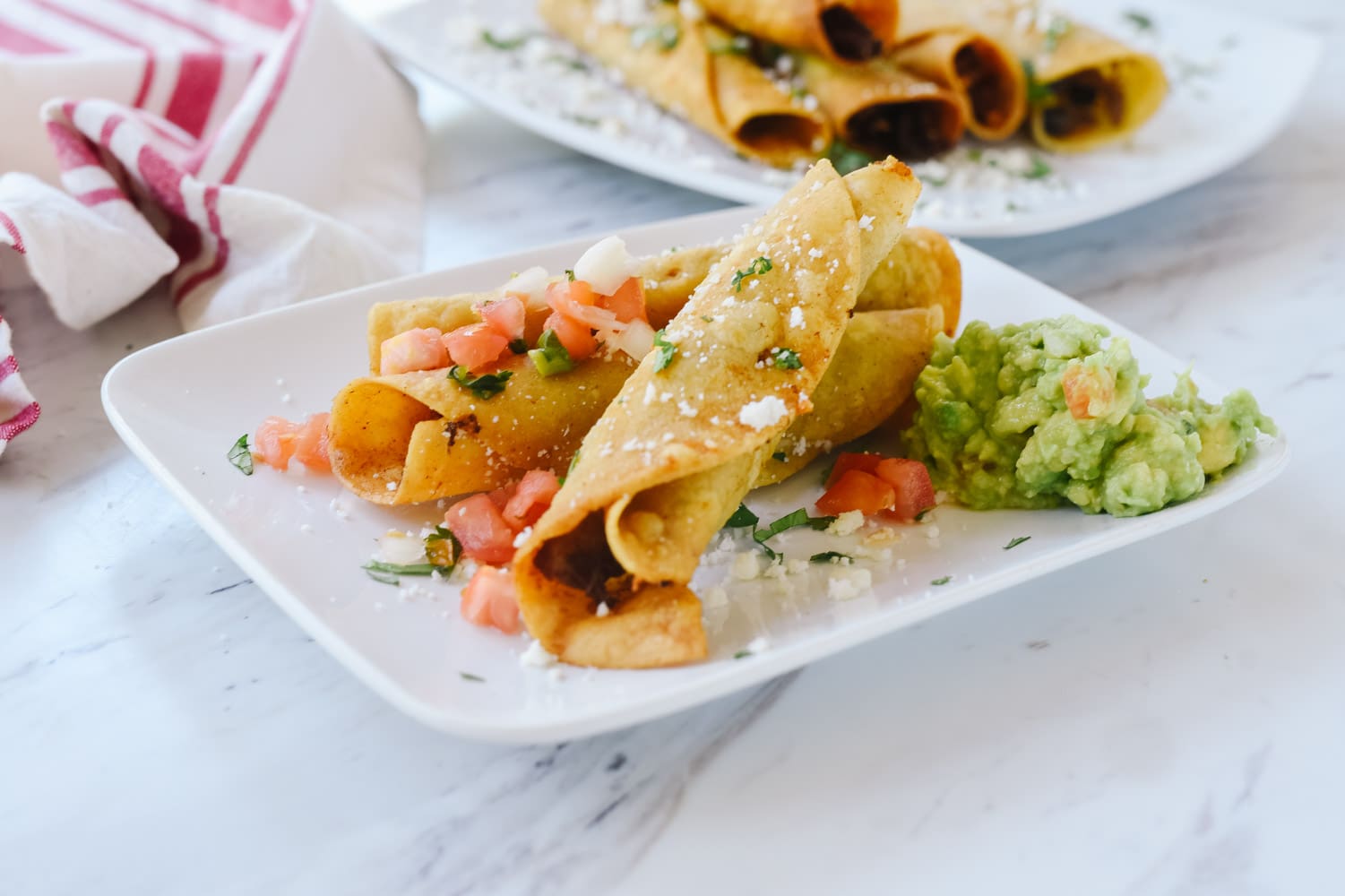 Try these delicious recipes:
Be sure and follow me over on You Tube for weekly cooking demos.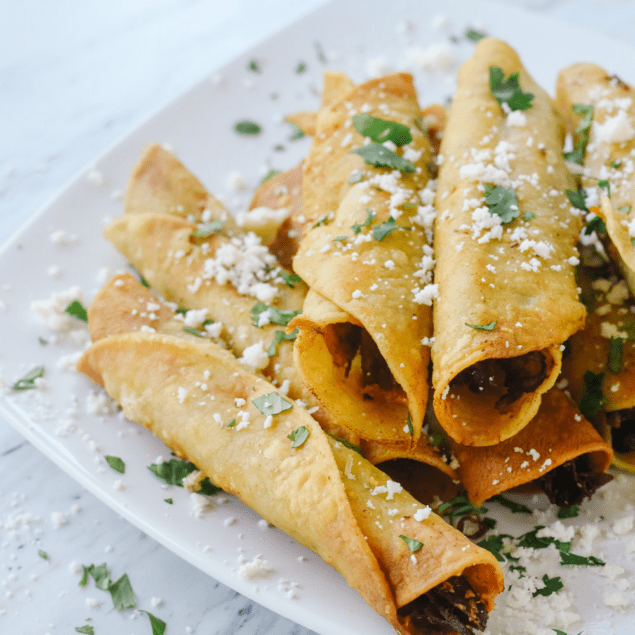 Homemade Taquitos
Taquitos are rolled tacos filled with chicken, beef or pork and cheese. Fried to perfection for a delicious way to use leftovers!

Ingredients
1 1/2-2 cups meat chicken, beef or pork
1 4 oz. chopped green chiles
1 tsp garlic salt I used 1 tsp to 1 1/2 C meat.
12 Corn tortillas
1/2 cup sour cream
1/2 cup salsa
1 cup cheese grated, extra for garnish
Instructions
Combine meat, green chilies and garlic salt into a bowl and stir to combine.

Soften tortillas wrapped in a paper towel in the microwave.

Place 2 Tbsp meat mixture onto softened tortilla.

Roll up and secure with a tooth pick.

Heat a pan with vegetable oil (about 1 inch deep) Heat oil until hot and bubbly.

Cook taquitos in oil until lightly golden brown, both sides. Drain on a paper towel.

Garnish with sour cream, salsa and cheese.
Nutrition Facts:
Calories: 134kcal (7%) Carbohydrates: 13g (4%) Protein: 9g (18%) Fat: 5g (8%) Saturated Fat: 2g (13%) Cholesterol: 26mg (9%) Sodium: 801mg (35%) Potassium: 190mg (5%) Fiber: 1g (4%) Vitamin A: 170IU (3%) Vitamin C: 16.8mg (20%) Calcium: 155mg (16%) Iron: 1.2mg (7%)
* Disclaimer: All nutrition information are estimates only. Read full disclosure here.