Easy and inexpensive ideas for your Thanksgiving Table Decor along with ideas for showing gratitude this Thanksgiving.
You can find our complete Thanksgiving Menu here and ideas for Thanksgiving Leftovers here.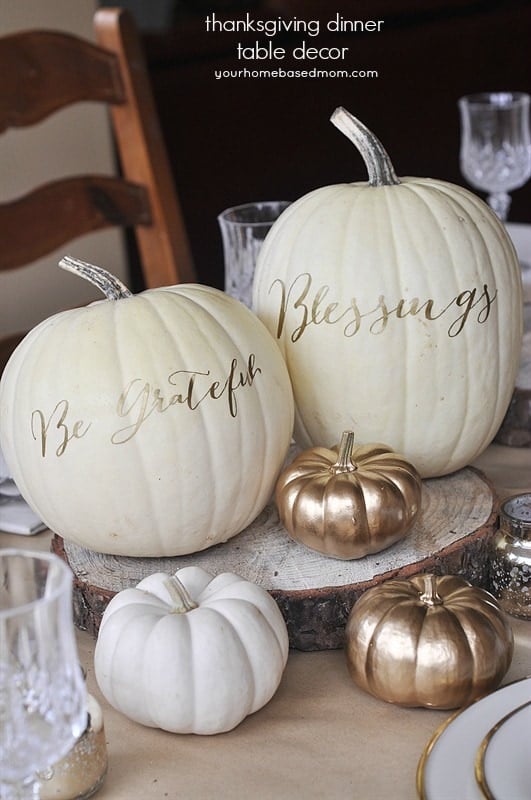 This post is sponsored by  Honey Baked Ham Company but all opinions are my own.
Food is a very important and intricate part of Thanksgiving.  Hours are spent planning the menu and cooking the food and then within what can be minutes it's over.
Today I've got some great ideas to share with you on how to simplify your menu.  Also, how to easily and inexpensively decorate your table and some fun family activities to use at Thanksgiving table.
Thanksgiving Table Decor Ideas
I like to use what I already have on hand  for my Thanksgiving Table Decor. At the end of November I usually still have pumpkins leftover from my Halloween decorations.   I am a big fan of white pumpkins so they were the perfect centerpiece for my table although orange pumpkins would work just fine too. And if all you have on hand is orange pumpkins but you wish you had white pumpkins, grab some white paint!  I've done that many times.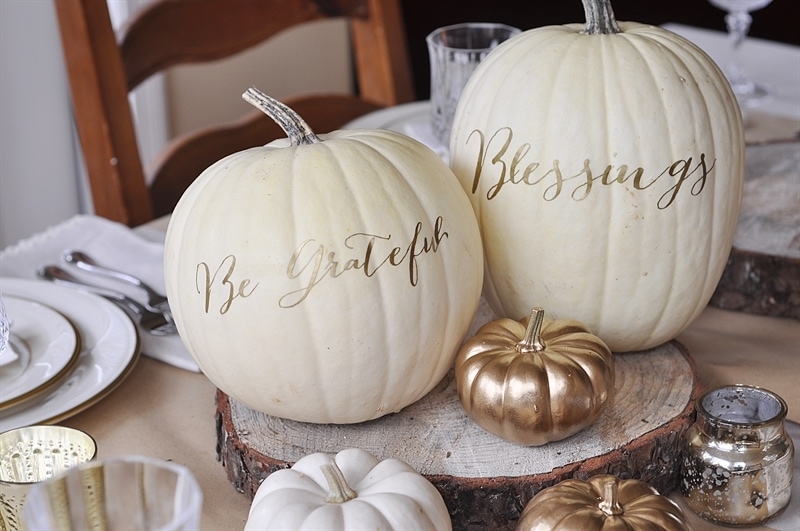 I dressed my big white pumpkins up with some lettering I cut out on my Cricut machine. You could also do it by hand with a gold Sharpie.  You can also spray paint some small orange pumpkins gold.  I have a neighbor who has some property and she had been cutting down some trees so I got a log from her and had it cut into slices which made the perfect thing to put my pumpkins on and some of the food.
Thanksgiving Tablecloth
For the table, I used a tablecloth I had but I also used a roll of brown kraft paper I picked up at the Dollar Store to create place mat runners.
 It is also the perfect place for the kids and adults to do a little drawing of what they are thankful for.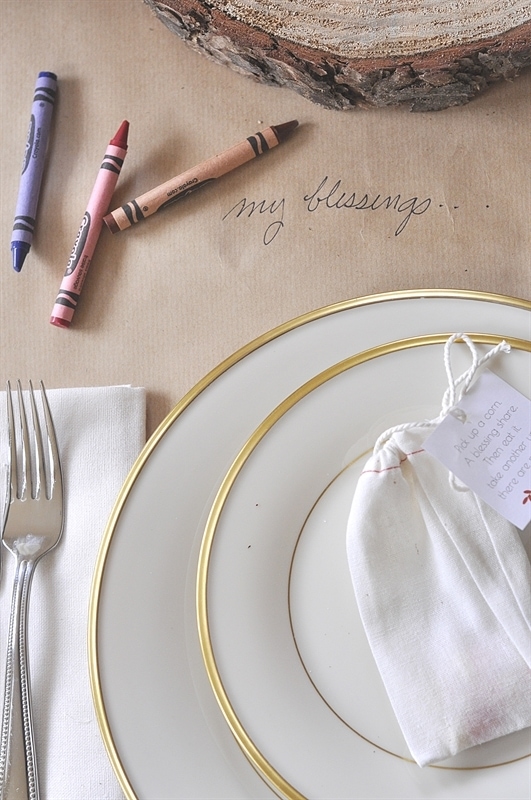 Each Thanksgiving we always place 5 pieces of candy corn on each persons plate. We take turns going around sharing things we are grateful for.  You could also write them down on the paper or have the kids draw pictures of things they are grateful for.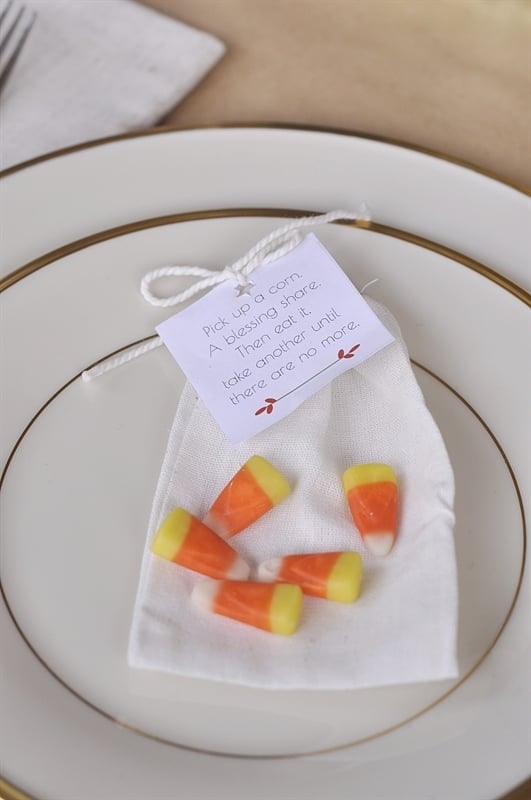 You can find the free downloadable printable for the Candy Corn Blessing and the story that goes with it here.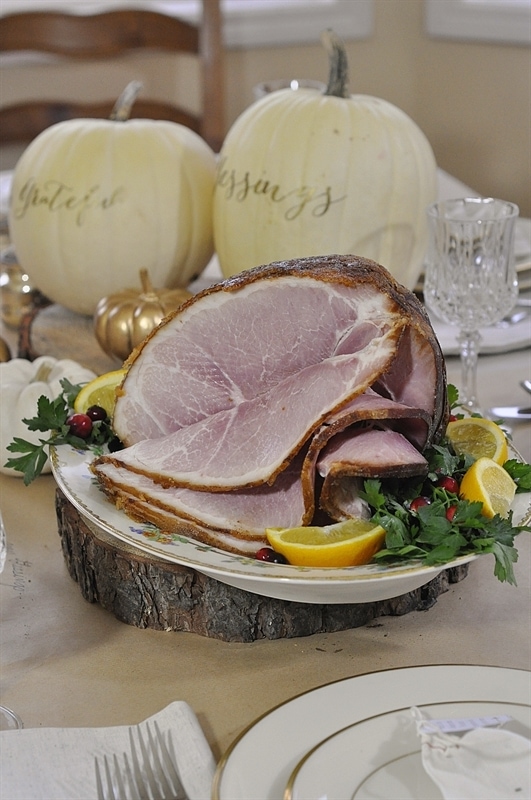 Thanksgiving Ham
Food is of course a very important part of the Thanksgiving meal and Honey Baked Ham is here to help.  When my husband was growing up they always spent Thanksgiving at Grandma Jane's house in Teton, Idaho. There was always a turkey but also a ham and a pheasant!
We love Honey Baked Ham at our house and it makes dinner so easy.   You can also purchase all the sides you need for your Thanksgiving meal at your local Honey Baked Ham store too.  I picked up some orange rolls, cranberry sauce, scalloped potatoes and green beans.  In a matter of 20 minutes, dinner was ready!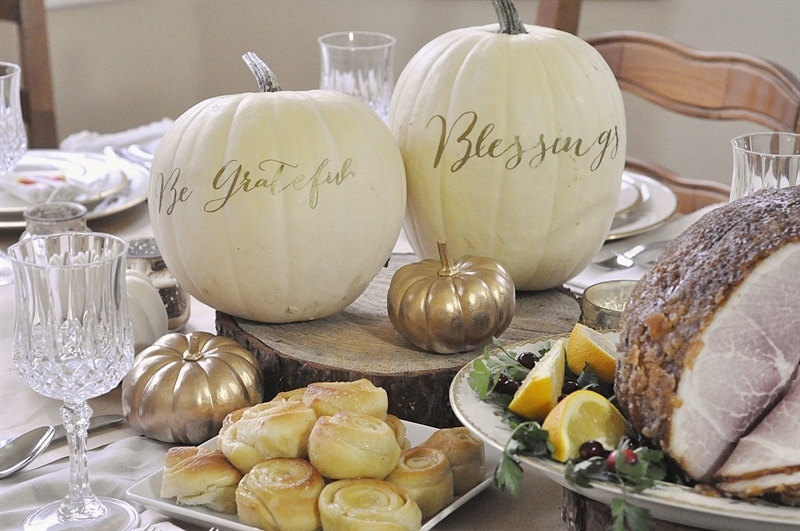 With a few pumpkins and a little bit of effort you can create a beautiful and easy Thanksgiving table Decor.