This recipe for Sausage Cornbread Dressing has been the favorite at our house for decades!  It is not Thanksgiving at house without it!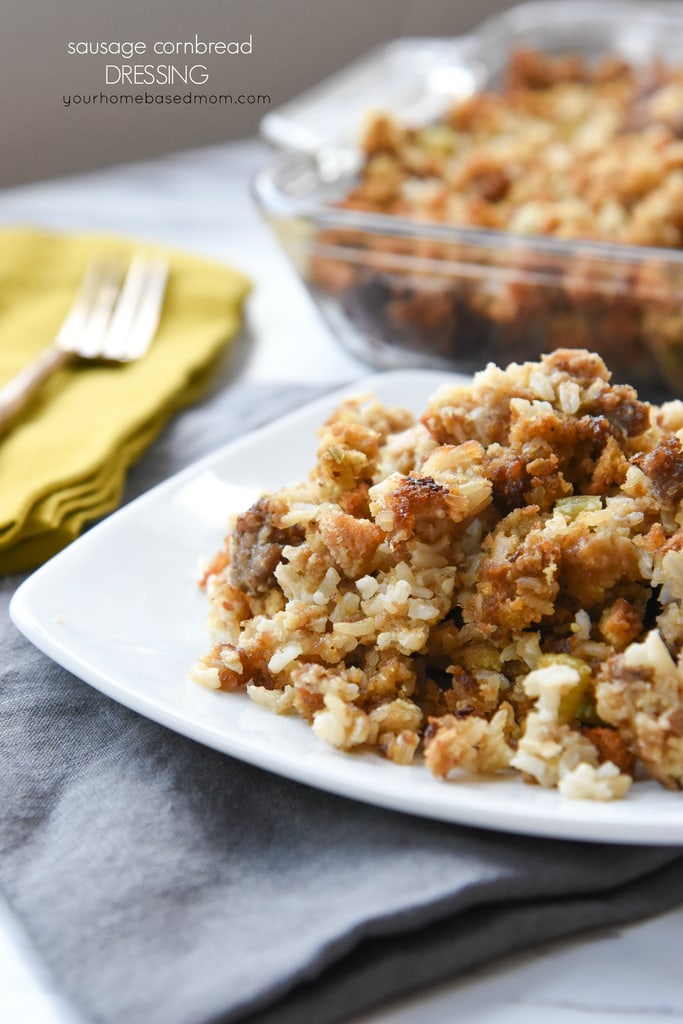 This year Thanksgiving will look a little different for us.  Both of my boys are celebrating with their in laws so Jim, Cali and I are headed to NYC to celebrate with Tessa.  This means that Thanksgiving dinner will be enjoyed in a restaurant.  I'm kind of looking forward to it.
But the only problem with our plans is that there will be no sausage cornbread dressing, the favorite Thanksgiving food of just about my entire family.  When we celebrate with other family members, my kids always make sure I make the dressing.  My daughter in law just called for the recipe the other day so I know her family will be enjoying it this year too!  So, I decided to give this post a little redo and some new photos so I made a big pan of it this week and my husband was in heaven!  With the sausage in it, it is really a main dish in and of itself.  You really don't even need the turkey!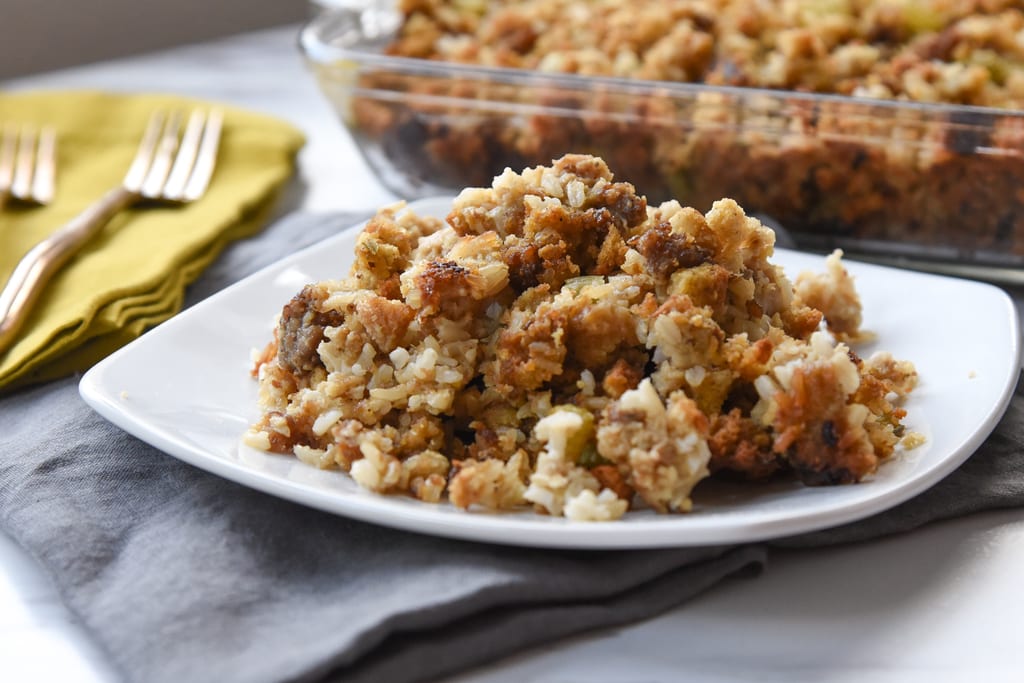 Here is the original post:
Lest you think I am totally ignoring Thanksgiving since there has been no mention of it or any Thanksgiving dinner recipes on the blog so far, I am sharing our family's all time favorite dressing recipe today!
No, I am not ignoring Thanksgiving!  In fact I am SO EXCITED for Thanksgiving!  We are headed out to Utah to spend the holiday with our three college kids and Jim's family!  Yes, there will be close to 50 Wilkes' gathered together to celebrate this next week.  Many thanks and blessings to my sister in law Tricia who will be hosting this year!
Since we will be in Utah I won't be doing much of the cooking so I haven't been focused on a Thanksgiving menu.  But I couldn't let the holiday go by without sharing Aunt Dawn's Sausage Cornbread Dressing recipe.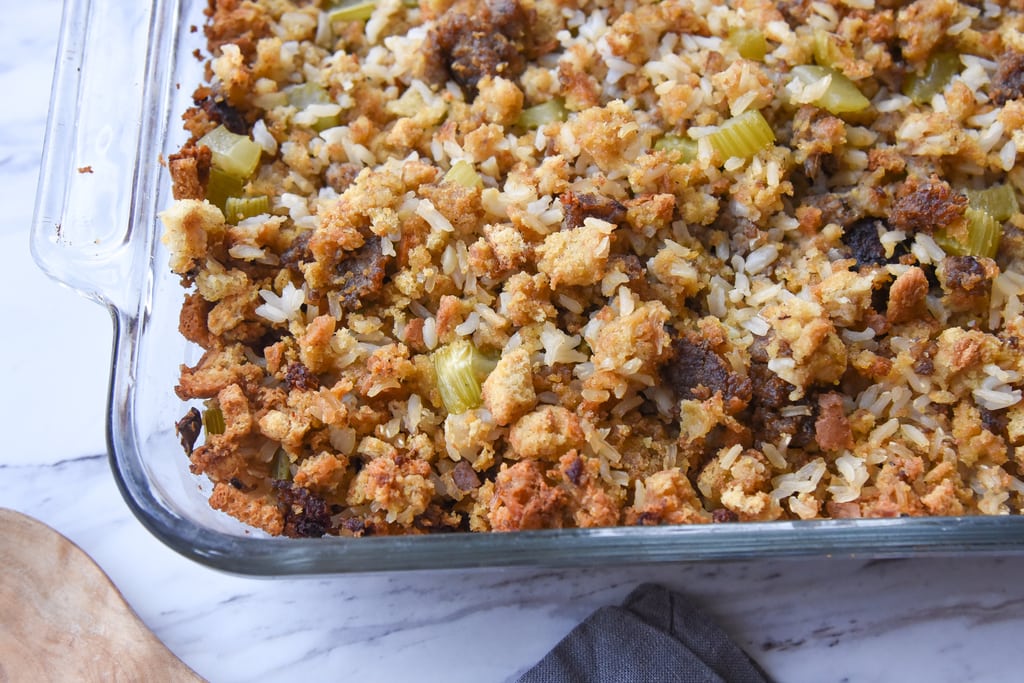 We have been making this dressing for Thanksgiving  since the first time we enjoyed it over 20 years ago when we spent Thanksgiving with Aunt Dawn and Uncle Glenn up in Washington!
If you have been reading this blog for any length of time it will come as no surprise to you that I prefer my dressing dry – no mushy, runny, gooey dressing for me!  Dry, dry, dry!  The advantage to dry dressing is each person can personalize the mushiness to their personal tastes with the amount of gravy they add!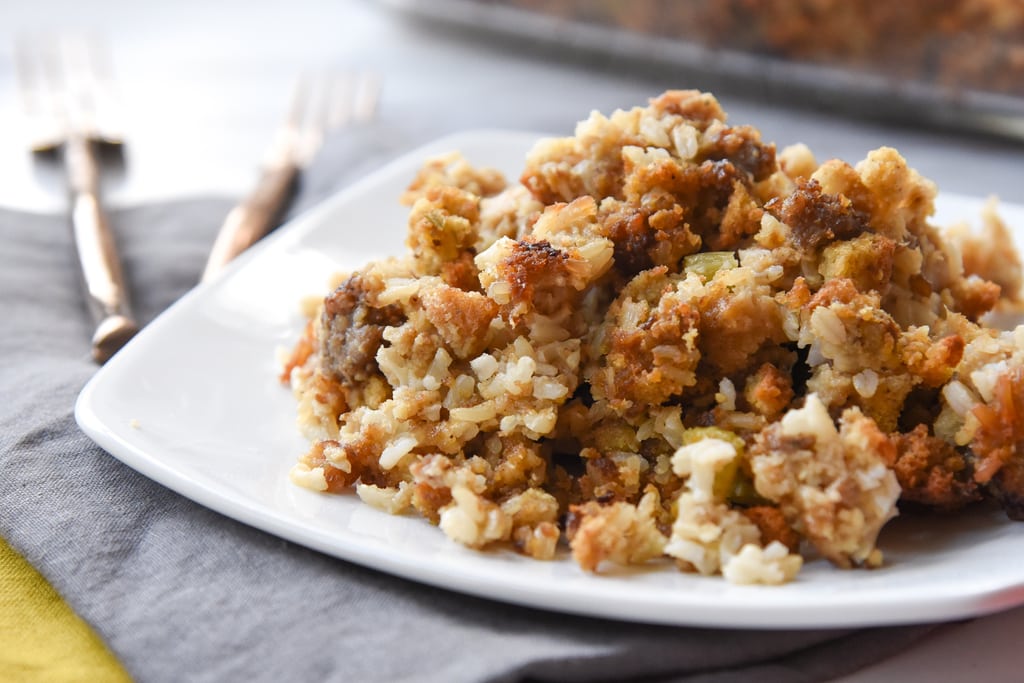 I love the combination of cornbread stuffing, sausage and brown rice in this recipe.  The brown rice adds a nice texture and a nutty flavor. I'd love for you to try it and maybe it will become your family's favorite too!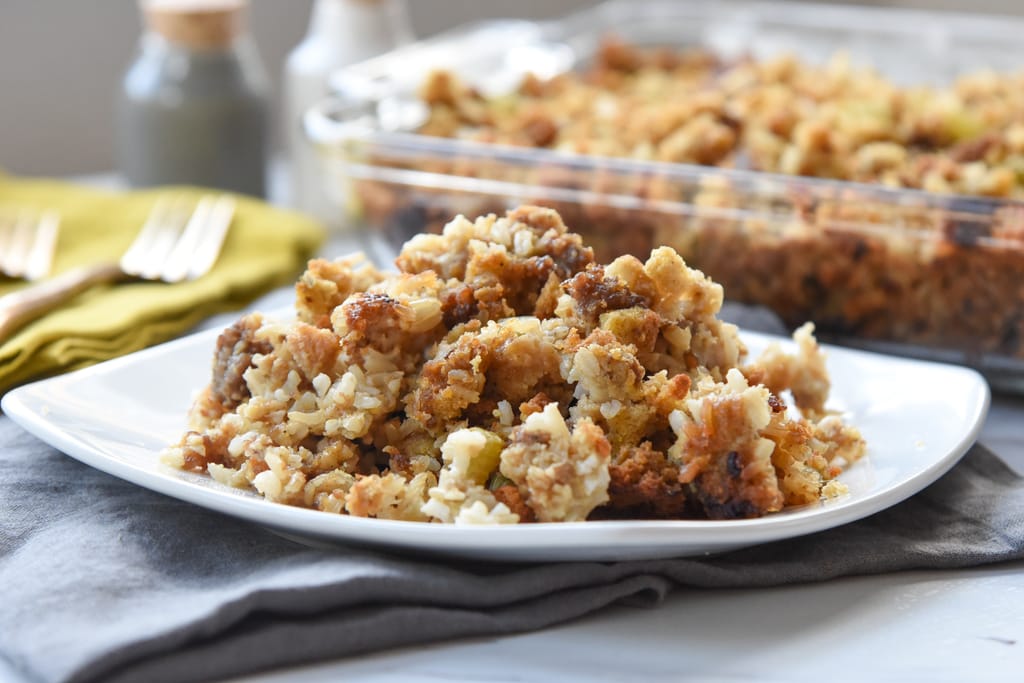 Originally posted November 23, 2009
Other favorite Thanksgiving side dishes:
Roasted Brown Butter Maple Brussels Sprouts
Sausage Cornbread Dressing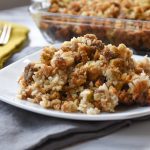 Print
Sausage Cornbread Dressing
Ingredients
2 12

cups

water

1

cup

brown rice

1

12 oz. box

cornbread dressing

1

16 oz. pkg

Jimmy Dean regular sausage

1 1/2

cup

celery

chopped

1

cup

onion

chopped

1/2

cup

butter

2 1/2

cups

chicken broth
Instructions
Boil water and add brown rice. Cover and cook until rice is cooked and fluffy (about 30-45 minutes)

Melt butter and saute celery and onions until soft.

Mix together cooked rice, dressing, cooked sausage, celery and onion mixture.

Add in chicken broth and stir to moisten.

Place in a 9 x 13 pan and bake at 350 degrees F covered for 30 minutes. Remove cover and bake for another 15 minutes until browned and crispy around edges.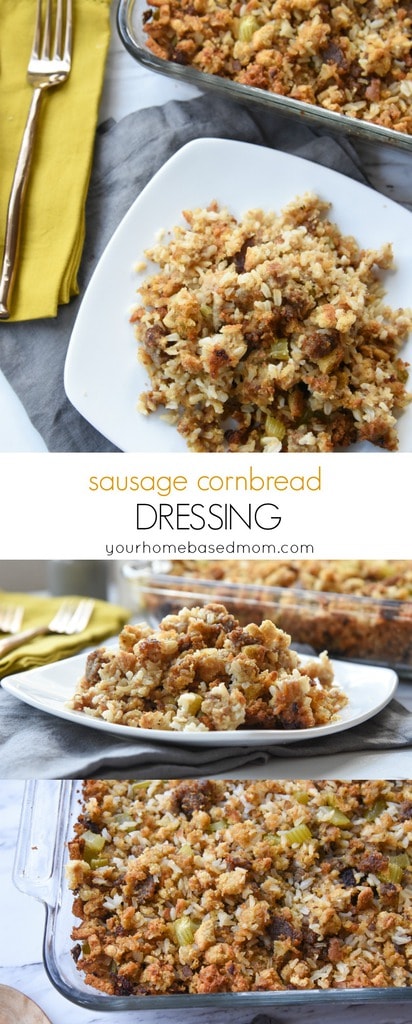 Get my Weekly Menu Plan for FREE!
Receive my FREE "What's for Dinner?" Meal Planning Course, a copy of my FREE ebook that includes my most popular recipes and my FREE weekly Meal Plan.