Light as a feather describes these fluffy dinner rolls perfectly.  These yeast rolls are amazing.  Hurry and eat them or they might just float away!
Bread is pretty much my favorite food group.  Now, I know it's not it's own food group but I think it should be.  Fresh baked bread or rolls are one of my favorite things ever.  I try to limit my bread making to Sundays.  We have a new church schedule now so I have more time in the morning to play in the kitchen.  We have always been one of those big Sunday dinner kind of families.  Even now that my kids are gone I usually fix a nice, big Sunday dinner and homemade rolls are often part of the menu. Big meaning there is usually a meat, veggie, starch, salad, rolls and sometimes even dessert!
This particular recipe makes 12 nice size rolls and it was probably a good thing it only makes 12 because I was tempted to eat the entire pan.  I usually eat my share of the rolls as soon as they come out of the oven because I like my rolls warm and soft.  After I ate two of them and Jim had enjoyed a couple I told him he had to get them out of the house!  I knew that if they didn't disappear quick I was going to eat the entire pan so our neighbors were the happy recipients!  In fact, my neighbor texted me a photo of her cute girls enjoying the rolls with their dinner.  They loved them too!
These rolls are made a little differently than I have ever made rolls before – they use a flour paste.  It is a Japanese bread making method called tangzhong and it adds extra mositure into the dough using the flour paste.  It helps the rolls maintain that light, fresh out of the oven texture for more than a day.  The way in which the rolls are rolled out and then formed also helps create the fluffy, feathery texture of the rolls.
The flour paste is a combination of bread flour and water (yes, bread flour does make a difference)  You stir the two together and then cook in the microwave until it forms a pudding like consistency.  This is added into the dough.  If you are a bread maker you will notice that the directions are different than you may be use to but be sure and follow them.  There are scientific reasons for them including building a strong gluten structure within the dough. Who knew cooking was really science!  This recipe uses rapid rise yeast.
Let the dough rise until doubled in size and then it is ready to roll out into a 8 x 9 inch rectangle which you cut into 12 pieces.
Each piece is then stretched out to about an 8 inch strip and then rolled up into a snug cylinder starting at the short end.  Place seam side down into a greased 9 inch round cake pan.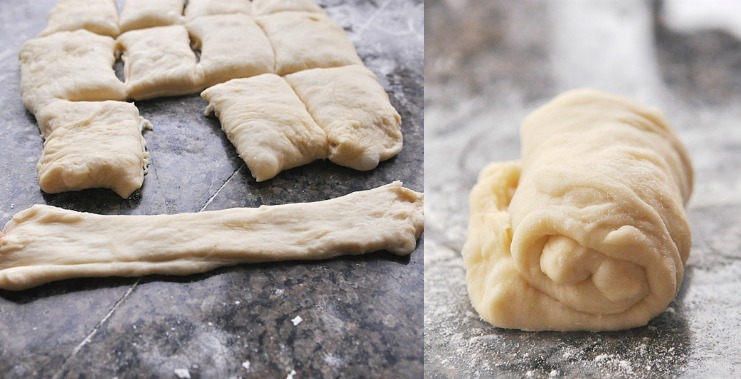 Let rise again until about double in size.
Bake at 375 for about 15-20 minutes or until golden brown.  Cool for 3 minutes and then use a pastry brush to brush the top with melted butter.
Then place then on a cooling rack and allow them to cool or rest for about 20 minutes but I never do!
Shop this Post