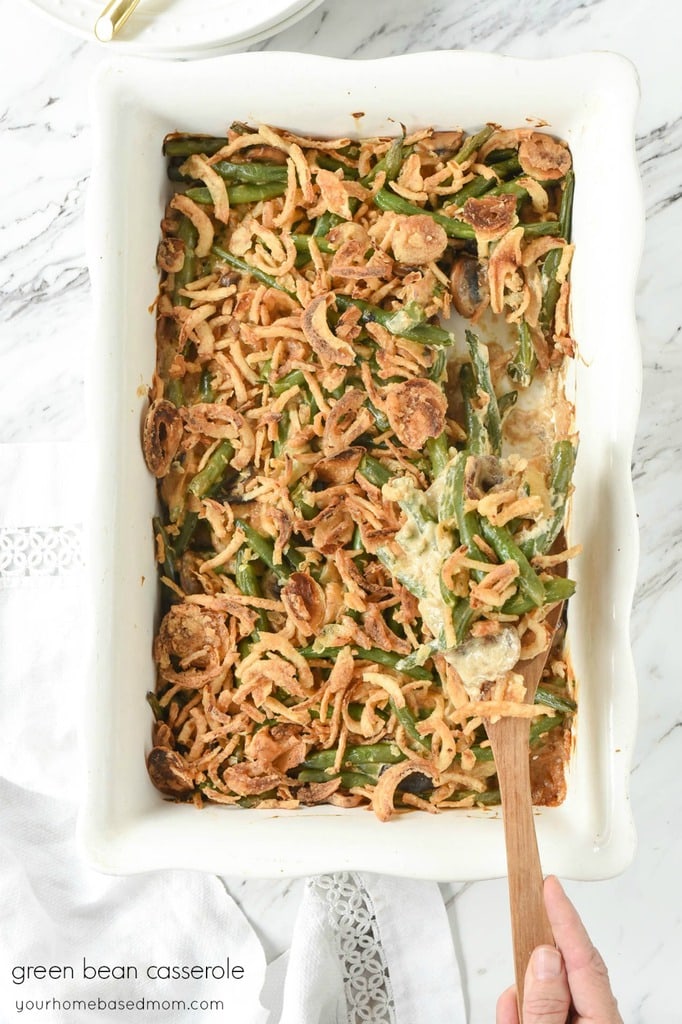 This classic green bean casserole is made with fresh green beans and mushrooms and no canned soup to give it a better flavor and texture.
As a child, the only vegetable I would eat was green beans. They had to be the french cut green beans out of a can. Yes, that was it! Lucky for me, I grew up and so did my taste in vegetables. Green beans are still my favorite. But I much prefer them fresh rather than out of a can.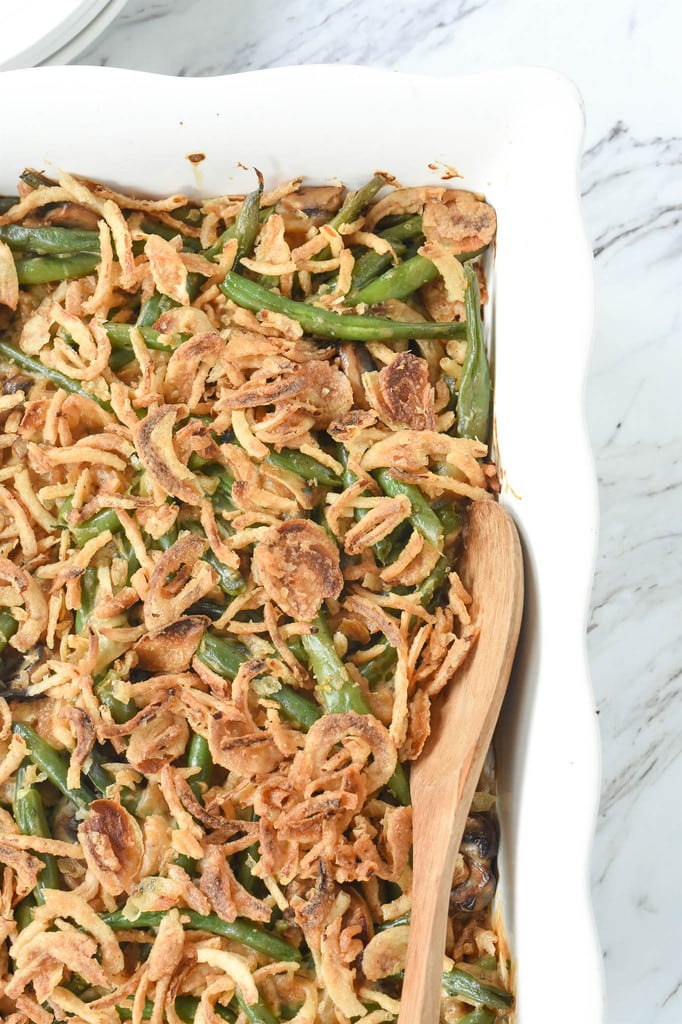 Green Bean Casserole is a classic recipe. It has been around forever and is required fare on most holiday tables. Instead of using canned green beans like my mother, I prefer fresh green beans. It gives the dish better taste and better texture.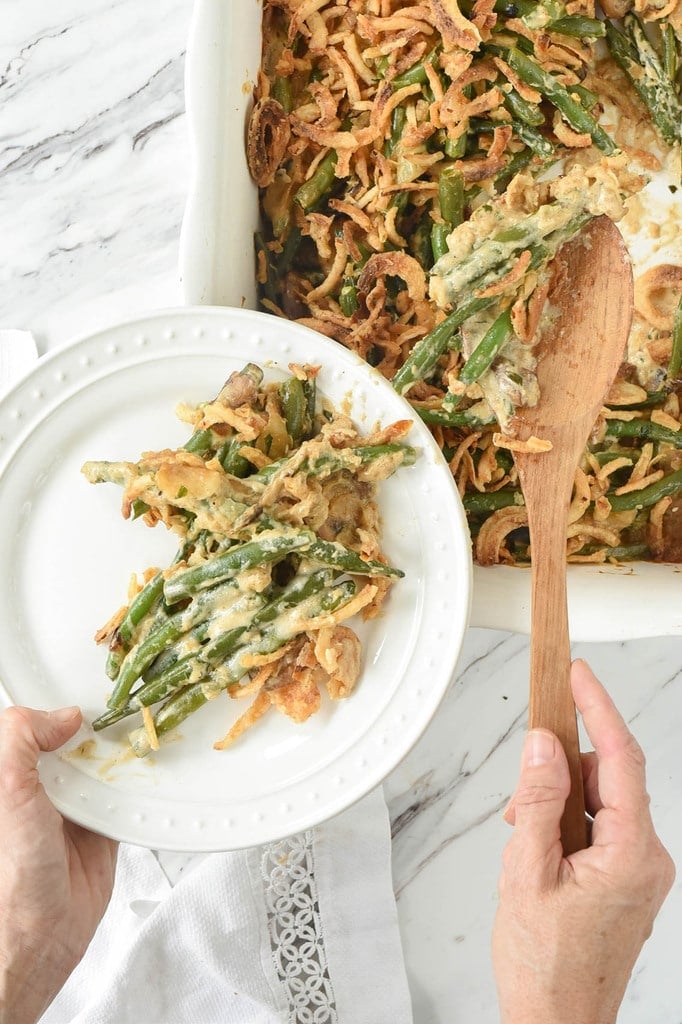 And instead of using the canned cream of mushroom soup, I used fresh mushrooms and make an easy cream sauce from scratch . This no can version is delicious and comes together quickly and easily. The addition of some fresh herbs and lemon juice gives it a great taste. And of course there is cheese too! All of the delicious flavor you expect from a green bean casserole, with fresher homemade ingredients.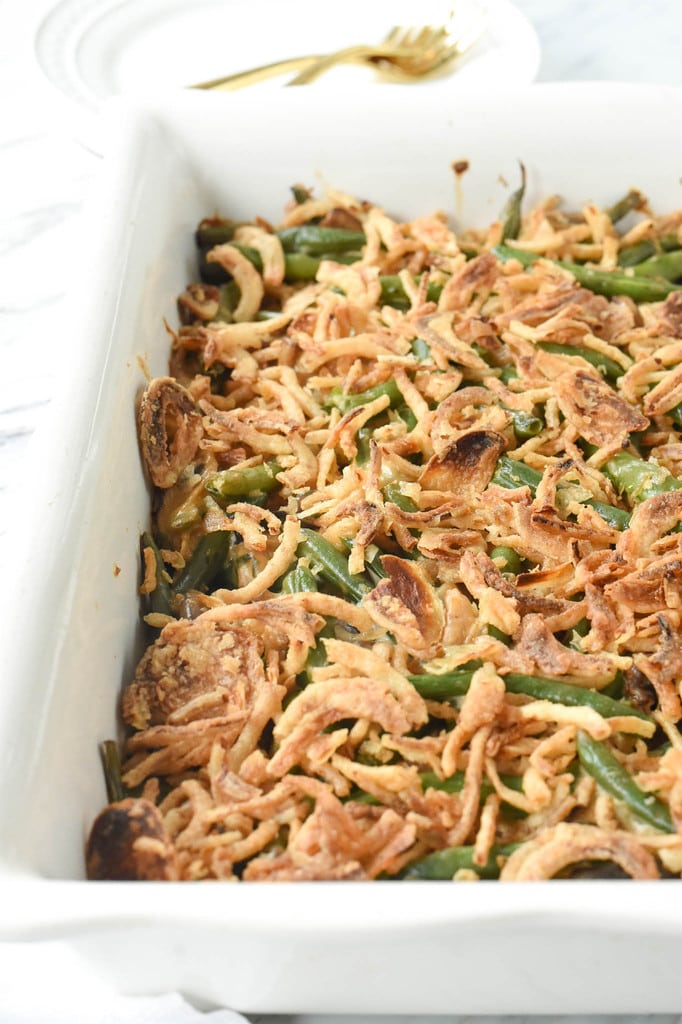 But I didn't change everything. My very favorite thing about green bean casserole is the crunchy French fried onions on top! I love crunch in my food! You can make this green bean casserole the night before, but make sure to add the onions on top right before baking so they don't get soggy sitting in the refrigerator over night.
Check out more of my other favorite holiday dishes:
For all of my other favorite kitchen products and tools visit my Amazon Store.
Green Bean Casserole Recipe
Green Bean Casserole
This classic green bean casserole is made with fresh green beans and mushrooms and no canned soup to give it a better flavor and texture.
Ingredients
2 lbs. green beans fresh
8 oz. mushrooms sliced
3 Tbsp butter
1 cup onion thinly sliced
3 Tbsp flour
1 tsp lemon zest
2 tsp garlic minced
1/2 tsp salt
1/4 tsp black pepper
1 tsp sugar
1/2 cup milk
1 Tbsp parsley chopped
3/4 cup sour cream
1 cup Cheddar cheese grated
1 2.8 oz. can French fried onions divided
Instructions
Preheat oven to 350 degrees F.

Bring a large pot of water to a boil and add green beans. Blanch for about 5-8 minutes or until they turn bright green and are tender. Drain.

Melt butter in a frying pan and add onions and garlic. Saute until onions are tender and then add in mushrooms. Cook for a few more minutes to soften the mushrooms.

Add in flour and stir to combine. Add in lemon zest, salt, pepper and sugar. Gradually add in milk, stirring constantly to avoid lumps.

Add in sour cream.  Stir over medium heat until it bubbles and thickens.  Add in green beans and parsley. Stir to coat.

Toss in half of cheese and 1/2 cup french fried onions. Reserve remaining for the top.

Place in a 11 x 13 dish and top with remaining cheese and fried onions

Cook in oven for 15 minutes or until heated through.
Nutrition Facts:
Calories: 133kcal (7%) Carbohydrates: 8g (3%) Protein: 5g (10%) Fat: 9g (14%) Saturated Fat: 5g (31%) Cholesterol: 26mg (9%) Sodium: 203mg (9%) Potassium: 281mg (8%) Fiber: 2g (8%) Sugar: 4g (4%) Vitamin A: 835IU (17%) Vitamin C: 11.6mg (14%) Calcium: 128mg (13%) Iron: 1mg (6%)
* Disclaimer: All nutrition information are estimates only. Read full disclosure here.