Make these simple and delicious beef enchiladas for dinner this week. Easy and delicious.
I think my favorite ethnic food group is Mexican.  It is usually my food of choice when I get to pick where we go out to eat.
One of my favorite food memories growing up are the yummy cheese enchiladas my mom made.
When I was in college I would save up my food money and treat myself to a cheese enchilada in the BYU Cougareat once a week!
And still, when we go out for Mexican food, my choice is always the same – cheese enchiladas! But the men in my family like some meat in their enchiladas so I decided to give Pioneer Women's enchilada recipe a try.  They were great and the doctored up enchilada sauce is delicious – much better than straight out of the can.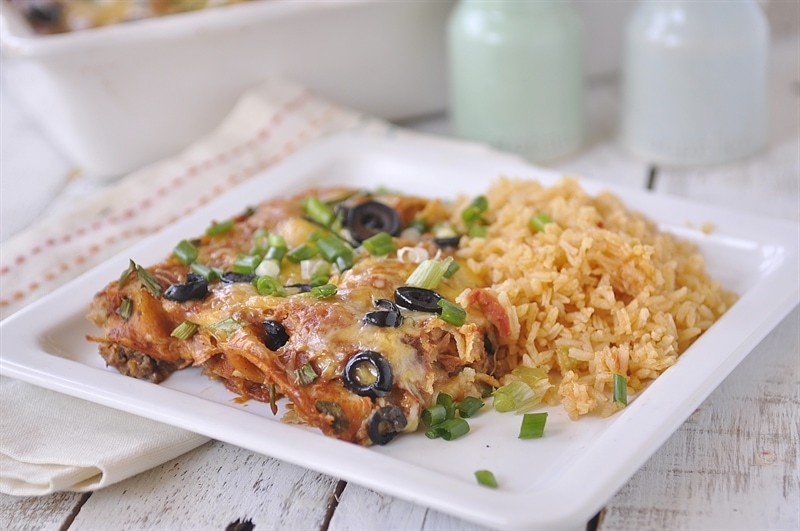 One of the problems I have always had when I make enchiladas is that the tortillas crack when I roll them up with the filling inside.  PW's great tip for frying them in some oil first helps make them somewhat crisp so they don't get all mushy when cooked but soft enough to prevent cracking when rolling up the enchilada.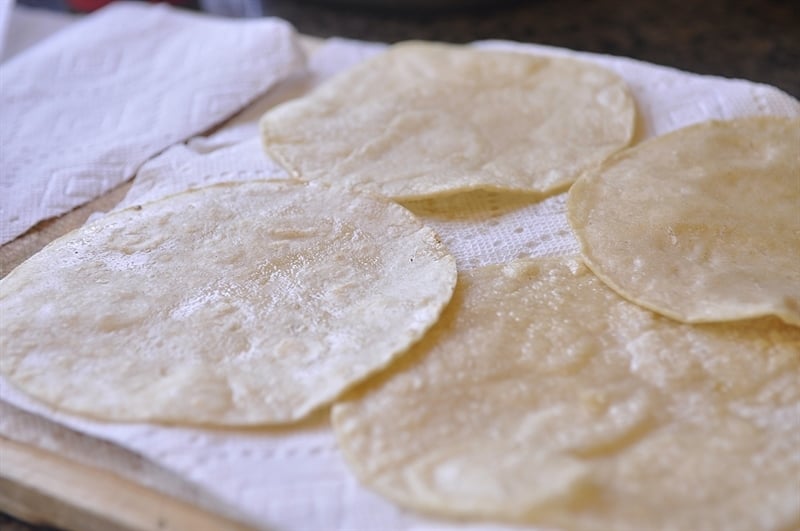 Then I dipped them in sauce and filled them with meat and cheese.  I like black olives and green onions in my enchiladas so I added those too.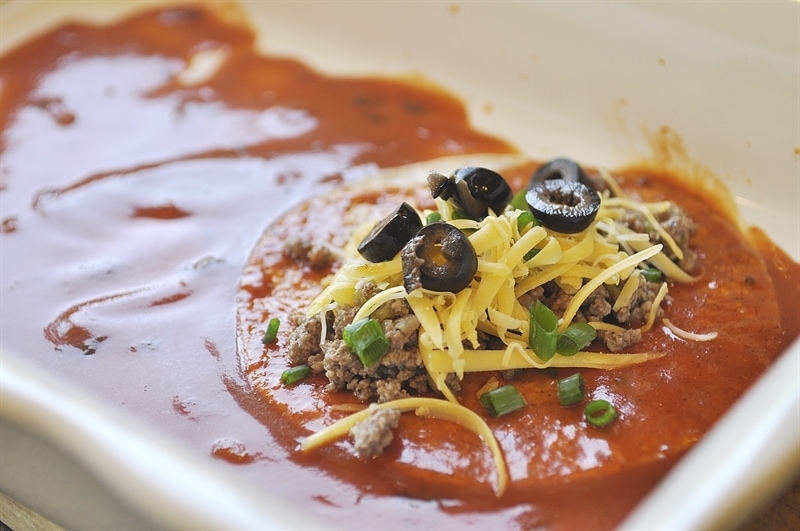 All rolled up and ready to bake. 
Just add more cheese, green onions and olives on top.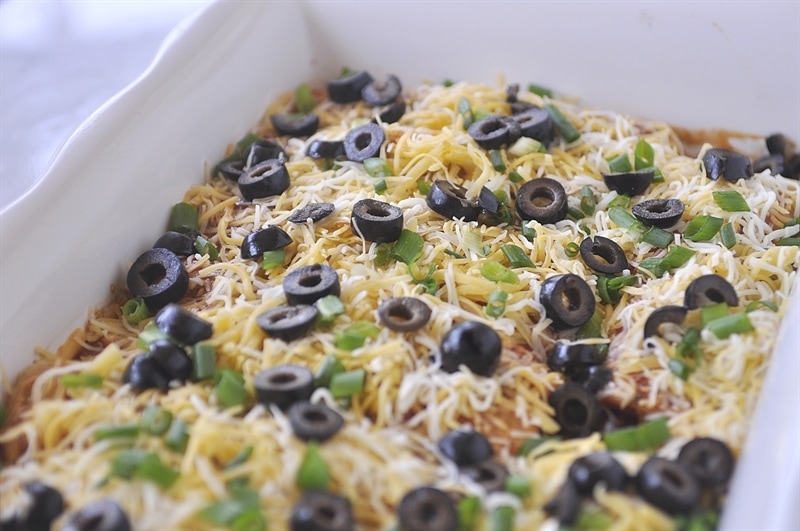 Pioneer Women's recipe doesn't call for black olives on top (just on the inside) but I love olives in my enchiladas so I added extra.  My mom always put olives in her cheese enchiladas but they were always whole olives.  As kids we use to love putting an olive on each finger and then eating them off our fingers.  I still remember the time I did it with the olives that came out of the hot, gooey cheese enchiladas – OUCH!  I use sliced olives in my enchiladas so I'm not tempted!  Bake until heated through and cheese is hot and bubbly.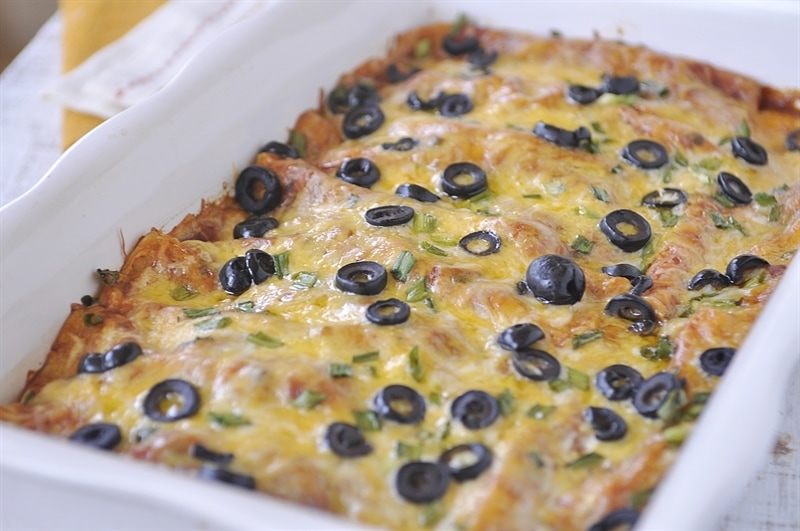 I can't eat enchiladas with out rice so I cooked up a batch of my favorite Mexican rice to go along with it.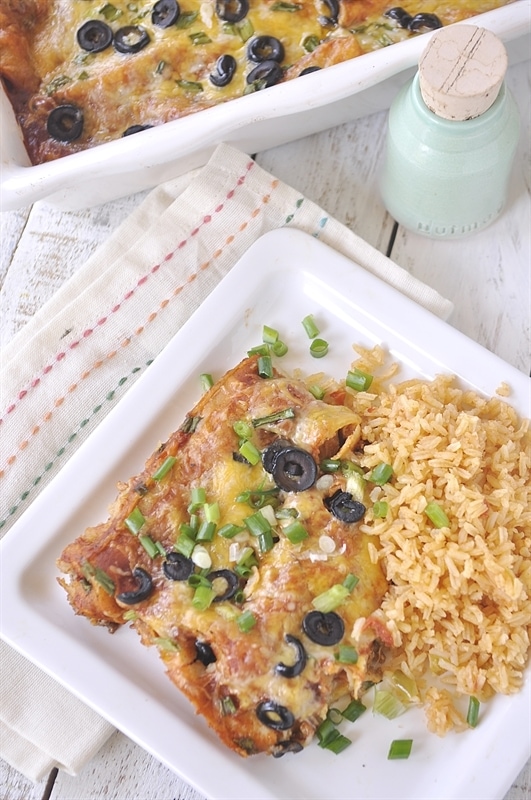 So next time you have a craving for some good Mexican food be sure and try these yummy Beef Enchiladas.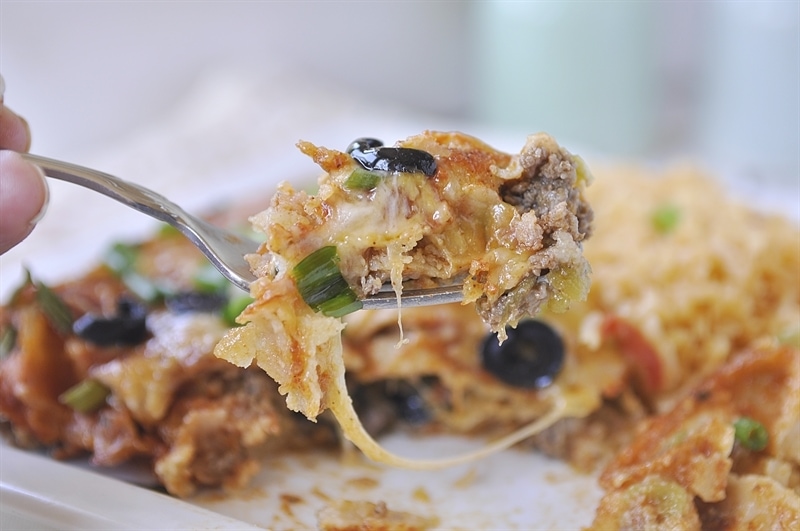 Recipe originally posted in January, 2010.
Beef Enchiladas
Ingredients
FOR THE SAUCE:
1 Tablespoon Canola Oil
1 Tablespoon All-purpose Flour
1 can 28 Ounce Enchilada Or Red Sauce
2 cups Chicken Broth
½ teaspoons Salt
½ teaspoons Ground Black Pepper
2 Tablespoons Chopped Cilantro
FOR THE MEAT:
1-½ pound Ground Beef
1 whole Medium Onion Finely Diced
2 cans 4 Ounce Diced Green Chilies
½ teaspoons Salt
FOR THE TORTILLAS:
10 whole to 14 Corn Tortillas
½ cups Canola Oil
Instructions
TO ASSEMBLE:
cups Grated Sharp Cheddar Cheese

½ cups Chopped Black Olives

cup Chopped Green Onions

½ cups Chopped Cilantro
Step #1 – The Sauce
In a large saucepan over medium heat, add oil and flour and whisk together to make a paste, cooking for one minute.

Pour in the red sauce, chicken broth, cilantro, salt and pepper

Bring to a boil

Reduce heat and simmer 30-45 minutes
Step #2 – The Meat
Brown the meat with onions in a skillet

Drain off fat

Stir in 2 cans diced green chilies and seasoned salt

Set aside
Step #3 – Tortillas
Heat canola oil in a small skillet over medium heat

One by one, using tongs, fry tortillas in oil until soft, not crisp – about 30 seconds per side Remove to a paper—towel lined plate

Repeat until all tortillas have been fried
Step #4 – Assembly
Preheat oven to 350 degrees

Pour ½ cup red sauce in bottom of baking pan

Spread to even out

Dip each tortilla into red sauce, then remove to work surface

Spoon meat, a little grated cheese, a little black olives, and green onions in the center of tortilla Roll up and place, seam down, in baking pan

Repeat until pan is filled

Pour extra red sauce over enchiladas

Top with remaining cheddar cheese

Bake for 20 minutes or until bubbly

Sprinkle cilantro over enchiladas before serving