These Peanut Butter Blossoms are soft and sweet. They are perfect for the holidays and are a classic cookie that everyone loves.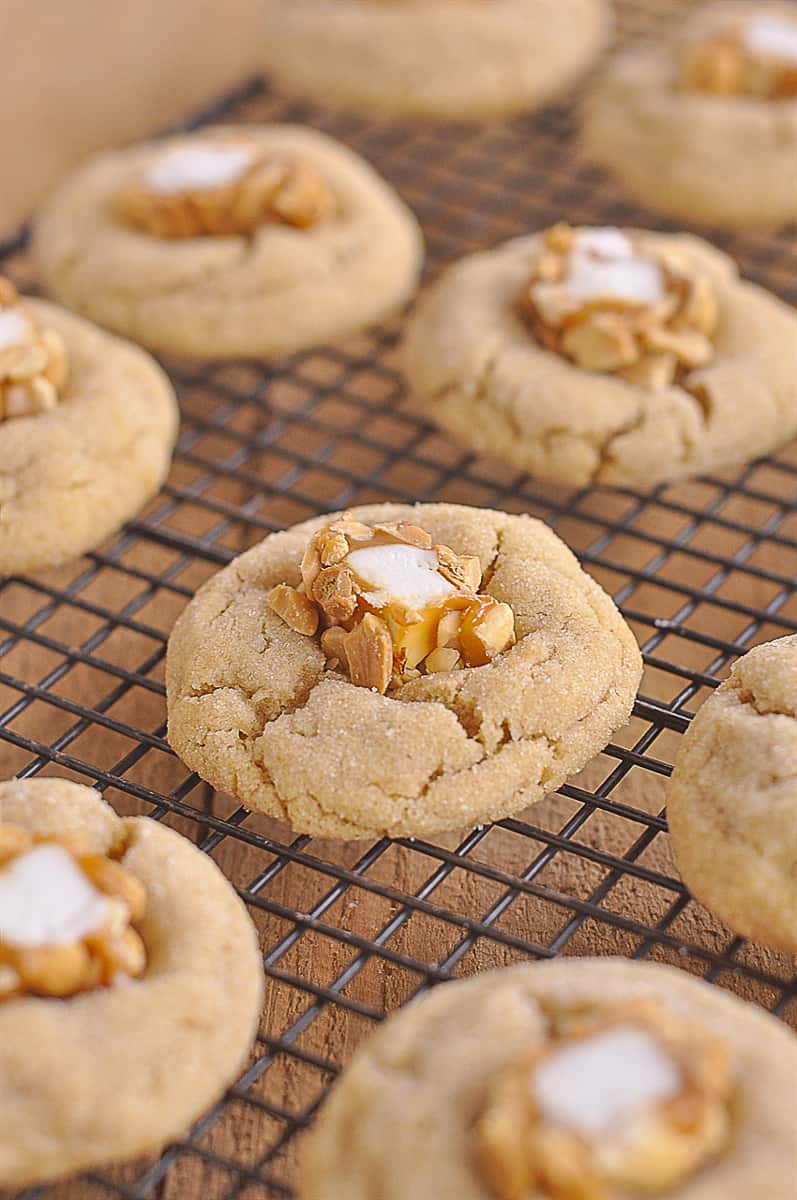 Christmas cookie season is here and these peanut butter blossoms are a classic when it comes to cookie plates. Not only do you get a yummy cookie but a piece of candy too.
I always use my husband's aunts favorite, famous peanut butter cookie recipe. It is soft and chewy and tastes good several days later.
They are delicious, easy to make and the kids love to help place the piece of candy in the middle of the cookie.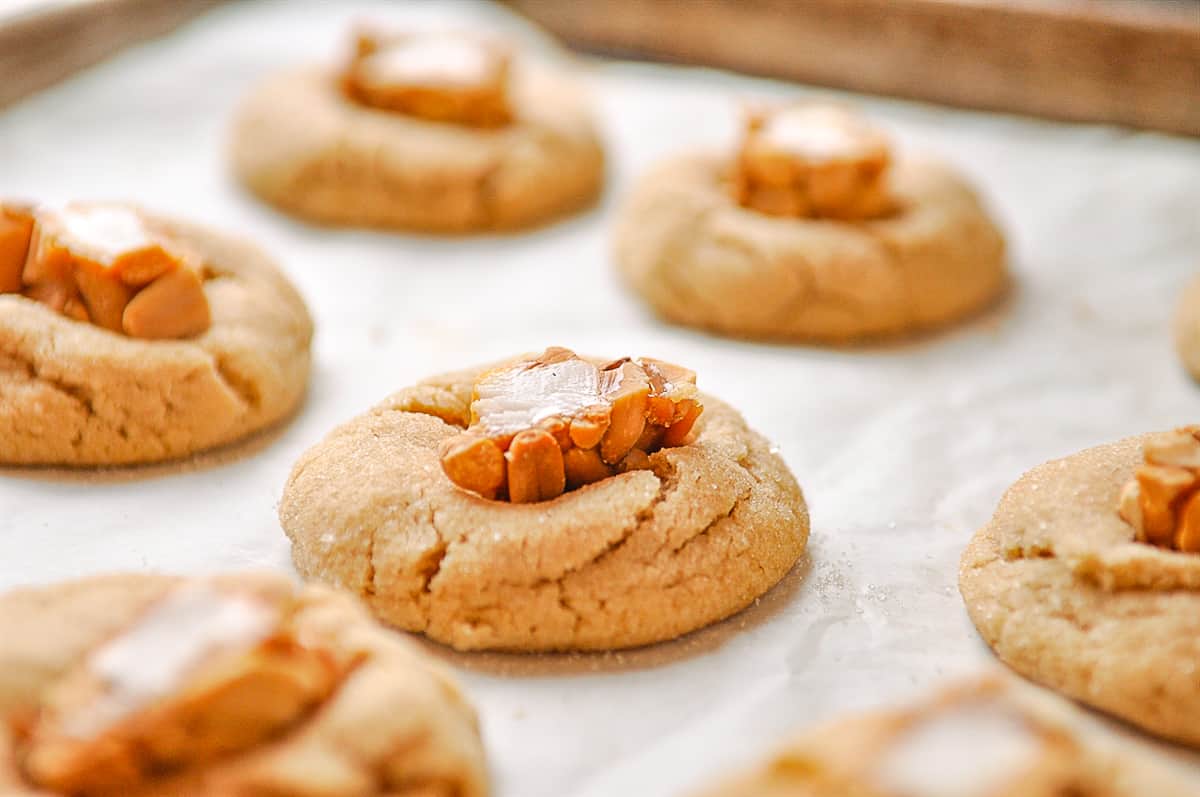 Can You Freeze Peanut Butter Blossoms?
If you want to freeze the cookie baked, follow my directions here.
I prefer to freeze the dough by rolling it into balls, don't roll it into the sugar and then freeze the balls individually. I have a complete tutorial here. When you are ready to bake, thaw them in the refrigerator over night, roll them in the sugar and bake following the directions below.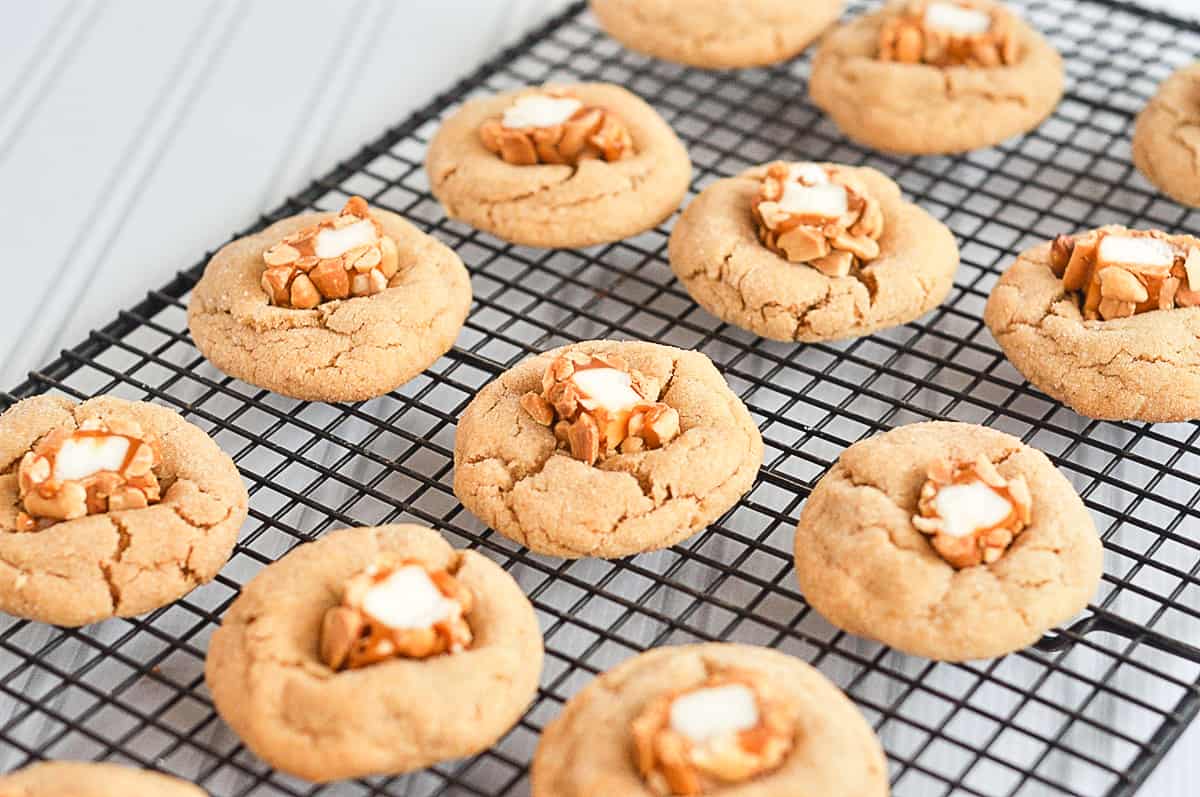 How Long Do Peanut Butter Blossoms last?
They stay soft for about 5 days as long as they are in an airtight container. Store them in a single layer and then place a layer of wax paper over that layer before adding another layer. If you are using chocolate kisses as your candy this will help prevent the tips of the kisses from breaking.

How to Make Peanut Butter Blossom Cookies
Use a variety of candy in the middle of the cookie. Chocolate kisses are the classic but I also love to slice on a salted peanut roll and use it. Hershey's makes a lot of different flavor kisses so experiment with some different ones.
Do not overbake these cookies, watch for the edges to just turn golden brown and just begin to crack..
If you find your dough is a little soft to work with, chill it for about 30 minutes. It will also help prevent the cookies from spreading out too much while they bake.
As soon as the cookies come out of the oven push your piece of candy into the middle.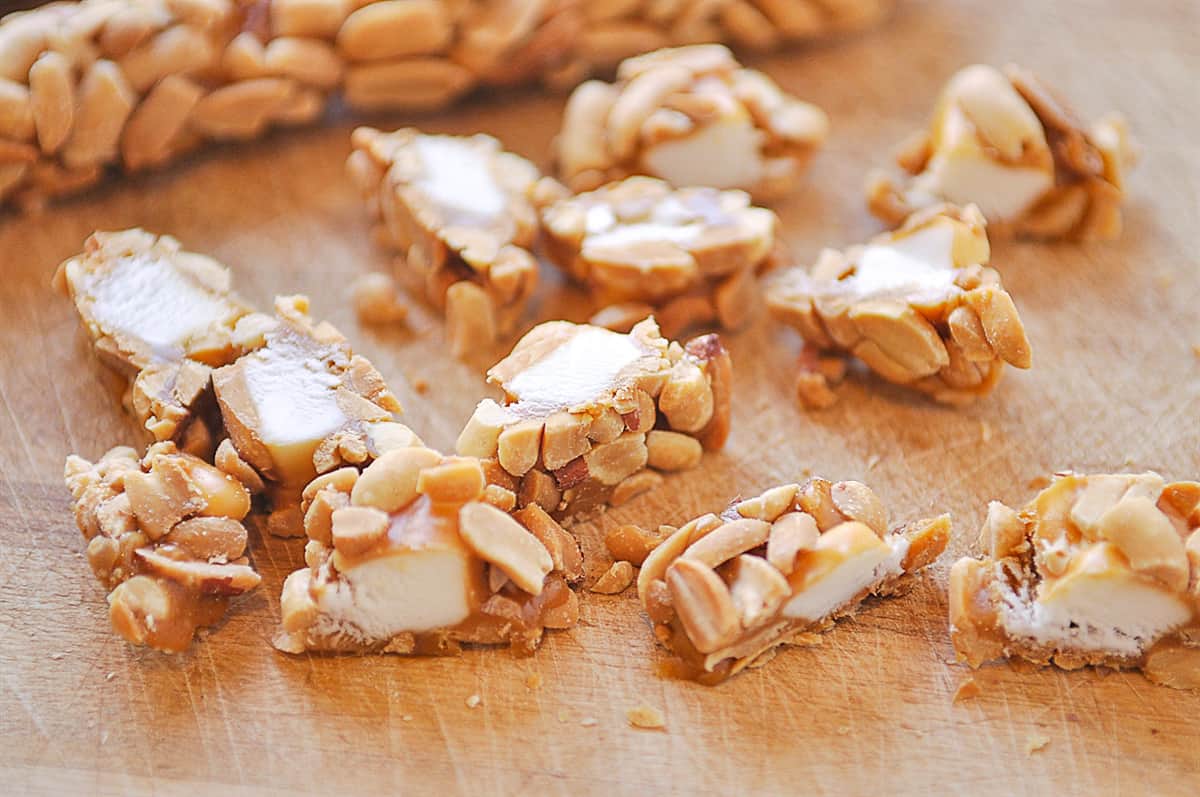 How to Put Together the Perfect Cookie Plate
There are four things that you should consider for the perfect cookie plate:
Flavor.

you want a balance of flavors on your cookie plate. Even though we all love chocolate it is nice to have a plate of cookies that isn't all chocolate! I like to have a balance of flavors including: chocolate, caramel, nut, citrus, fruity, molasses, peanut butter, cinnamon, and almond to name a few.

Shape.

it is fun to have a variety of shapes. Not all circle, not all square. Of course a shaped sugar cookie is always fun but don't forget about sandwich cookies

Texture.

I love texture. Having a combination of soft, chewy, and crispy makes for a perfect cookie plate.

Shelf Life.

Some cookies taste best the day they are made. I tend not to put those on my cookie plate because sometimes it takes me a day or two to get them delivered and I want everything to still taste fresh and good. A lot of cookies actually taste better a few days later so I like to use those.
Check out more of my favorite peanut butter dessert recipes: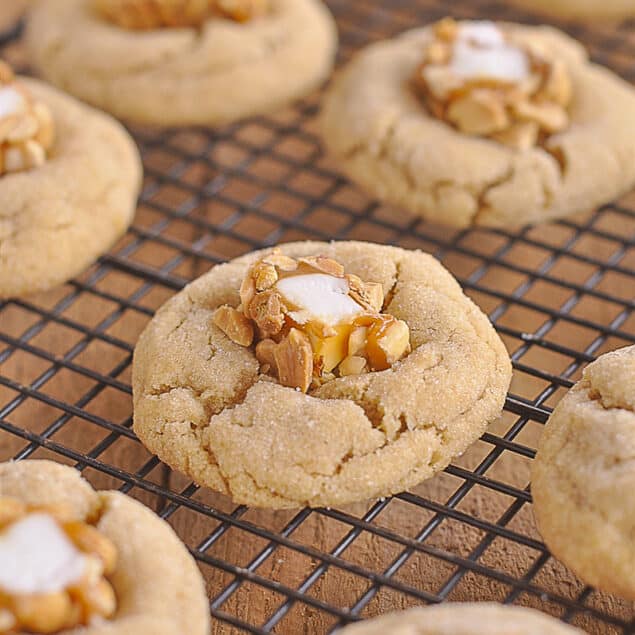 Peanut Butter Blossom Cookies
These Peanut Butter Blossoms are soft and sweet. They are perfect for the holidays and are a classic cookie that everyone loves.
Ingredients
1/2 cup butter softened
1/2 cup peanut butter creamy
1/2 cup sugar
1/2 cup brown sugar
1 egg
2 Tbsp milk
1 tsp vanilla
1 3/4 cups all purpose flour
1 tsp baking soda
1/2 tsp salt
2 salted nut rolls each roll sliced into 12 pieces or 2 dozen Hershey kisses
Instructions
Preheat oven to 375 degrees F

Cream butter and sugars together.

Add in peanut butter and mix to combine.

Add in egg, milk and vanilla.

Add in dry ingredients and mix until just combined.

Chill dough for 30 minutes.

Roll dough into 1 inch balls.

Place on a parchment lined baking sheet.

Bake for 6-8 minutes or until edges begin to turn golden brown and crack.

Remove from oven and immediately press a piece of candy into warm cookie.
Nutrition Facts:
Calories: 138kcal (7%) Carbohydrates: 17g (6%) Protein: 3g (6%) Fat: 7g (11%) Saturated Fat: 3g (19%) Cholesterol: 17mg (6%) Sodium: 164mg (7%) Potassium: 55mg (2%) Fiber: 1g (4%) Sugar: 9g (10%) Vitamin A: 128IU (3%) Calcium: 12mg (1%) Iron: 1mg (6%)
* Disclaimer: All nutrition information are estimates only. Read full disclosure here.