This Peanut Butter Pie is light and fluffy and full of peanut butter goodness.  Crushed peanut butter cups on top are the perfect topping!
Originally posted Oct. 14, 2009
I originally made this peanut butter pie for a pie competition at church.  I didn't win but my dish came home empty so I call that a winner.  This last week we had a Christmas dinner at church and I was asked to bring a dessert so I decided this pie worked for a church dinner before, it would work again!  The pie dish came home empty once again!
Original post:
At church this weekend we had a party.  Everyone was to bring a homemade pie or homemade soup.  There was going to be judging and prizes awarded!  I decided to take a pie.
My competitive edge went into high gear and I began searching through pie recipes.  I decided not to do pumpkin or apple because I figured that everyone would do either pumpkin or apple given the time of year.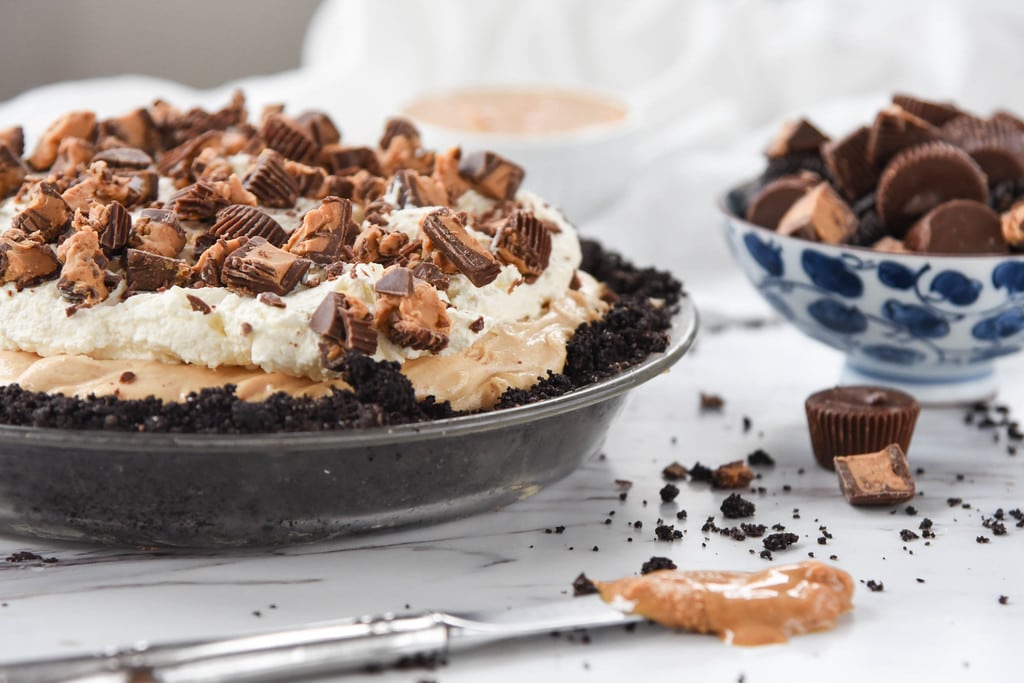 A few weeks ago on my Beach Babe escape weekend we had enjoyed an amazing piece of peanut butter pie and it had been on my mind ever since.  In my recipe search I came across a recipe for peanut butter pie I have had in my files for years.  It had been ten years or more since I made it but I remembered it being pretty good so I decided that it would be my pie contest entry.
The original recipe called for a graham cracker crust but since I can't eat peanut butter without chocolate I made my crust out of chocolate cookies. (you can use Oreos too)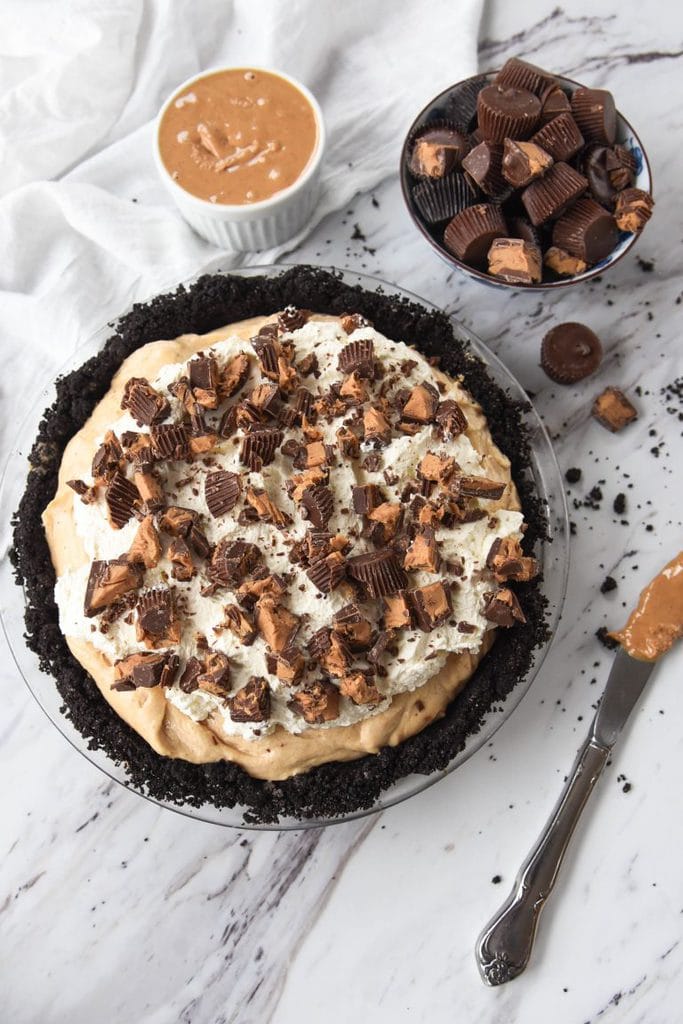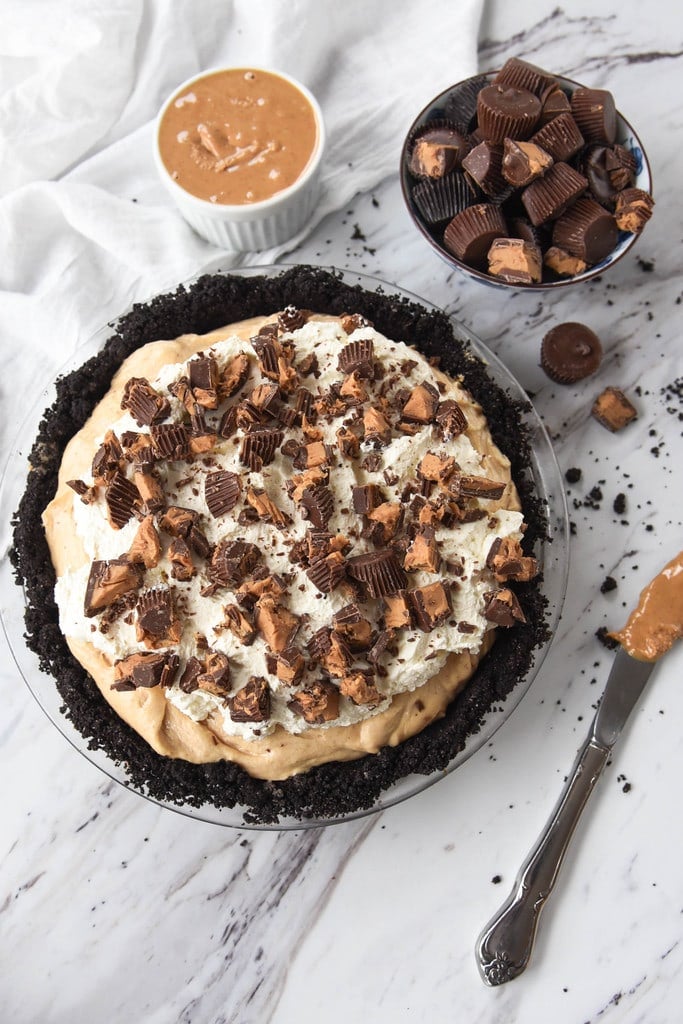 All I had in the cupboard was natural peanut butter so I added a little bit of salt – about 1/4 tsp. and a little bit of sugar (just to taste) to sweeten it up a bit.  If you using regular peanut butter you will not need to do that.
The filling is a combination of peanut butter, cream cheese, powdered sugar and whipped cream and makes a nice light and fluffy filling – yum!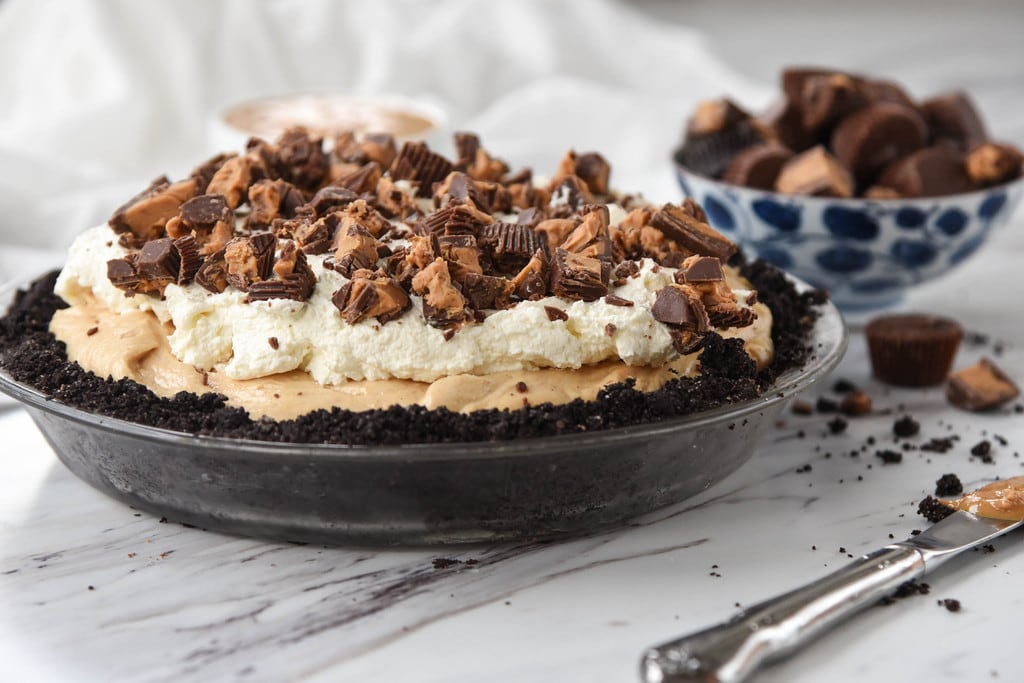 I added extra whip cream on top and some broken up Reese's Peanut Butter Cups for an extra peanut butter punch and besides that it looked prettier.
Now wouldn't you pick this pie as a winner?  Well, the judges didn't -so sad!  An apple pie was the winner!
I think this recipe is a real winner though. So next time you get a craving for peanut butter and chocolate give this a try!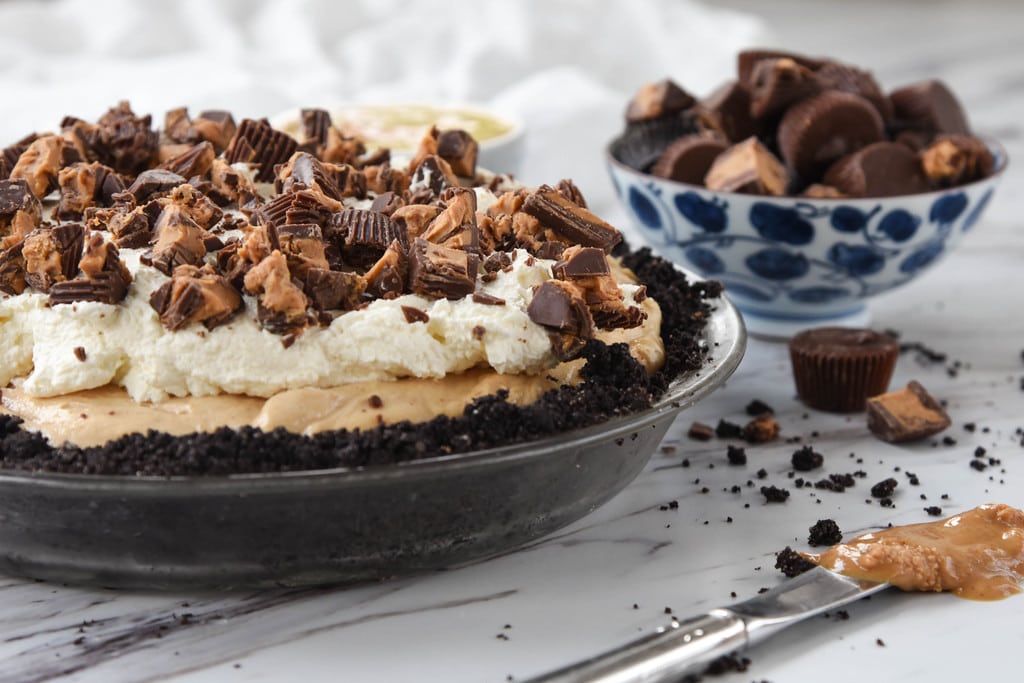 Some of my other favorite peanut butter desserts:
Levain Bakery Chocolate Peanut Butter Cookies
My favorite kitchen items I used to make this Peanut Butter Pie
9" GLASS PIE PLATE – perfect size for any pie!
MINI FOOD PROCESSOR – this is the perfect thing for making graham cracker crumbs,  chopping up nuts and all those small jobs that you don't need a full size food processor for.  I use this baby a lot!
PYREX BOWLS – I love my Pyrex bowls and actually own a couple of sets.  Perfect for mixing or serving.
Peanut Butter Pie Recipe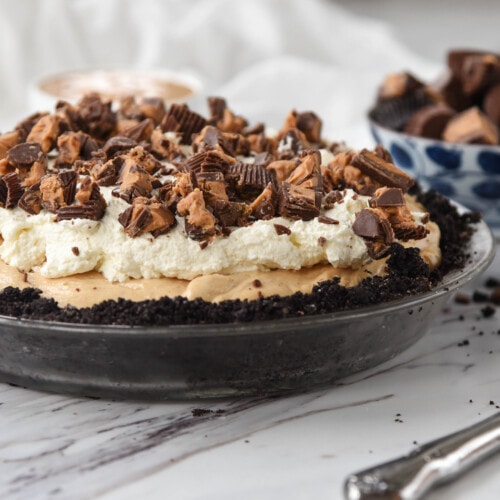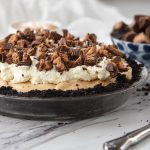 Print
Peanut Butter Pie
This Peanut Butter Pie is light and fluffy and full of peanut butter goodness. Crushed peanut butter cups on top are the perfect topping!
Ingredients
Crust:
1 2/3

C

graham cracker crumbs or chocolate cookie crumbs

1/4

C

sugar

6

Tbsp

stick/cube butter
Filling:
4

oz.

cream cheese

1

C

powdered sugar

1/4

C

milk

I used half and half

1

C

creamy peanut butter

1

tsp

vanilla

1 1/2

C

heavy cream
Instructions
Crust:
Combine crumbs, sugar and butter and press into a 9 inch pie plate

Bake a 425 degrees for 9 - 10 minutes

Let cool
Filling:
Beat cream cheese with powdered sugar until light and fluffy

Add in milk, peanut butter and vanilla

In a chilled bowl beat whip cream until it holds a stiff peak

Stir one third of it into the peanut butter mixture

Fold in the remaining whipped cream until thoroughly combined

Pour filling into cooled pie crust

Decorate top of pie with additional whipped cream and chopped candy

Refrigerate for 4 hours or overnight is better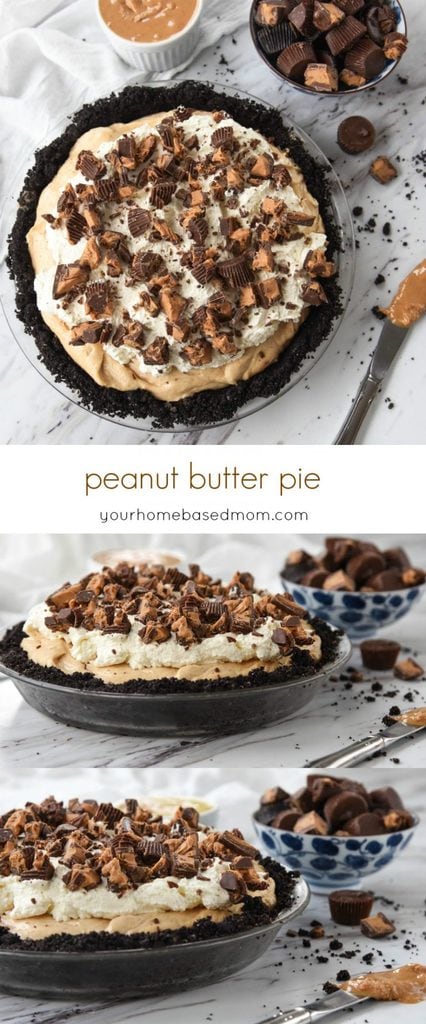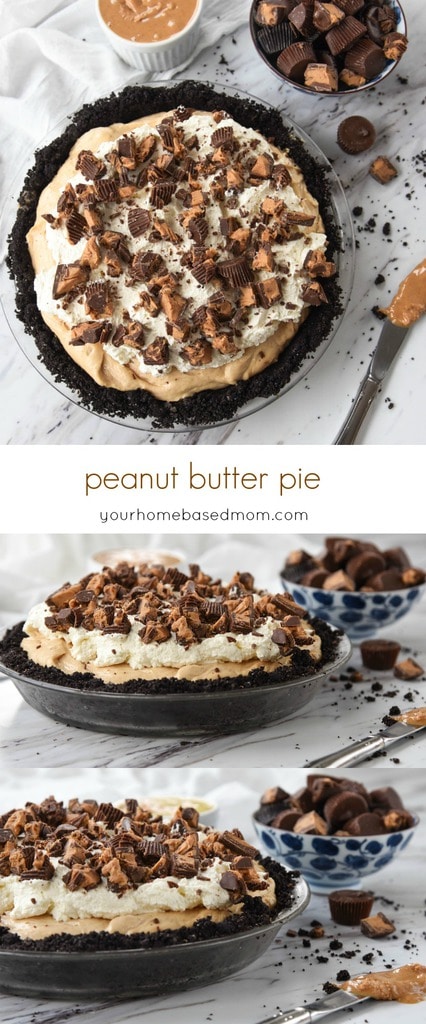 Get my Weekly Menu Plan for FREE!
Receive my FREE "What's for Dinner?" Meal Planning Course, a copy of my FREE ebook that includes my most popular recipes and my FREE weekly Meal Plan.