This  decorated sugar cookie recipe has been my go to recipe for years.  It is delicious, easy to make and decorate.  The perfect sugar cookie recipe for your holiday baking.
I have always been the sugar cookie maker in my home.  Even when I was growing up, it was my job at Christmas time to make the sugar cookies.  My mom must not have liked making them.  The recipe I used back then came from a little cookbook from the Wisconsin electric company.  I always made the cookies in the shape of a wreath because that is what they showed in the cookbook.  I eventually branched out from those wreath cookies to other shapes.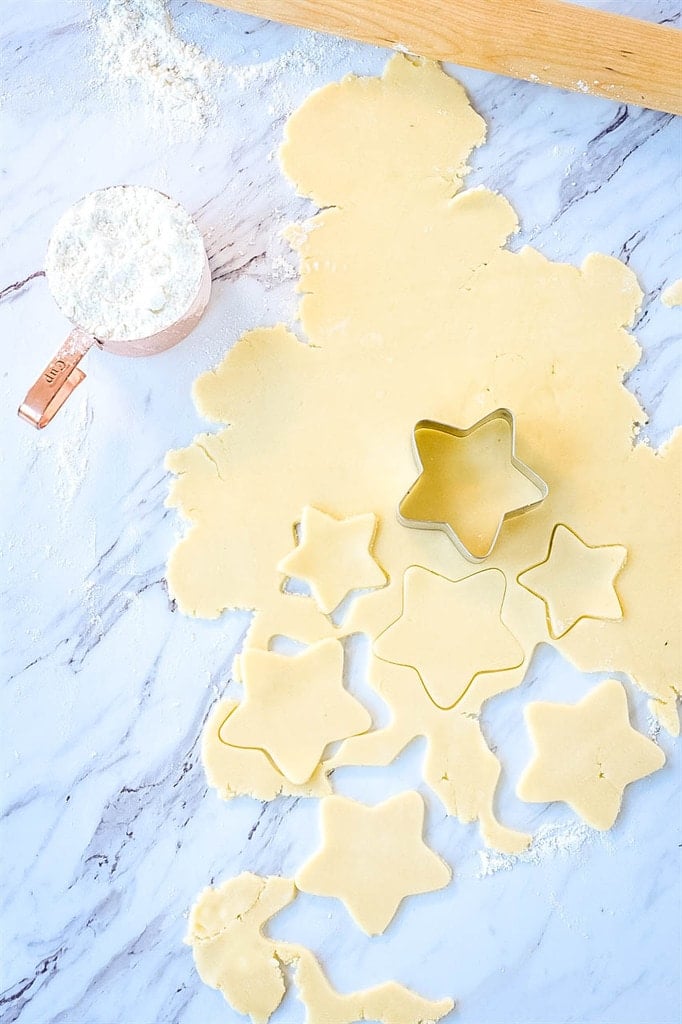 With my many years of decorated sugar cookie experience, I've got some tips and tricks for you.
Tips for Making Decorated Sugar Cookies
Chill your dough for at least 30 minutes.  Working with chilled dough is much easier and it won't stick to your counter or hands.
To get your dough an even thickness use two clean, paint sticks under your rolling pin.  If you want thicker cookies double up your paint sticks. You can get them for free at your local paint store.  I prefer my cookies thinner so I roll mine out using one set of sticks which is about 1/4″ thick.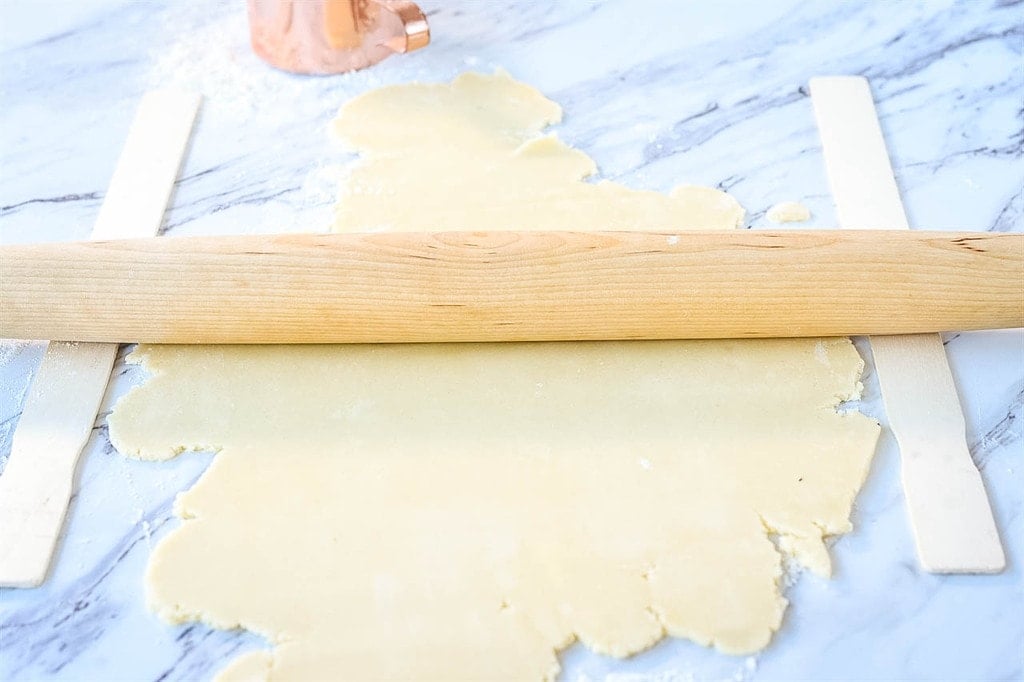 Use flour or powdered sugar on your work surface to keep the dough from sticking.
Try to work the dough as little as possible.  Overworking the dough makes for tough sugar cookies.
Line your baking sheet with parchment paper.  It makes the cookies easier to remove and helps prevent breakage.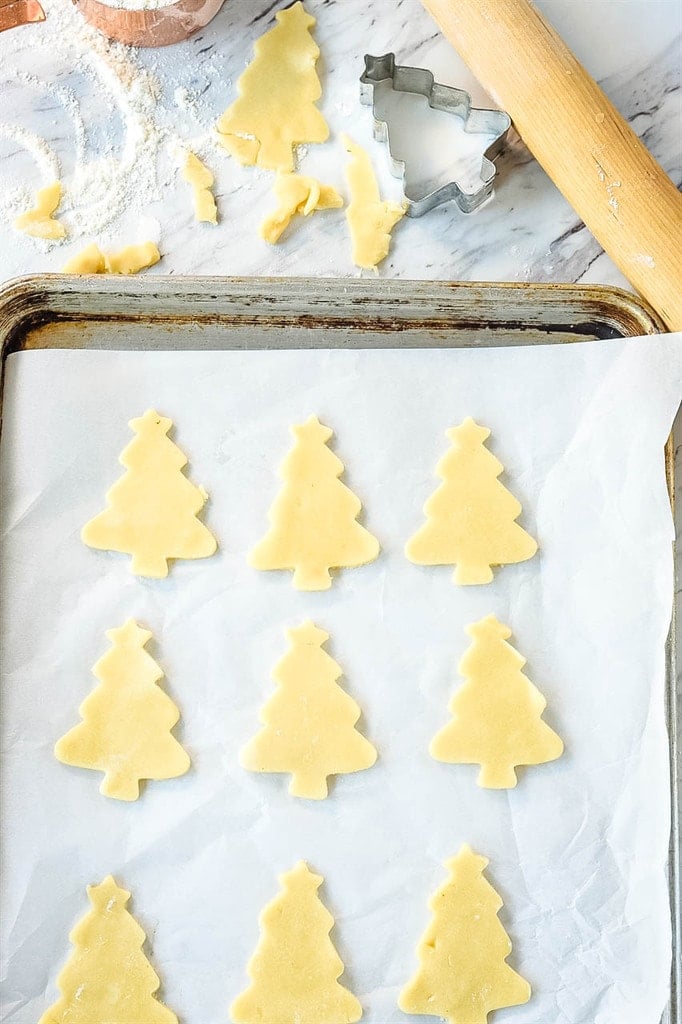 Don't over cook.  Bake them just until you start to see a little golden brown around the edges, just a little!
Cool completely before frosting and decorating.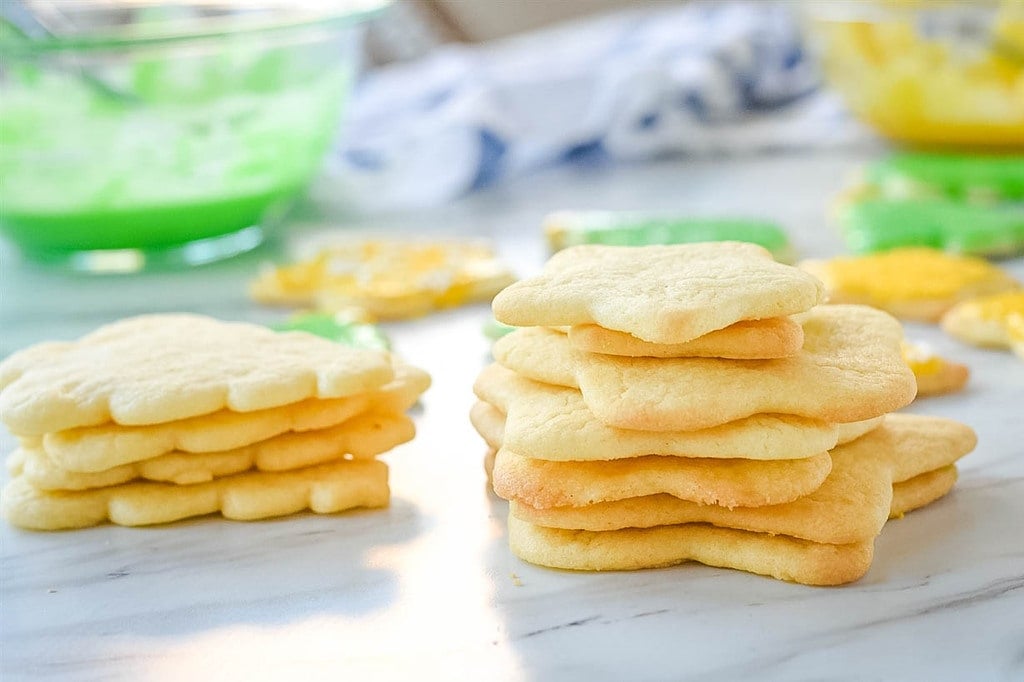 How to Decorate Sugar Cookies:
I have two different recipes I like to use for frosting my decorated sugar cookies.  If I am doing the decorating I use the recipe below for icing.  The icing is thinner than frosting and gives the cookies a glazed look but is a little more difficult to work with.  If I have smaller children helping decorate I prefer to use a more traditional buttercream frosting.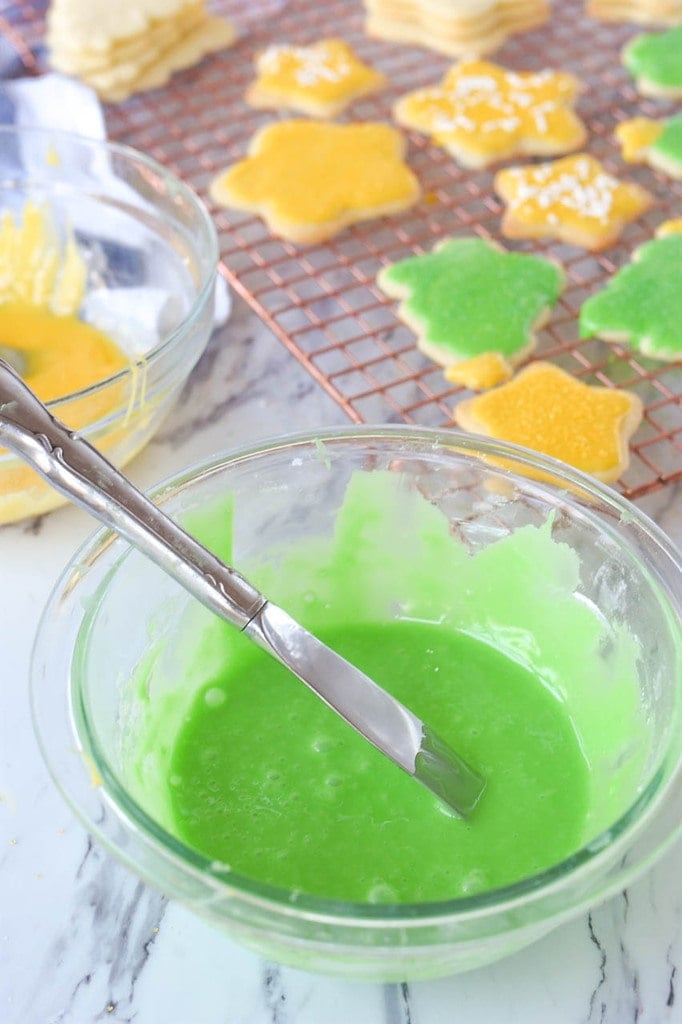 The trick to great icing is the consistency.  The icing shouldn't be too runny or it will run right off the edges of the cookies.  You want it to pool on top of the cookie.  After adding the food coloring, if the icing is too thin, add some more powdered sugar.  And if it is not thin enough or not spreading smoothly, add a little more liquid.
I use a spoon to place a spoonful of icing in the middle of the cookie.  Then, I use a knife to spread the icing to within about 1/4 inch of the edge of the cookie.  It will then spread a little bit more on its own.
This icing is the best because it will dry firm and stay shiny.  It also makes nice, bright colors.  I love the way it looks and tastes.  The icing will set up quickly, so if you want to add sprinkles or other decorations, do it right after icing the cookie.
You can find more decorating tips, including tips on piping icing, on my post about sugar cookie cut outs.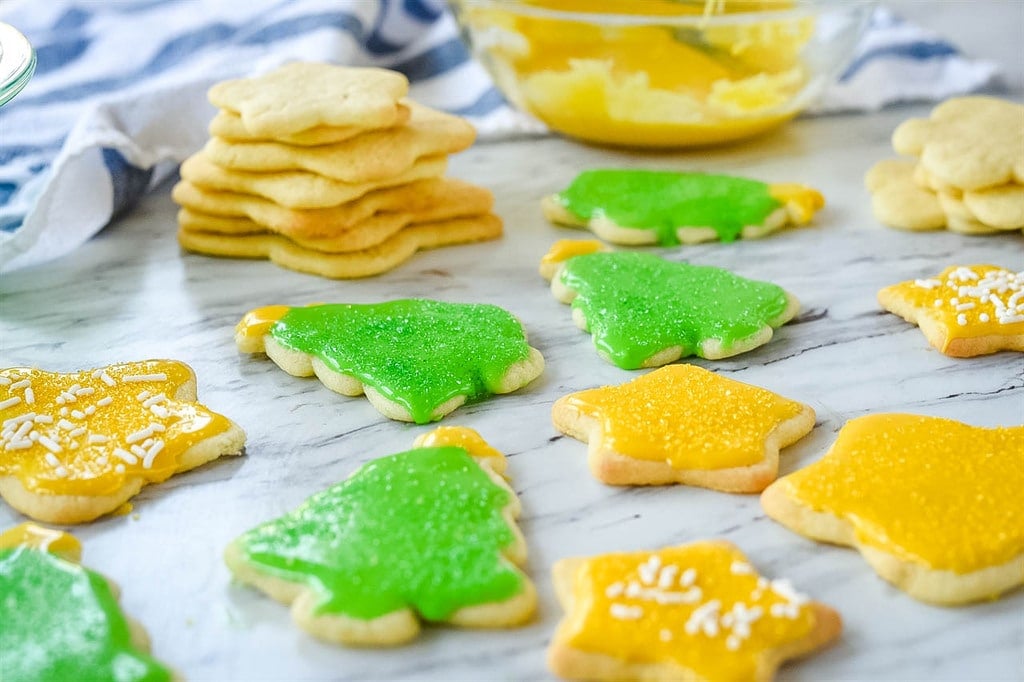 Decorated sugar cookies are required at Christmas time at our house, but I love making them other times of the years too.  And these decorated sugar cookies are perfect year round.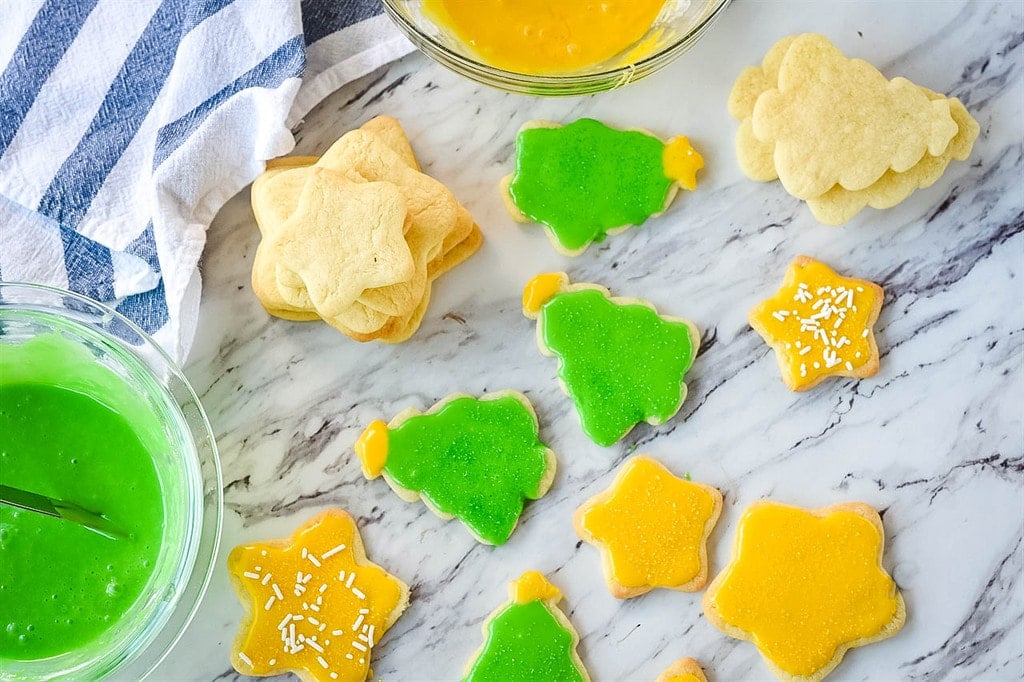 Check out more of my traditional Christmas cookies:
For all of my other favorite kitchen products and tools visit my Amazon Store.
Did you know I wrote a cookbook?  Check out the Holiday Slow Cooker Cookbook for 100 delicious recipes
Decorated Sugar Cookie Recipe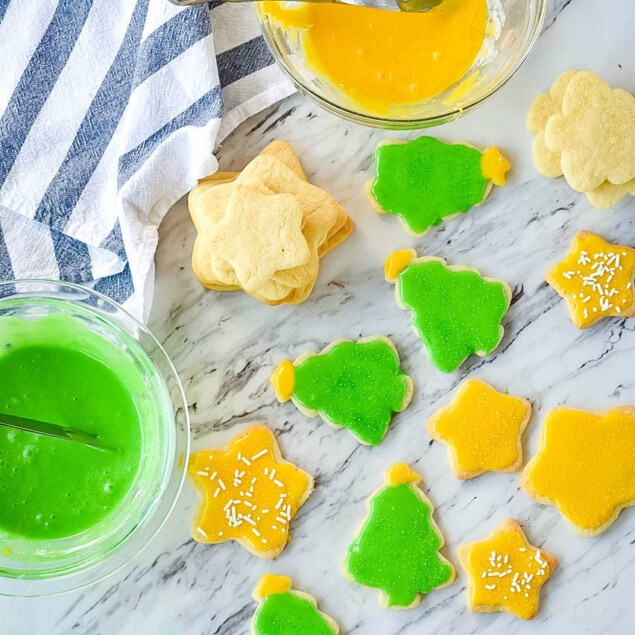 Decorated Sugar Cookies
This decorated sugar cookie recipe has been my go to recipe for years. It is delicious, easy to make and decorate. The perfect sugar cookie recipe for your holiday baking.
Ingredients
1 cup butter softened
2 cups sugar
2 eggs
4 Tbsp milk or whipping cream
2 tsp vanilla or almond extract
4 cups flour
4 tsp baking powder
Instructions
Beat together butter and sugar.

Add in eggs, milk and extract and beat until light and fluffy.

Mix in dry ingredients and mix until just combined. Don't over mix.

Wrap dough in plastic wrap and chill for at least an hour.

Roll out dough on floured surface in an even layer (1/4 ") and cut using cookie cutters.

Place on a parchment lined cookie sheet and bake at 350 degrees F. for 9-10 minutes depending on thickness of dough, just until edges are lightly browned.Cool completely before adding icing.
Nutrition Facts:
Calories: 144kcal (7%) Carbohydrates: 22g (7%) Protein: 2g (4%) Fat: 6g (9%) Saturated Fat: 3g (19%) Cholesterol: 23mg (8%) Sodium: 50mg (2%) Potassium: 78mg (2%) Fiber: 1g (4%) Sugar: 11g (12%) Vitamin A: 173IU (3%) Calcium: 31mg (3%) Iron: 1mg (6%)
* Disclaimer: All nutrition information are estimates only. Read full disclosure here.
Icing Recipe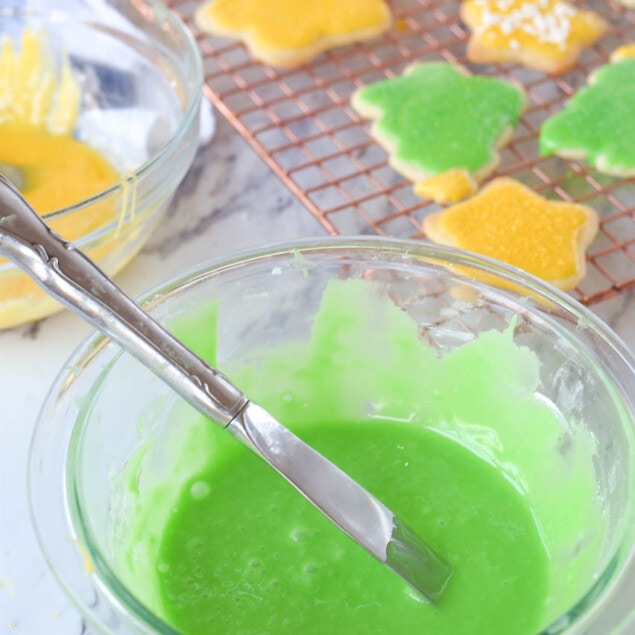 Sugar Cookie Icing Recipe
The perfect icing to create that beautiful, shiny, bakery style look on your decorated sugar cookies.
Prep: 5 minutes
Total : 5 minutes
Ingredients
2 cup powdered sugar
2 Tbsp milk or whipping cream
2 Tbsp corn syrup
food coloring
Instructions
Combine powdered sugar and corn syrup in bowl.

Add in milk (if using liquid food coloring you will need slightly less liquid)

Add in food coloring and stir to incorporate.
Nutrition Facts:
Calories: 29kcal (1%) Carbohydrates: 7g (2%) Sodium: 1mg Potassium: 1mg Sugar: 7g (8%) Calcium: 1mg
* Disclaimer: All nutrition information are estimates only. Read full disclosure here.
Need some help figuring out what's for dinner tonight?
Come join our Facebook Group!  Join hundreds of others who love sharing dinner time ideas.  You don't want to miss out on the fun!

You'll find lots of ideas for dinner from all our awesome members and you can share your ideas too!  Join the Family Dinner Table today.