Chocolate Marshmallow Mountains are my kind of mountain, full of chocolate and marshmallow!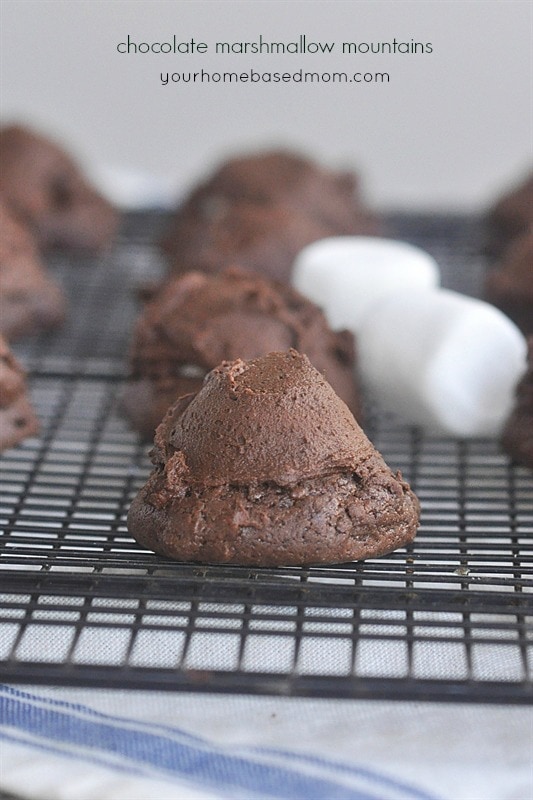 For the month of November, I have joined up with Cindy from SkiptomyLou who will be doing sewing ideas, while Mique from Thirty Handmade Days, will be posting craft ideas,  will share how to decorate in holiday style.  Of course you are going to find lots of great baking ideas here!  All the ideas you are going to need for creating fun and delicious food treats for all your friends and neighbors.
This cookie recipe has been a family favorite for a long time.  I first posted it here on the blog back in December of 2008!  It was time for a little recipe redo and is too good to stay buried in the archives of the blog.
Here's the original post:
Today's cookie recipe is one I have had for years.  I can't remember where it came from but it may have come from my sister in law Tricia – the amazing cookie baker.  Years ago when Tricia and David (Jim's brother) lived in Vancouver she and I both fell in love with these yummy chocolate/marshmallow cookies they sold at the mall.  I would drive 30 minutes to the Vancouver mall just to have one of those cookies.
We were both so sad when the store closed down and no more cookies!  I think Tricia may have found this recipe so we could make them ourselves at home.  Do you remember Tricia?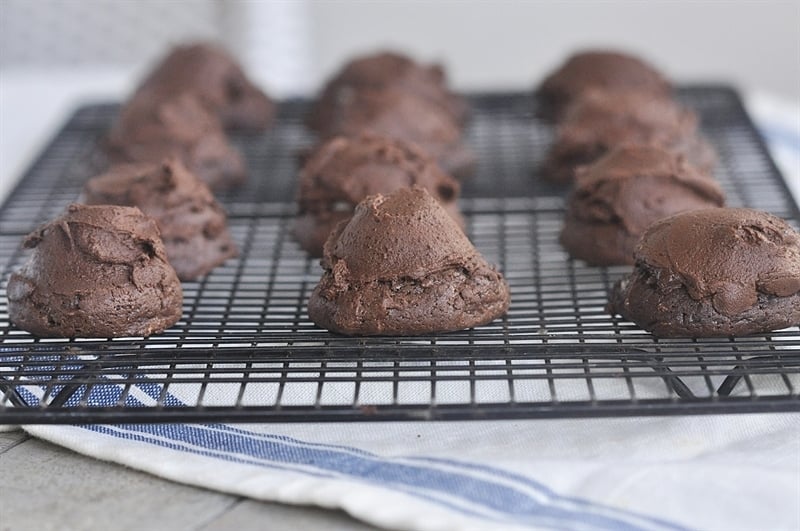 When Tessa got home from school  and sampled the cookies her response was "I could eat 50 of these!"
Beware:  they are rich and you may need to climb a few mountains after eating them to burn off the calories but they are worth it and it's the holidays so calories don't count!!
After you pull the cookie out of the oven, top it with half of a large marshmallow, cut side down.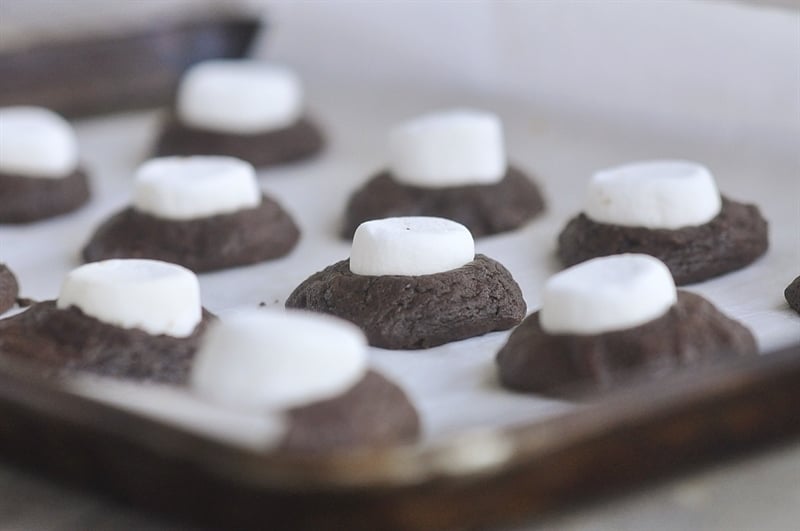 Then once they cool you get to cover that little marshmallow mountain with chocolate frosting.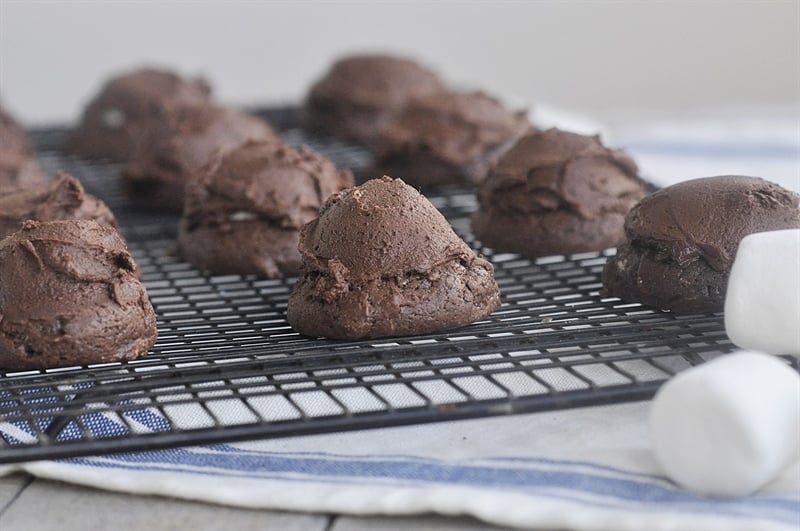 I hope you enjoy these yummy little chocolate mountains and I bet you can't eat just one either!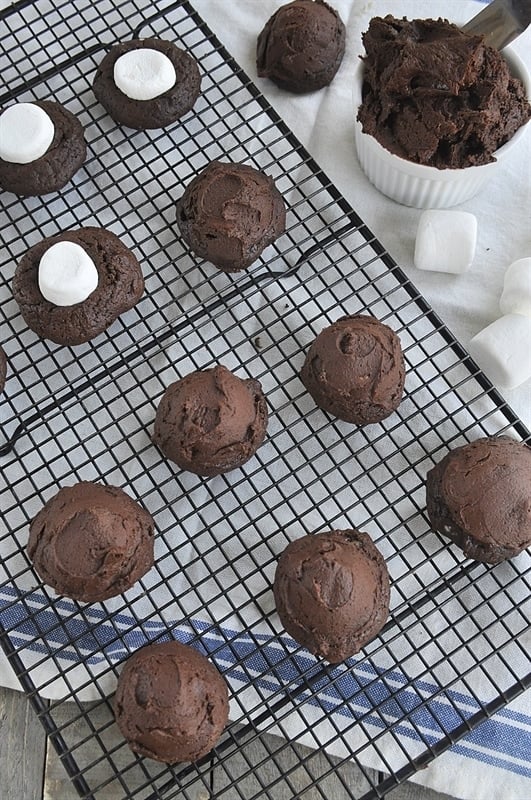 This recipe originally was posted Dec. 5, 2008.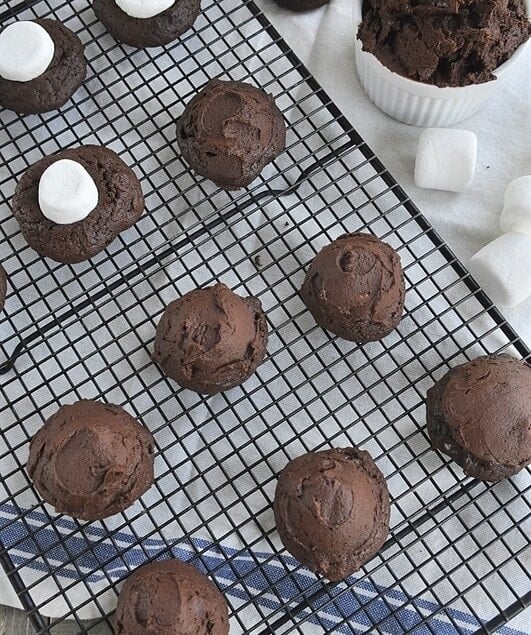 Chocolate Marshmallow Mountains
Ingredients
1/2 C shortening
1/2 C evaporated milk
2 Tbsp water
1 egg
1 tsp vanilla
2 C flour
1/2 tsp baking soda
1/2 tsp salt
1 cup sugar
1/2 C cocoa
1/2 C chopped walnuts optional (I didn't put them in)
24 large marshmallows cut in half
Frosting:
1/3 C soft butter
2 C powdered sugar
1 1/2 tsp vanilla
About 2 Tbsp milk
6 Tbsp cocoa
2 Tbsp oil
Instructions
Beat well shortening, milk, water, egg and vanilla

Add remaining ingredients except marshmallows, blend well

Drop by teaspoonful on greased cookie sheet

Bake 350 degrees for 8 minutes

Quickly place marshmallow half (sticky side down) on each cookie

Let cool
Frosting:
Combine frosting ingredients and beat until smooth

Frost marshmallows like a mountain