The best sugar cookie icing you will ever eat. The frosting tastes as good as the cookie, maybe even better! Either way, it is the only sugar cookie icing recipe you will ever need.
This frosting is perfect on these Chocolate Sugar Cookies by adding in some cocoa powder. I love using almond extract for these small batch sugar cookies. My favorite cookie to use it on are these Decorated Sugar Cookies.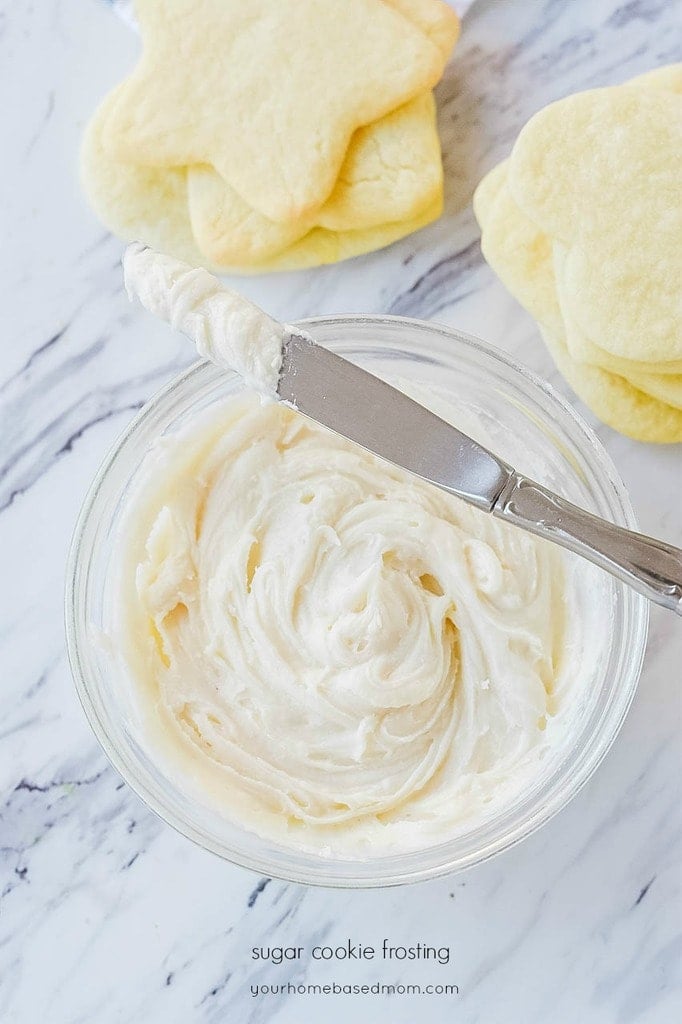 I eat cake and sugar cookies so I can eat frosting. For me, the frosting is the best part. I am a firm believer that the frosting should taste as good or better than the cake or cookie. No more scrapping off the frosting first!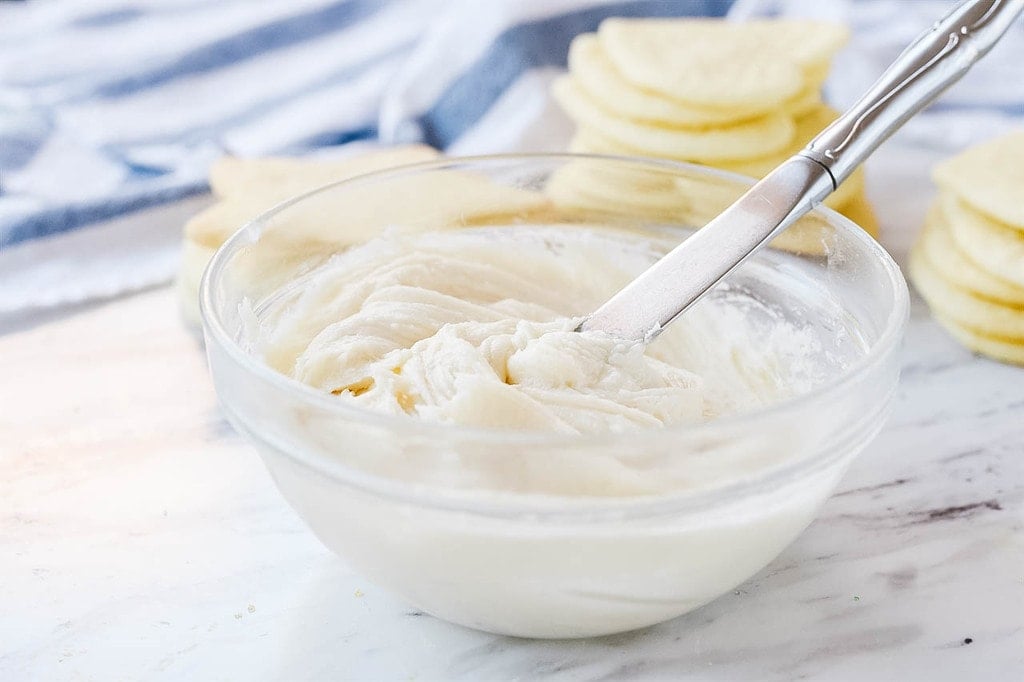 I began making sugar cookies when I was about 12 and I was designated the official family sugar cookie maker. This recipe for sugar cookie frosting is the one I've been using since I first started making decorated sugar cookies. Nothing beats a delicious buttercream frosting. I may be guilty of scrapping frosting off a cookie but it's not because I don't like the frosting, it's because I just want to eat the frosting and not the cookie.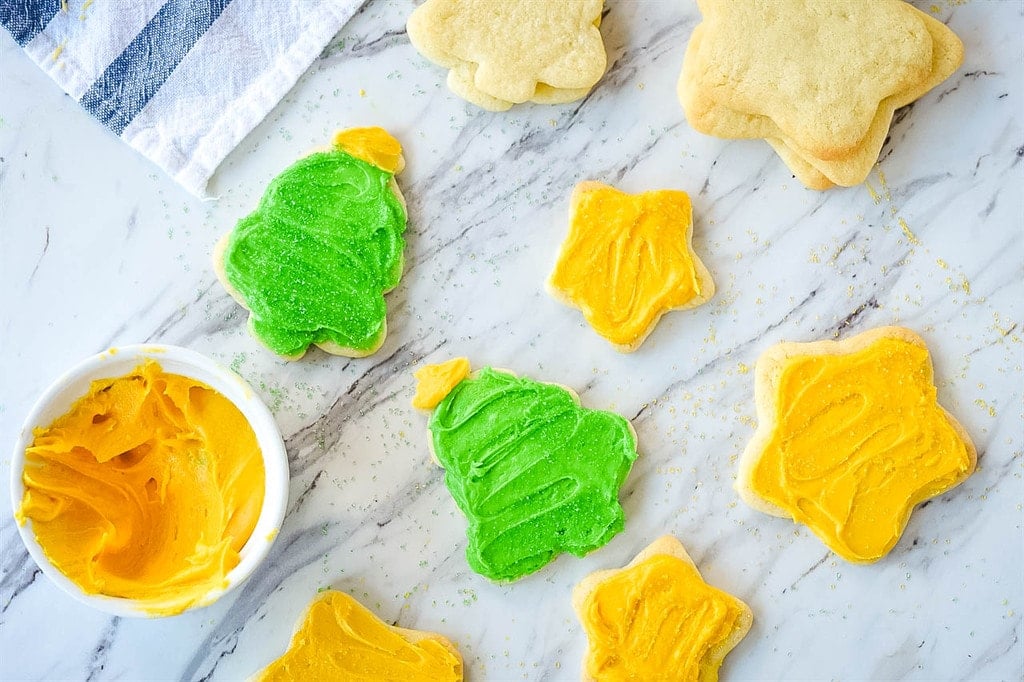 The decorated sugar cookie is a classic and should be the star of the holiday cookie plate. Making and frosting sugar cookies was always a favorite for my kids on our annual cookie baking day. Mix up a batch of sugar cookie frosting and then divide it into smaller bowls and add your food coloring. I usually limit my color selection to 4 colors. At Christmas we usually go with white, yellow, green, and red. Then we add additional color with sprinkles.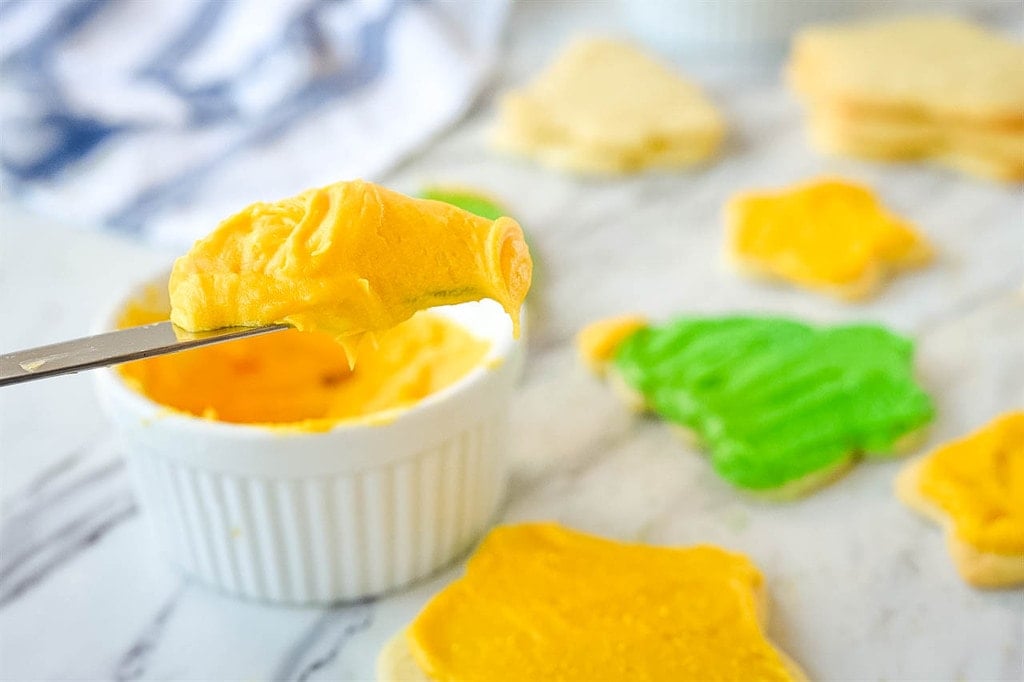 This frosting is smooth and very spreadable and the best part, it's delicious! I love using this frosting on with my favorite decorated sugar cookie recipe.
How to make sugar cookie Icing
Only use real butter!
Start with softened or room temperature butter in order to have a smooth frosting. Cream the butter well before adding in sugar.
Add in your powdered sugar gradually, don't just dump it all in. If your powdered sugar is really lumpy, sift it first.
If using liquid food coloring, add in your food coloring before adding in all your liquid, you may need a little less.
Do not over beat your frosting as it will put too much air into the frosting.
Use your sugar cookie frosting at room temperature. If you have stored it in the fridge, allow it to come to room temperature first.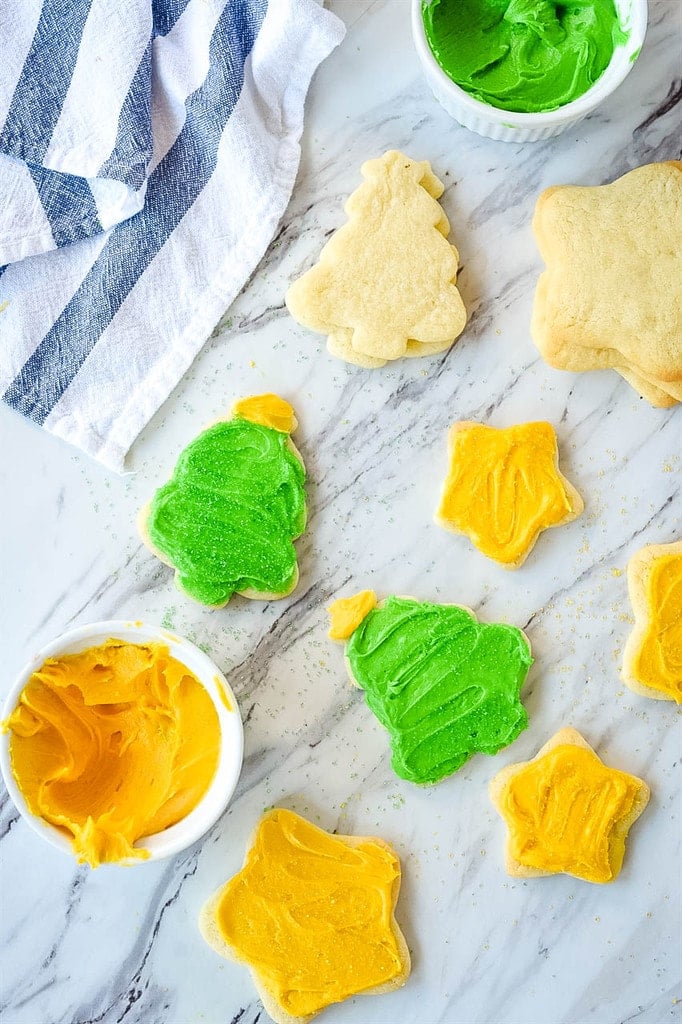 For all of my other favorite kitchen products and tools visit my Amazon Store.
Did you know I wrote a cookbook? Check out the Holiday Slow Cooker Cookbook for 100 delicious recipes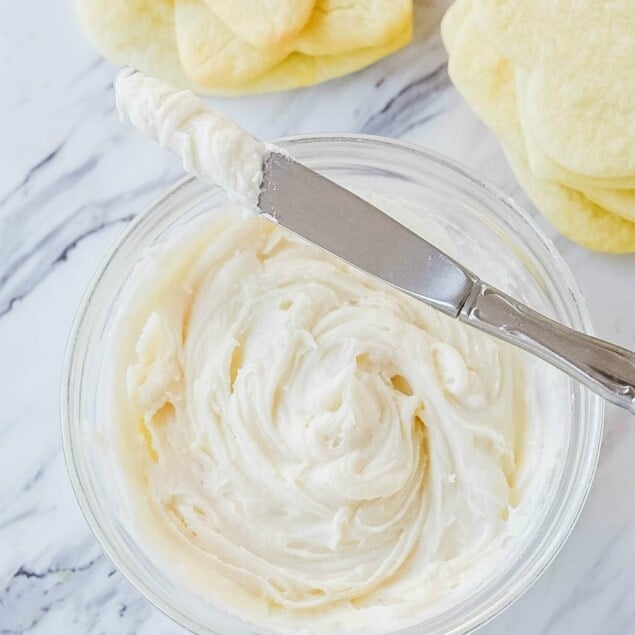 Sugar Cookie Frosting
The best sugar cookie frosting you will ever need. The frosting tastes as good as the cookie!
Ingredients
1/4 cup butter softened
1 1/2 cups powdered sugar
3 Tbsp cream or milk
1 tsp vanilla extract
food coloring
Instructions
Cream butter.

Gradually add in powdered sugar.

Add in milk and extract.

Add add in food coloring and any additional milk if needed to get a smooth spreading consistency.
Tips & Notes:
recipe makes 2 cups
Nutrition Facts:
Calories: 586kcal (29%) Carbohydrates: 90g (30%) Fat: 25g (38%) Saturated Fat: 16g (100%) Cholesterol: 76mg (25%) Sodium: 162mg (7%) Sugar: 88g (98%) Vitamin A: 865IU (17%) Calcium: 20mg (2%)
* Disclaimer: All nutrition information are estimates only. Read full disclosure here.
Need some help figuring out what's for dinner tonight?
Come join our Facebook Group! Join hundreds of others who love sharing dinner time ideas. You don't want to miss out on the fun!

You'll find lots of ideas for dinner from all our awesome members and you can share your ideas too! Join the Family Dinner Table today.