Turkey day is next week! I am excited because I get to spend it with all five of my kids! I know that holidays with all of my children are going to become more rare so I plan on enjoying this one as much as I can! We will be joining the Wilkes family and it is always a good time. Lots of people and lots of good food. I'll be making my cornbread sausage dressing as well as a gluten free version for Cali. I'm also in charge of a vegetable and helping with the rolls. My goal is to make Cali a decent gluten free, dairy free pumpkin pie. I basically failed at it last year so hoping I do better this year!
We are planning on a turkey, a ham and a smoked turkey. I'm hoping there will be some leftovers so I can make this Turkey Bisque Soup again!
Don't worry though if you don't have any leftovers. This soup is just as delicious made with chicken as with turkey. It has a nice, light cream sauce thanks to a little bit of half and half. If you are dairy free, just leave out the 1/2 and 1/2.
The soup has plenty of nice flavor thanks to the carrots, green peppers, onion and parsley.
My husband mentioned that it would be yummy with some noodles added in to – I agree and will try it next time. This recipe was shared with me by a friend. It is a knock off recipe from a local Portland restaurant that is no longer around.
So what's your favorite thing to do with leftover turkey?
For some other yummy ideas to use leftover turkey with try these: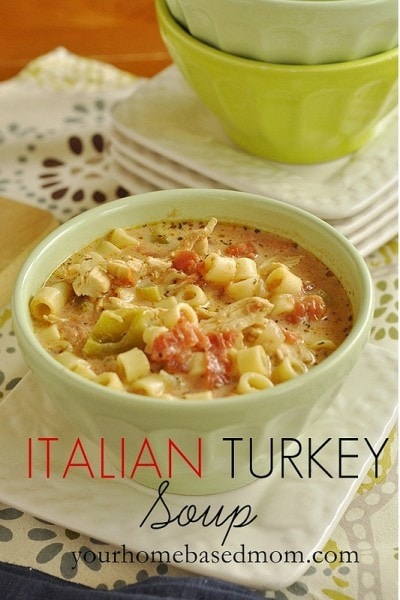 Turkey Bisque Recipe
Turkey Bisque Soup
Ingredients
2 C cooked turkey or chicken
1/4 C onion diced
1 Tbsp olive oil
2 cloves garlic minced
1 C carrot diced
1 green pepper diced
1 Tbsp parsley
4 C turkey or chicken stock
4 tsp Worcestershire sauce
2 Tbs butter softened
4 Tbs flour
salt and pepper to taste
1 C half & half
Instructions
In a soup pot, heat oil and add onion, green pepper and carrots.

Cook for 3-4 minutes

Add chicken to pot

Add garlic to pot.

Stir together and cook until garlic is fragrant

Add stock and bring to boil. Cook until carrots are cooked

Mix together flour and butter together to form a roux.

Add half & half, roux, parsley and Worcestershire sauce to soup.

Add salt & pepper to taste.

Simmer for 10-15 minutes. Serve.