Lemon Turkey Noodle Soup is the perfect solution to leftover turkey or chicken. Comfort food at it's finest.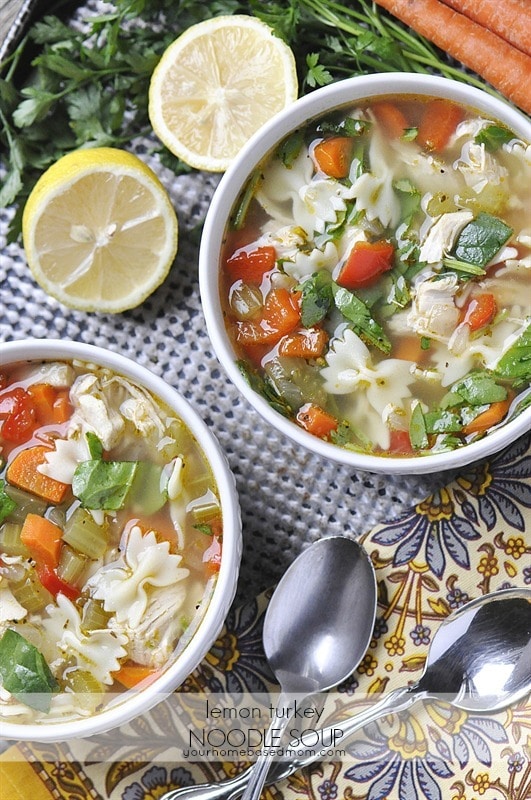 Tomorrow is the big day – Thanksgiving! Are you ready. We are celebrating in Utah this year with family and I am so excited to spend time with some of my kids! I love spending the holiday with family and not having to do all the cooking. The only downside is that when we get home there are no leftovers. I have actually been known to cook a turkey when I get home just so I'll have leftovers!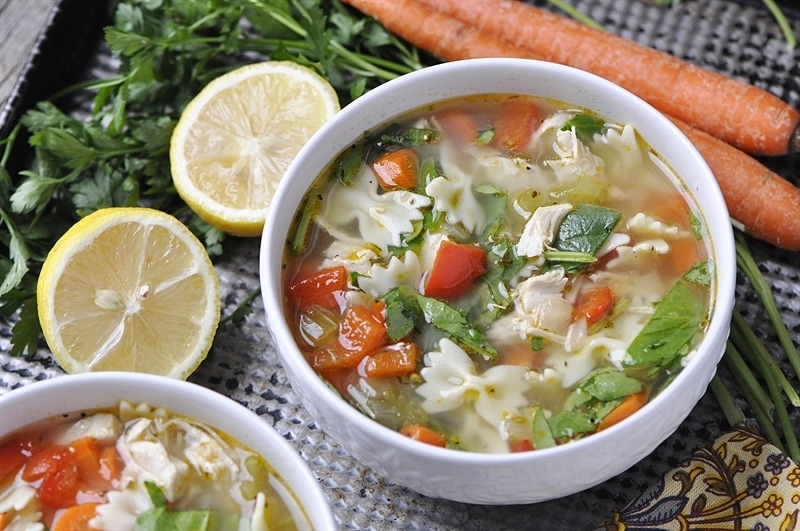 A good old turkey sandwich is always a great use of leftovers but I prefer soup. And today's recipe for Lemon Turkey Noodle Soup is perfect. It is flavorful and has lots of veggies in it so after all that food you ate on Thanksgiving (i.e. pie) it's a great way to eat a little lighter and healthier.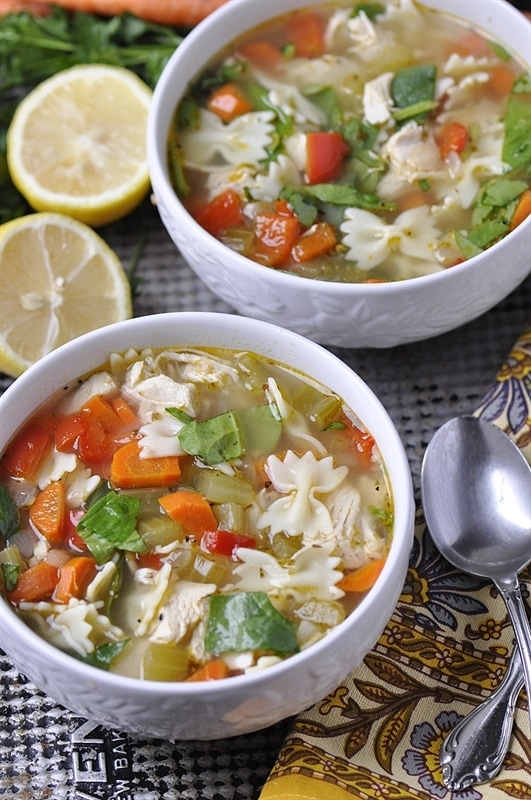 I used fresh lemon juice in this soup and it gives it a nice light, fresh taste. I also like to cook my pasta seperately and then add it in when I serve the soup instead of boiling it in the soup and letting it sit in the broth for too long and get mushy. I don't like mushy!!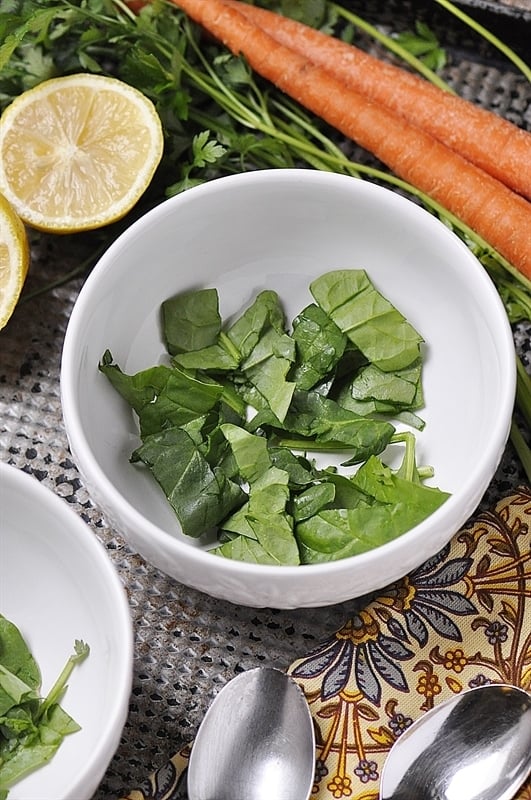 I place chopped up spinach in the bottom of the bowl first and then pour the soup over the spinach. That way the spinach doesn't get too soggy. If you have a few leftover rolls from Thanksgiving, that along with a bowl of this lemon turkey noodle soup is the perfect dinner. Comfort food at it's finest. And then of course, some leftover pie for dessert. Or you could make yourself a pumpkin pie milkshake.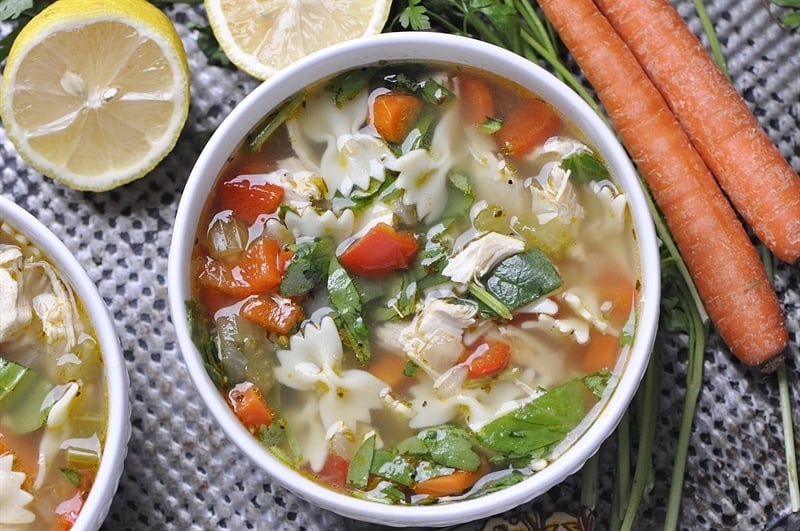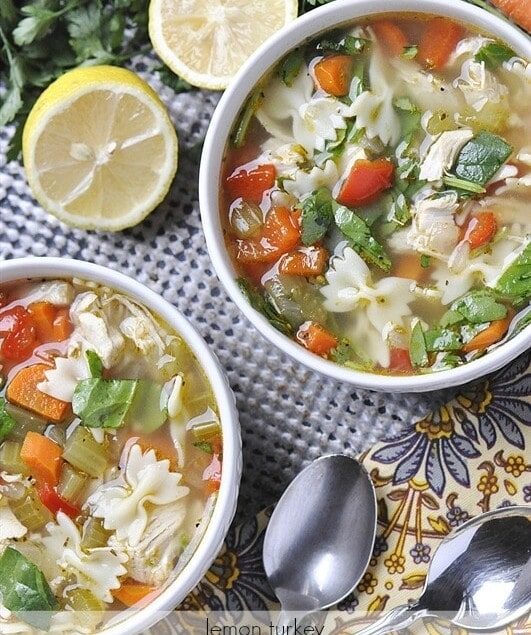 Lemon Turkey Noodle Soup
Ingredients
2 tablespoons olive oil
1 large onion chopped
2 large garlic cloves finely chopped
3 celery stalks chopped
2 carrots diced
1 large red bell pepper chopped
10 cups chicken broth
2 cups mini farfalle bow-tie pasta, precooked
2 cups diced cooked turkey or chicken
2 tablespoons fresh lemon juice
2 teaspoons grated lemon peel
1 tsp oregano
salt and pepper to taste
3 C fresh spinach chopped
Instructions
Heat oil in heavy large pot over medium heat.

Add onion and garlic and stir 1 minute.

Add celery, carrots and red bell pepper and sauté until vegetables are tender, about 8 minutes. Add broth and Oregano and bring soup to a boil.

Reduce heat to medium-low; simmer to blend flavors, about 20 minutes.

Add turkey, lemon juice and lemon peel into soup.

Season soup to taste with salt and pepper

Placed a handful of chopped spinach into bottom of each bowl..

Ladle soup into bowls.
Recipe adapated from Epicurious.com