Bananas Foster Trifle is a delicious dessert that has layers of goodness.  A shortbread cookie layer is topped with custard and delicious Bananas Foster sauce!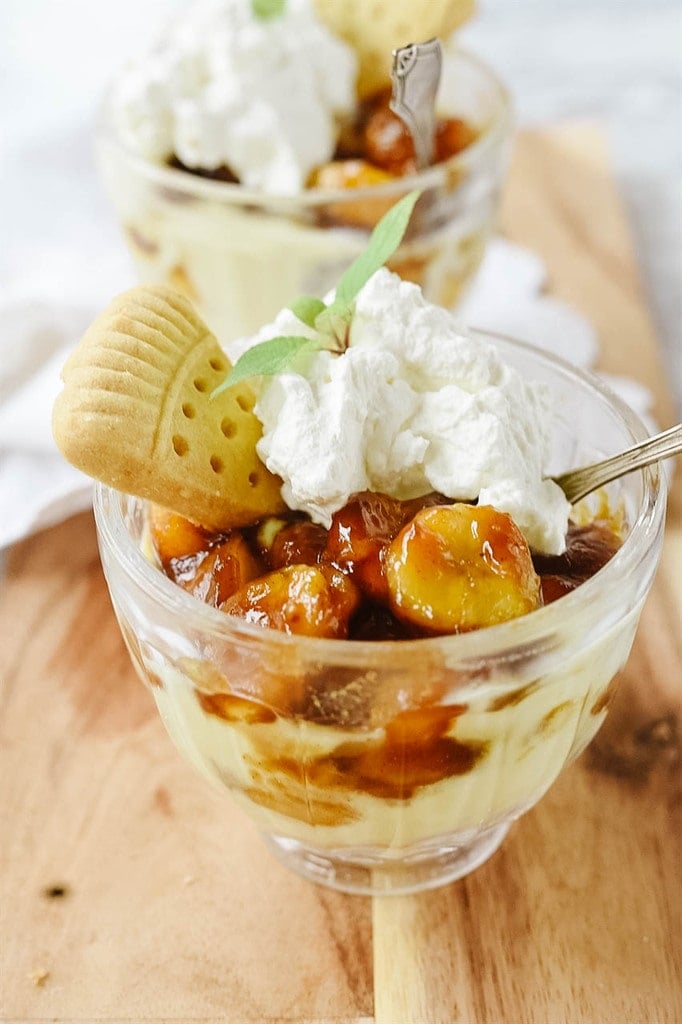 This recipe for Bananas Foster Trifle is a fun and delicious twist on a traditional trifle. I remember my mother making an English trifle when I was a child.  A pretty layered dessert in a bowl specifically made for trifle, usually a large, deep, round, clear glass bowl that the pretty layers of the trifle showed through.  I don't own a trifle bowl and my guess is most people don't. English Trifle is traditionally made with fruit, a thin layer of sponge fingers or pound cake soaked in sherry or rum and custard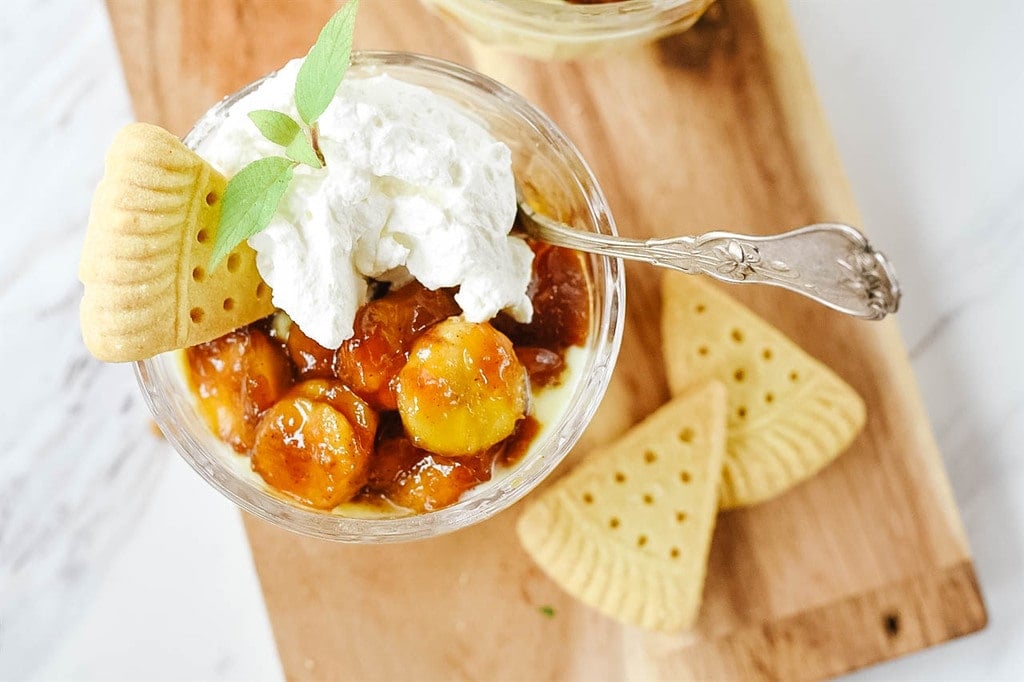 Today I am sharing a Bananas Foster Trifle which is a combination of English trifle and Bananas Foster, a fun twist on two classic desserts.
What is Bananas Foster?
Bananas Foster is an American dessert that originated in New Orleans and is often made table side and flambeed. We're not going to be setting anything on fire here though! Bananas Foster is a combination of bananas covered in cooked butter and brown sugar. Pretty much heaven! Alcohol is often added and then it is set on fire – thus the flambe! It is most often served over ice cream or as a crepe filling.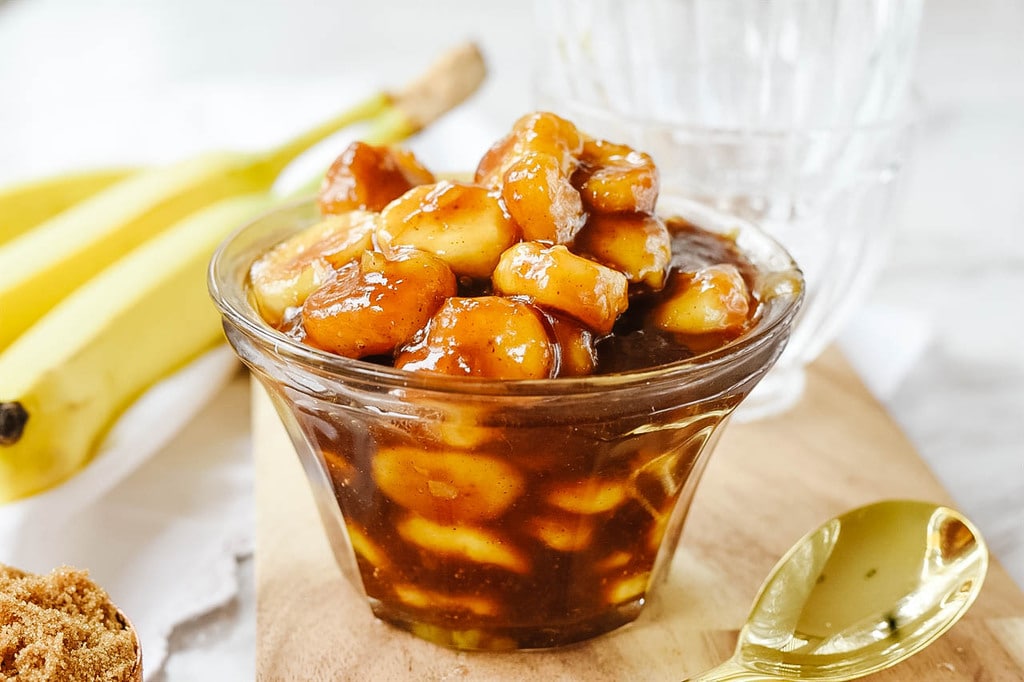 Today though, we are going to use the delicious Bananas Foster sauce to make Bananas Foster Trifle! Instead of the traditional sherry and berries we are going to layer our trifle with the Bananas Foster sauce. Instead of pound cake we are going to use delicious, buttery Walkers Shortbread cookies. I used their Assorted Shortbread pack so I had a variety of shapes and sizes. Walkers is my favorite brand of shortbread. Made in Scotland, Walker's Shortbread maintains its traditional shortbread recipe made with four simple and natural ingredients, including, flour, sugar, salt and 100% pure butter!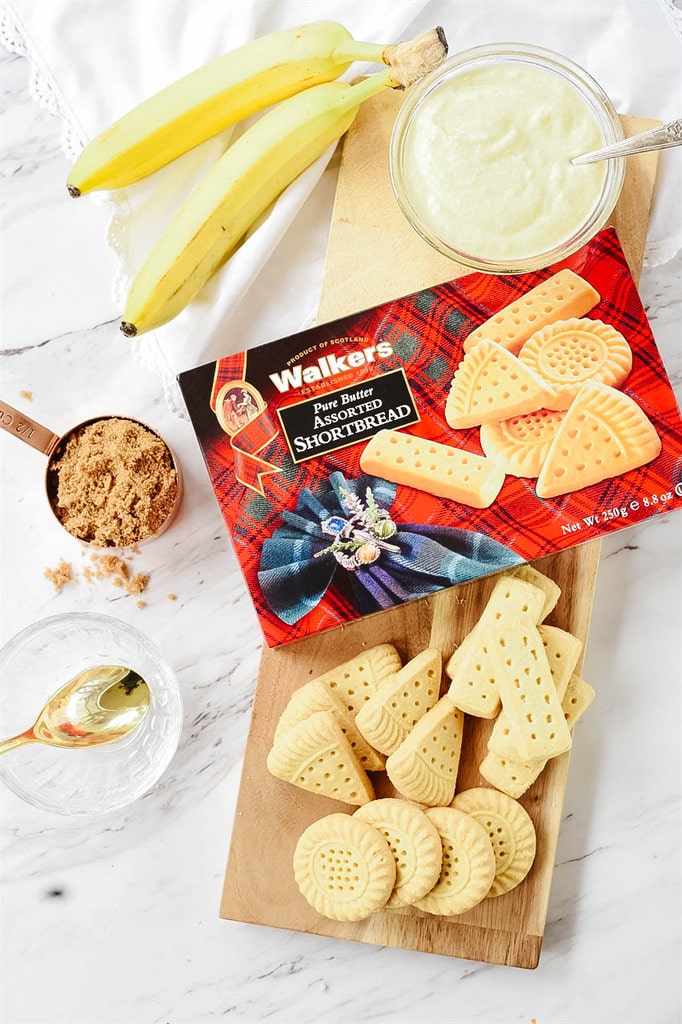 How to Make Bananas Foster Trifle
First, you need to pick your container. I decided to go with individual servings of Bananas Foster Trifle and the round shortbread cookies were the perfect fit for my dessert dishes.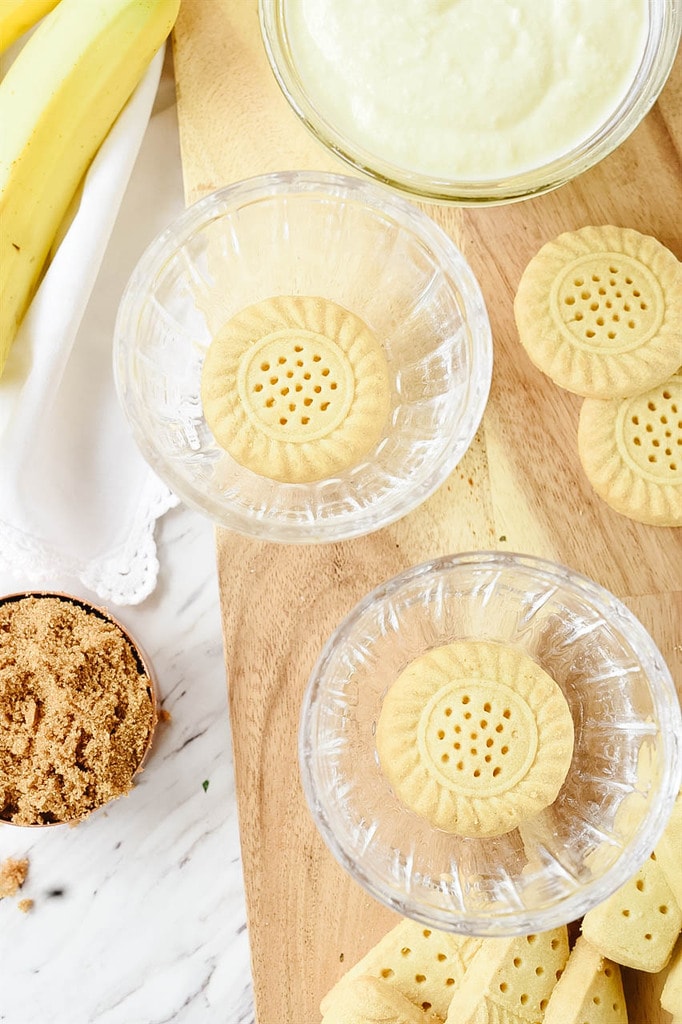 The next essential ingredient of trifle is custard. I made my custard from scratch with the recipe below, a traditional English custard. You can also use vanilla pudding but pudding is much sweeter than custard. Place a layer, about 2 Tbsp of custard over the shortbread cookie.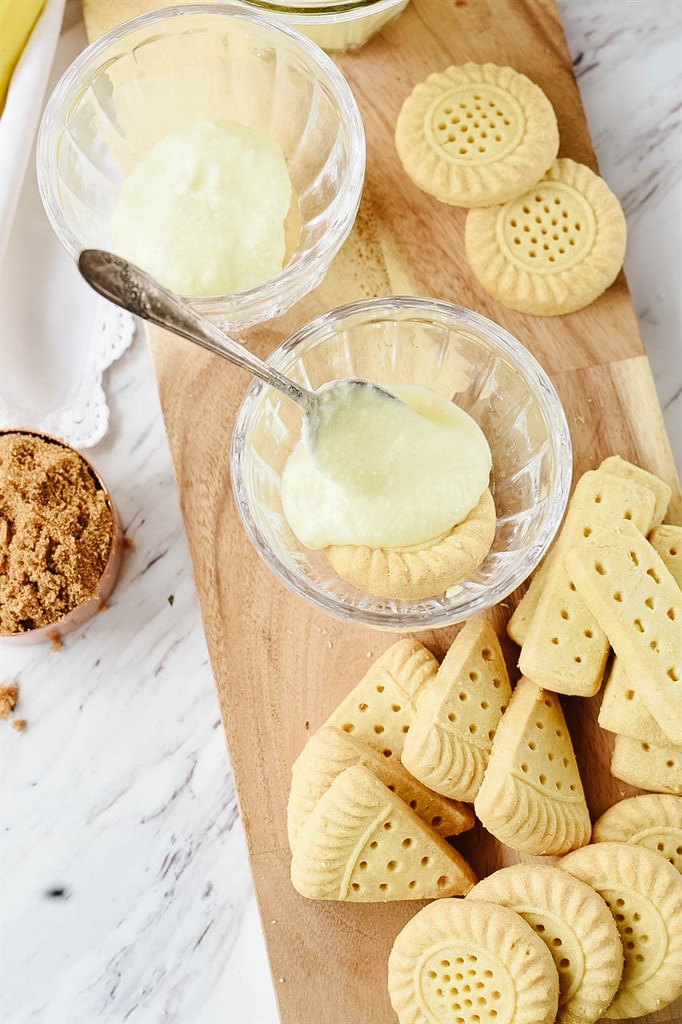 The next layer is the delicious Bananas Foster sauce. Then just repeat with another layer of shortbread, custard and Bananas Foster sauce.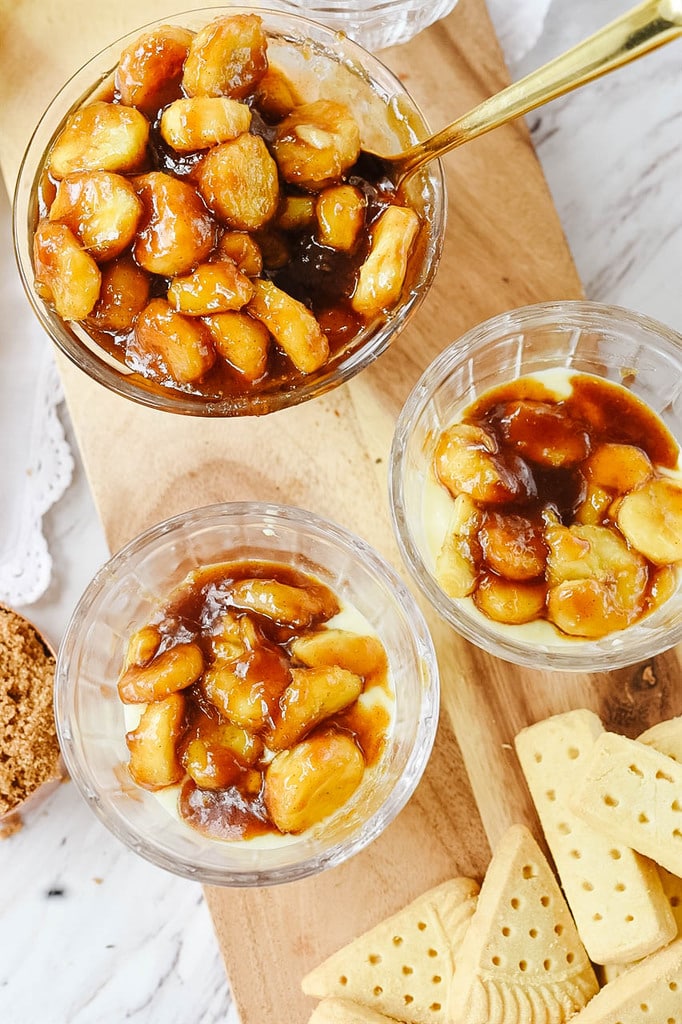 The final layer is a topping of freshly whipped cream, a spring of peppermint and another Shortbread cookie for garnish!
The custard and Bananas Foster helps to soften up the shortbread. There is so much good flavor and texture happening in one place!!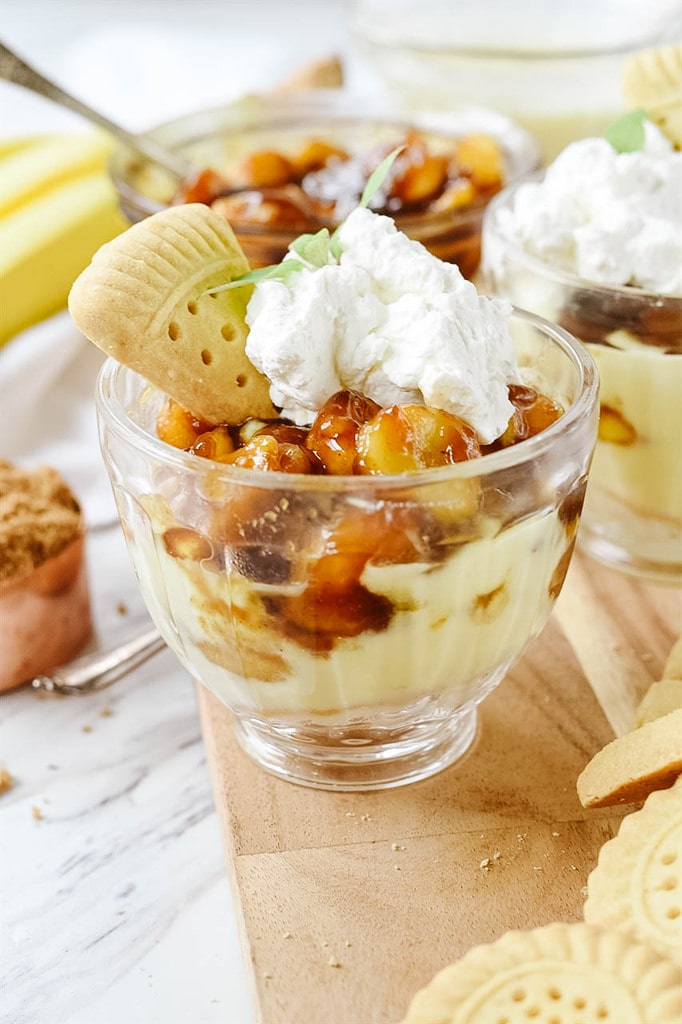 Check out more ways to enjoy Shortbread:
Bananas Foster Trifle Recipe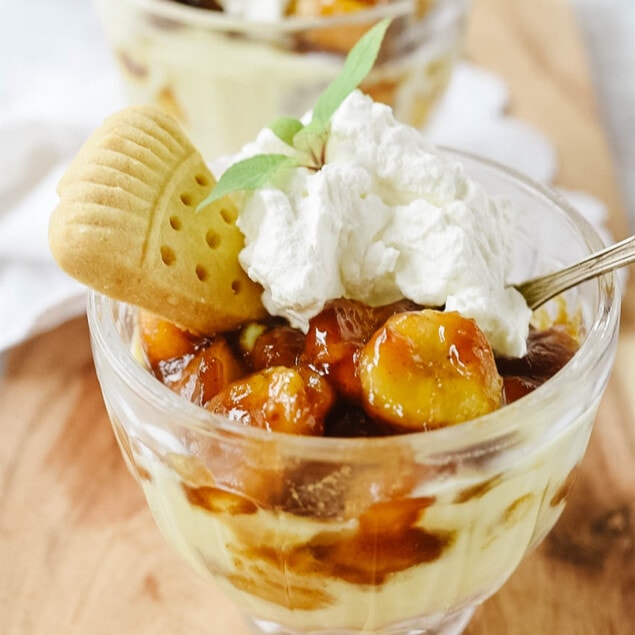 Bananas Foster Trifle
Bananas Foster Trifle is a delicious dessert that has layers of goodness. A shortbread cookie layer, custard and delicious bananas cooked in butter, brown sugar and cinnamon!
Ingredients
Custard
2 cups whole milk
1/4 cup heavy whipping cream
4 egg yolks
4 Tbsp granulated sugar
1 tsp vanilla
2 Tbsp cornstarch
Bananas Foster Sauce
1/2 cup butter
1/2 cup dark brown sugar
1/4 tsp cinnamon
6 firm bananas peeled and cut into rings
12 Walkers shortbread cookies
1/2 cup heavy whipping cream whipped
Instructions
Custard
Bring milk and cream to a simmer on low heat.

Mix together sugar and cornstarch in a bowl. Add in egg yolks and mix well.

Slowly add some of the warm milk into the egg/sugar mixture, stirring so the egg doesn't cook. Add in remaining egg mixture.

Add in vanilla. Return mixture to saucepan and stir until thickened. Chill.
Bananas Foster Sauce
In a skillet over medium heat, melt butter with sugar and cinnamon. Add sliced bananas to skillet and cook for about 2 minutes. Stirring to coat bananas with sauce.
Assembly of Trifle
Place one shortbread cookie in bottom of individual serving bowls. Add 2 Tbsp custard and a few spoonfuls of bananas foster sauce. Repeat again starting with another cookie.

Top with freshly whipped cream and an additional shortbread cookie
Nutrition Facts:
Calories: 912kcal (46%) Carbohydrates: 109g (36%) Protein: 8g (16%) Fat: 51g (78%) Saturated Fat: 29g (181%) Cholesterol: 151mg (50%) Sodium: 439mg (19%) Potassium: 894mg (26%) Fiber: 5g (21%) Sugar: 71g (79%) Vitamin A: 1715IU (34%) Vitamin C: 15.4mg (19%) Calcium: 216mg (22%) Iron: 1.5mg (8%)
* Disclaimer: All nutrition information are estimates only. Read full disclosure here.