These Rosemary & Thyme Candied Walnuts could be called a triple threat – they are savory, sweet and have a little heat!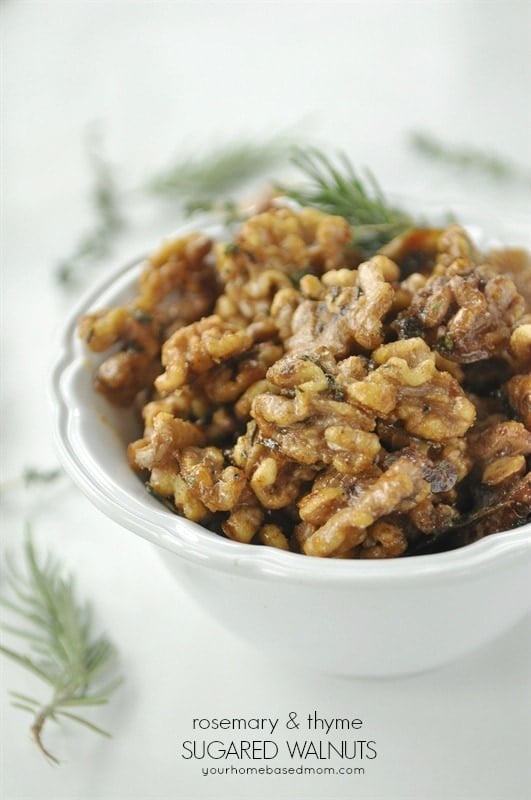 Besides being a triple threat, these walnuts are addictive.  I pretty much couldn't stop eating them and may have eaten more than my share.
They  make a perfect holiday gift.  The only problem is you better make twice as many as you think you need because you may eat more than your share too.  Have you been checking out all the other great holiday gift ideas being shared as part of Bake Craft Sew? Be sure and visit my friends Cindy and Mique and see all the great ideas being shared on their blogs.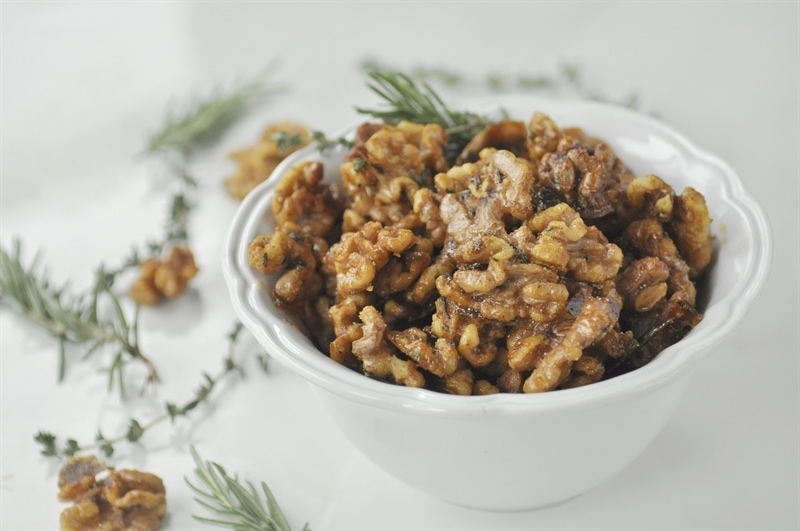 I love all the flavors going on with these nuts and they are perfect for just snacking but would be delicious on a salad, in a dip or on top of a salad.  And did I mention snacking?!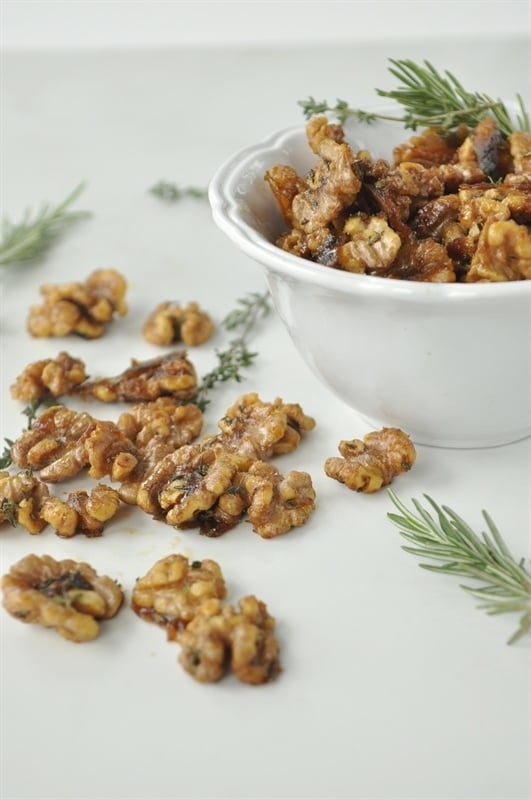 The savory flavor comes from the fresh rosemary and fresh thyme.  The sweet comes from honey and the heat comes from a little cayenne pepper.  If you don't want the heat,  just leave out the cayenne.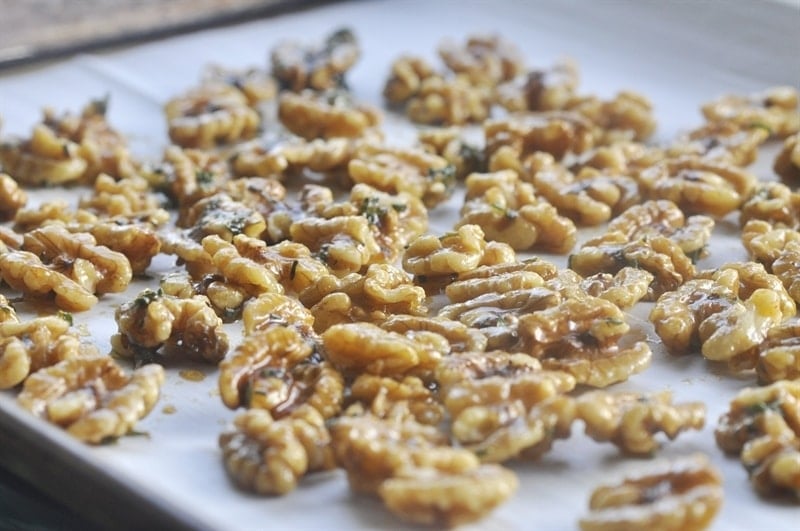 After they are coated with the mixture lay them out on a parchment lined baking sheet and bake for about 10- 12 minutes.  Your house is going to smell yummy too. After you pull them out, stir them around a few times to get them covered with any honey that might have melted off and then sprinkle with some seal salt for yet some more amazing flavor.
Then just let them cool and start munching!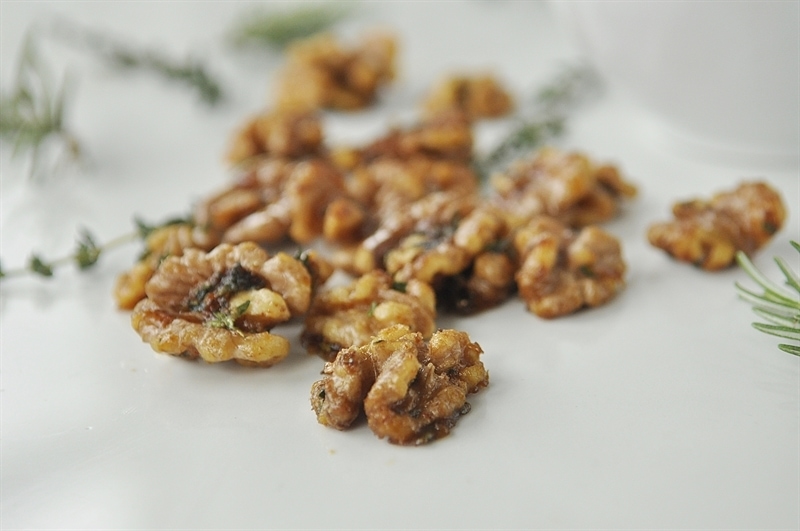 If you have more self control than I do, wrap some of them up in a cellophane bag, add a bow and someone is going to love you for ever once they tastes these candied walnuts.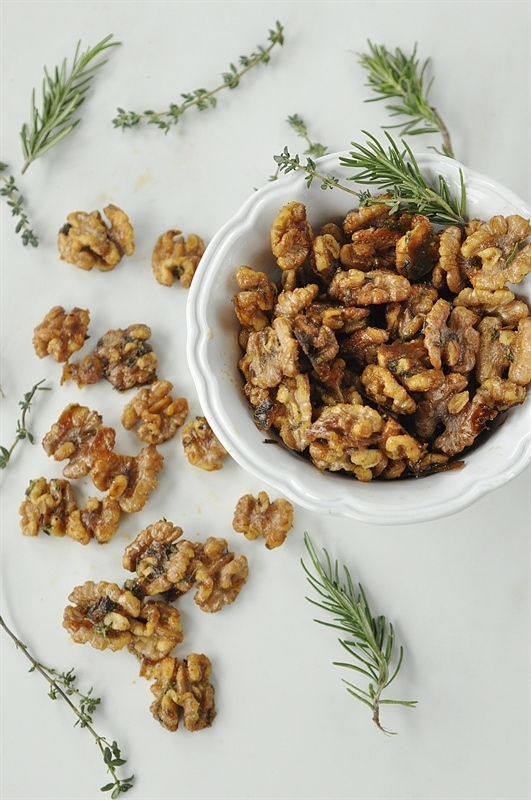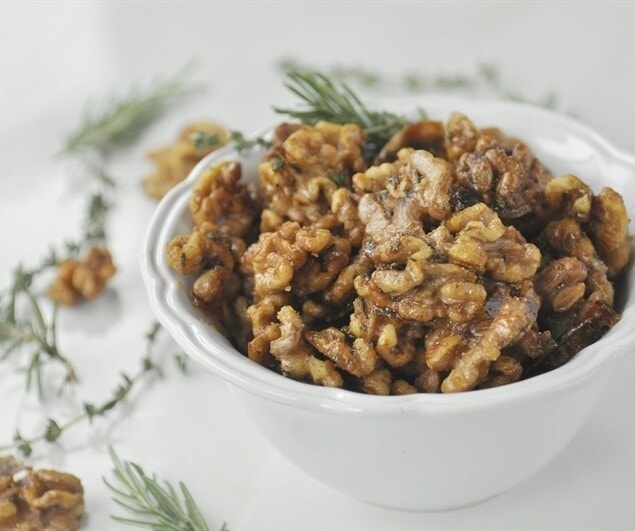 Rosemary & Thyme Candied Walnuts
Ingredients
5 tsp olive oil
5 tsp honey
1/4 tsp cayenne pepper or chipotle chili powder
1 Tbsp fresh rosemary finely chopped
3 tsp fresh thyme finely chopped
2 cups walnut pieces
1/4 tsp sea salt
Instructions
Preheat oven to 350 degrees F.

Mix together olive oil, honey, cayenne, rosemary and 2 tsp thyme.

Add walnuts and stir to coat.

Spread in a single layer on a parchment lined baking sheet.

Bake for 10-12 minutes.

Remove from oven and stir to coat. Sprinkle with remaining thyme and salt.

Allow to cool