Topped with key lime curd, these Key Lime Cookies are light, delicious and the perfect cookie.
As a food blogger, one of the things that makes me the happiest is to receive an email or a comment from someone who has tried one of my recipes and loved it! I originally posted this recipe back in 2008 and to be honest, I had forgotten about it. With over 2,000 recipes on the blog that is easy to do! Her comment read:
"These are divine! I made them exactly as the recipe states and they were perfect. I'll be making these again and again! Thanks."
After I read the comment I decided I needed to make them again.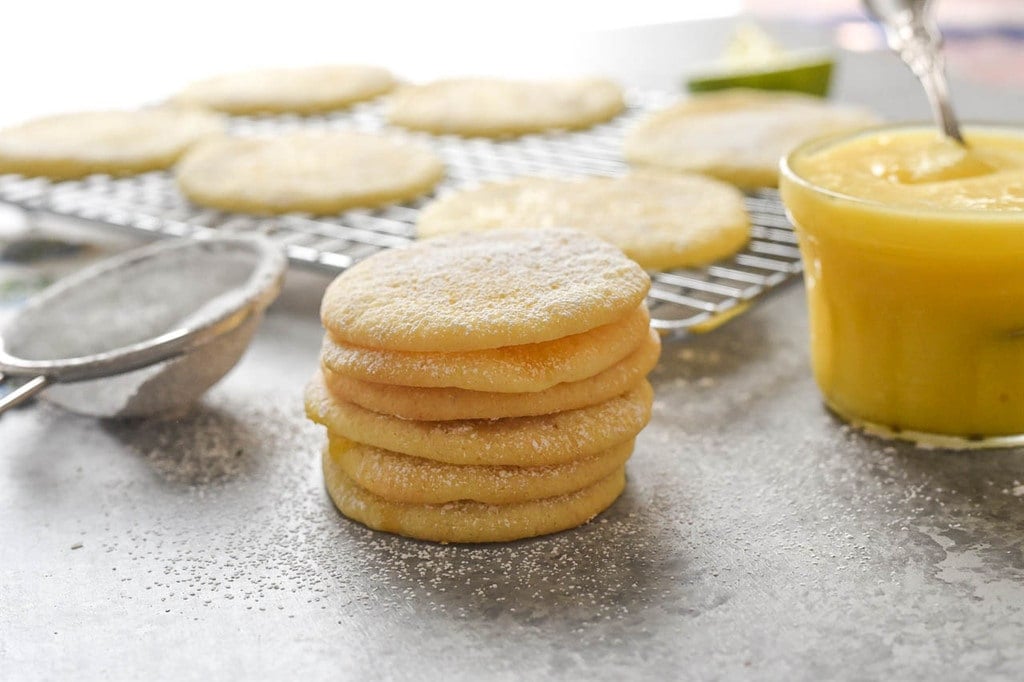 Well, she was right, these cookies are divine! I am a huge key lime fan and these satisfied all my key lime cravings. My key lime bundt cake is also one of my favorites and this key lime ice cream is delicious. I always have a bottle of key lime juice in my refrigerator.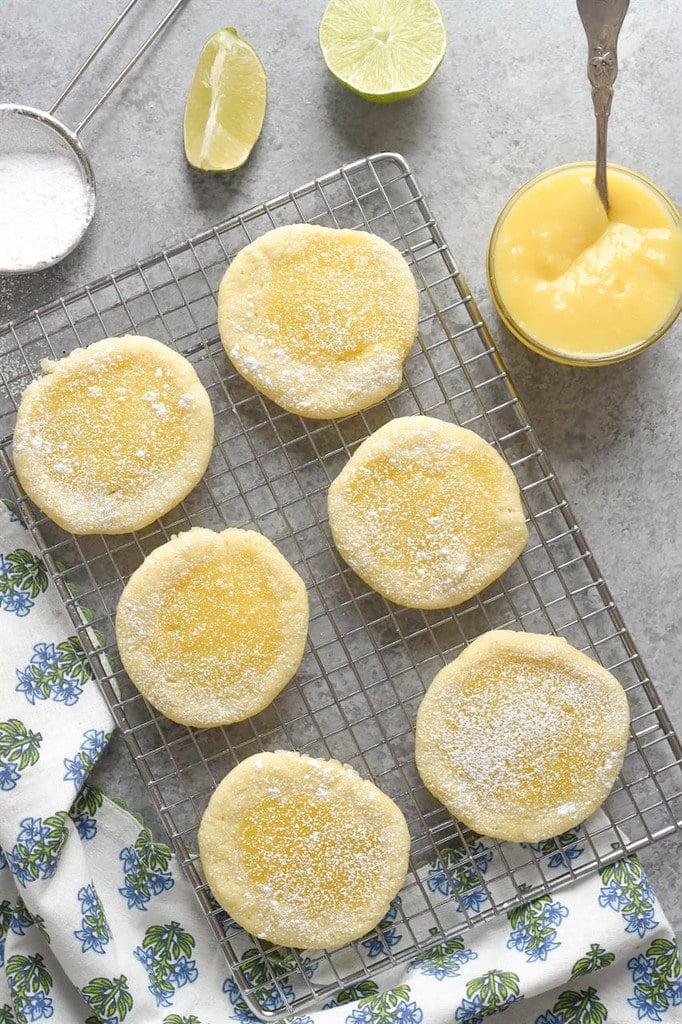 These cookies are light, crisp on the edges and just the right amount of lime goodness thanks to some lime curd. The recipe includes the directions for lime curd which is so easy to make and you may just want to grab a spoon and dig it but be sure and leave enough to make the cookies. If you prefer lemon, this recipe can also be done with lemons instead of limes.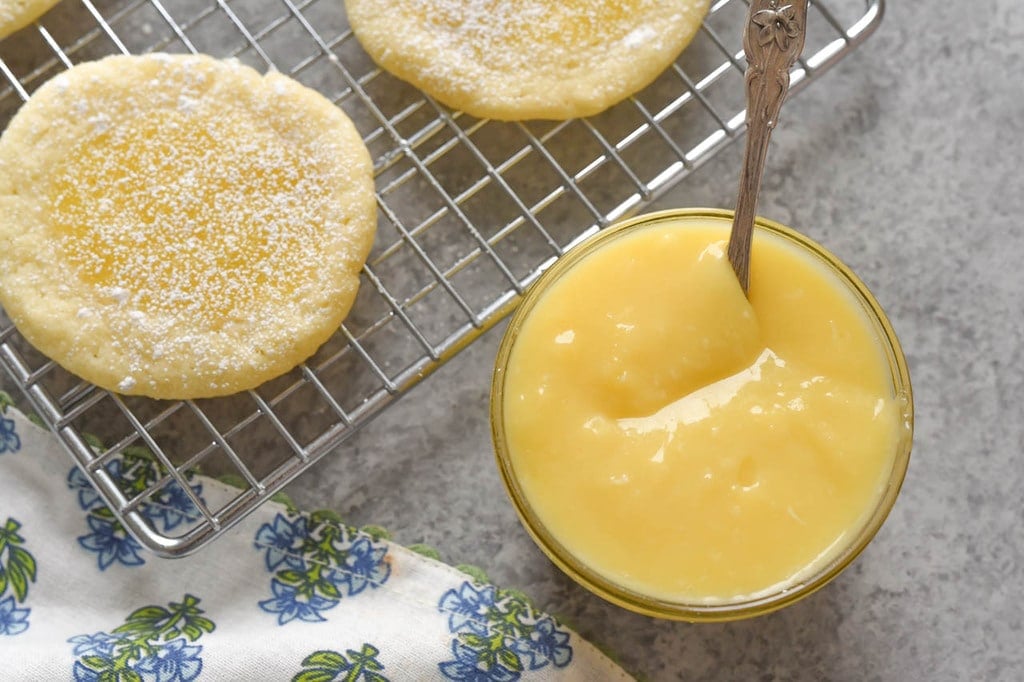 Key Lime Curd
I made the lime curd the night before and then refrigerated it. You want the curd to be chilled so be sure to factor that in to your cookie baking time.
After making the dough, use your thumb to push an indentation into the cookie to fill with the lime curd. I used my smaller cookie scoop and then about 1 1/2 tsp of lime curd in the middle. You can definitely make them bigger if you want but the cookies do spread quite a bit.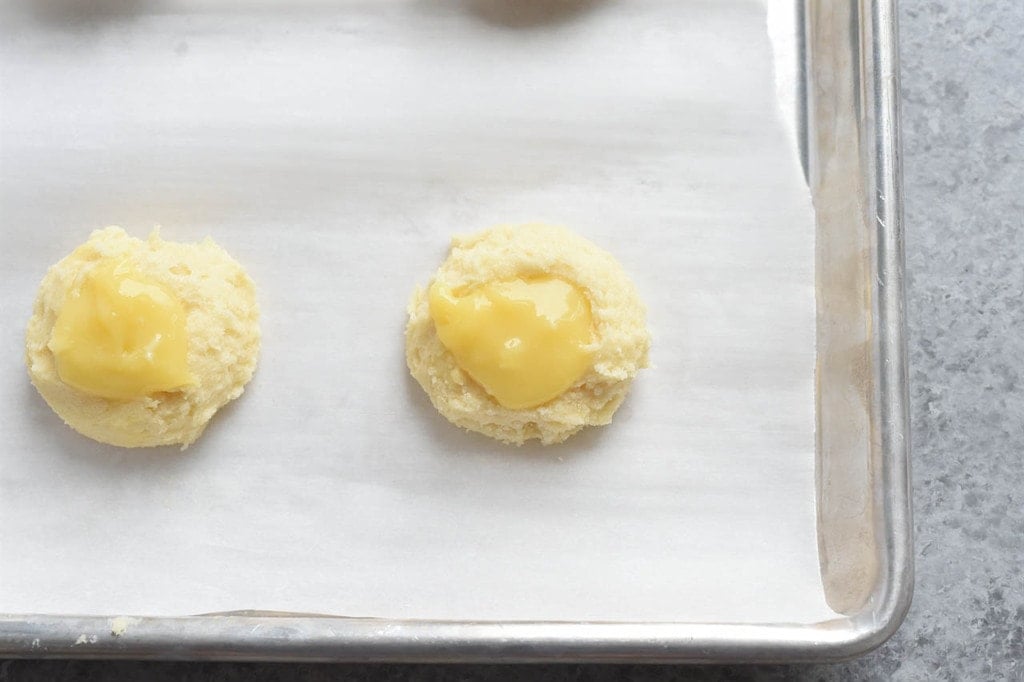 After they are done baking, let them cool and then give them a sprinkle of powdered sugar for some extra pretty.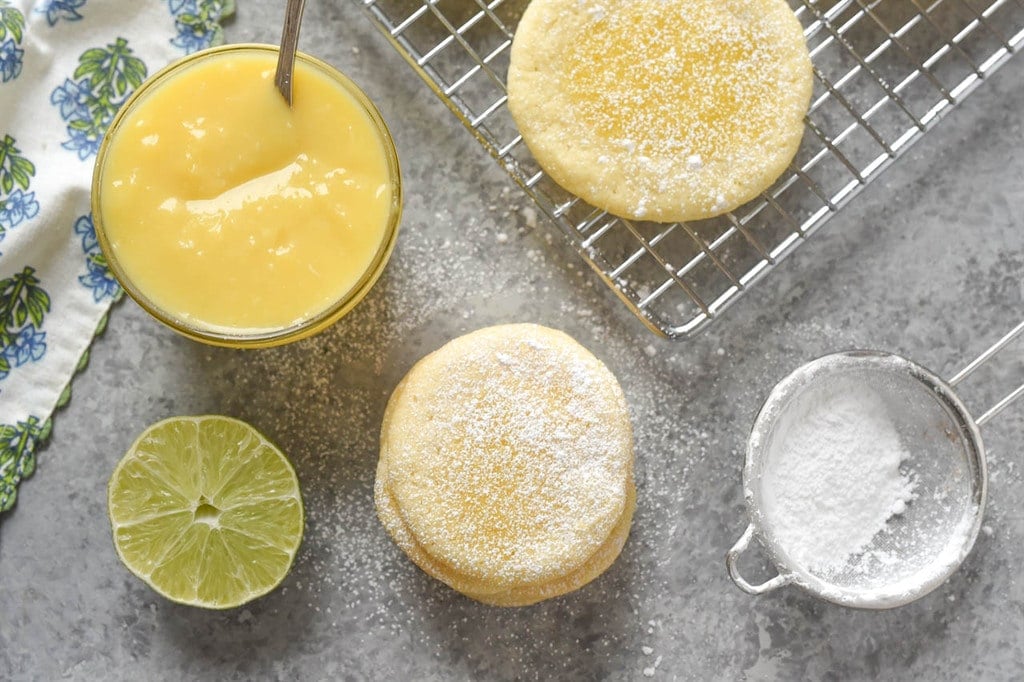 They are definitely a cookie that qualifies for the description of pretty and delicious!
Some of my other favorite key lime recipes
Some of my favorite kitchen tools I use to make Key Lime Cookies:
SMALL COOKIE SCOOP – This scoops out 1 Tbsp of dough and is perfect for bite size cookies or cookies that spread a lot.
KEY LIME JUICE: – I always have a bottle of this in the refrigerator.
SHEET PAN – I have at least six of these in my kitchen. I use them everyday. The 13 x 18 size is perfect and I use them for everything!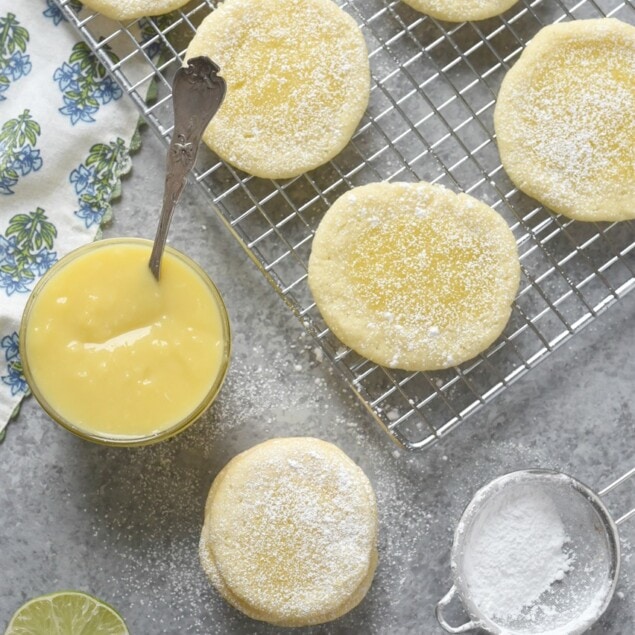 Key Lime Cookies
Topped with key lime curd, these Key Lime Cookies are light, delicious and the perfect cookie.
Ingredients
1 cup butter room temperature
2 cups sugar
2 eggs
1/4 cup key lime juice
3 cups all purpose flour
2 tsp. baking powder
1/2 tsp. salt
2 cups key lime curd recipe below
1 cup powdered sugar for sprinkling.
Key Lime Curd
3 eggs
6 Tbsp. unsalted butter
1/2 cup sugar
2/3 cup key lime juice
1 tsp. key lime zest I didn't have a fresh lime so didn't add this
Instructions
Preheat oven to 350 degrees F.

In a large bowl, with an electric mixer, cream butter and sugar until fluffy

Add the eggs one at a time and the lime juice, and mix well

In separate bowl, combine flour, baking powder and salt

Gradually add the flour mixture to butter mixture until incorporated

Dough should be stiff but not dry

Shape into 1 inch balls, press thumb into center of balls to make an indentation, being careful not to press through to the bottom

Fill indentations with about 1/2 Tbsp. key lime curd

Bake for 15 minutes, until lightly brown

Transfer to a wire rack to cool

Sprinkle with powdered sugar when cool
Key Lime Curd:
Melt butter in a saucepan over low heat

Add the remaining ingredients, whisking continuously for approximately 8-10 minutes or until it becomes a custard

Remove from heat and continue whisking for another 1-2 minutes

Allow to cool and then pour into a container and refrigerate

The curd will thicken considerably as it cools

Makes approximately 2 cups
Nutrition Facts:
Calories: 220kcal (11%) Carbohydrates: 33g (11%) Protein: 2g (4%) Fat: 8g (12%) Saturated Fat: 5g (31%) Cholesterol: 41mg (14%) Sodium: 118mg (5%) Potassium: 55mg (2%) Sugar: 24g (27%) Vitamin A: 255IU (5%) Vitamin C: 1.9mg (2%) Calcium: 20mg (2%) Iron: 0.6mg (3%)
* Disclaimer: All nutrition information are estimates only. Read full disclosure here.