If you are looking for a barbecue baked bean recipe that will stand out, Baked Beans with Sausage is the way to go.  Your guests will love these beans.  And the sausage isn't the only difference in this recipe.  These are 3 Bean Baked Beans.  You will love the flavor and texture these unique ingredients bring.
I don't know why it is but baked beans seem to be a generational thing.  They seem a little bit old fashioned or out dated when it comes to food trends.  You don't see them very often at a party or on a menu except if you are in England where they eat them for breakfast.
But I love baked beans and have shared my recipe for my very favorite baked beans before.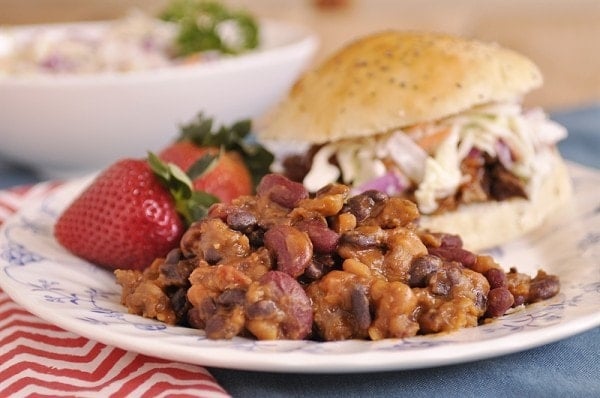 Whenever we have a BBQ I make a big batch of baked beans and I am always amazed that they are one of the first things to disappear! Every time!  So I guess despite being a bit old fashioned or out dated people love them.
Today's recipe is a little different.  It is baked beans with sausage.  A neighbor shared it with me years ago.  And i love the flavor that the sausage brings.
Not only does the recipe use the traditional pork n' beans but also black beans and kidney beans.  3 Bean Baked Beans!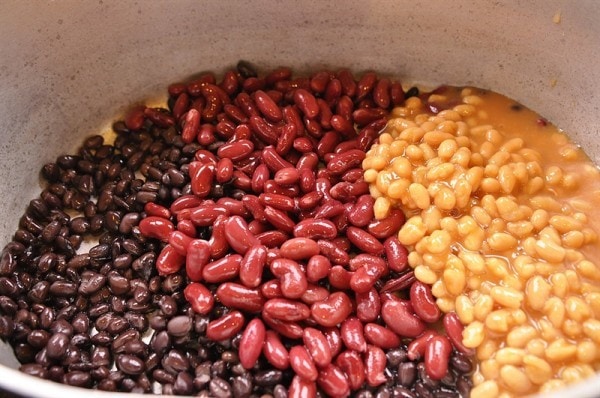 3 Bean Baked Beans
I always put bacon in my beans but this recipe also uses sausage!  This is a hardy dish and could almost be a main dish.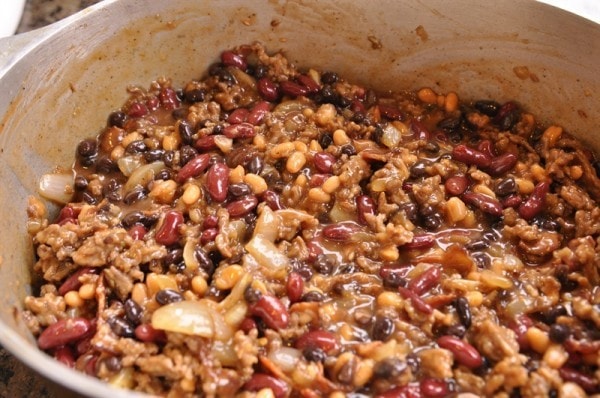 My rule for baked beans is cook them long and low.  I think the longer they bake the better they taste!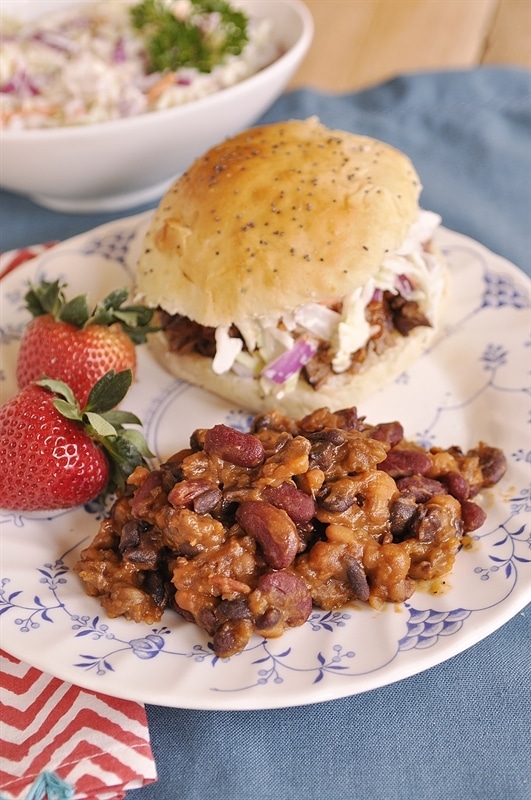 Next time you have a BBQ mix up a batch of these not so average baked beans and watch how fast they disappear!  Make a big batch!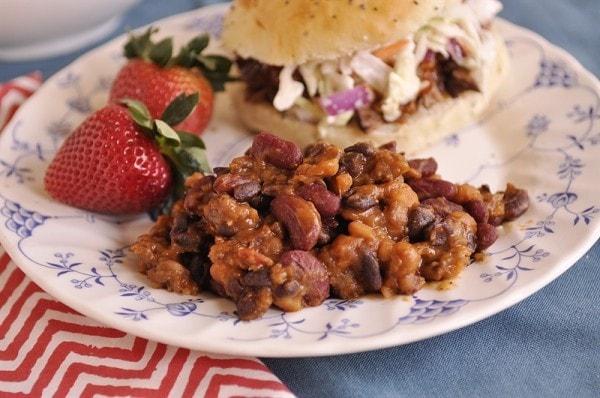 For other yummy side dishes try these:
Browned Butter and Balsamic Ravioli
Baked Beans with Sausage
Three Bean Baked Beans with Sausage
Ingredients
1/2 lb bacon cut into 1/4 inch pieces
1 onion chopped coarse
1 lb. ground beef or Italian sausage I used sausage
1 15 oz. can pork and beans
1 15 oz. can red kidney beans, drained
1 15 oz. can black beans, drained
1/4 C brown sugar
1/4 C ketchup
1/4 C barbeque sauce
2 Tbsp. mustard
1 tsp salt
1/2 tsp pepper
1/4 - 1/2 tsp chili powder
Instructions
Cook bacon until crisp.

Saute onion in bacon drippings

Drain

Brown beef or sausage, drain

Combine all ingredients in a 4 qt. baking dish.

Bake in 350 degree oven for 1-2 hours.