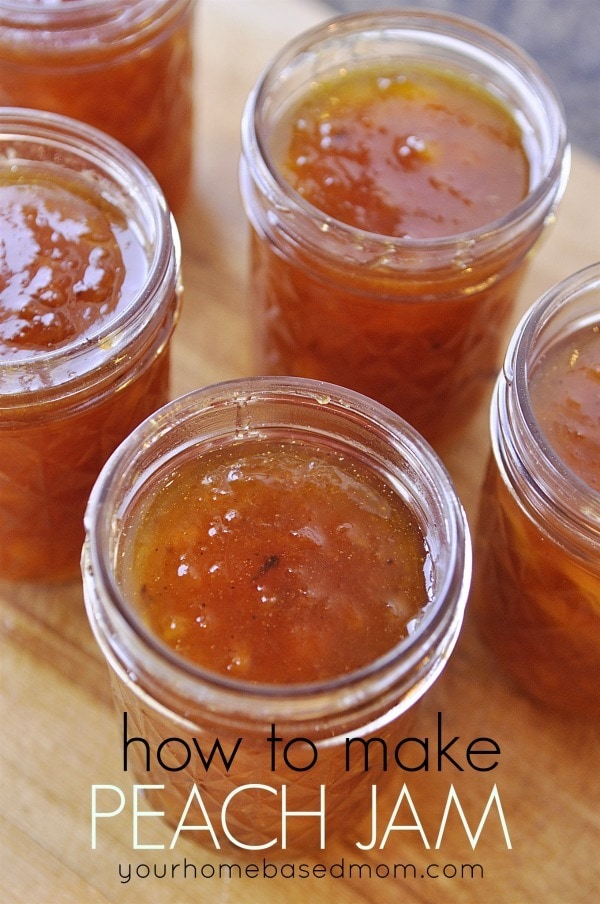 Do you can?  I did not grow up with a mother who canned or preserved food.  My mom is a city girl.  But my husband grew up with a mom that canned and preserved just about everything!  She is a farm girl. In their home in Idaho they had a room in the basement that was full of hundreds of jars of canned food.  Everything you can imagine.  So my husband is the one that taught me how to can.
When our children were small we would can quite a bit , peaches, pears, apple pie filling, grape juice from the neighbors grapes and of course there was freezer jam and other things.  The last few years I have mainly just stuck to freezer jam. When the Washington State Fruit Commission offered to send me a box of stone fruit I couldn't pass up the opportunity to get out the steam canner and dust off my canning jars.
I decided to get a head start on some of my Christmas gift giving and use the peaches they sent to make peach jam.  The peaches were huge and delicious and I had a hard time stopping my family from eating them all before I could get them made into jam.
My canning skills are somewhat limited and I have never worked with a pressure cooker.  I have only canned things that are safe to can with a hot bath canner or steam canner. For more info on canning and safety please check out your state extension service.
Making canned jam is easier than you might thing.
Supplies you will need:
1.  A hot bath or steam canner.
The last few years I have borrowed my neighbors steam canner and I love it!  They will be glad to know I finally went onto Amazon and bought my own so I don't have to borrow theirs anymore.  The steam canner is so much easier to use than the water bath canner.  Water only goes in the bottom part, the jars are then placed on top of that and the lid put on.  The processing time is the same but you have no bit pot of hot boiling water to remove your jars from and try to avoid burning yourself!
Here is the one I recently purchased.
I also canned some nectarines that they sent me and that is what you see in the jar below.  Note to self:  be sure and remove all of the stickers off the fruit before canning in.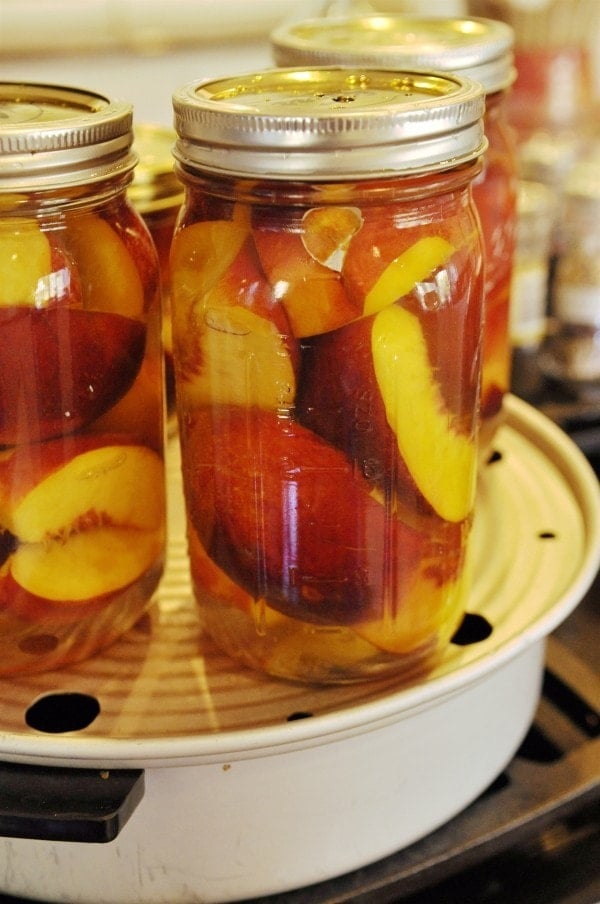 Here is what the canner looks like with the top on.  After you place your jars in the canner, turn your heat on and when it comes to a boil and steam is coming out from the canner start your processing time.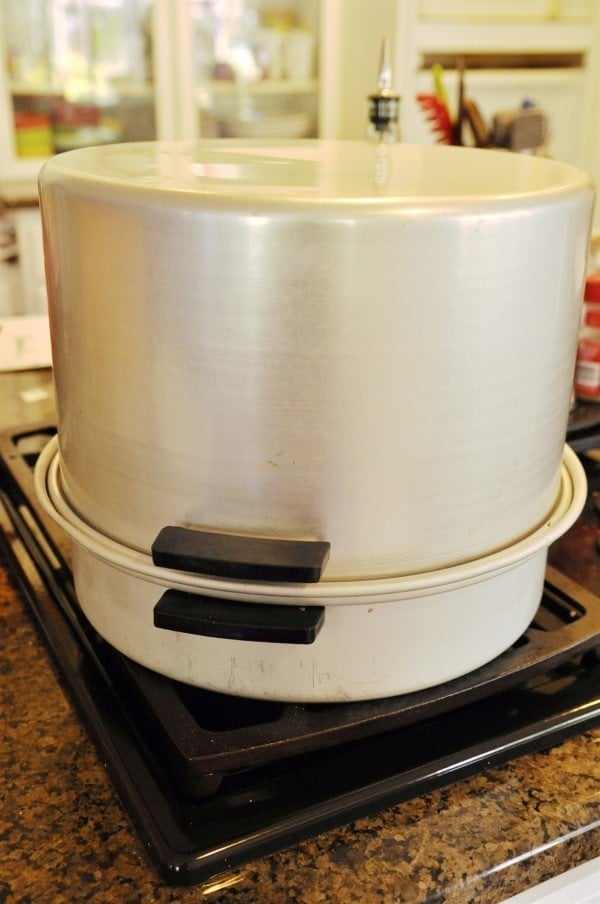 2.  Canning jars, lids and rings
I like using small pint or half pint size jars for my jam.  When you buy jars for the first time they come with lids and rings.  When you reuse them the next year you will need to buy new lids.  Be sure and run your jars through the dishwasher before using them.  I always boil my lids and rings right before using them to seal up my jars.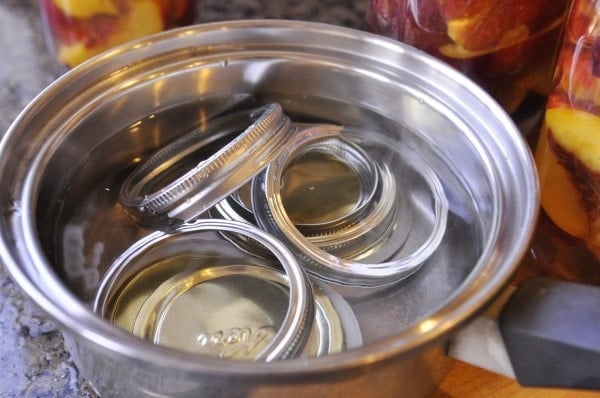 This year my neighbor introduced me to an amazing canning tool.  A magnetic lid lifter.  No more burning my fingers in the hot water!  This little tool easily lifts your lid right out of the water and onto your jar!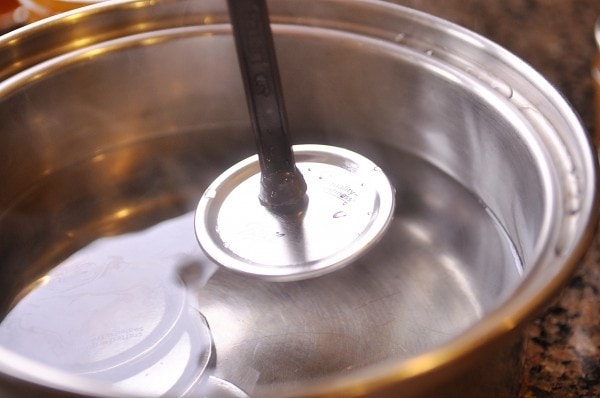 How cool is that!!!  If you can you need one of these.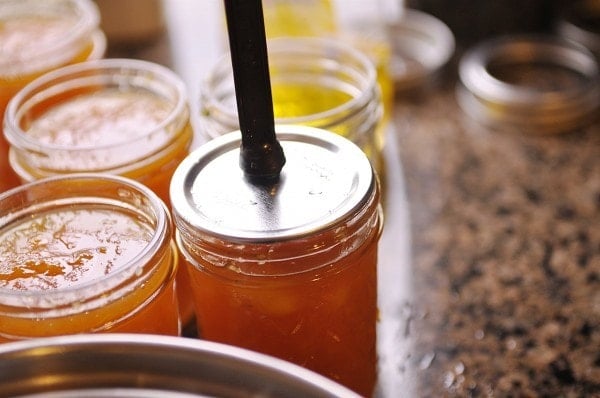 3.  Fruit, sugar and lemon juice
The first step, after washing and assembling your jars, rings and lids is to prep your fruit.
With stone fruit you need to skin it and remove the stone that is in center.  You want to make sure your fruit is ripe so that the stone can be easily removed.  When making jam your fruit can even be overly ripe.  Removing the skin and stone is easier and quicker than you might think.  You will need a pot of boiling water, a bowl of cold water and a knife.
Place your fruit, a few at a time into the boiling water for just about 30 seconds – you don't want to start cooking them.  With a pair of tongs remove them from the hot water and put them into a bowl of cold water (use ice to get it cold).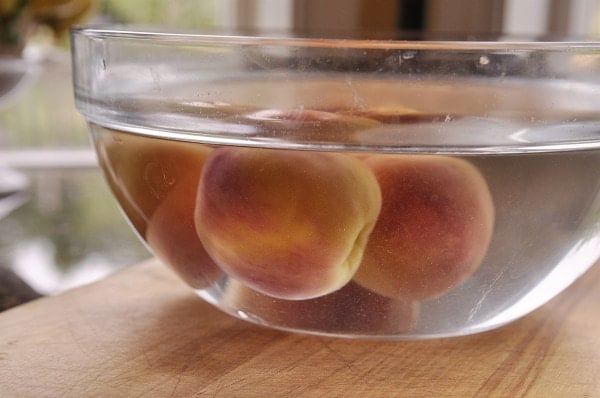 The skins to the peaches will peel right off!  How cool is that.
Then slice your fruit in half (you won't be able to slice all the way through), pull apart and remove the stone.  I then sliced my fruit up into quarters and put it into my food processor.  For jam you will need 4 lbs of peaches per batch (about 8 large, or 15 small)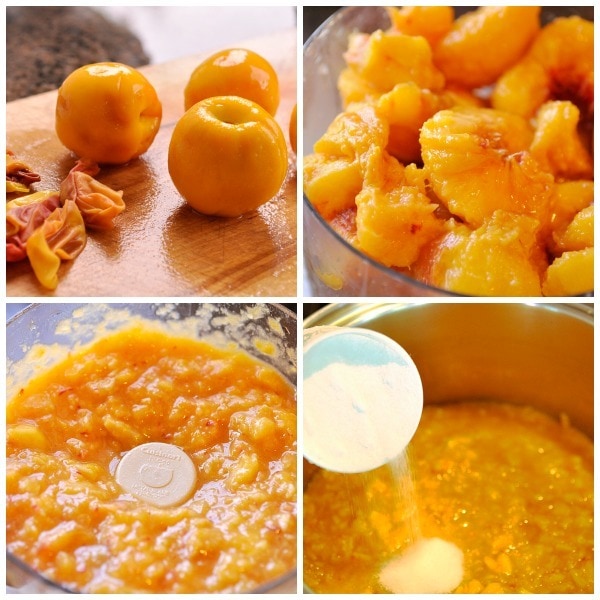 Pulse the fruit in the food processor.  I like to leave mine somewhat chunky.  Put into a large, heavy pot on the stove and add in the sugar.  Jam has sugar in it, quite a bit of sugar!!   I also added in some nutmeg and lemon juice to my jam.
The next step takes a bit of time and patience.  You need to cook the jam until it reaches the gel stage which is about 220 F or 105 C.  This will take a bit of time and you need to give it some attention.  Be sure to stay close and stir often so it doesn't burn, especially near the end when it is nearing the gel stage.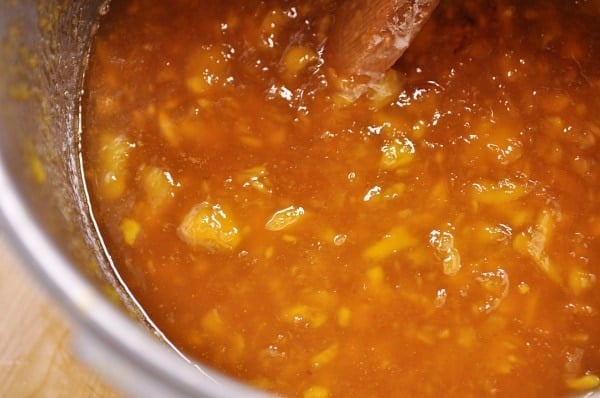 It will thicken and darken as it cooks.
Next you will ladle the hot jam into your prepared jars.  Use a ladle or funnel. Leave a half inch air space at the top.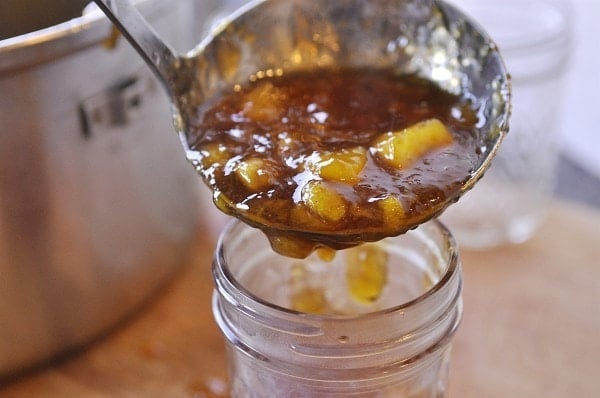 After filling the jars be sure and wipe the lip of the jar off so that nothing interferes with the sealing process.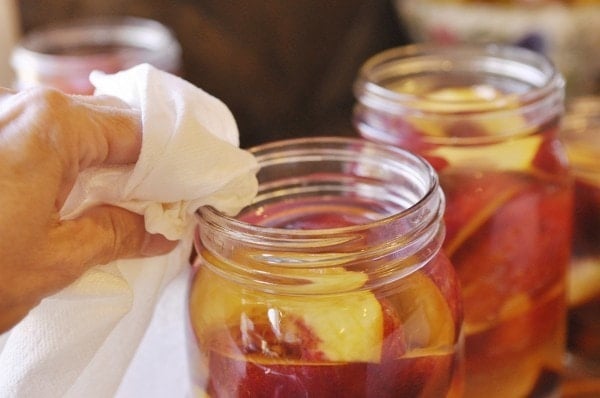 Using your handy dandy magnetic lid lifter place your boiled lids and rings onto the jars.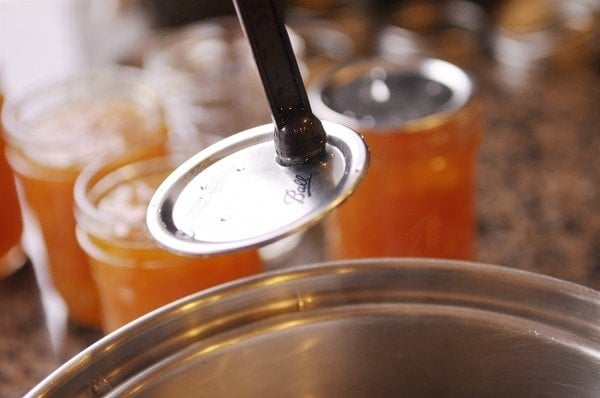 You are then ready to process your fruit.  If you are using a hot bath canner fill the canner about half way with water and allow the water to simmer while you are preparing your jars.  Place your jars into the water and then put the lid on.  Turn up the heat and once the water comes to a full boil start your processing time.
Peach jam only processes for 10 minutes.
After the processing time remove your fruit from the canner and allow it to cool on the counter.  The best part is listening for those lids to pop!  This means that the jar sealed.  You will want to check all of your lids to make sure they are sealed and they no longer pop up and down.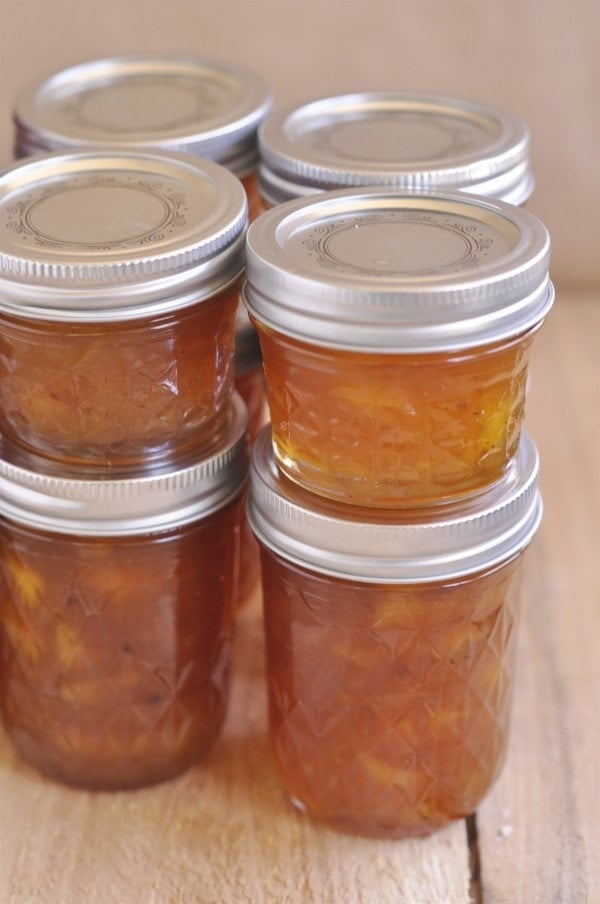 There is nothing more satisfying than a table or shelf full of home canned fruit!  I leave mine out on the table for a few days just so I can look at it!  Nothing beats the flavor of home processed fruit or jam.
One of my other favorite things to can is this Canned Salsa.
Enjoy!
Leigh Anne
You can also visit me on Facebook, Pinterest, Twitter,  Instagram
and Google+
For a list of where I Link Up each week go here.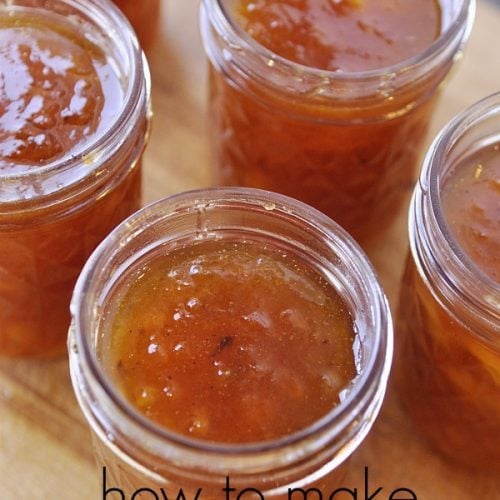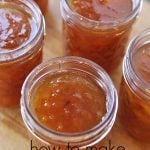 Print
Peach Jam
Ingredients
4

lbs

peaches

about 8 large or 15 small

2

Tbsp

lemon juice

bottled

4 1/ 2-5

C

sugar

depending on sweetness of fruit

1/2

tsp

nutmeg
Instructions
Prepare peaches by peeling, pitting and cutting into small pieces

Place in food processor and pulse until fruit is desired consistency

Put peaches, lemon juice, sugar and nutmeg into a heavy saucepan over medium heat.

Stir to dissolve sugar

Bring to a boil and boil rapidly, stir constantly until the jam is thick and reaches the jell stage (220 F or 105C)

Remove from heat and let stand for about 5 minutes. Remove any foam that may have formed on the surface.

Pour into warm jars. Clean the rims and place lid and ring on.

Process in steam canner or hot water bath for 10 minutes.