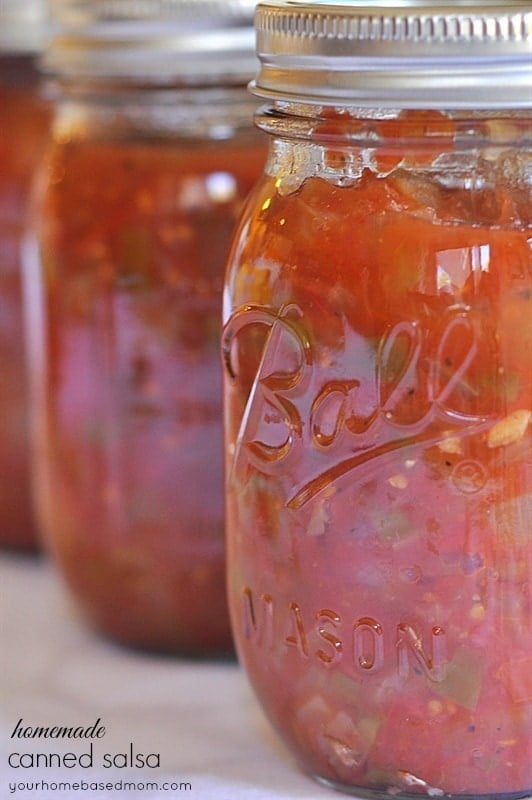 I use to can a lot – peaches, pears, apple pie filling, grape juice etc.  Those were the good old days.
It's been years since I got out that old hot bath canner.  In fact it has been so many years that when I went to look for it this weekend I couldn't find it.  We're thinking it is up in the attic behind all the Christmas decorations with all the empty canning jars I don't use any more!
I decided that I wanted to can some salsa this year.  Every time I go to Utah and stay with my niece Emily she opens up a jar of her yummy, home canned salsa.  I love it and I didn't want to have to wait until my next trip to Utah to enjoy some.
So with some tomatoes from the garden (what was left of them) as well as some from the grocery store I enlisted the help of my husband to do the chopping.  One thing you should know about me – I don't chop onions. They make me bawl like a baby!  I usually buy the bags of frozen chopped onion (did you know you could do that?) but the salsa recipe called for a lot of onion so Jim chopped it for me.  He also chopped the peppers and  come to think of it he chopped the tomatoes too.
I guess I better say Jim made salsa.
This particular salsa recipe is a very mild one, in fact it is sweet.  It uses very mild peppers – green peppers and anaheim peppers.  If you wanted some heat you could add in some jalapenos but I quite like it just the way it is – sweet!
Since climbing up in the attic and digging behind the Christmas boxes to find the hot bath canner wasn't really an option I borrowed my neighbors steamer/canner. It was great and I can't wait to get my own.   After cooking and simmering the salsa on the stove top for 3 hours I processed it for 15 minutes.
The recipe ended up making 9 pint size jars of salsa.  I canned 8 and we enjoyed the rest with chips for lunch!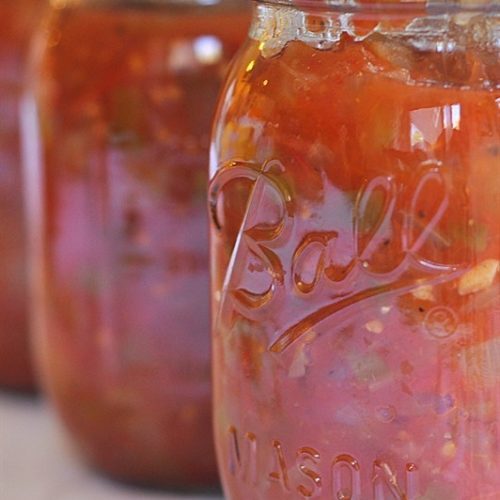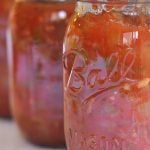 Print
Canned Salsa
Ingredients
16

C

tomatoes

blended. Do not pulverize, you still want some chunks

5

green peppers

chopped

5

onions

chopped (I only used 4)

4

anaheim peppers

chopped fine

4

cloves

garlic

1 1/2

C

brown sugar

3

Tbsp

salt

1

Tbsp

pepper

2

C

apple cider vinegar
Instructions
Put all ingredients into pot

Boil down for 3-4 hours

Put into pint jars

Process for 15 minutes

Makes 8-10 pints