Canning Salsa is easy and the flavor is amazing. It is a perfect combination and sweet and heat.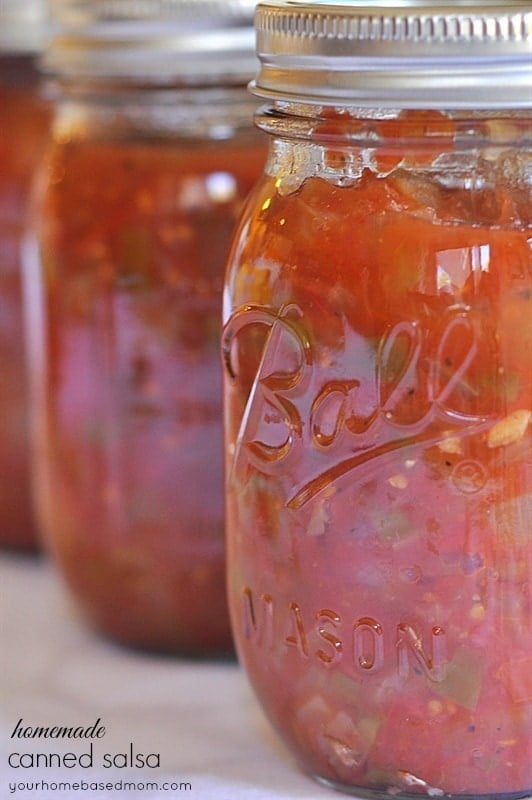 I use to can a lot. We canned peaches, pears, apple pie filling, grape juice etc. Those were the good old days.
Recently, after visiting my niece Emily in Utah and enjoying some of her home canned salsa I decided it was time to try my hand at canning again.
It's been years since I got out that old hot bath canner. In fact, it has been so many years that when I went to look for the canner this weekend I couldn't find it. It is lost somewhere up in the depths of our attic. So instead, I borrowed my neighbors steamer/canner. and it was great and I can't wait to get my own.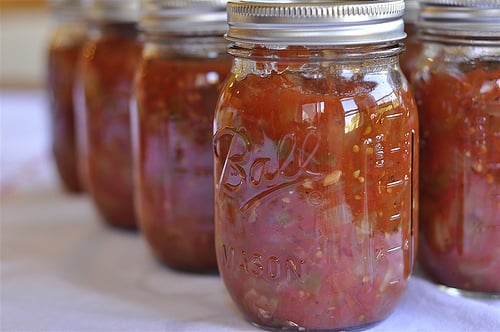 Ingredients Needed
Tomatoes. I used the tomatoes I had left in my garden which was a combination of roma tomatoes and Early Girl tomatoes. A meaty tomato works best for salsa. If you like chunky salsa chop your tomatoes by hand. I like to put mine in the blender and pulse them a few times but don't pulverize them though!
Onions. One thing you should know about me is that I don't chop onions. They make me bawl like a baby! This salsa recipe calls for a lot of onion so Jim chopped them for me. He also chopped the peppers and come to think of it he also chopped the tomatoes too. I guess I better say Jim made salsa.
Peppers. This particular salsa recipe is a very mild one, in fact it is sweet. It uses very mild peppers such as green peppers and Anaheim peppers. If you wanted some heat you could add in some jalapenos but I quite like it just the way it is, sweet!
Garlic. Fresh and minced.
Brown Sugar. This salsa is fairly sweet so if you prefer less sweet salsa, use less sugar.
Salt and Pepper
Apple Cider Vinegar
Should I Leave the Skins on My Tomatoes?
This is totally personal preference. Since I usually blend my tomatoes up, I leave them on. If you are chopping your tomatoes you might want to remove them.
Follow the easy steps for removing the tomato skins in this post.
How to Make Cooked Salsa
Place all your ingredients into a big pot and bring to a boil.
Reduce heat and simmer on the stove for 3 hours.
Pour salsa into clean, sterilized jars. I use pint size jars.
Process in water bath canner or steam canner for 15 minutes..
The recipe ended up making 9 pint size jars of salsa. I canned 8 and we enjoyed the rest with chips for lunch!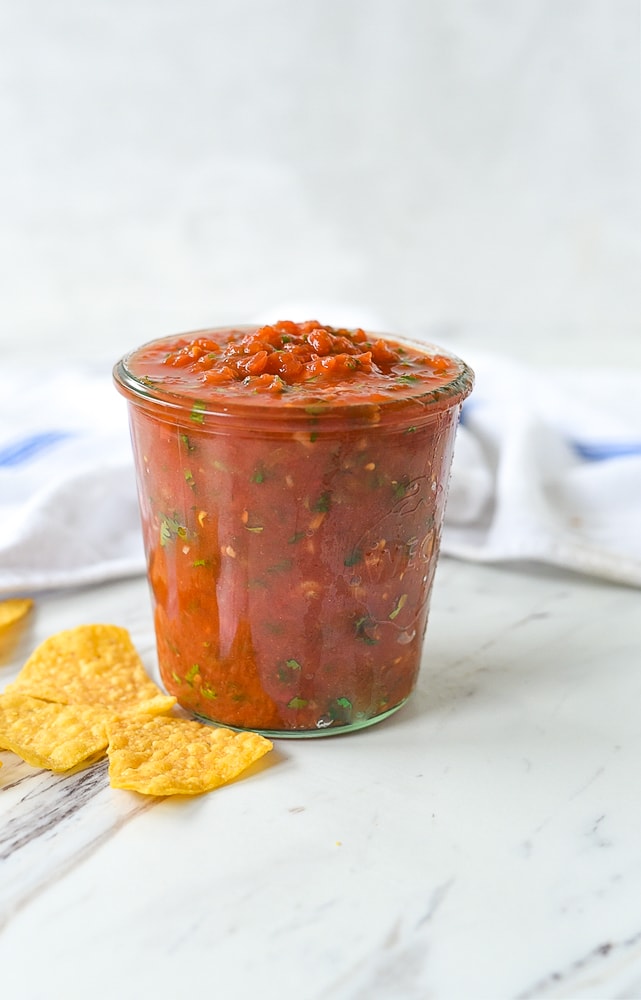 Try these other salsa related recipes:
Be sure and follow me over on You Tube for weekly cooking demos.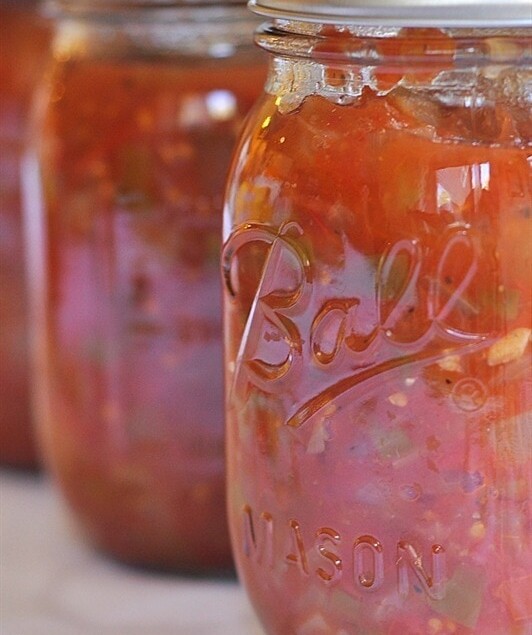 Canned Salsa
Canning Salsa is easy and the flavor is amazing. It is a perfect combination and sweet and heat.
Ingredients
16 cups tomatoes blended. Do not pulverize, you still want some chunks
5 green peppers chopped
5 onions chopped (I only used 4)
4 anaheim peppers chopped fine
4 cloves garlic
1 1/2 cups brown sugar
3 Tbsp salt
1 Tbsp pepper
2 cups apple cider vinegar
Instructions
Put all ingredients into pot

Boil down for 3-4 hours

Put into pint jars

Process for 15 minutes

Makes 8-10 pints
Nutrition Facts:
Calories: 246kcal (12%) Carbohydrates: 58g (19%) Protein: 4g (8%) Fat: 1g (2%) Saturated Fat: 1g (6%) Sodium: 2439mg (106%) Potassium: 935mg (27%) Fiber: 6g (25%) Sugar: 48g (53%) Vitamin A: 2456IU (49%) Vitamin C: 97mg (118%) Calcium: 88mg (9%) Iron: 2mg (11%)
* Disclaimer: All nutrition information are estimates only. Read full disclosure here.