For more pretty and delicious be sure and follow me on Instagram.
I know a lot of people have a green dinner to celebrate St. Patrick's Day.  I like green food but I don't like food that is green that is not suppose to be green (i.e., eggs, potatoes, pancakes etc.)  So instead of celebrating with a "green dinner" I'd rather celebrate with a little more traditional cuisine.  Corned Beef seems to be a favorite choice.  Now I have been to Ireland and must admit I never was served or ate corned beef while I was there. I'm thinking we here in the US eat a lot more corned beef to celebrate St. Patrick's Day than they do in Ireland.  Any Irish readers want to weigh in on this?  Would love to know what you have to eat to celebrate!
So what is corned beef?  That is the question my husband asked me the other day after having eaten corned beef.
Honestly, I couldn't answer him so guess what I did?  Yes, I googled it.  Here's what I found: Corned Beef is a salt cured beef product and probably became popular in the 17th century when they began curing meat with salt. For me, corned beef is more like ham than it is like beef.  It has the salty flavor and similar texture.
I decided to try cooking the corned beef in the slow cooker.  It works and it works well.  You end up with a really nice tender, tear apart piece of meat and it is so simple to do.  After a little research I discovered that a flat cut corned beef was the way to go.  It is lean and when cooked properly, it is tender and flavorful. Sliced against the grain, the slices of corned beef are fantastic for sandwiches the next day, or they can be diced for a wonderful meal of corned beef hash.  I bought mine at Costco.
Cooking it is easy.  I just placed it in my slow cooker and sprinkled the seasoning packet that comes with it on the top.  I also poured in 4 cups of beef broth.  It did not quite cover the corned beef all the way.  I then set it on low for 8-9 hours.
About half way through I added my potatoes and carrots so they didn't get too mushy.  Of course to make it more authentic you could also add some cabbage but I don't care for cabbage and care even less for the way it smells while it is cooking.  It takes me back to those days when the school cafeteria fixed it!  Don't add the cabbage until the last hour though if you are going to use it.
Slice the corned beef like you would a brisket, across the grain.  It will be nice and tender and basically pull apart.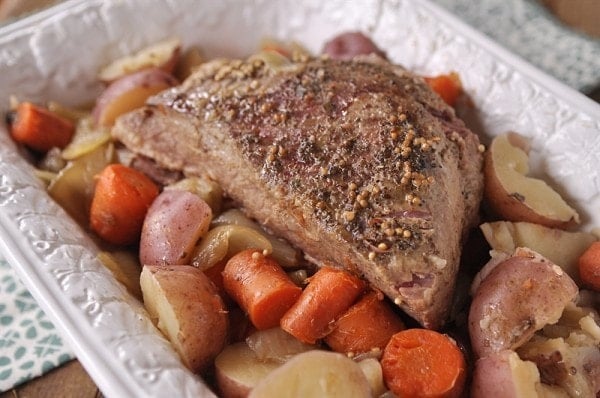 Of course leftovers make a good sandwich or chop some up for corned beef hash!
For some other fun green food ideas check out these: (Click on photo)
Slow Cooker Corned Beef
Ingredients
1 3-4 lb. corned beef with spice packet, flat cut
4 carrots, cut into pieces
8 small red potatoes, halved or quartered depending on size
1 onion, peeled cut into chunks
4 C beef broth
½ head cabbage, coarsely chopped
Instructions
Place brisket into slow cooker
Add beef broth
Sprinkle meat with seasoning packet
Cook on low for 8-9 hours
Half way through cooking process add vegetables
If using cabbage add that one hour before ready to eat.
Enjoy!
Leigh Anne
You can also visit me on Facebook, Pinterest, Twitter or Instagram.