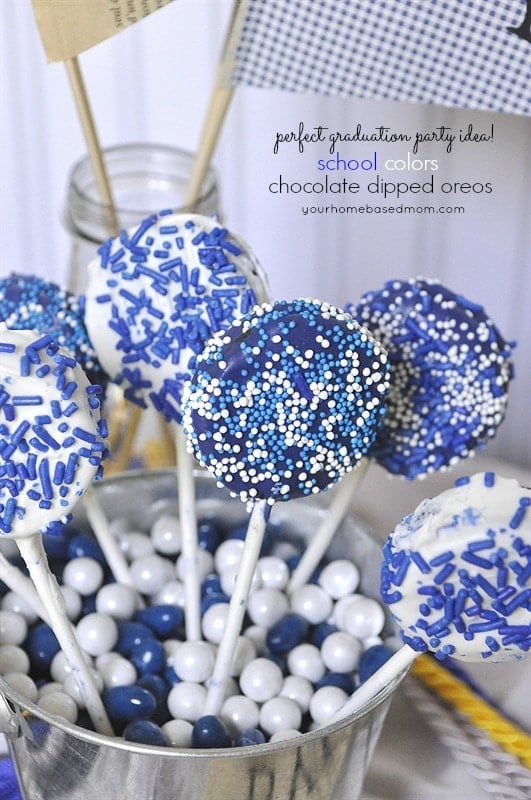 For more graduation party ideas go here.
If you follow me on Instagram you know that we just had a big event in our family.  Our baby graduated from college.  Yikes!  Not sure how I could possibly be that old but we are proud and she is off to the Big Apple to live her dream.  Mom's just a little nervous.  She had only been in New York City for 24 hours and I think I had called or texted her a dozen times to see how she was.  When her phone died for a couple of hours and I couldn't get a hold of her I almost called the police. I should never have watched the movie "Taken."   I am sure I will get better but I hope I survive this!!!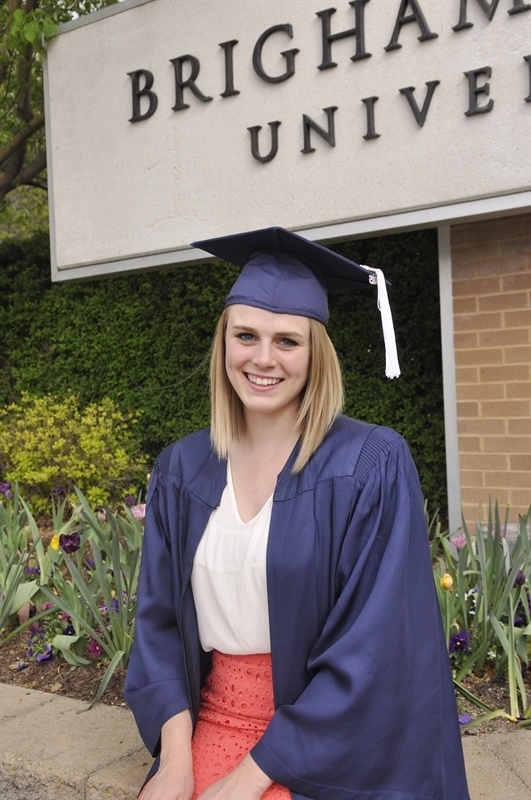 With Tessa graduating from BYU we have a perfect record.  All four children and my husband and I all graduated from BYU.  Our daughter in law graduated from BYU too and both our son and daughter in law received their law degrees from BYU!   That makes 9 degrees from BYU for our family.  While we were Utah we had a family photo taken and had this fun photo taken showing our years of graduation from BYU.

It just seems like yesterday that Tessa graduated from high school.  You may remember the fun Smart Cookie Graduation Party we had for her.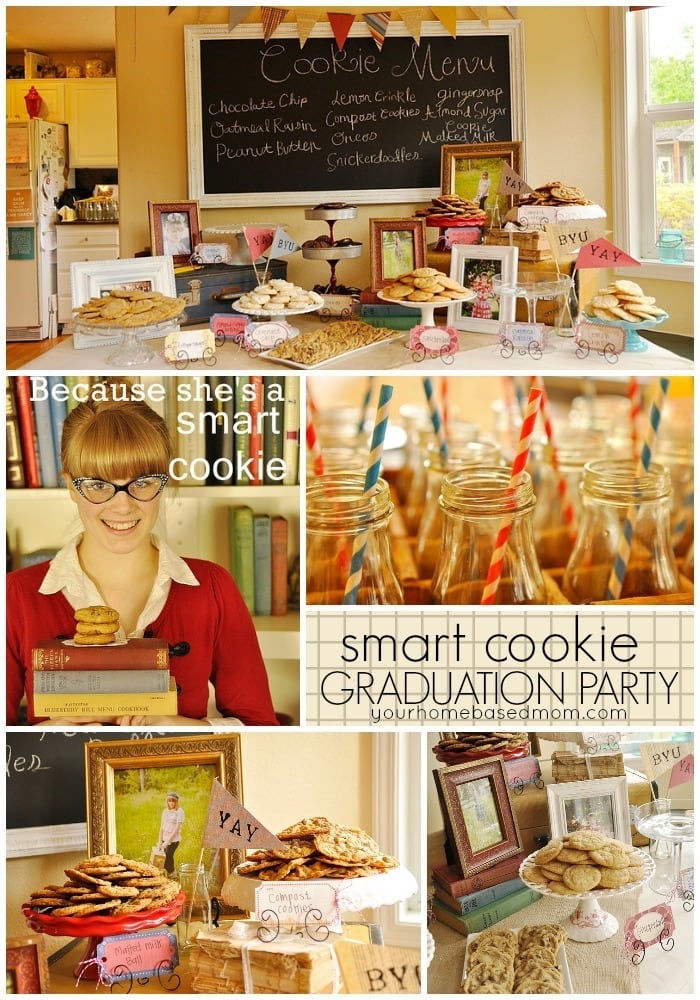 The party was a huge hit and pretty easy to do. For more details be sure and check out the blog post.  Today I'm sharing an idea that would be perfect for a Smart Cookie Graduation Party or any graduation party.   School Colors Chocolate Dipped Cookies are sure to be a hit and also look so fun and festive on the table.
You could use the colors of the high school they are graduating from or the college they are going to.  Today we are using BYU Blue and White!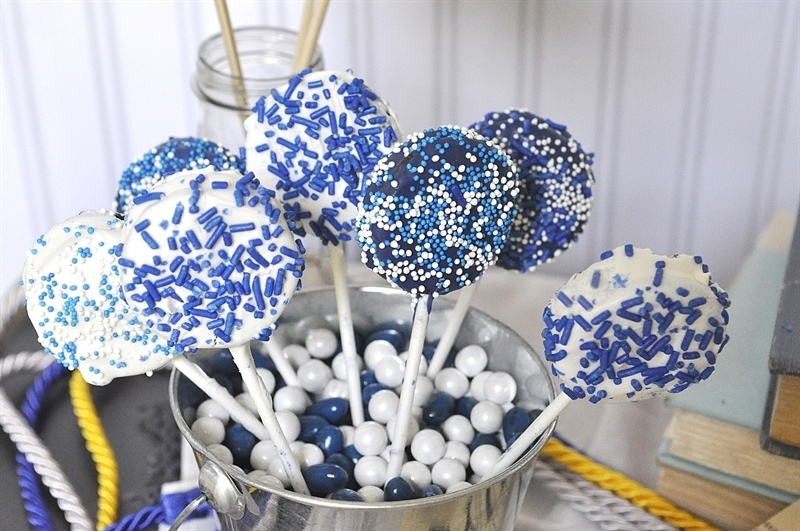 The process is fairly simple.  You will need Wilton Candy Melts and sprinkles in the colors of your school,  Double Stuffed Oreos and lollipop sticks.   Carefully remove one side of the cookie.  There will be breakage but that's o.k., you can still use them.  The chocolate coating will cover a multitude of mistakes.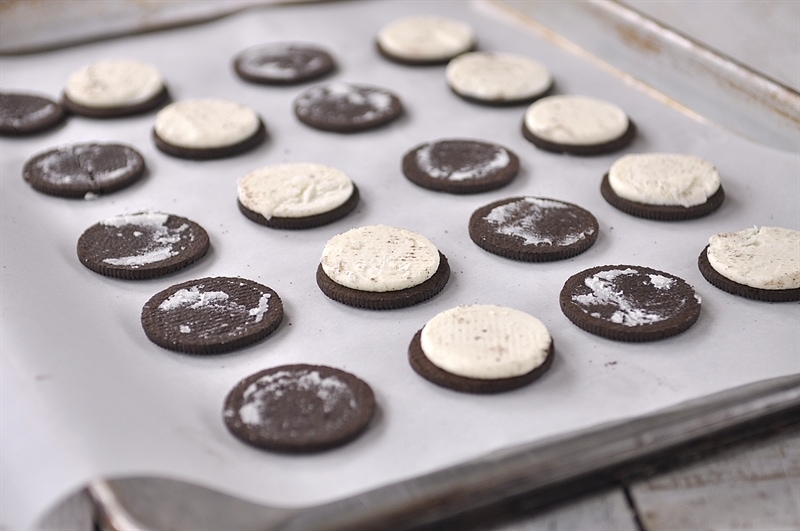 Melt your chocolate.  I do mine in the microwave and then add a dollop of chocolate onto the cream filling and gently press the lollipop stick into it. Gently!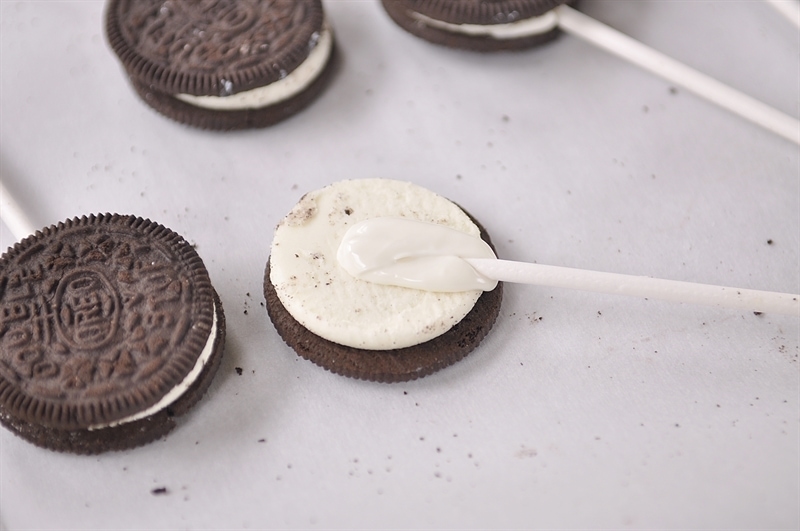 Place the other half of the cookie on top and press gently down.  Again, prepare for breakage.  Note the broken cookies in the photo below.  The melted chocolate will hold the cookie together as it sets up.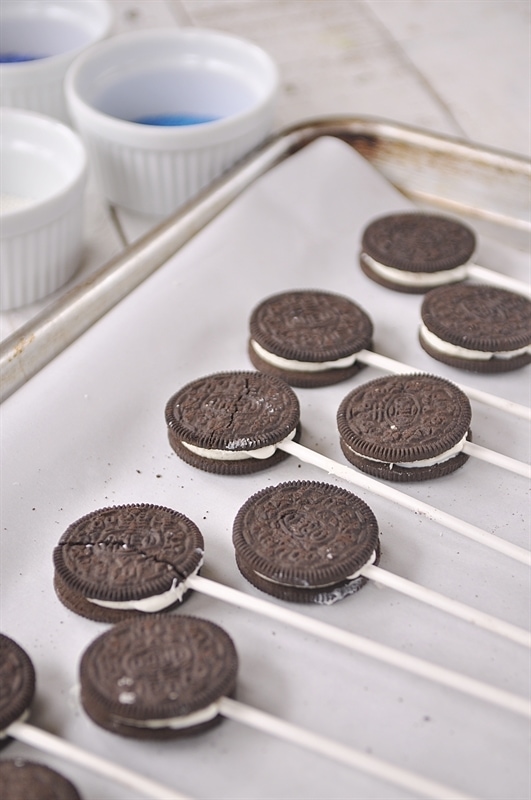 Now dip your cookie lollipop, gently, into the melted chocolate, coating all sides.  I used a spoon to scoop the chocolate up to help cover better.  My chocolate may have been a bit thick so it didn't cover really smoothly but that is o.k. because the sprinkles covered it up!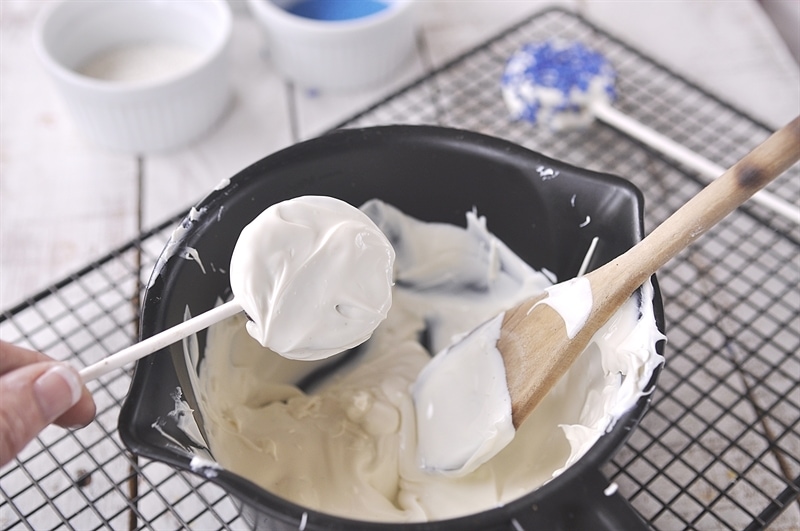 Then add your sprinkles in your school colors.  I used a combination of two colors of blue and white.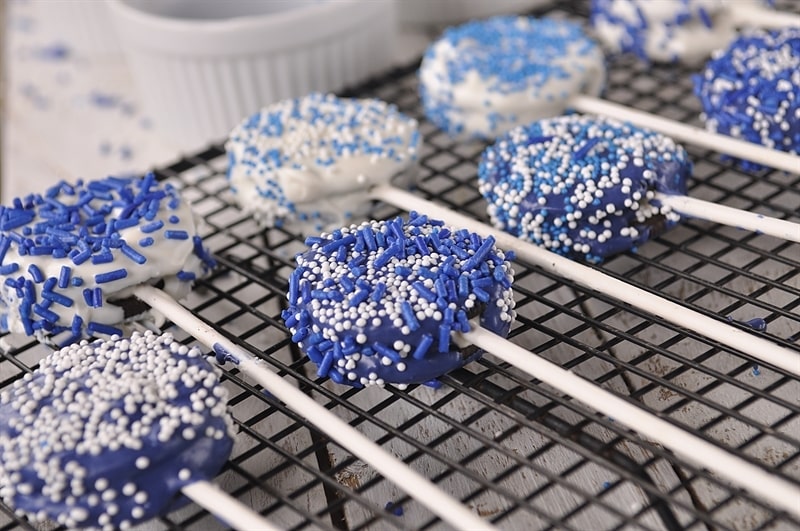 I let mine set up on a wire baking rack.  I wish I had placed them on parchment paper or wax paper as I had a little difficulty getting them off.  Be sure that the chocolate is hardened completely .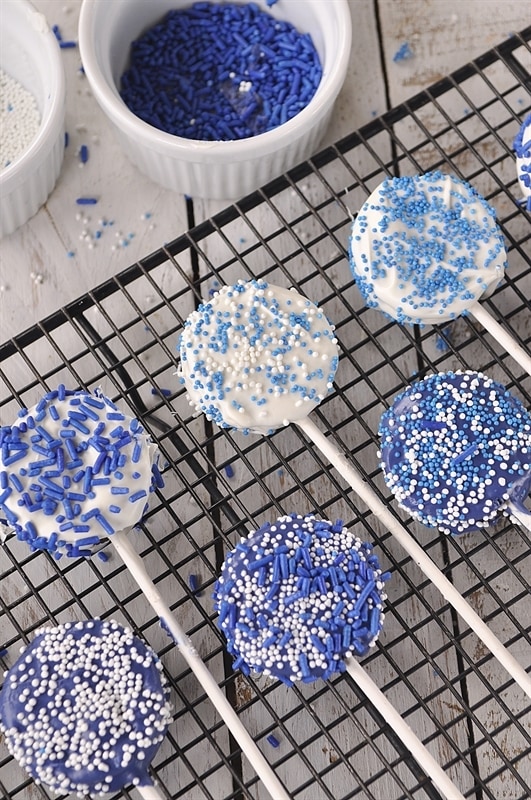 I filled a little bucket full of blue and white candy.  I used  Blue Jelly Bellies and White Sixlets and placed the Cookie Lollipops in there adding in some cute little BYU pennants too.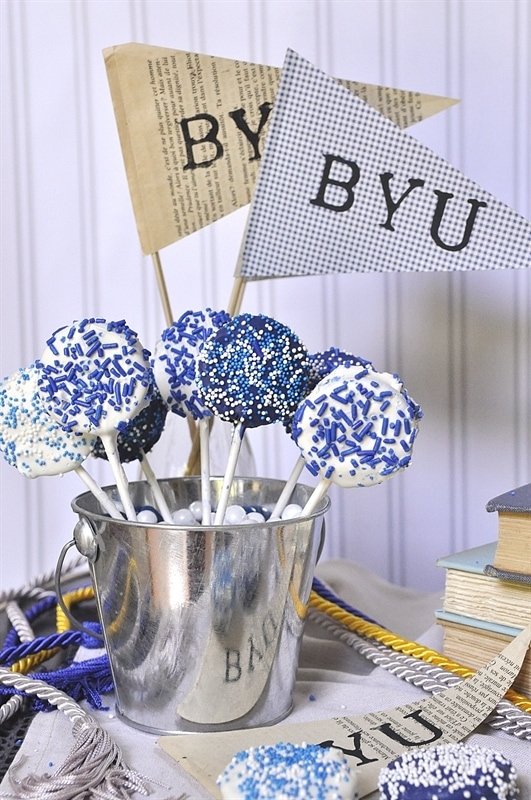 Aren't they fun, cute and yummy to eat!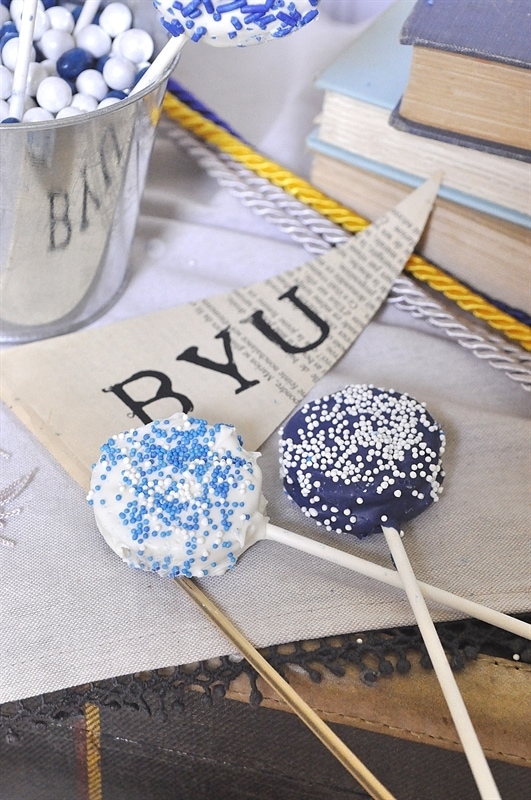 They would be a fun gift to give to a graduate too.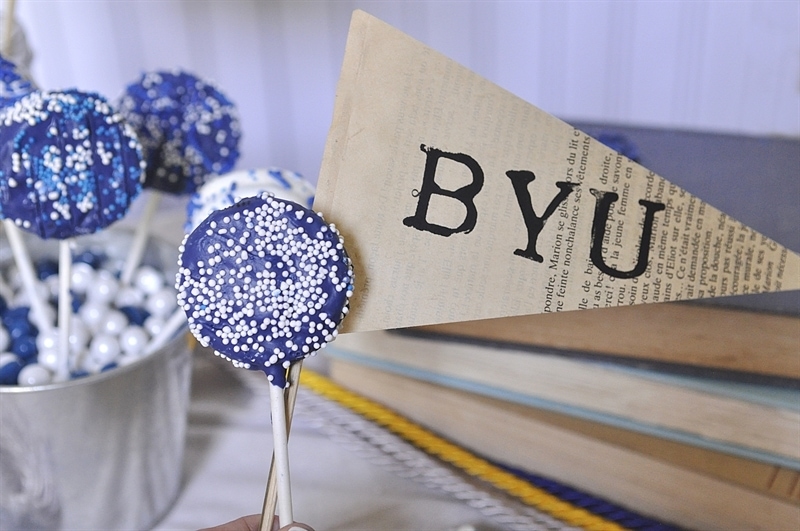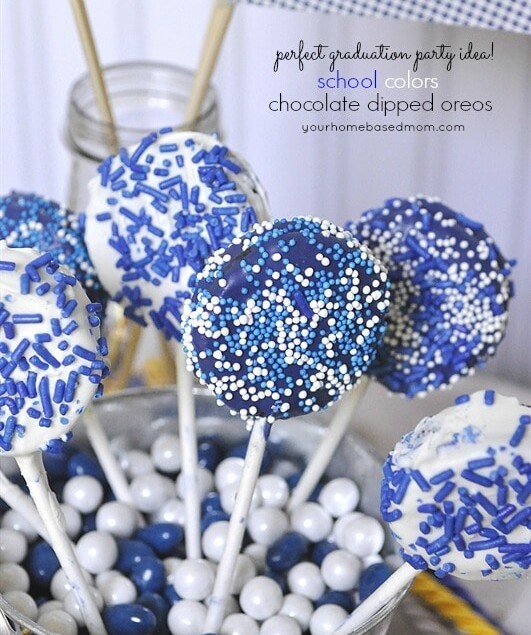 School Colors Chocolate Covered Oreos
Ingredients
Double Stuff Oreos
Wilton Candy Melts in school colors
Sprinkles in school colors
Lollipop Sticks
Instructions
Remove top of cookie.

Melt chocolate.

Melt chocolate and place a dab on the cream filling of the cookie and gently press a lollipop stick into it.

Top with the other half of the cookie.

Allow to set up.

Gently dip into melted chocolate covering all sides.

Add sprinkles.

Place on parchment paper or wax paper and allow to harden.