Wonton Soup is a fast and easy dinner you can prepare for your family. Perfect for any busy night, it only takes about 15 minutes to prepare!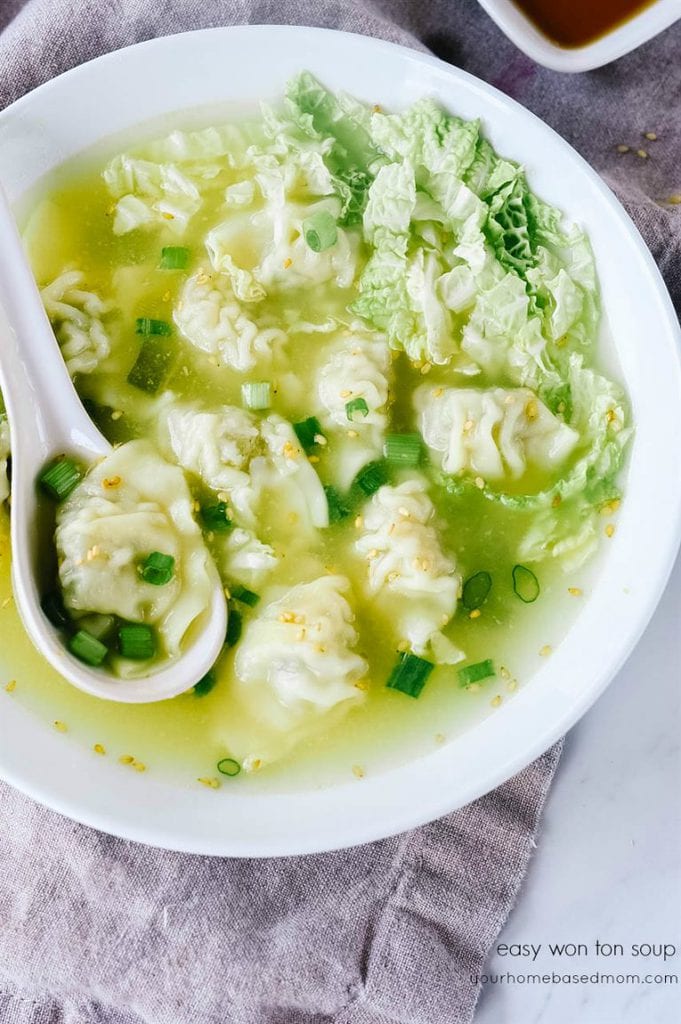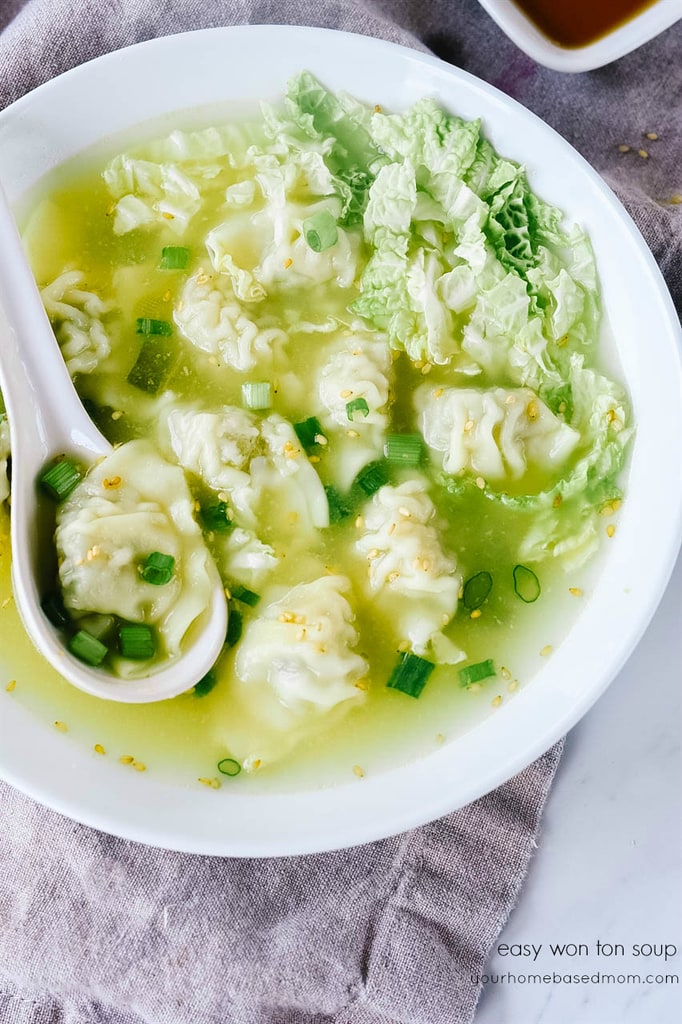 Years ago, in my pre-blogging days, I use to hold scrapbooking workshops at my home. Women would arrive about 6:00 pm and leave at midnight. We called them Midnight Madness. I loved those workshops and really developed close friendships with many of the women as I helped them sort, organize and journal photos from their life. Besides lots of photos there was always food. I always served pizza and a yummy salad along with something delicious for dessert. There was always a lot of talk about food too. Everyone loved sharing ideas about what they fixed for dinner for their family and sharing easy recipe ideas.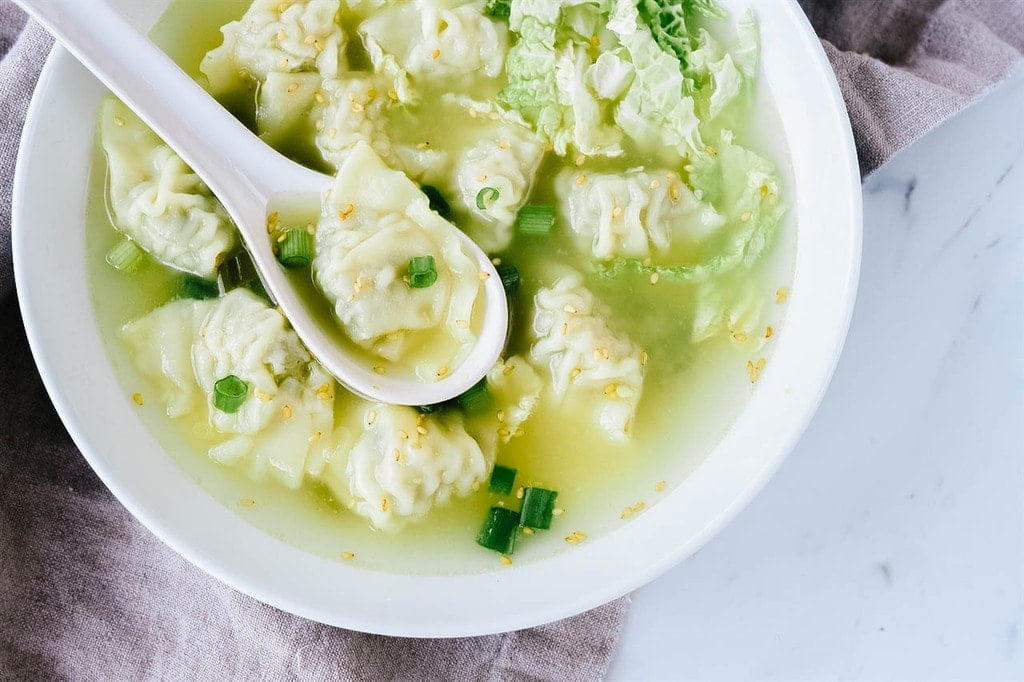 One night, one of my friends shared today's recipe with the group, a recipe for Wonton Soup. She said her family loved it and she loved it because it was so easy to make. I couldn't wait to try it out on my family and it quickly became a favorite. I especially loved it because it was so easy. The recipe uses frozen wontons. I like to buy them either at Trader Joes, where they call them gyoza, or at Costco. I prefer the chicken ones but there are other flavor combos available too.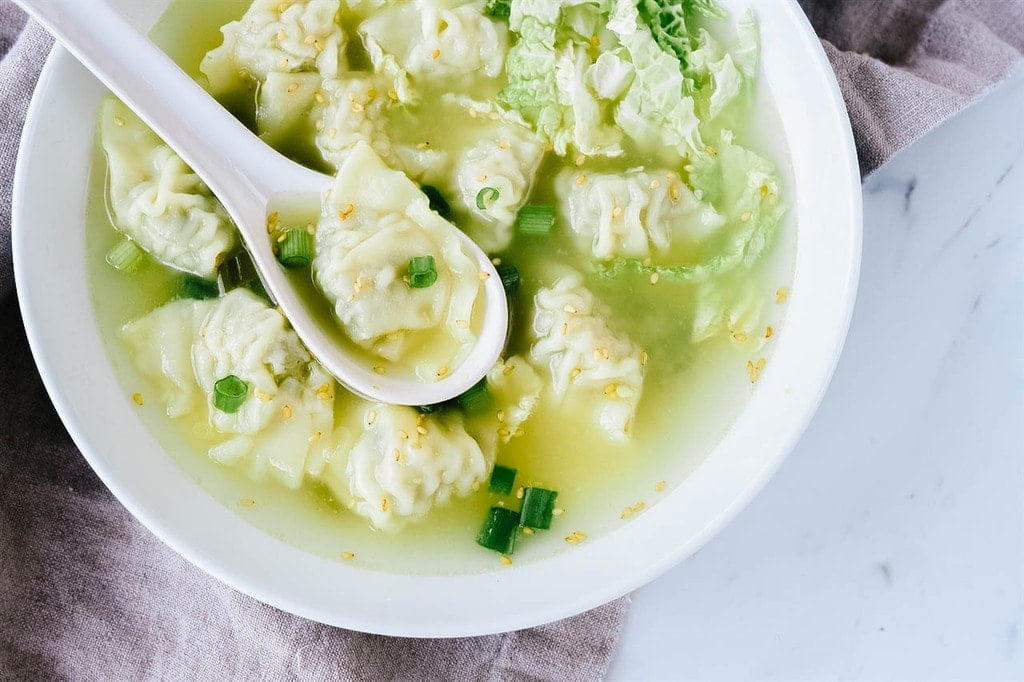 How to Make Wonton Soup
In a large pan combine chicken broth, water, ginger, garlic and a portion of the green onions. Bring it to a boil and allow it to simmer for about 5 minutes for flavors to come together.
You can then strain out the garlic and green onions if you like but I just leave them in for even more flavor.
Bring soup to a boil and add in frozen pot stickers. You do not need to thaw the pot stickers. The amount of wontons will depend on their size. The Costco ones are fairly small and I added in 25 of them. The Trader Joe ones are larger so I'd use less. I like a wonton in every bite!
Cook the wontons in the broth for the length of time called for on your wonton package. Usually about 8 minutes or so.
A few minutes before the end of the cooking time you can add in the cabbage. If you want the cabbage crunchier just add it in before serving (this is what I do)
Remove from heat and add in sesame oil and check if any additional seasoning needs.
Top wonton soup with some freshly sliced green onions before serving and toasted sesame seeds if desired.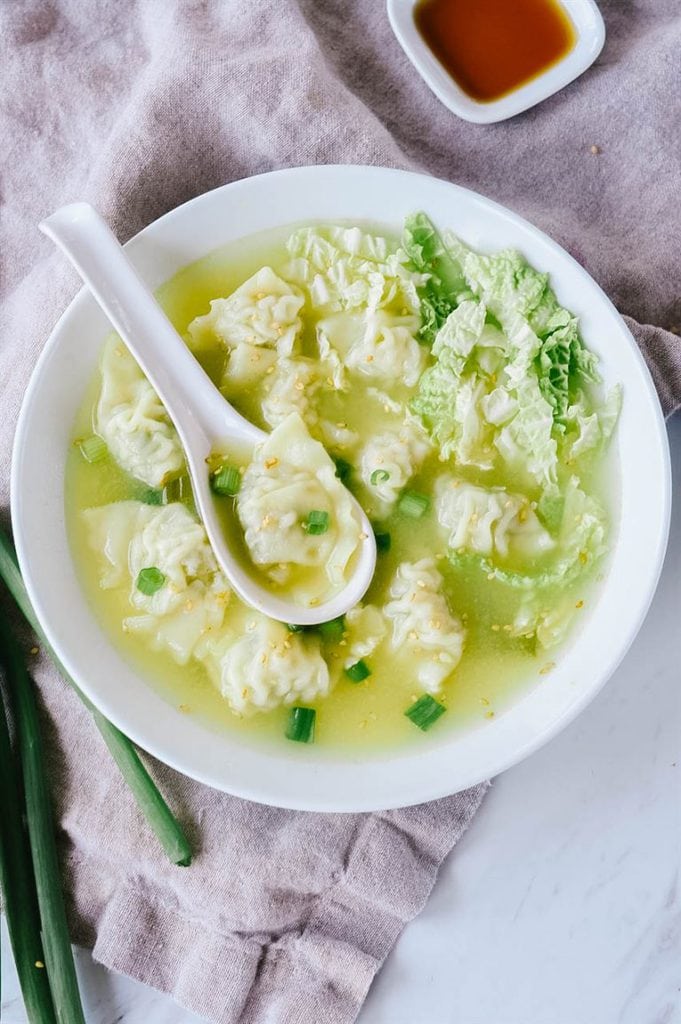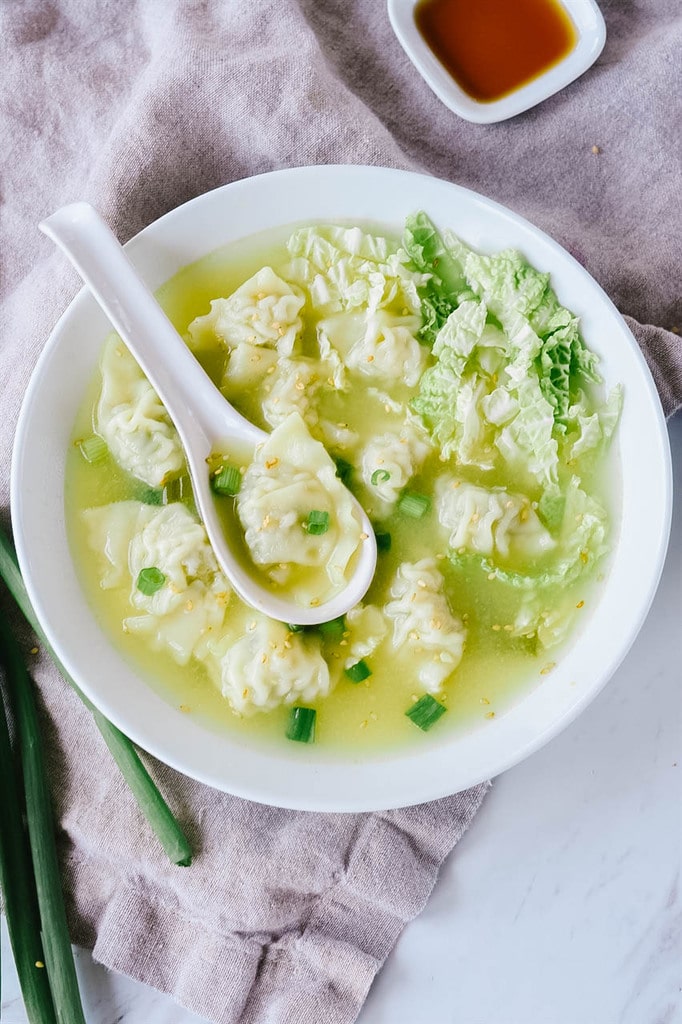 Check out these other easy soup recipes:
For all of my other favorite kitchen products and tools visit my Amazon Store.
Did you know I wrote a cookbook? Check out the Holiday Slow Cooker Cookbook for 100 delicious recipes
Wonton Soup Recipe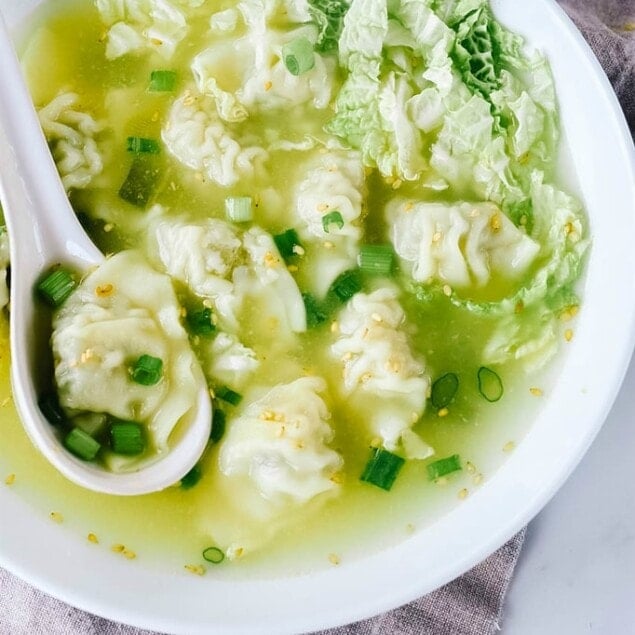 Wonton Soup
Wonton Soup is a fast and easy dinner you can prepare for your family. Perfect for any busy night, it only takes about 15 minutes to prepare!
Ingredients
6 green onions diced
6 cups chicken broth
1/2 tsp ginger minced
1 tsp garlic minced
25 frozen wontons
2 cups napa cabbage sliced thinly
1 tsp sesame oil
1 tsp toasted sesame seeds for garnish
Instructions
Slice green onions and set a few aside for garnish

In a large sauce pan, over medium heat, combine chicken broth, green onions, ginger and garlic. Bring to a boil and simmer for 5 minutes. Strain and remove green onions and garlic if desired.

Add in frozen wontons and cook according to directions on package, about 8 minutes probably.

Two minutes before done cooking, add in cabbage or add it in when you remove soup from the heat for a crunchier texture.

Remove soup from heat an add in sesame oil. Stir to combine and serve

Garnish with reserved green onion and toasted sesame seeds.
Nutrition Facts:
Calories: 344kcal (17%) Carbohydrates: 54g (18%) Protein: 10g (20%) Fat: 11g (17%) Saturated Fat: 1g (6%) Cholesterol: 5mg (2%) Sodium: 1877mg (82%) Potassium: 422mg (12%) Fiber: 4g (17%) Sugar: 6g (7%) Vitamin A: 300IU (6%) Vitamin C: 51.9mg (63%) Calcium: 113mg (11%) Iron: 3.2mg (18%)
* Disclaimer: All nutrition information are estimates only. Read full disclosure here.