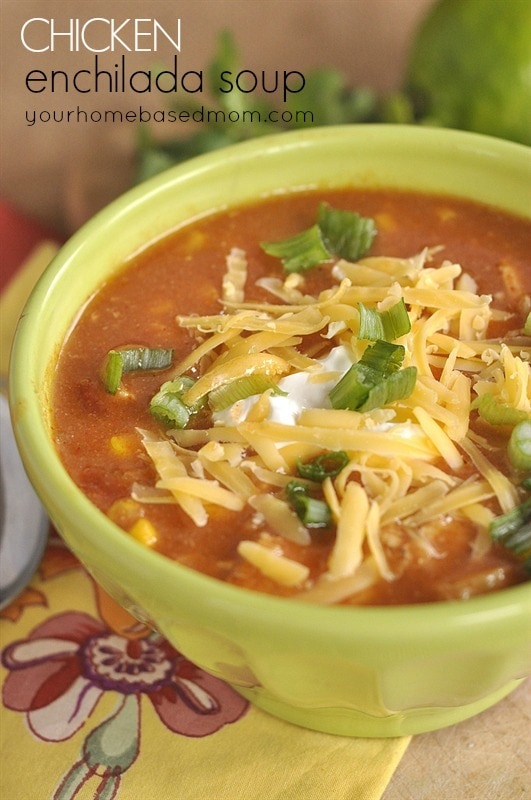 We are in major count down mode at our house.  We're not counting down the days until Christmas but rather counting down the days until the kids arrive home!!  The first one arrives home tomorrow and by Saturday evening they will all be home.  I'm just a little excited.
One of my goals is to have as much Christmas prep and blog work down before they get home as I can so that I can really enjoy my time with them and have as few distractions as possible.  So that has meant some long hours on the computer and some major time in the kitchen.  Earlier this week Jim arrived home from work, probably hoping for some dinner.
Instead he found a mess of a kitchen, lots of food, but nothing for dinner!  Not quite sure how that happened but I guess brownies, popcorn, and cookies aren't his first choice for dinner. It is on crazy days like that and crazy holiday seasons that I am grateful for a well stocked pantry.  I have a list of certain canned foods I like to keep on hand at all times because I know that there will always be something I can make for dinner. Here are some of my topped canned foods that I make sure are in my "can"try at all times:
I of course keep other canned food around but the above are my must haves. Fortunately for me last week, when Jim arrived home to a possible dinner of brownies, popcorn and cookies I also had a can of enchilada sauce in my pantry.  I quickly pulled out a few cans and combined those with some chicken I had in the freezer and I had a yummy dinner of chicken enchilada soup.
I think canned food gets a bad rap sometimes.  Actually, according to a University of California, Davis study, many canned fruits and vegetables have the same nutrients as their fresh or frozen counterparts. In addition to my can of enchilada sauce, I used a can of diced tomatoes, green chilies, corn and chicken broth and some other ingredients I had on hand and we had a delicious dinner.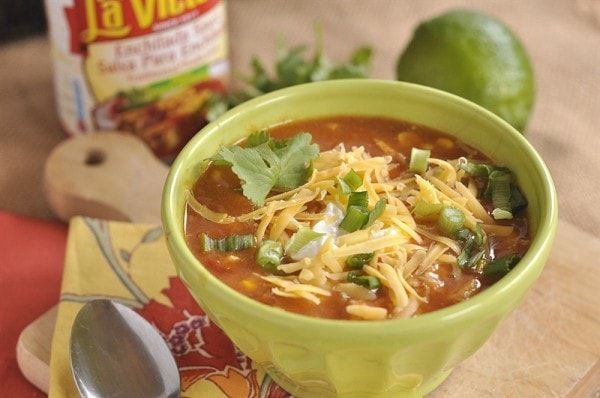 This soup tastes just like an enchilada!  The recipe calls for masa harina to thicken the soup.  Masa is a flour made from corn that used in a lot of Mexican cooking and to make tortillas.  It is easy to find in the ethnic section of your local grocery store.  The masa gives the soup a nice texture and authentic flavor.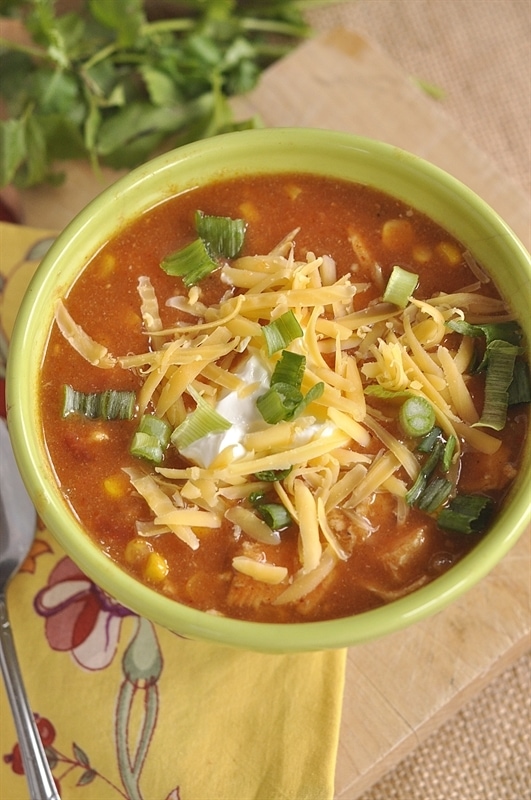 I topped the soup with some sour cream, cheddar cheese and green onions.  It would also be great with some tortilla chips crushed on top.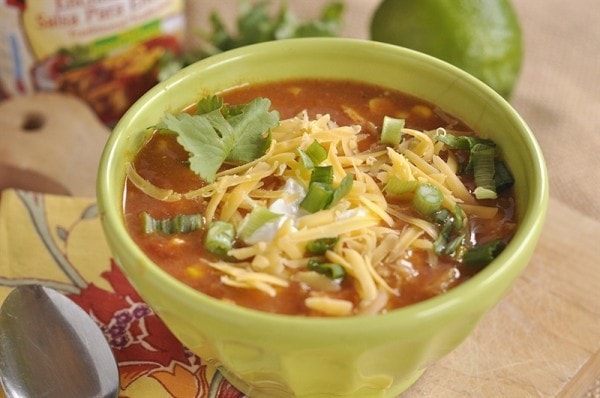 So thanks to my well stocked "can"try my husband didn't have to eat cookies for dinner. Not all of us can get our food directly from a farm but canned food is one of the best ways to get food from the farm to our family's table. The canning process locks in foods' freshness, flavor and nutrients at the peak of ripeness, just hours after picking. It's field to sealed!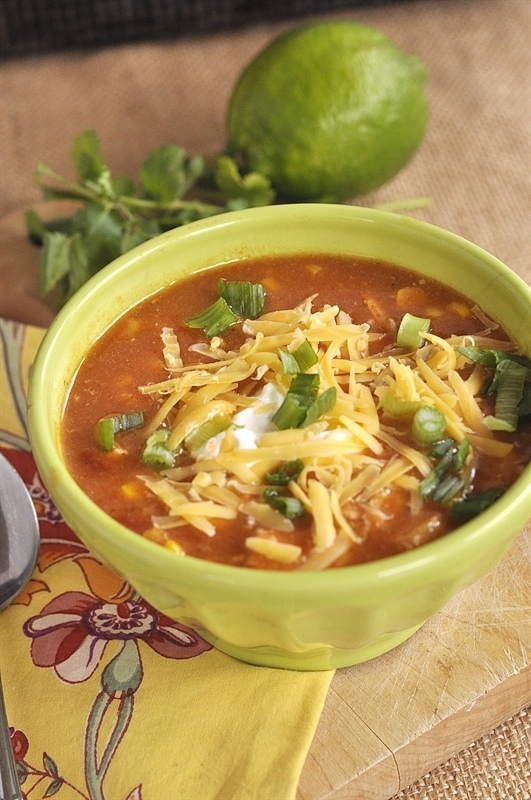 For more information about canned food, please read about the "Cans Get You Cooking" program which is dedicated to spreading the message that the ironclad technology of cans seals in freshness, flavor, nutrition, and goodness so that you can create meals you feel good about serving and that your family will love. Be sure to sure to visit CansGetYouCooking.com, like them on Facebook, follow them on Pinterest, or watch them on YouTube.
For a few other delicious soup recipes check out these:

French Onion Soup with Slow Cooker Caramelized Onions – Tarragon Chicken Soup – Steak Soup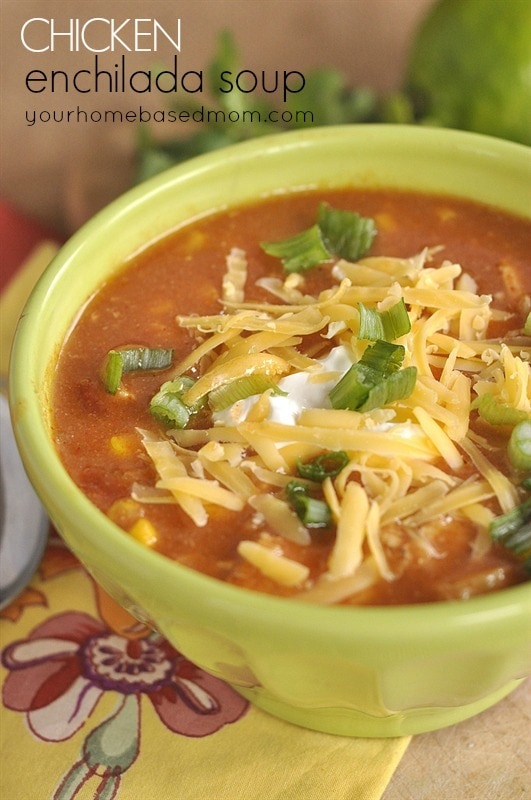 Chicken Enchilada Soup
Ingredients
2

C

of diced chicken

I used breast meat

1

Tbsp

olive oil

1/2

C

onion

diced

2

cloves

garlic

minced

4

C

chicken broth

1/2

C

masa harina

2

C

water

divided

1

C

enchilada sauce

1 4.5

oz.

can mild green chilies

1 12

oz.

can diced tomatoes

1

can corn

1/2

tsp

salt

1

tsp

chili powder

1/2

tsp

ground cumin
Instructions
Cook onion and garlic in oil until onions are translucent.

Add in chicken broth.

In a bowl combine 1 cup water with 1/2 C masa harina. Mix until well blended and smooth.

Add into chicken broth and stir to combine.

Add in remaining 1 C water, enchilada sauce, green chilies, corn and tomatoes into chicken broth mixture.

Add in salt, chili powder and cumin.

Bring to a boil.

Add in chicken and reduce heat and allow to simmer for 30-40 minutes, until thickened.

If it thickens too much add some additional water or chicken broth.
 Recipe adapted from allrecipes.com
Enjoy!
Leigh Anne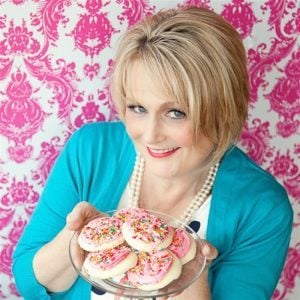 You can also visit me on Facebook, Pinterest, Twitter, Instagram
and Google+
For a list of where I Link Up each week go here
Disclaimer: This post was sponsored by "Cans Get You Cooking" which partnered with Mom It Forward for this campaign. However, all thoughts and opinions were my own. Recipe adapted from allrecipes.com
Stay Updated!
Need more recipes and creative ideas? Sign up and get a FREE copy of my ebook! Do you think your friends would love this too? Please share my blog with them. Thanks!