Chicken Enchilada Soup is a quick and easy way to get a delicious dinner on the table with things you have on your pantry shelf.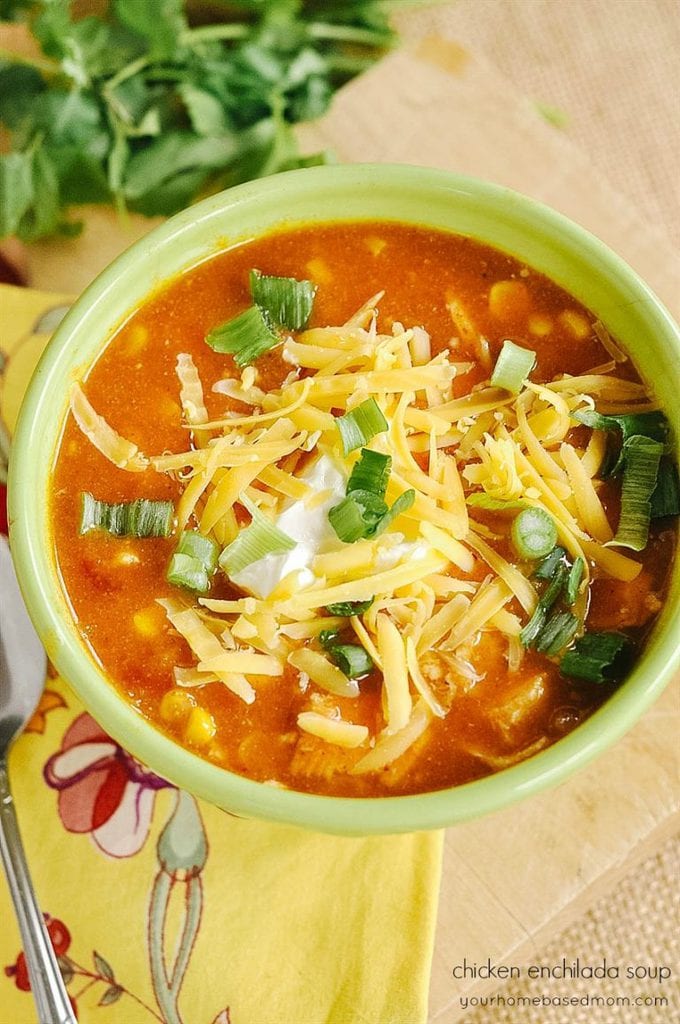 We've been having some crazy weather here in Portland.  Lots of rain and wind.  Just yesterday we had a fence blow down and a tree blow over!  It's perfect soup weather. Thanks to a well stocked pantry I was able to put together this chicken enchilada soup in a matter of minutes!
I have a list of certain canned foods I like to keep on hand at all times because I know that there will always be something I can make for dinner. Here are some of my topped canned foods that I make sure are in my "can"try at all times:
I have other canned food around but the above are my must haves. I had everything I needed to make up a batch of easy and nutritious enchilada soup.  In addition to my can of enchilada sauce, I used a can of diced tomatoes, green chilies, corn and chicken broth and some other ingredients I had on hand and we had a delicious dinner.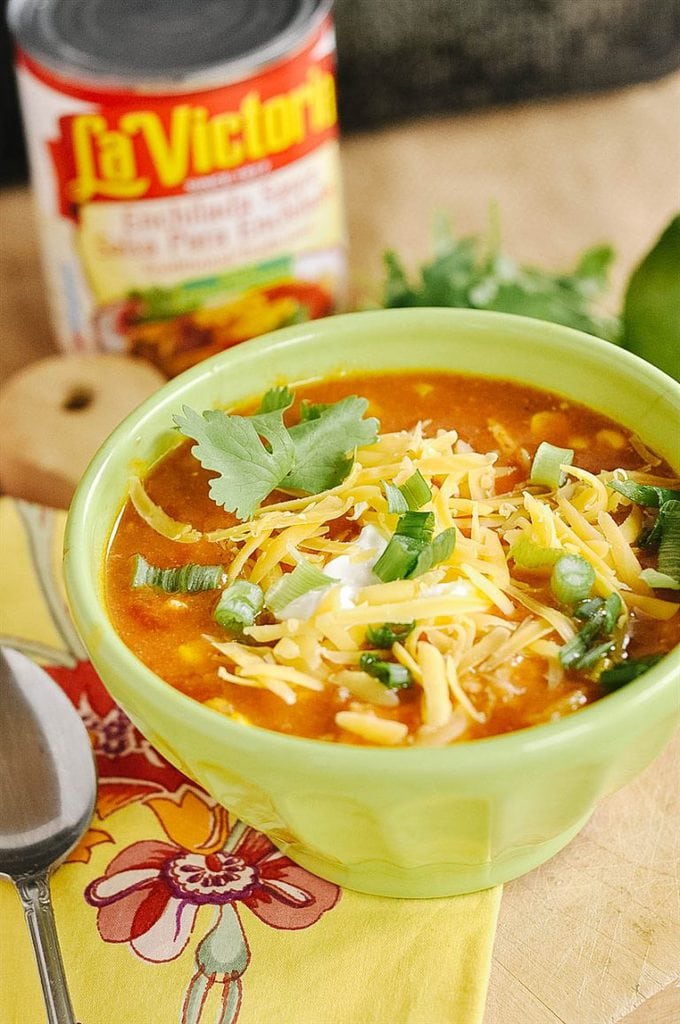 What is Chicken Enchilada Soup?
This soup tastes just like an enchilada!  The recipe calls for masa harina to thicken the soup.  Masa is a flour made from corn that used in a lot of Mexican cooking and to make tortillas.  It is easy to find in the ethnic section of your local grocery store.  The masa gives the soup a nice texture and authentic flavor.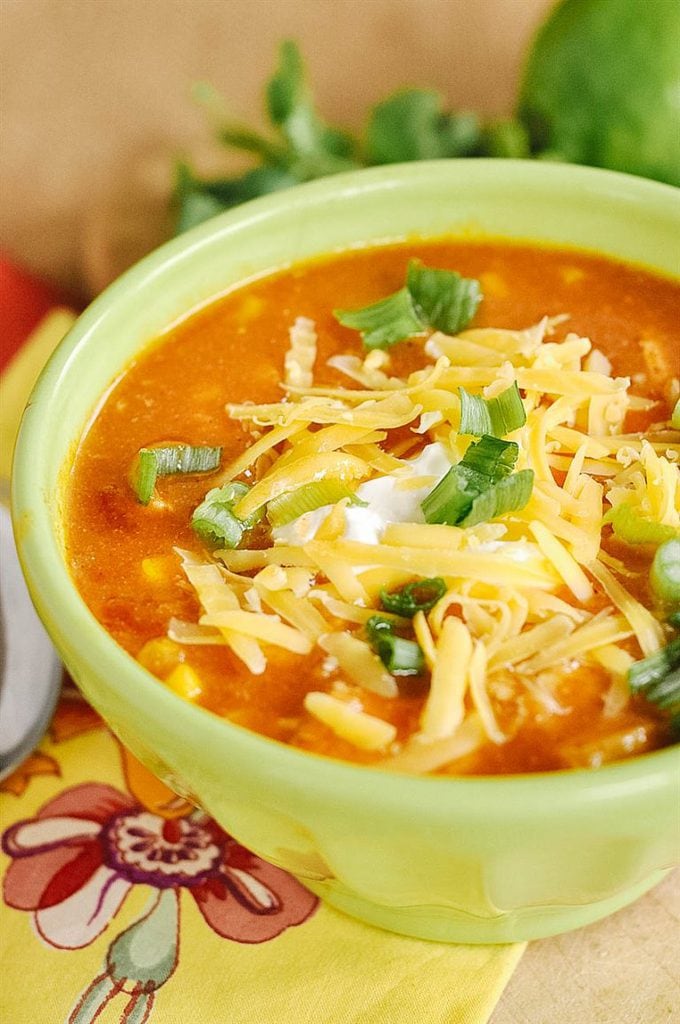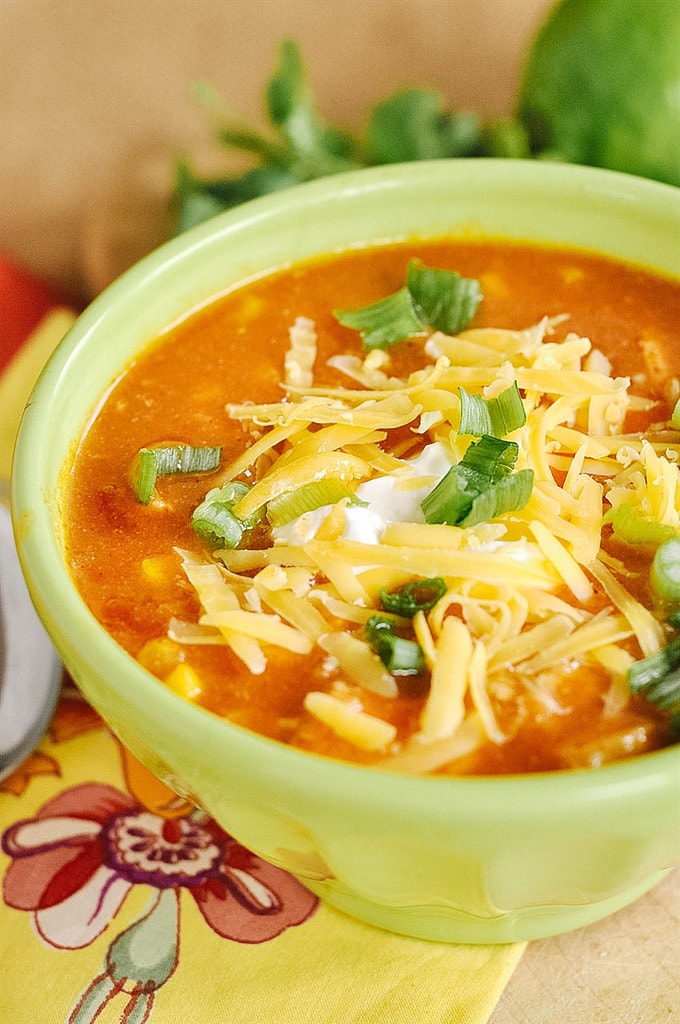 I topped the soup with some sour cream, cheddar cheese and green onions.  It would also be great with some tortilla chips crushed on top. So thanks to my well stocked "can"try  I could easily and quickly have a delicious dinner on the table. Not all of us can get our food directly from a farm but canned food is one of the best ways to get food from the farm to our family's table. The canning process locks in foods' freshness, flavor and nutrients at the peak of ripeness, just hours after picking. It's field to sealed!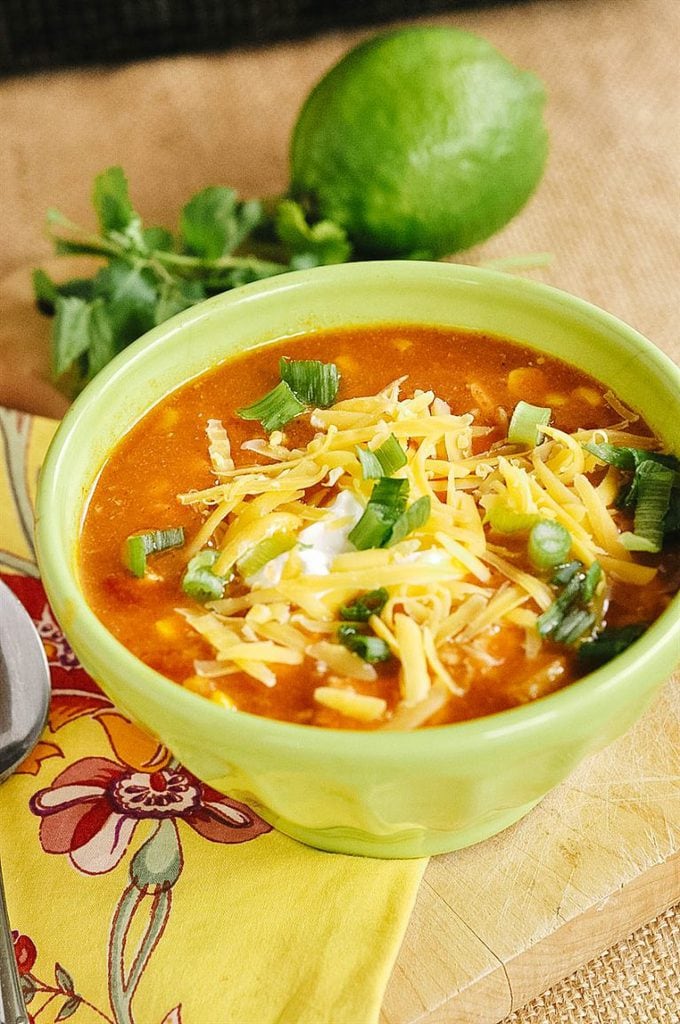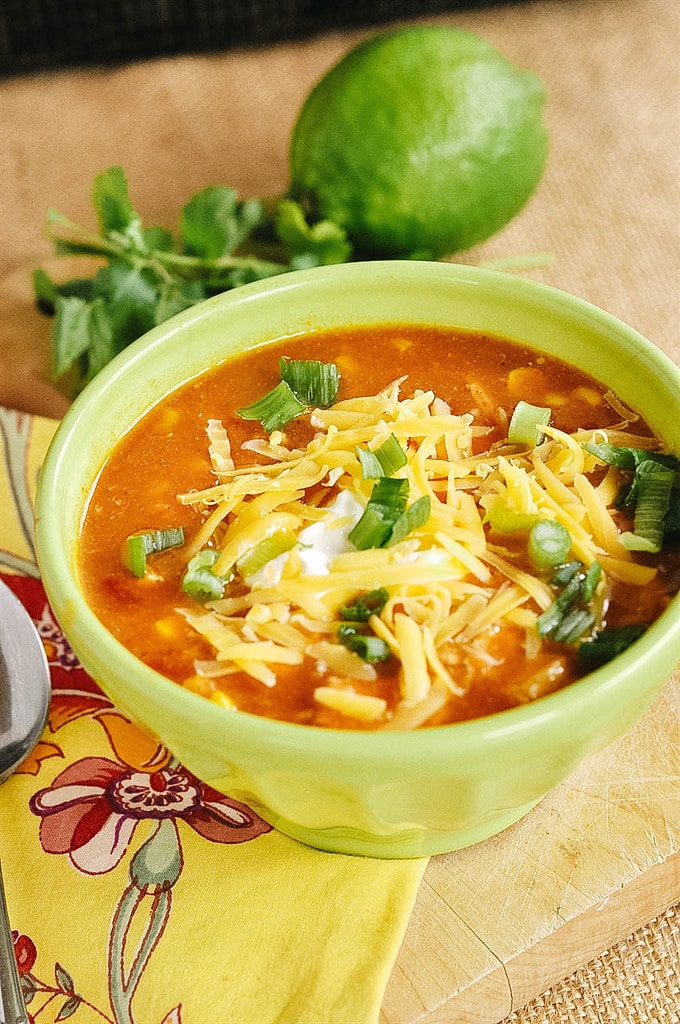 For more information about canned food, please read about the "Cans Get You Cooking" program which is dedicated to spreading the message that the ironclad technology of cans seals in freshness, flavor, nutrition, and goodness so that you can create meals you feel good about serving and that your family will love. Be sure to sure to visit CansGetYouCooking.com, like them on Facebook, follow them on Pinterest, or watch them on YouTube.
For a few other delicious soup recipes check out these:
Chicken Enchilada Soup Recipe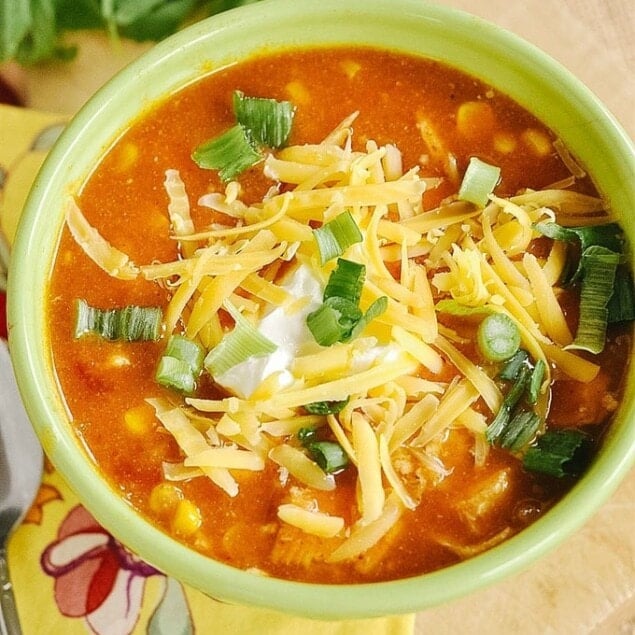 Chicken Enchilada Soup
Ingredients
2 C of diced chicken I used breast meat
1 Tbsp olive oil
1/2 C onion diced
2 cloves garlic minced
4 C chicken broth
1/2 C masa harina
2 C water divided
1 C enchilada sauce
1 4.5 oz. can mild green chilies
1 12 oz. can diced tomatoes
1 can corn
1/2 tsp salt
1 tsp chili powder
1/2 tsp ground cumin
Instructions
Cook onion and garlic in oil until onions are translucent.

Add in chicken broth.

In a bowl combine 1 cup water with 1/2 C masa harina. Mix until well blended and smooth.

Add into chicken broth and stir to combine.

Add in remaining 1 C water, enchilada sauce, green chilies, corn and tomatoes into chicken broth mixture.

Add in salt, chili powder and cumin.

Bring to a boil.

Add in chicken and reduce heat and allow to simmer for 30-40 minutes, until thickened.

If it thickens too much add some additional water or chicken broth.