Having a well stocked pantry is one of the keys to successful meal planning and getting dinner on the table every night. This list of pantry staples will get you well on your way!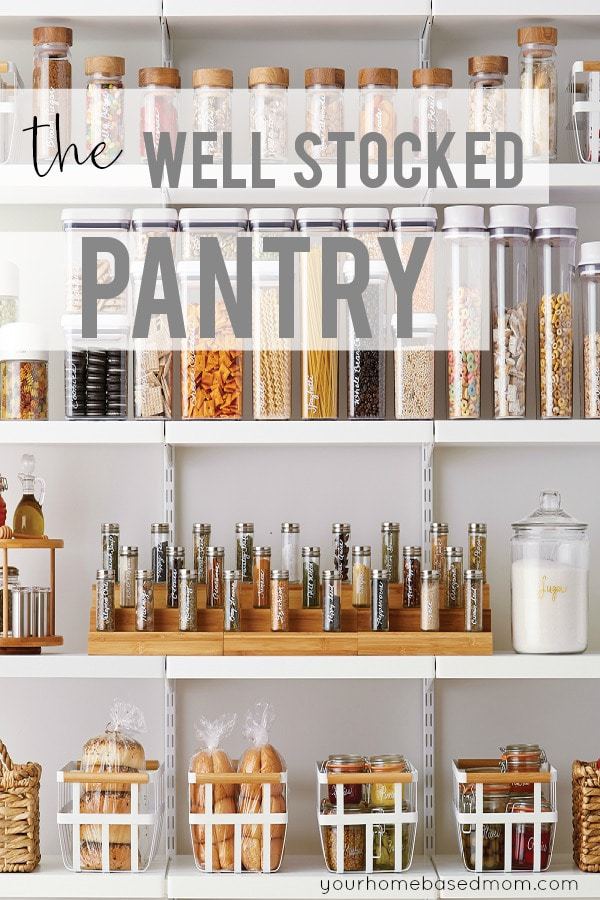 photo credit: The Container Store
When it comes to meal prep the problem for me is not cooking. I like to cook. The thing I don't like is deciding what to make! I have solved this problem by setting up a weekly meal plan. You can read more about how my plan works and what it looks like here.
After deciding on a meal plan, the only obstacle I ran up against was not having all the right ingredients on my pantry shelf. I can have the desire to cook, have the ideas of what to cook, but if I don't have the ingredients I need it is all for naught!
Meal planning and having a well stocked pantry accomplishes three things:
Save time by avoiding multiples trips to the grocery store each day.
Avoid stress by having an answer when your family asks "what's for dinner!?!?"
Save money by avoiding multiple trips through the drive through window. And the best part is you enjoy dinner together as a family!
The true secret to being able to prepare a home cooked meal for my family every night is not how much time I have or even if I know what I am making. But rather having a well stocked pantry.
A Well Stocked Pantry
For me, pantry staples include the items I keep in my refrigerator, freezer and cupboards. These are the food items I use frequently and on a daily basis.
By keeping these ingredients on hand I can throw together a yummy homemade dinner quickly. Being able to shop my own pantry is a time and money saver. Your pantry staples list will look different than mine so use my list as a starting point and add in your own must have items. For example, we do a lot of Asian dishes so I keep a lot of Asian condiments in my fridge. The important thing is that you keep on hand what your family will eat.
You can find my Pantry Staples list by clicking here: Pantry Staples List
Despite all our best intentions and efforts, there will be times when all our planning falls apart. Schedules change, emergencies happen and the meal plan gets thrown out the window. A well stocked pantry is a life saver when the menu planning fails and you just need to throw something together quick!