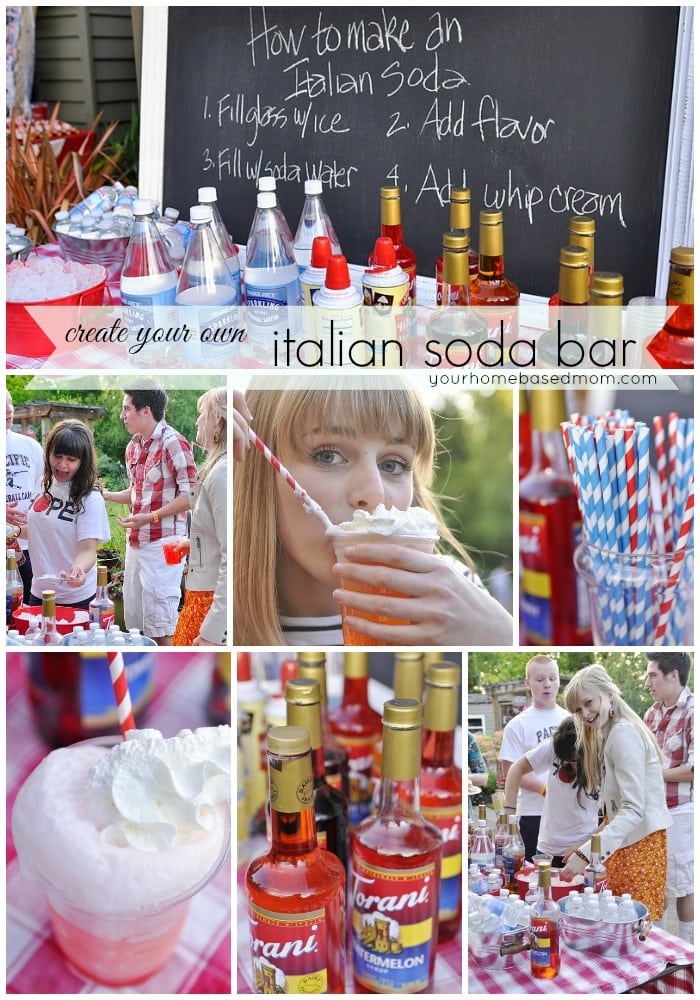 We are on a little bit of party overload at our house but I couldn't wait to share some of the fun photos from our Sail Away Graduation Party Saturday night.  But first I have to say a great big thank you to my dear friend Marsha who showed up at my door about an hour before the party started and just stepped right in and helped out.  She saved the day and thanks to her everything was ready to go when the kids got here!!
The party was a smashing success.  I love having a backyard full of happy teenagers enjoying themselves!!  I think one of the biggest hits of the night was the Italian Soda Bar so that's what I'm going to share first.  It was so fun!!!
It is easy to put together too.
I went to Cash & Carry and picked up a variety of flavored syrups.  We had strawberry (the one that disappeared first), raspberry, pomegrante, orange, cherry lime, guava, mango, and watermelon.  My favorite flavor combo was guava and mango.
You will also need mineral water.  I got mine at Trader Joe's.    You will also needs lots of ice and whip cream (I just got the kind in the can).
And of course some straws.
The directions are easy:  Just fill your cup with ice, some syrup, mineral water and then top it off with whip cream and a straw.
It was fun to see what flavor combinations they came up with.
Here's the cute graduation girl.
Lots more graduation party fun to come!!