Sesame Chicken will quickly become one of your go to dinner ideas. It is a delicious, quick and easy dinner. 
This is definitely a Wilkes family go to meal. Some of our other go to meals include Baked Tacos and Spaghetti and Meat Sauce. Another favorite is these Chicken Enchiladas with easy homemade enchilada sauce.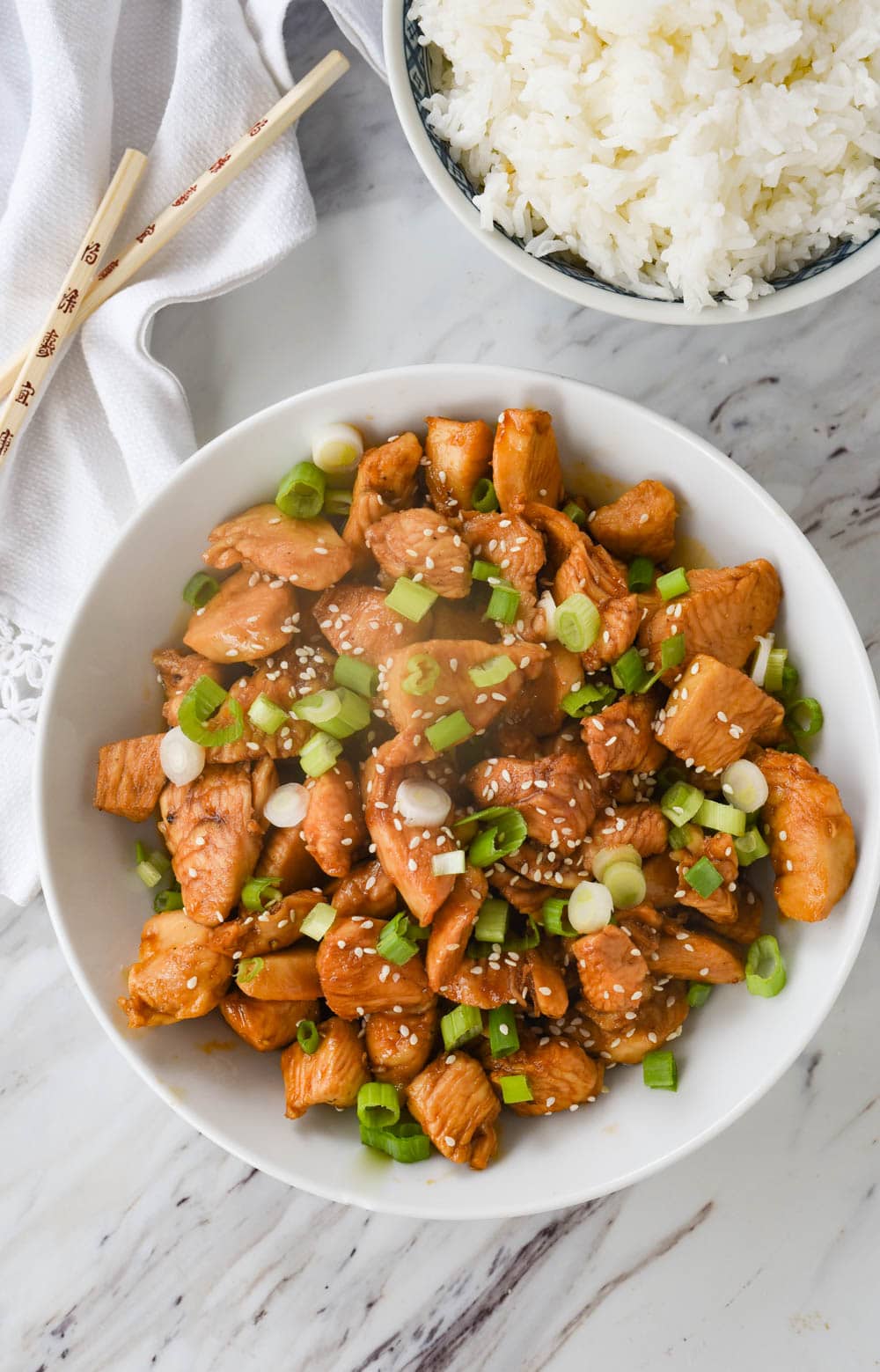 Family Favorite Dinner Idea
I have been sharing recipes with you for over 13 years now, since the fall of 2007! That is a lot of recipes. As a food blogger I am always trying new recipes and sometimes some of our family favorites get pushed aside in the name of recipe research. Sesame Chicken is definitely on of those family favorites. But it is too good to be forgotten and one that needs to be on repeat for your family too.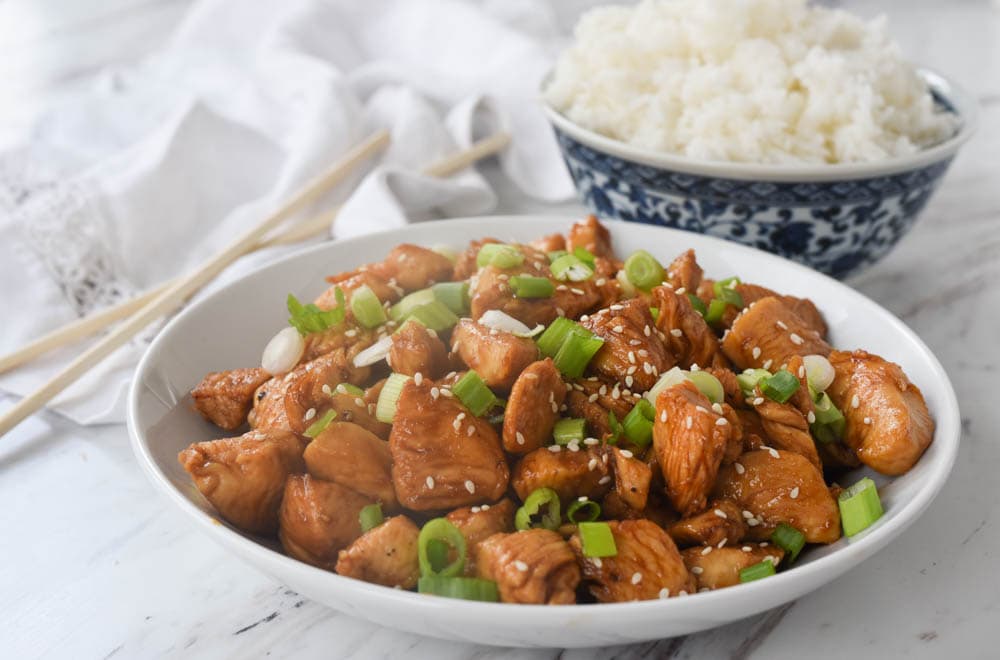 When my kids were home, Sesame Chicken would make the dinner rotation at least once or twice a month. 
One of the reasons this recipe is so great is that it doesn't require a lot of ingredients. It is perfect for those nights when you haven't planned ahead and you have no idea what is for dinner. As long as you have some chicken on hand you probably have everything you need. Fresh green onions are nice but not necessary.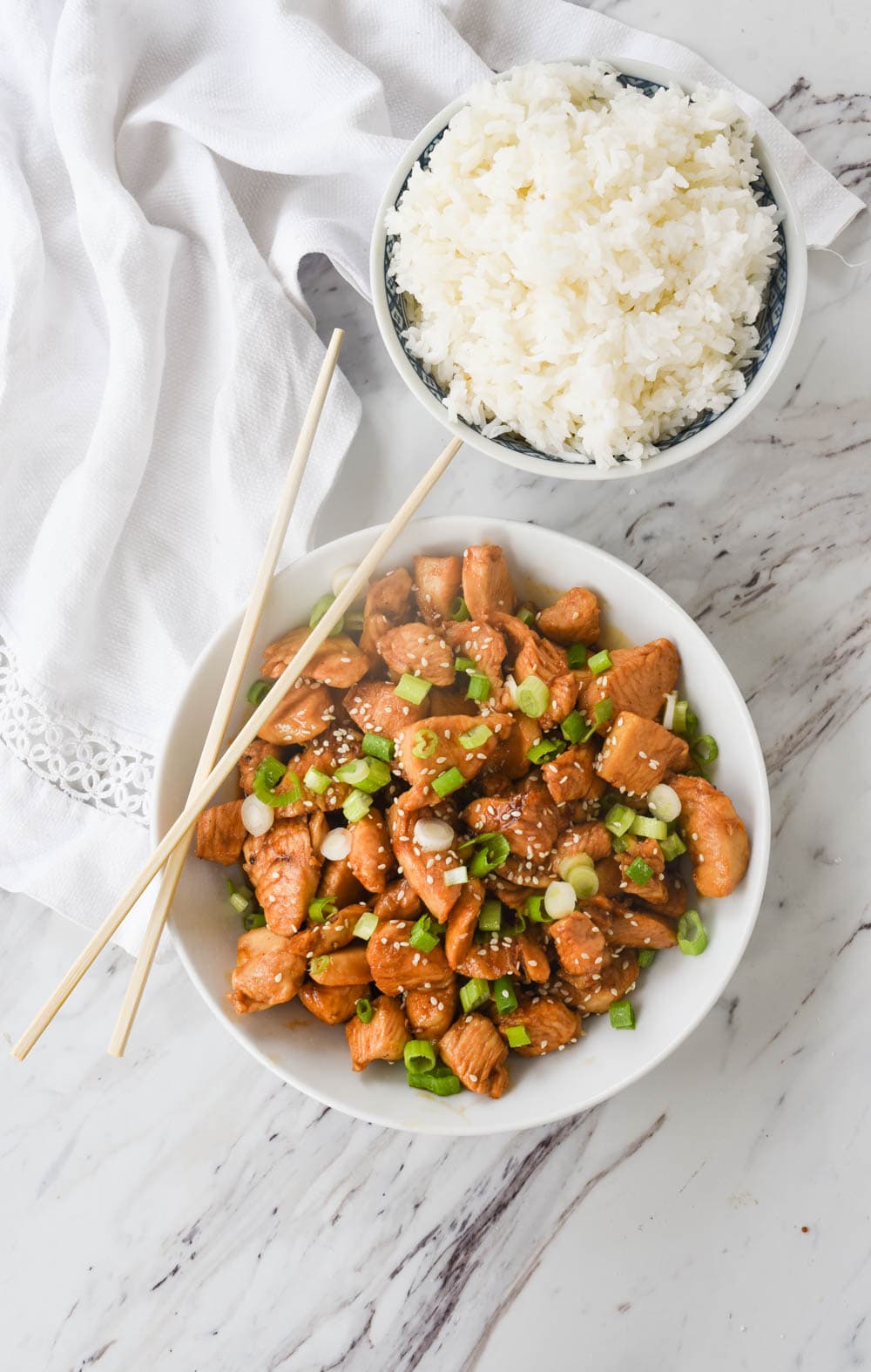 How to make Sesame Chicken
Cut up chicken into bite size pieces.  I always use boneless, skinless chicken breasts.
Cook chicken in 2 Tbsp of oil until cooked through.
Sesame Chicken Sauce
The secret to this chicken is in the sauce.  The sauce is a combination of sugar, soy sauce, vinegar, chicken broth, and sesame oil.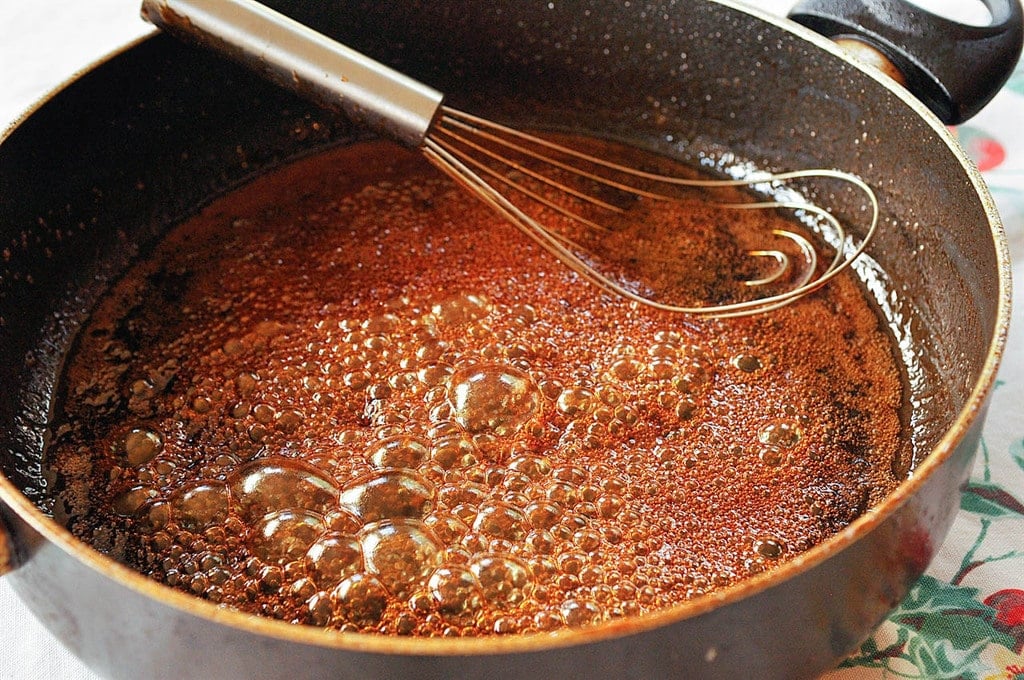 Use a large pan so that there is a lot of surface area, the sauce will cook quicker this way.  If you use a smaller pan just be patient!  Continue to cook and stir the sauce until it thickens up.  Be sure and watch it though because it can go from thicken to burnt pretty fast.  You want it to be thick enough to coat a spoon.  It will seem like it is never going to thicken up and then all of a sudden it will!  Be ready for it.
If you double the sauce it will take longer to cook. You may want to cook the two batches separately to speed up the process as doubling it can take 15-20 minutes for the sauce to thicken.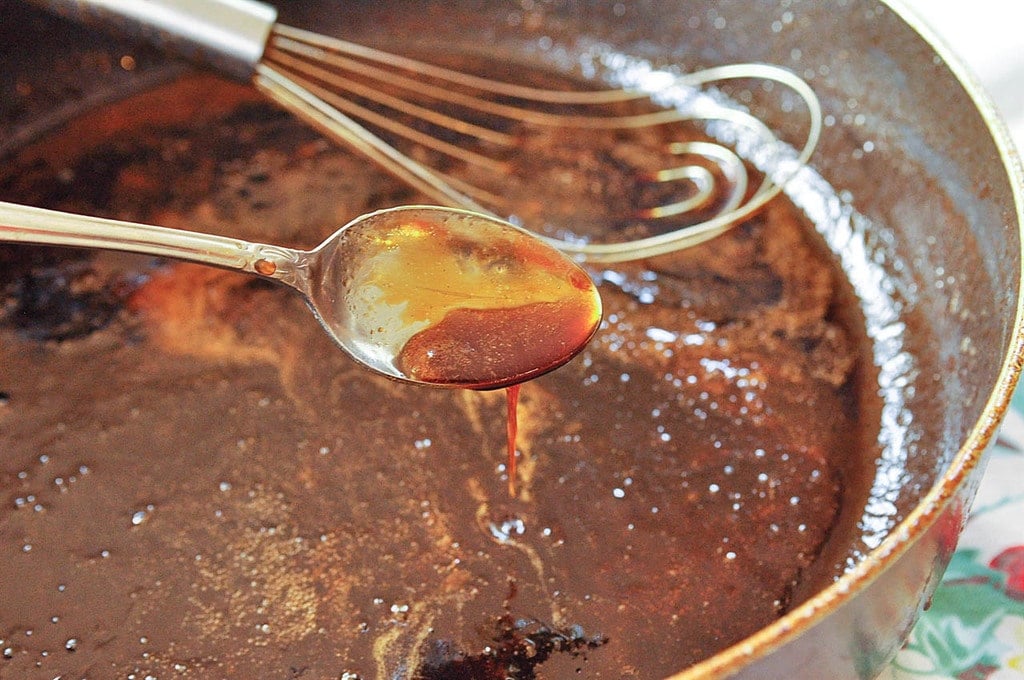 Pour thickened sauce over the chicken and stir to coat.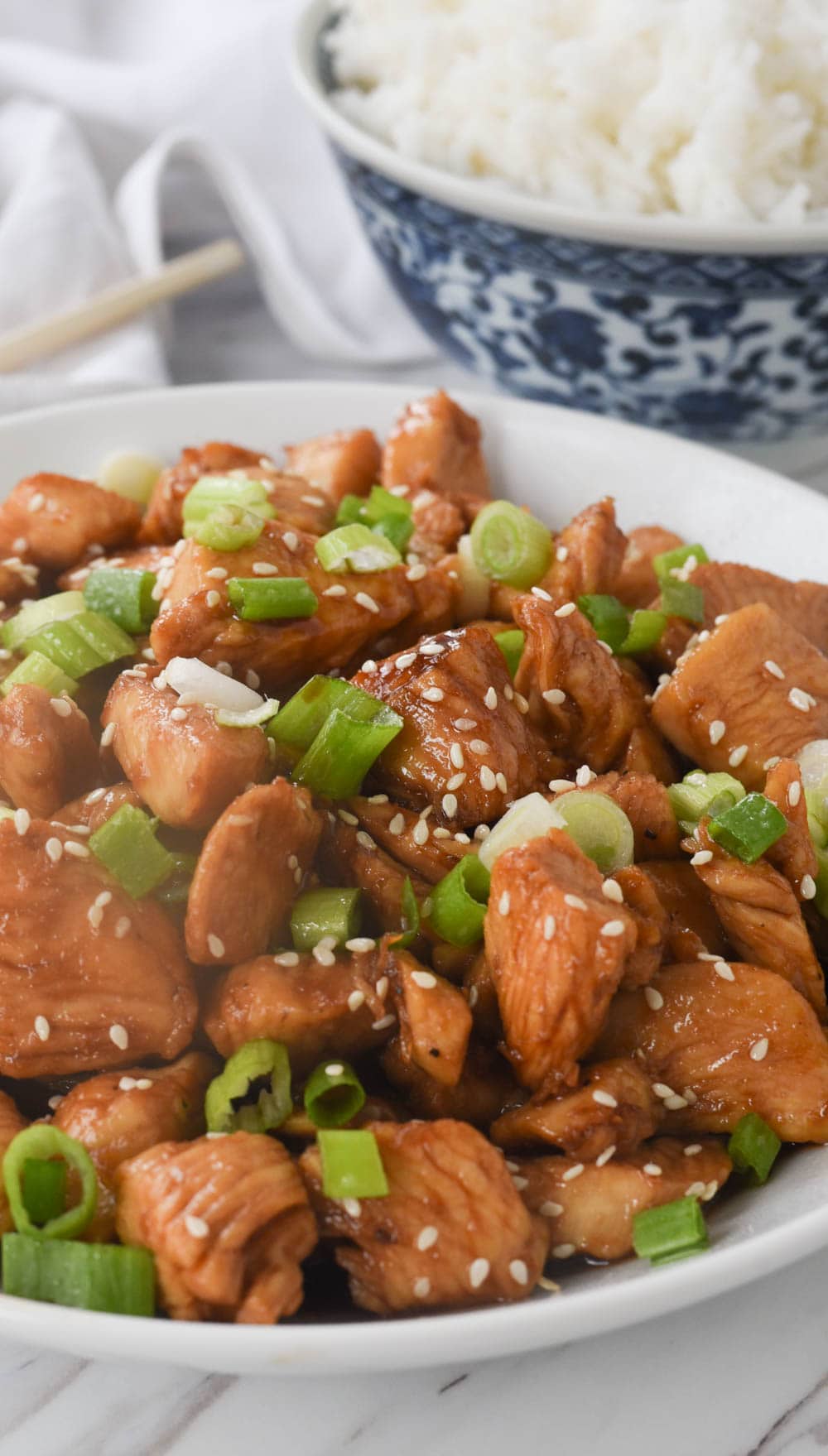 Serve it over rice with a sprinkling of green onion and sesame seeds and you've got dinner.
And better yet, you've got a quick, easy and delicious dinner!
Check Out More 30 Minute Meals:
Sesame Chicken Recipe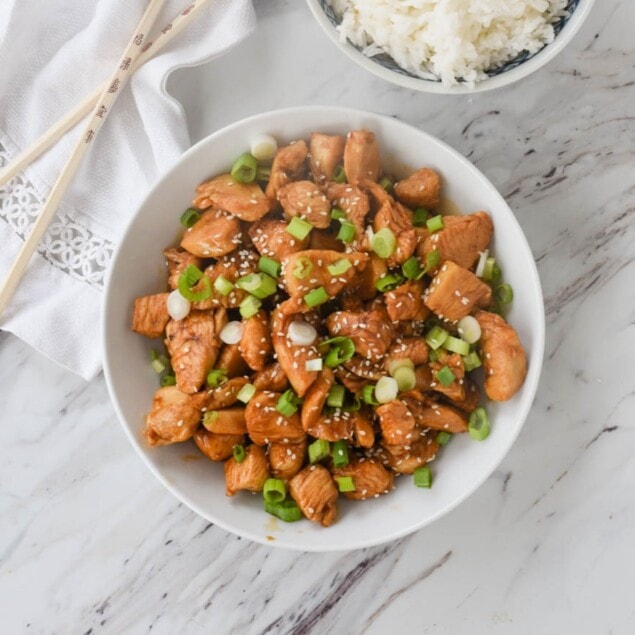 Sesame Chicken
Sesame Chicken will quickly become one of your go to dinner ideas. It is a delicious, quick and easy dinner. 
Ingredients
2 skinless boneless chicken breasts
1/2 C sugar
3/4 C white vinegar
2 Tbsp. cooking wine or chicken broth
1/4 C soy sauce
2 Tbsp. sesame oil
2 Tbsp. sliced green onion optional
Sesame seeds to sprinkle on top
1-2 Tbsp. sesame seeds
Instructions
Thinly slice chicken breasts diagonally

Put 2 Tbsp. oil in frying pan.

Add chicken and stir fry for 3-4 minutes or until just cooked through.

Remove from pan and keep warm.

Stir together sugar, vinegar, wine or broth, soy sauce, sesame oil.

Bring to a boil and cook until sauce thickens and becomes sticky (this could take 10-15 minutes). Watch the sauce as it can burn easily.

Add chicken to sauce and mix well.

Serve over rice.

Garnish with green onions and sesame seeds

Serves 2-4 (depending on how hungry they are!)
Nutrition Facts:
Calories: 267kcal (13%) Carbohydrates: 28g (9%) Protein: 14g (28%) Fat: 11g (17%) Saturated Fat: 2g (13%) Cholesterol: 36mg (12%) Sodium: 627mg (27%) Potassium: 275mg (8%) Fiber: 1g (4%) Sugar: 25g (28%) Vitamin A: 91IU (2%) Vitamin C: 3mg (4%) Calcium: 50mg (5%) Iron: 1mg (6%)
* Disclaimer: All nutrition information are estimates only. Read full disclosure here.
Originally shared November 2007