Today I am doing a Recipe Redo.
I have been sharing recipes with you for 5 years now!  That is a lot of recipes.
I also shared a lot of our very favorite family recipes in the beginning.  Back when my photographs weren't so pretty and back when I even did some posts without photographs!!  Hard to imagine I know.
So I have decided to redo some of the recipes I shared in the very beginning – thus Recipe Redo!  Once a week or so I will redo a family favorite and share it again.  This time with better photos!!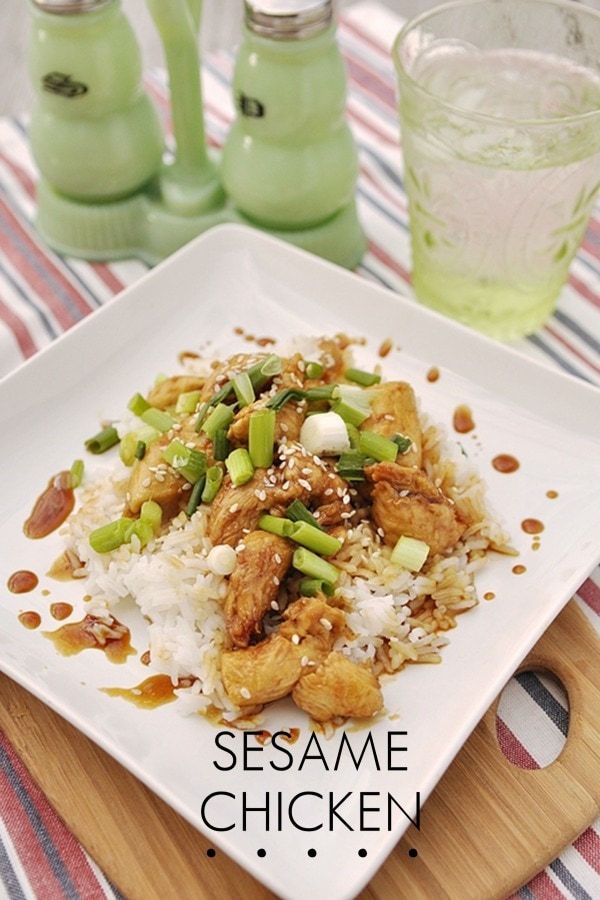 Today's recipe for Sesame Chicken is one of our all time family favorites.  When the kids were home this use to make the dinner rotation at least once or twice a month and that is a lot at our house since I tend to try lots of new recipes all the time.  For something to get repeated on a regular basis around here you know it has to be pretty darn good!  This one is.  I originally shared it back in November of 2007.
One of the reasons this recipe is so great is that it doesn't require too many ingredients.  It is great for those nights when you haven't planned ahead.  As long as you have some chicken on hand you probably have everything you need.  Fresh green onions are nice but not necessary.
The first step is to cut up your chicken and cook it in a little oil.


The secret to this chicken is in the sauce.  The sauce is a combination of sugar, soy sauce, vinegar, chicken broth, and sesame oil.

The sauce is cooked until it thickens up.  Be sure and watch it though because it can go from thicken to burnt pretty fast.  You want it to be thick enough to coat a spoon.
After the sauce has thickened up you pour it over the chicken and stir to coat.

Serve it over rice with a sprinkling of green onion and sesame seeds and you've got dinner.
You've got a quick, easy and delicious dinner!

Sesame Chicken
Ingredients
2

skinless boneless chicken breasts

1/2

C

sugar

3/4

C

white vinegar

2

Tbsp.

cooking wine or chicken broth

1/4

C

soy sauce

2

Tbsp.

sesame oil

2

Tbsp.

sliced green onion

optional

Sesame seeds to sprinkle on top

1-2

Tbsp.

sesame seeds
Instructions
Thinly slice chicken breasts diagonally across grain.

Put 2 Tbsp. oil in frying pan.

Add chicken and stir fry for 3-4 minutes or until just cooked through.

Remove from pan and keep warm.

Stir together sugar, vinegar, wine or broth, soy sauce, sesame oil.

Bring to a boil and cook until sauce thickens and becomes sticky (this could take 10-15 minutes). Watch the sauce as it can burn easily.

Add chicken to sauce and mix well.

Serve over rice.

Garnish with green onions and sesame seeds

Serves 2-4 (depending on how hungry they are!)
Notes
I usually double the sauce recipe. We like sauce!
Stay Updated!
Need more recipes and creative ideas? Sign up and get a FREE copy of my ebook! Do you think your friends would love this too? Please share my blog with them. Thanks!