Firs,t I just want to say how much I have enjoyed reading your comments about the Word of the Year you have chosen.  So many wonderful and amazing words.  You are all an inspiration to me!!  Still time to share your word and enter the giveaway for a Word of the Year pillow made by me!
So I have a confession to make.
True Confessions.
A few weeks ago, I went a whole week without cooking dinner once!
Can you believe it?!
I have to say that is one of the positives of being an empty nester.   Lest you think we didn't eat – we did. But between a few holiday parties and take out there wasn't much happening in my kitchen.  It was that pre-holiday craziness.  I was trying to get everything done and ready before my kids got home and there just wasn't time to cook dinner.  Lucky for me I have a very easy going, understanding, supportive husband and as long as there is something there for him to eat, leftovers, take out etc., he is happy.
My non-cooking streak couldn't last forever so when I decided I really needed to start cooking again I came up blank.  I was feeling totally uninspired.  I have binders and a blog FULL of recipes and I couldn't figure out what to fix for dinner.  Nothing sounded good.
Well where do you go when you need to be inspired?  Pinterest of course!  If you haven't discovered Pinterest yet you really should, or maybe you shouldn't because it can be a bit of a time sucker.  Pinterest is a virtual pinboard where you can organize all those fun ideas you find in the blogsphere.  It really is an amazing organizational tool.
So I headed over to Pinterest to my "recipes to try" board and saw a recipe for baked sweet and sour chicken I had pinned a while ago.  That was it – I had chicken in the freezer and rice.  The recipe came from my friend Melanie over at Mel's Kitchen Cafe  so I knew it would be good and I wasn't wrong.
The chicken is coated with egg and cornstarch and then after a light browning in oil it is put in the oven to finish baking.  As long as you use wheat free soy sauce  in the sauce this dish is gluten free!  That has become important at our house when Cali is home.
The sauce made of sugar, ketchup, vinegar, soy sauce and garlic salt.  You just pour it over the top and let it bake.  Turn the chicken about every 15 minutes so the sauce makes a nice lovely glaze all over the chicken.
I served it with some jasmine rice, a salad and a vegetable and it made the perfect meal for the uninspired cook.
So where do you go when you need some dinner time inspiration?  I have added a new Pin It button to the bottom of my posts so if you are on pinterest you can quickly and easily add my posts to your board!  Thanks for pinning me!!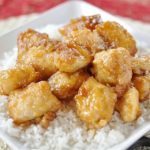 Print
Sweet and Sour Chicken
Ingredients
3-4

boneless

skinless chicken breasts

Salt and pepper

1

C

cornstarch

2

eggs

beaten

1/4

C

canola oil
Sauce:
¾

C

sugar

4

tablespoons

ketchup

½

C

vinegar

1

Tbsp

soy sauce

1

tsp

garlic salt
Instructions
Cut chicken into chunks.

Season with salt and pepper.

Dip chicken in cornstarch and then in egg.

Fry in a little oil until brown but not cooked through.

Place in a single layer in a 9 x 13 baking dish.

Mix sauce ingredients together and pour over chicken.

Bake for one hour at 325 degrees.

Turn chicken every 15 minutes so it is evenly coated with the sauce. Serve over rice.
Get my Weekly Menu Plan for FREE!
Receive my FREE "What's for Dinner?" Meal Planning Course, a copy of my FREE ebook that includes my most popular recipes and my FREE weekly Meal Plan.