These candey corn rice krispie treats are as fun to make as they are to eat.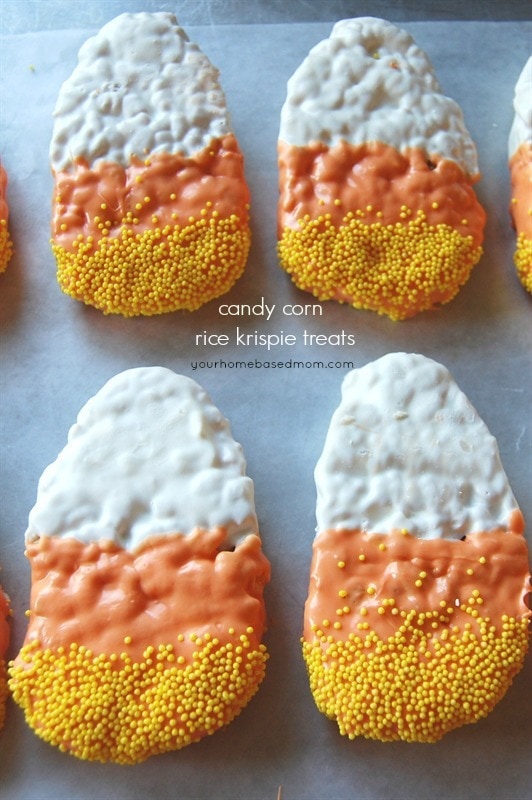 If you've been reading my blog for long you know that I LOVE candy corn. I go through bags of it each Halloween season. I think it is just about the cutest candy there is – can candy be cute?
So not only do I love candy corn but I love anything candy corn shaped. While I was thinking of treats to fill the College Kid Care Package I knew that Rice Krispie treats are always a big hit with my kids. So why not candy corn shaped Rice Krispie treats!
I used the recipe right off the back of the cereal box but if you want an extra yummy Rice Krispie treat try this recipe!
After spreading the Rice Krispies into a 9 x 13 I used my candy corn shaped cookie cutter – yes, I have a candy corn shaped cookie cutter, doesn't everyone?! If you don't have one you could just cut the shape out of paper and use it as a template.
Using Wilton's candy melts I dipped half of the candy corn shaped Rice Krispie treat into the white melted melts – that sounds strange but not sure what else to call it!
After dipping I placed them on a wax paper lined cookie sheet for them to harden up.
Once they were hard I dipped the other half into orange melted melts and while they were still wet I sprinkled yellow sprinkles on the bottom and viola! Candy Corn!!

If they are slow to harden you can refrigerate them to speed up the process.
Since the Rice Krispie candy corn turned out so cute I looked for something else in my cupboard to turn into candy corn and I found a bag of pretzel rods.
With the leftover melts I made candy corn pretzel rods! Aren't they cute!
So my Halloween decorated paint cans were filled with candy corn shaped Rice Krispie treats, candy corn pretzel rods, white chocolate and candy corn popcorn and other trick or treat candy.
So do you think those college kids will enjoy their care package!!