This Halloween Snacks Board is the perfect thing for all you candy corn lovers and Halloween fans out there! A fun collection of candy corn colored snacks and treats is perfect for all your Halloween parties.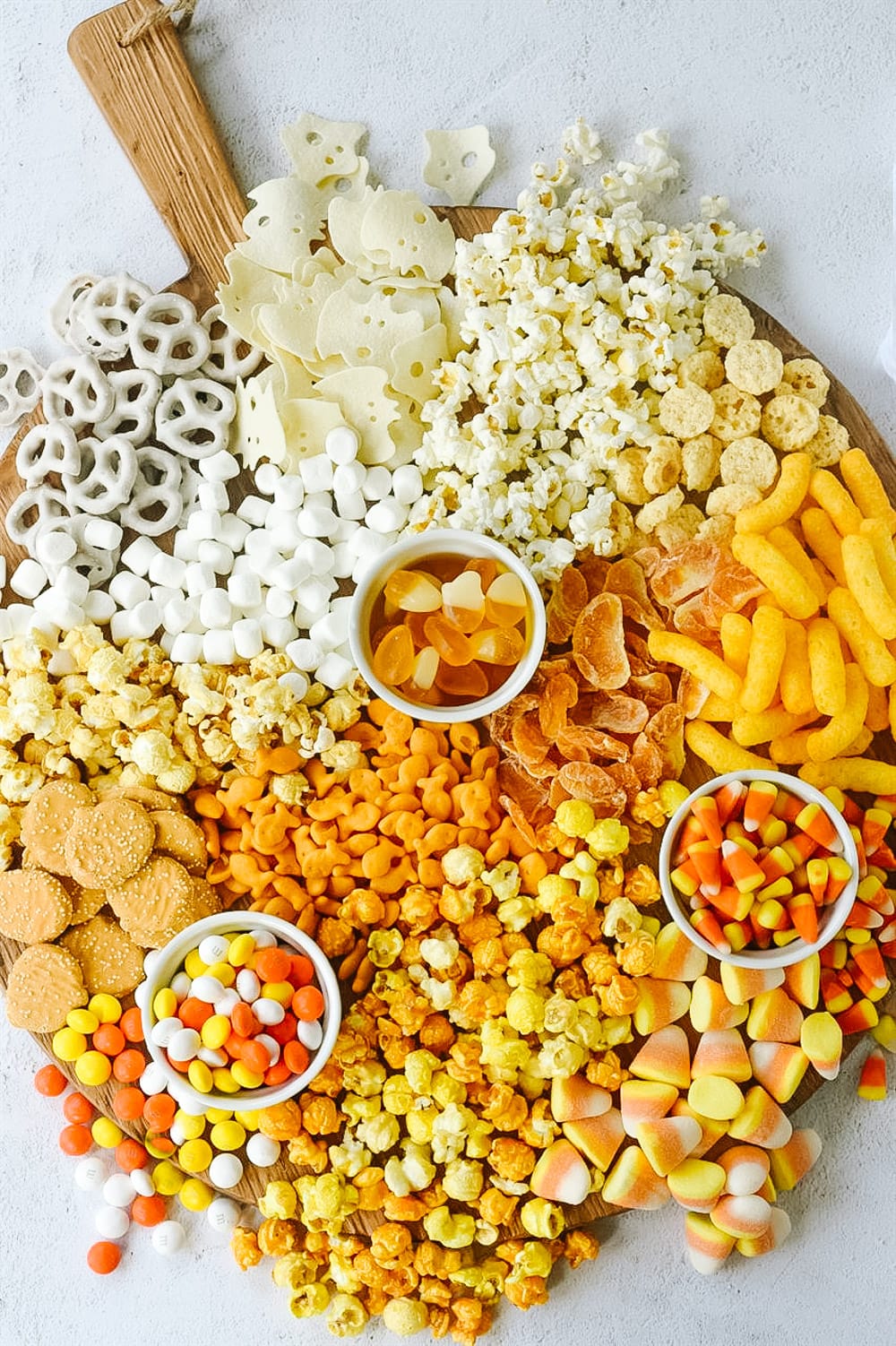 I admit, I love candy corn. I love anything that looks like or resembles candy corn. It's just so cute and I like the taste of it too. I know there is definitely a divided camp out there on candy corn but I'm team candy corn for sure.
I also love Halloween and every year we host our annual Halloweenie Roast and our Couples Costume Dinner Party.
My husband and I even dress up each year as a famous couple!
Each year I try to come up with some fun new treats to serve at the parties. Since I love a good snack board, I decided a candy corn themed snack board would be perfect for this year's Halloweenie Roast – the kids are going to LOVE it! You can see lots of my past Halloween treats and party ideas here.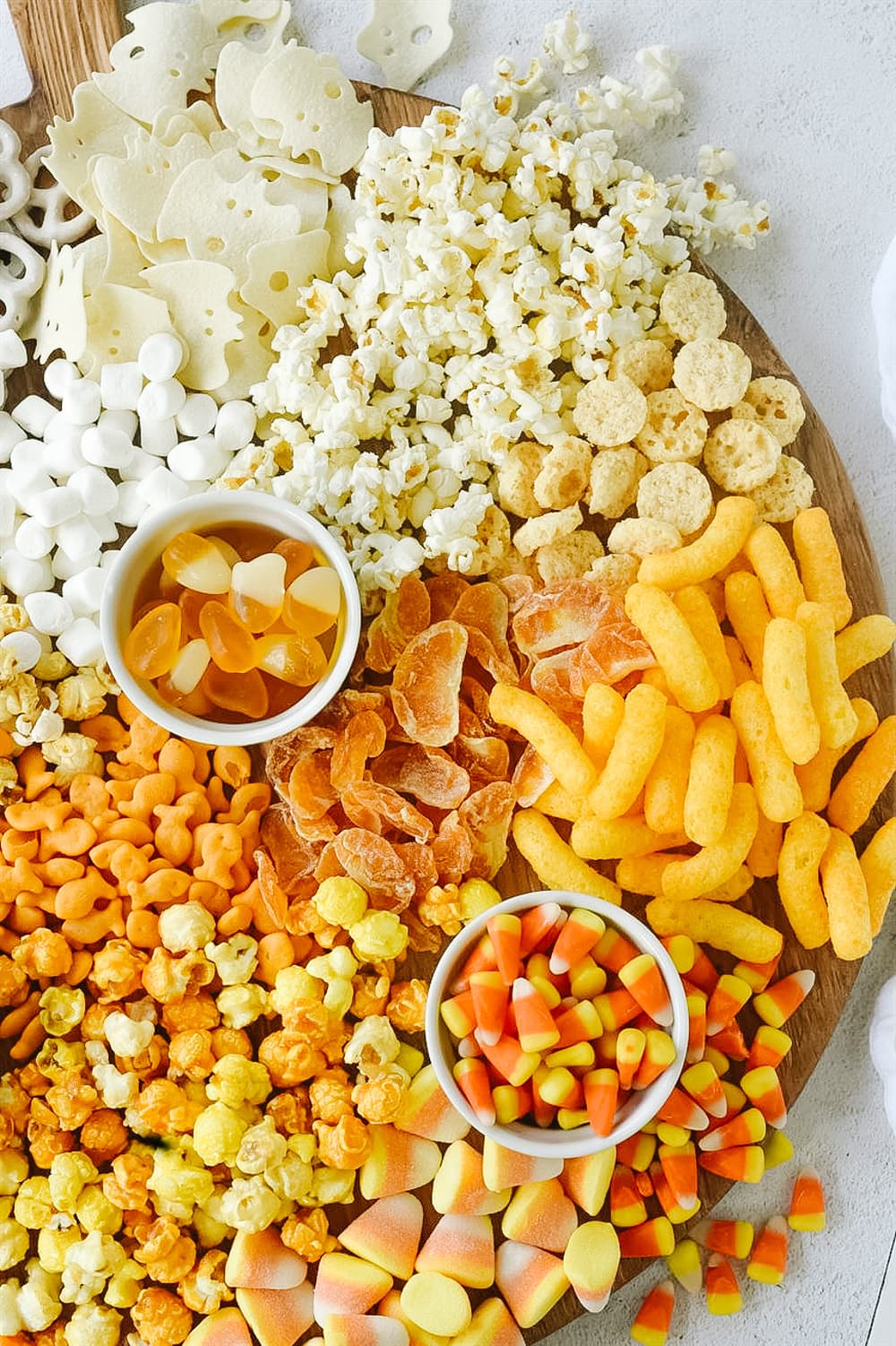 How to make a Halloween Party Snacks Board
This snack board was so fun to put together. I basically wandered the aisles of the grocery store looking for any white, orange and yellow snacks I could find along with any candy corn treat. The only other thing you need is something to put it all on.
I bought the majority of my treats at Trader Joes but a few came from Winco. It's harder than you might think to find yellow snacks, bananas just don't hold up on a snack board so those were out. I managed to find a few "yellowish" snacks but I think they are really more light orange. Be sure and check the holiday food aisle, as well as the regular snack aisle and the bulk bins.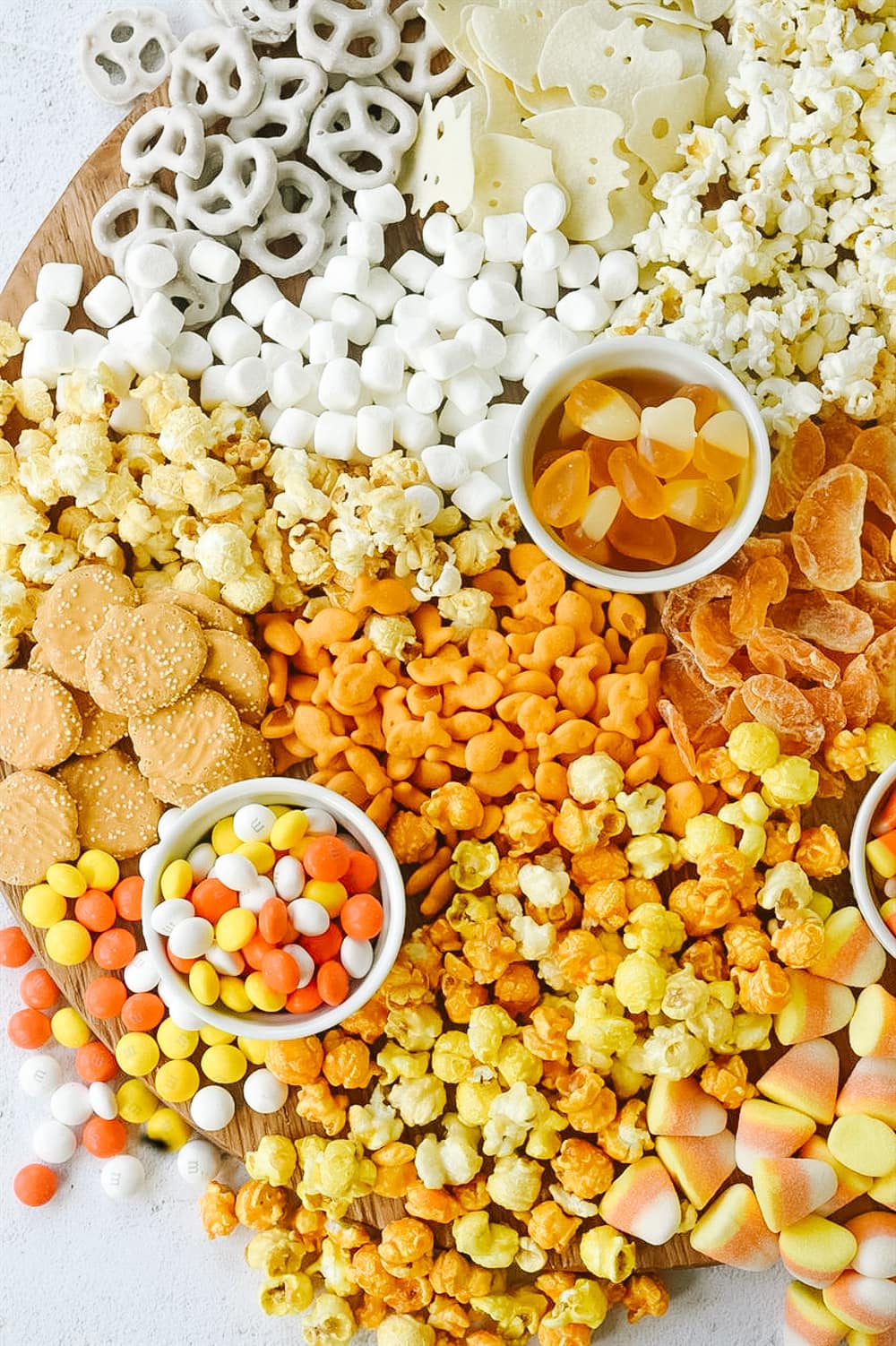 Halloween Party Food Ideas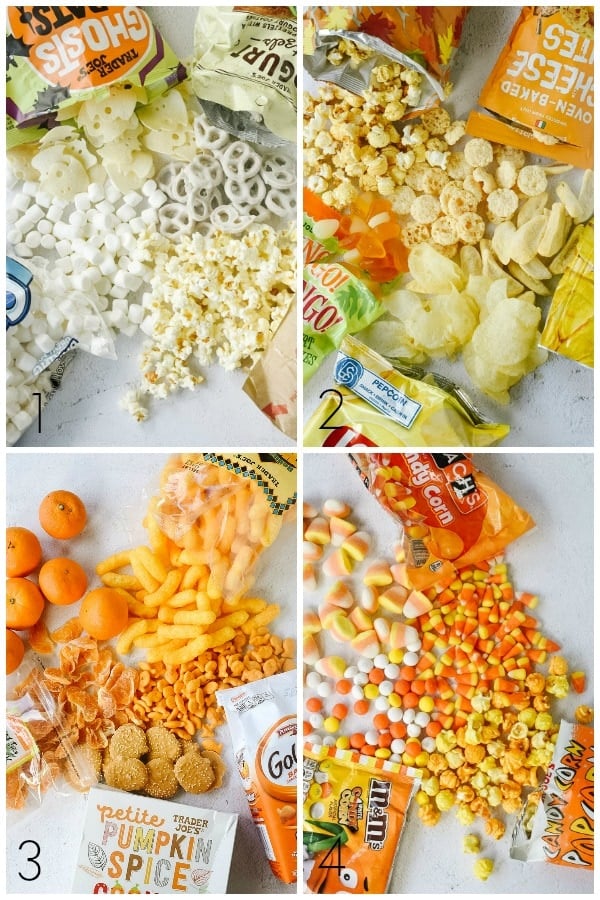 White Snacks:
Yogurt covered pretzels
Popcorn
Marshmallows
Specialty Potato Chips (Trader Joes)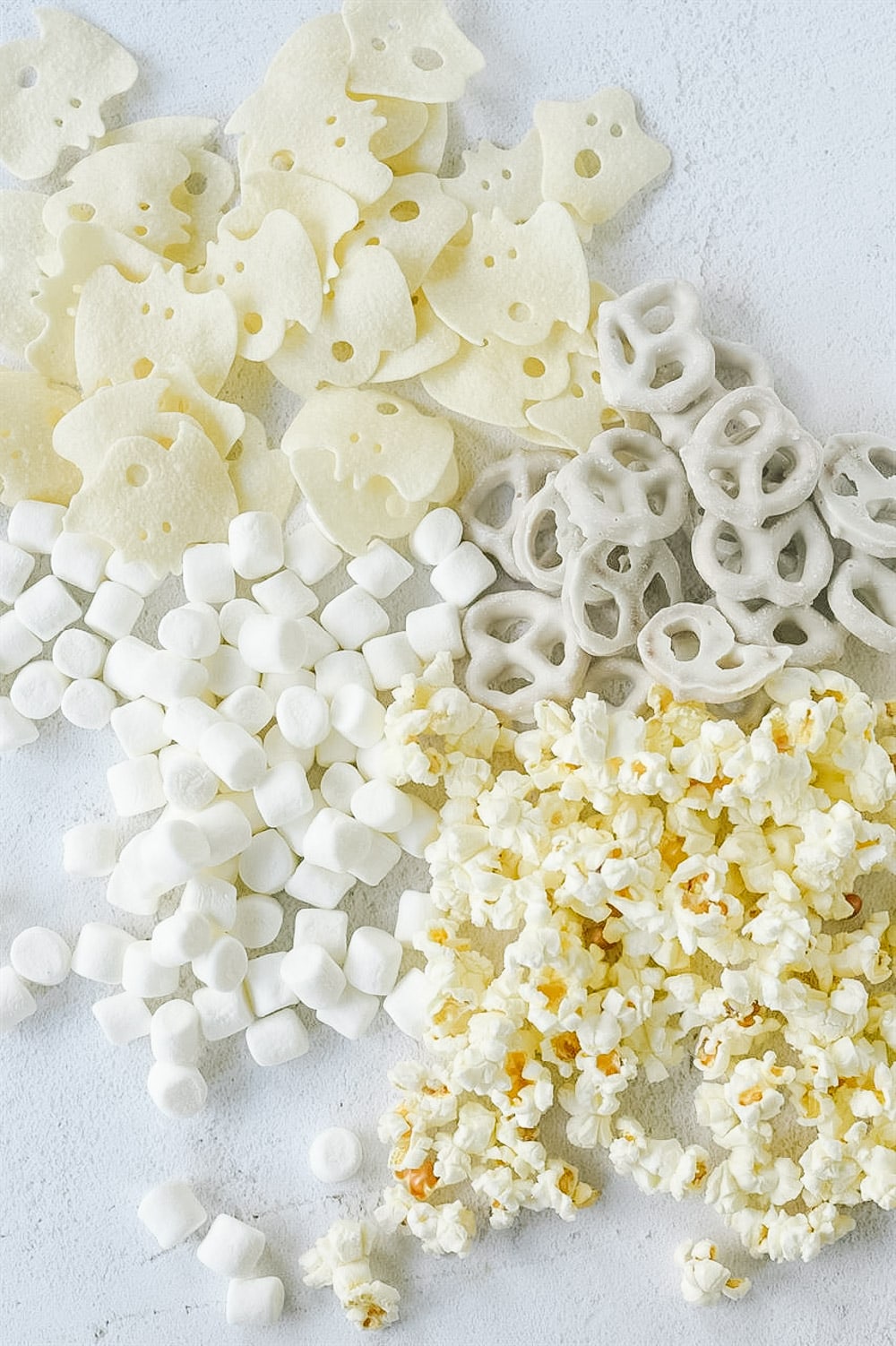 Yellow Snacks:
Maple Popcorn (Trader Joes) or could use caramel corn
Potato Chips
Mango Gummy Candy (Trader Joes)
Dehydrated Mango (Trader Joes)
Cheese Bites (Trader Joes)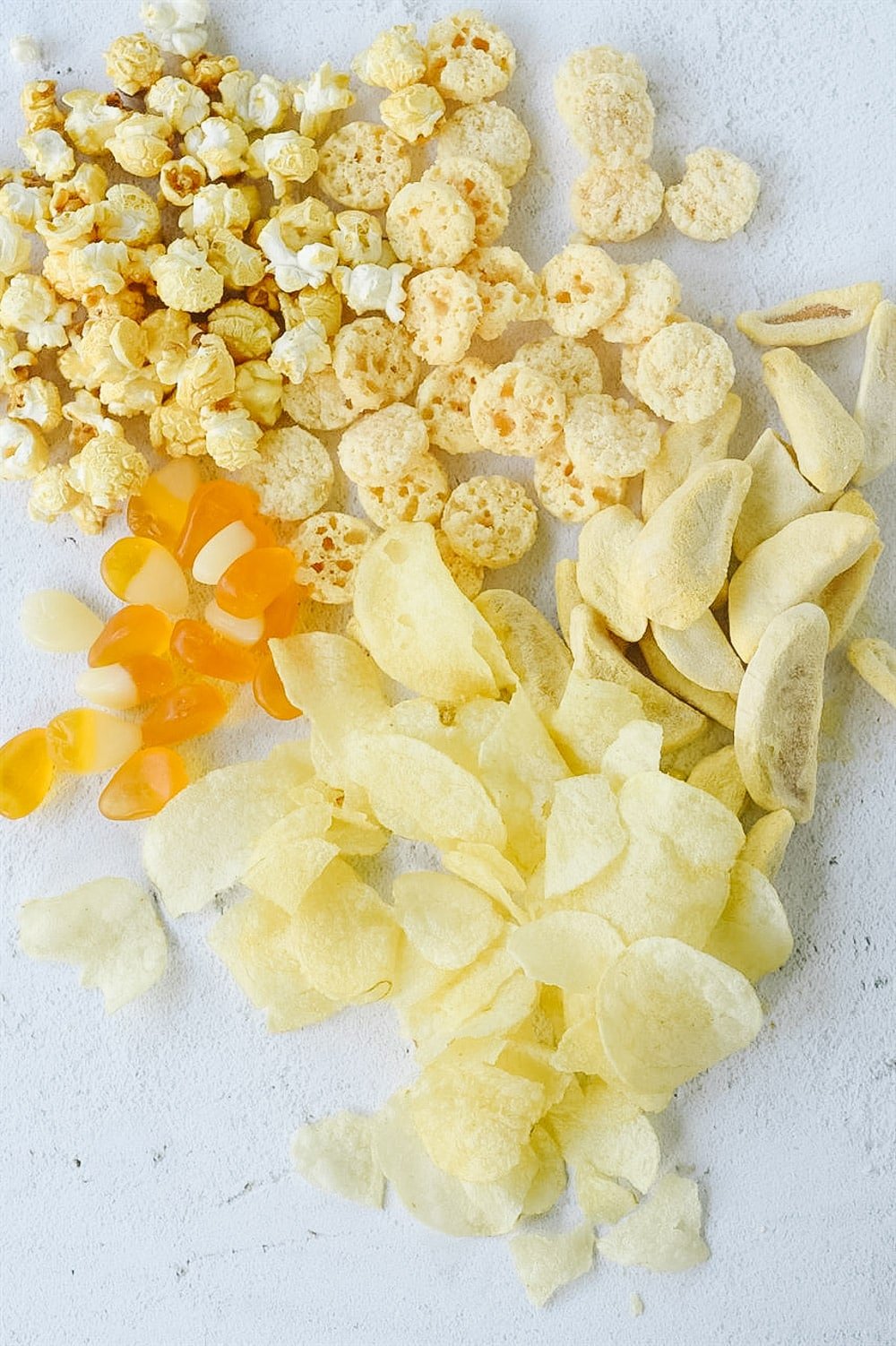 Orange Snacks
Mandarin Oranges (I ended up not putting these on the board because I didn't like the way they looked)
Cheese Puffs
Goldfish Crackers
Dried Tangerine Slices (Trader Joes)
Pumpkin Cookies (Trader Joes)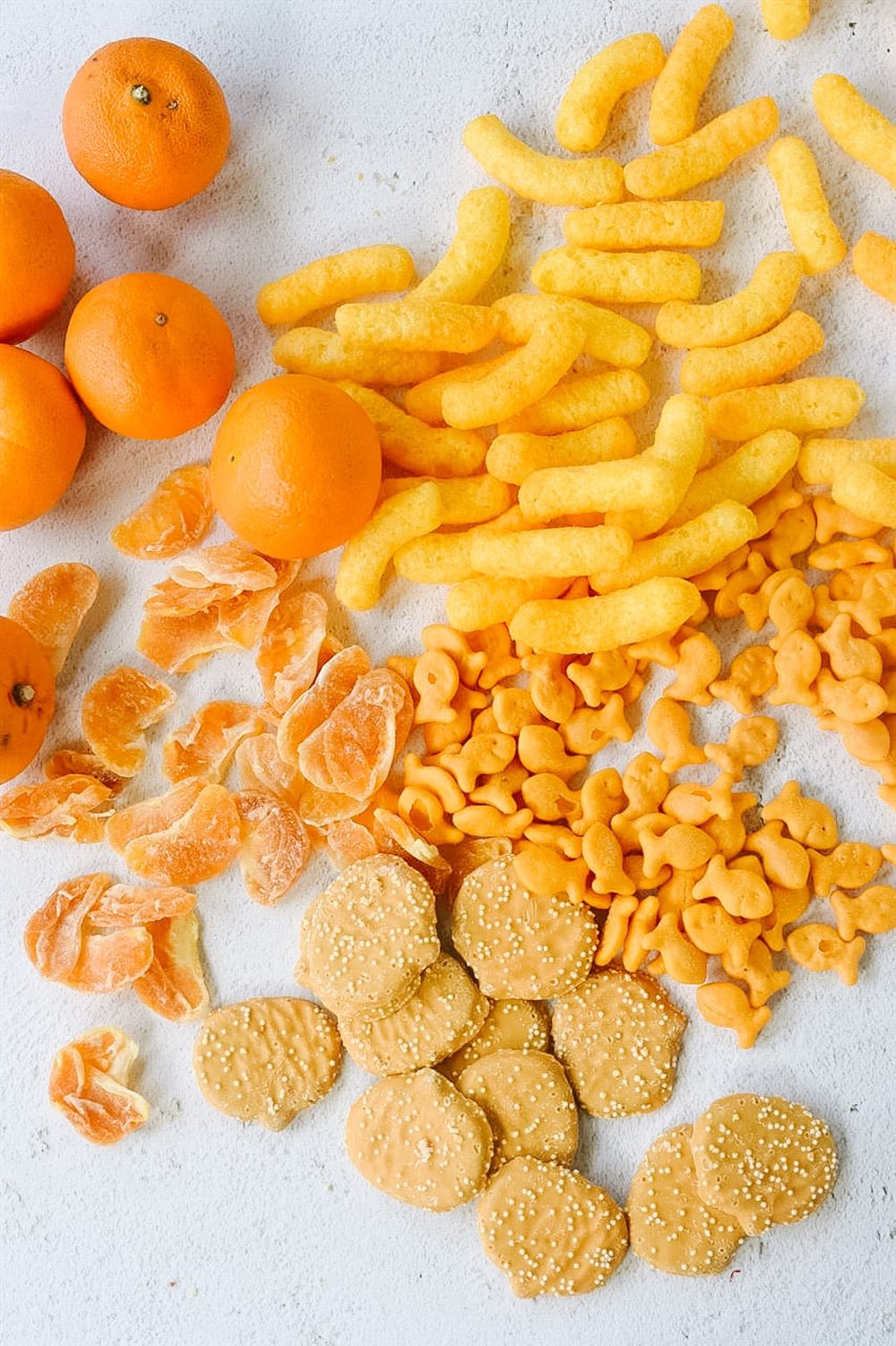 Candy Corn Snacks
Candy Corn (I like Brach's brand the best)
Gummy Candy Corn (bulk bins at Winco)
Candy Corn M & M's (found at Target)
Candy Corn Popcorn (Trader Joes)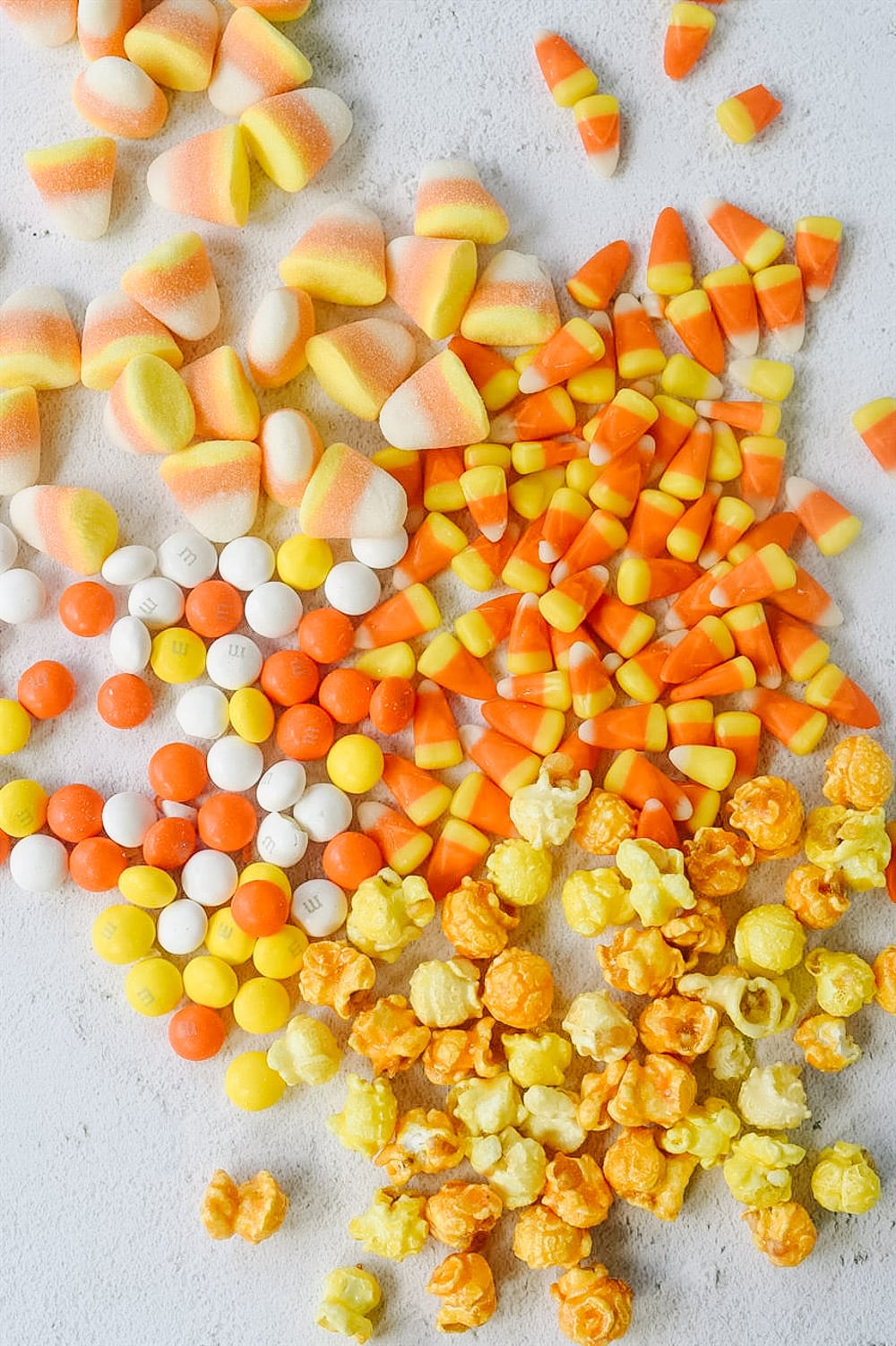 I used a large round charcuterie board I have but you could use a large cookie sheet or any flat surface you have. Cutting boards work great, or you could even put it directly on the table. Add a few of the treats into bowls will give some height to the board.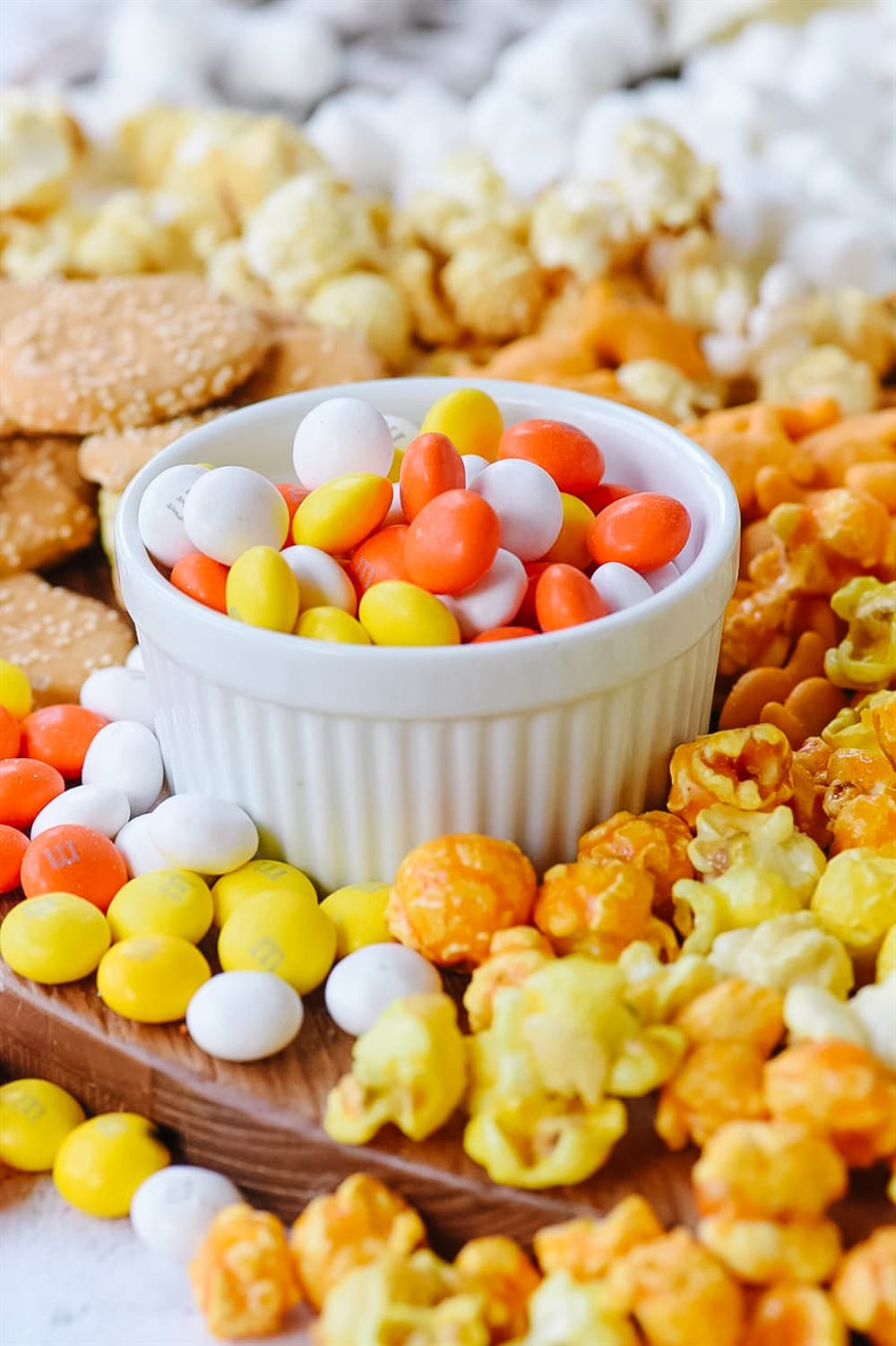 I began by adding all the white snacks, and then the yellow , the orange and finally the candy corn snacks.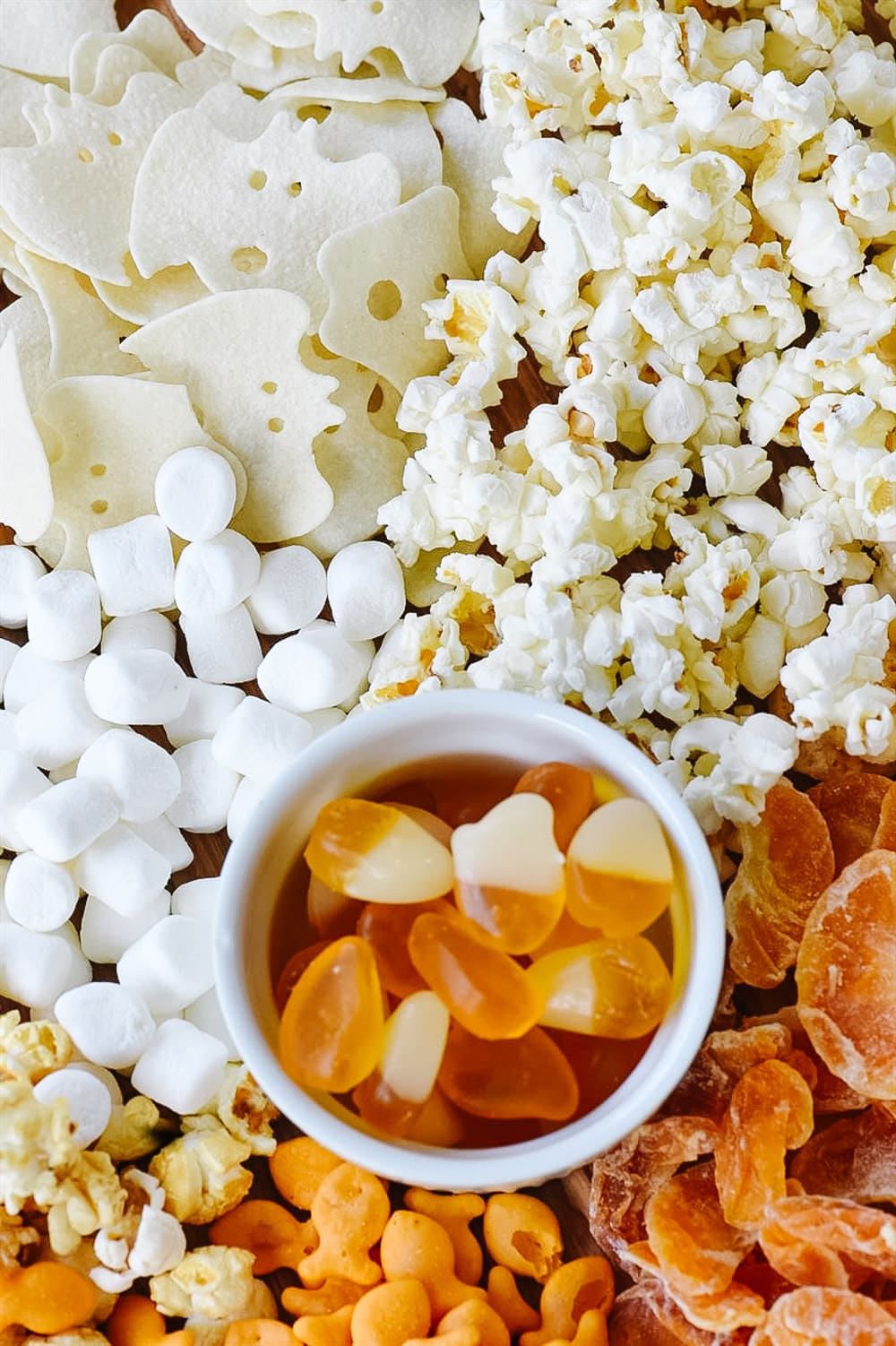 I love to let the snacks fall off the board onto the table, the messier the better as far as I'm concerned! Even your non candy corn lovers are going to love it!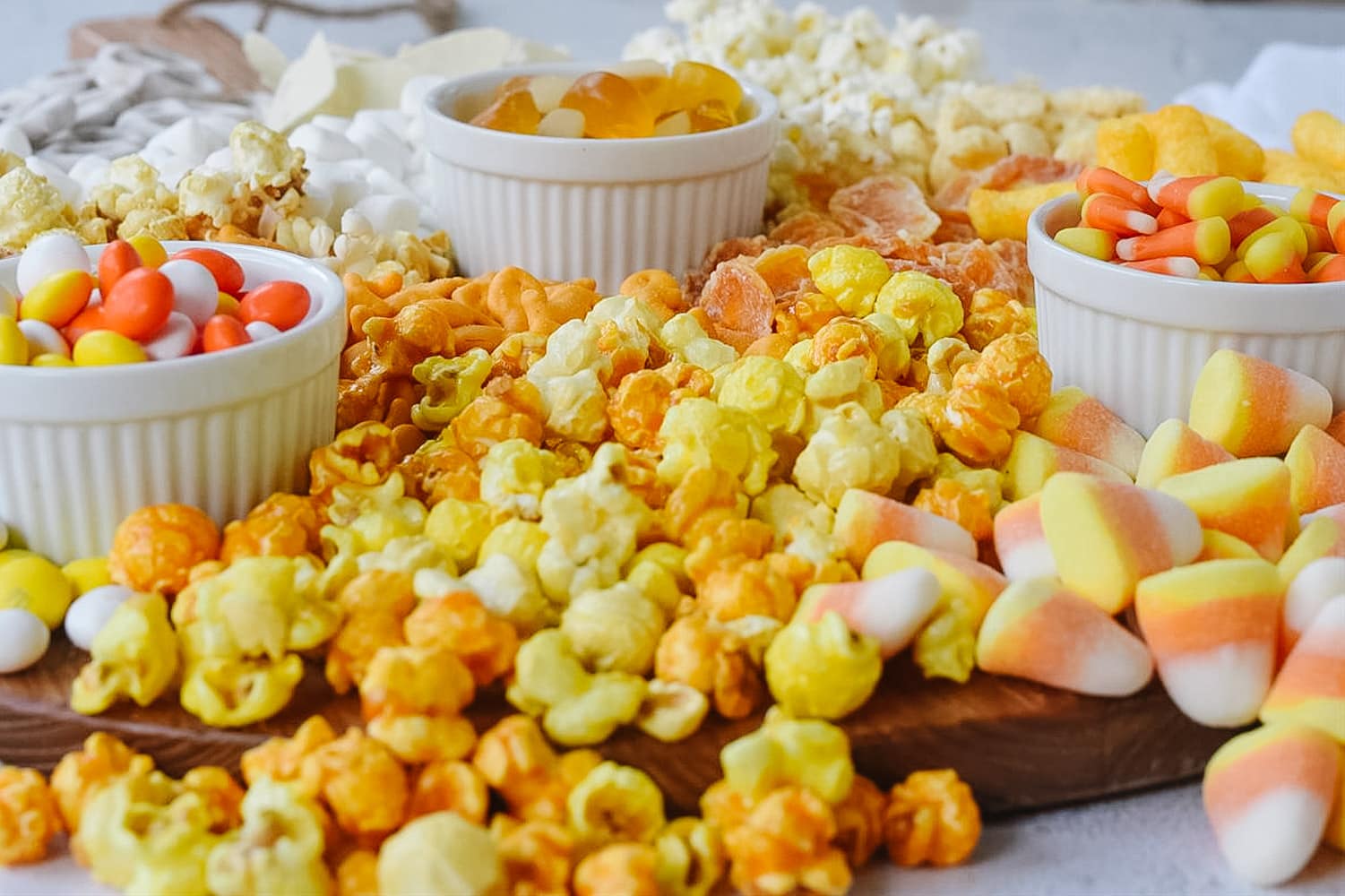 If you come up with any other fun white, yellow or orange snack ideas, let me know!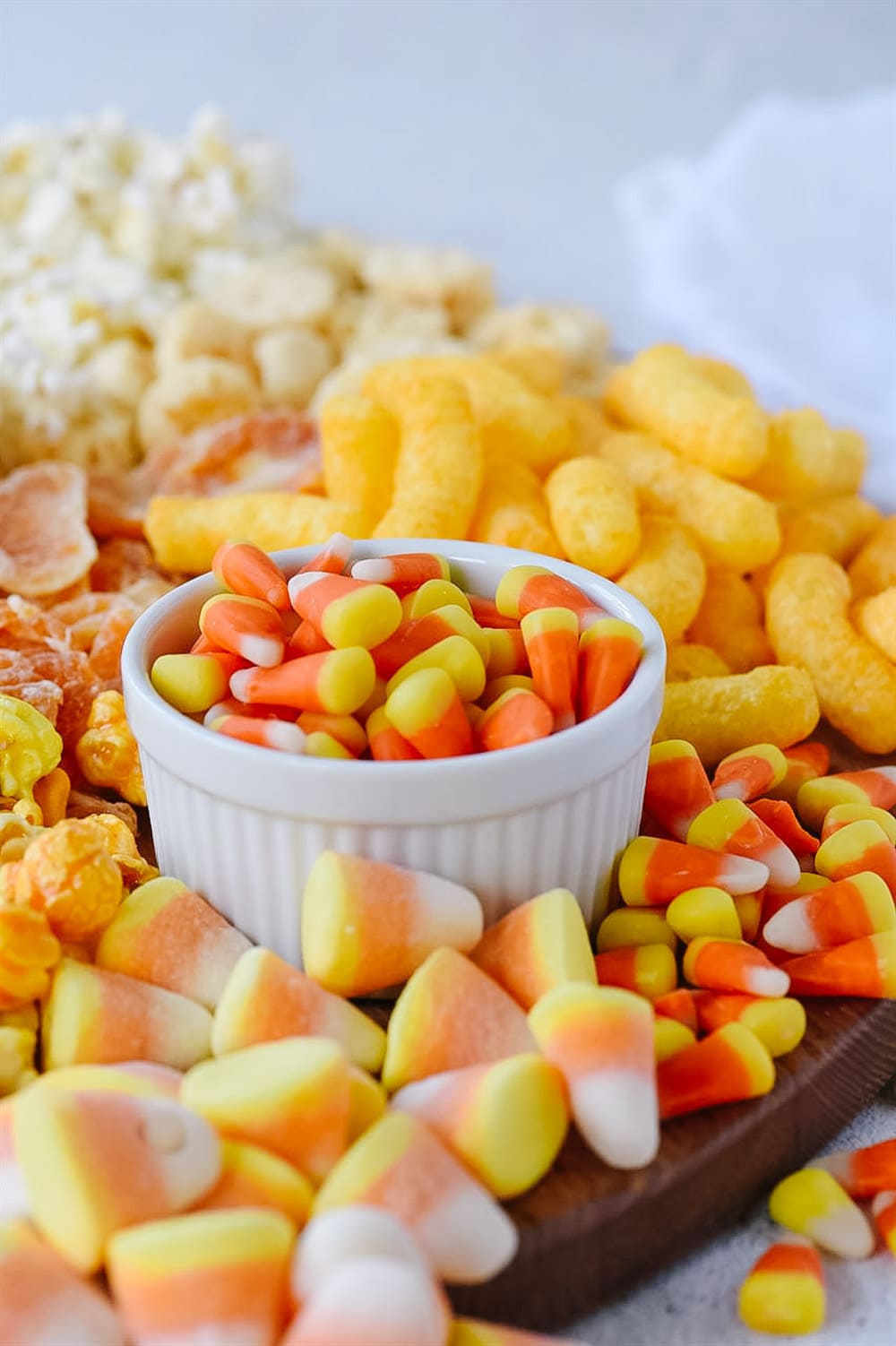 Find some of my other fun Snack Board ideas here:
For all of my other favorite kitchen products and tools visit my Amazon Store.
Did you know I wrote a cookbook? Check out the Holiday Slow Cooker Cookbook for 100 delicious recipes
If you've tried this or any other recipe on Your Homebased Mom, then don't forget to rate the recipe and let me know how it went in the comments below, I love hearing from you!
You can also FOLLOW ME on FACEBOOK, INSTAGRAM and PINTEREST to see more delicious food, party ideas and travel tips and what I'm up to on a daily basis!