This Apple Sheet Cake with Maple Glaze tastes just like fall. The combination of apples, cinnamon and maple syrup screams fall!

Whenever I have to feed a crowd I love a good sheet cake and this apple sheet cake with maple glaze is a good one and tastes just like fall!
I love apple season here in the Pacific NW.  We get lots of different varieties of apples and I love visiting the Farmer's Market in the early fall when they let you taste the different varieties.  One of my favorites is Honey Crisp but I'm a big fan of the Granny Smith apple, especially when it comes to baking.  You get good flavor and texture with a granny smith and they are the perfect addition to this apple sheet cake.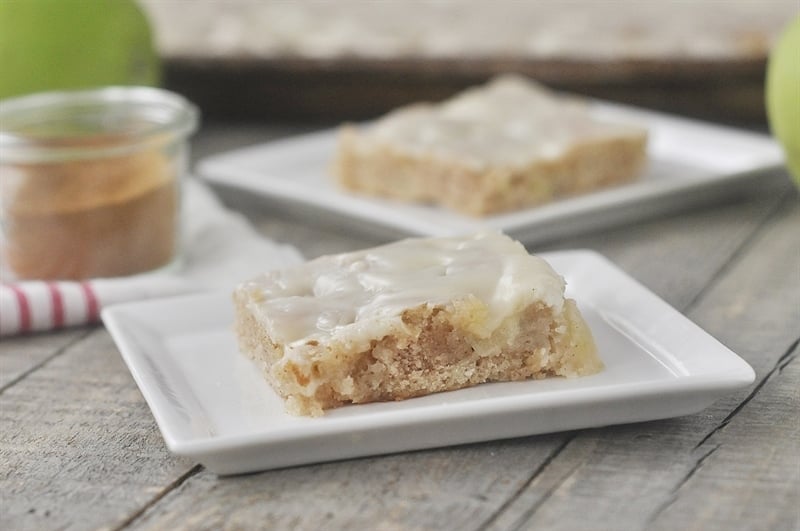 Thanks to the apples, this cake is moist and has just the right amount of sweet.
I'm a frosting girl, so for me, the best part of this cake and any cake, is the frosting.  This one is topped with a delicious maple syrup glaze.  The glaze adds an additional touch of sweetness to the cake and the addition of maple syrup makes it feel and taste even more like fall.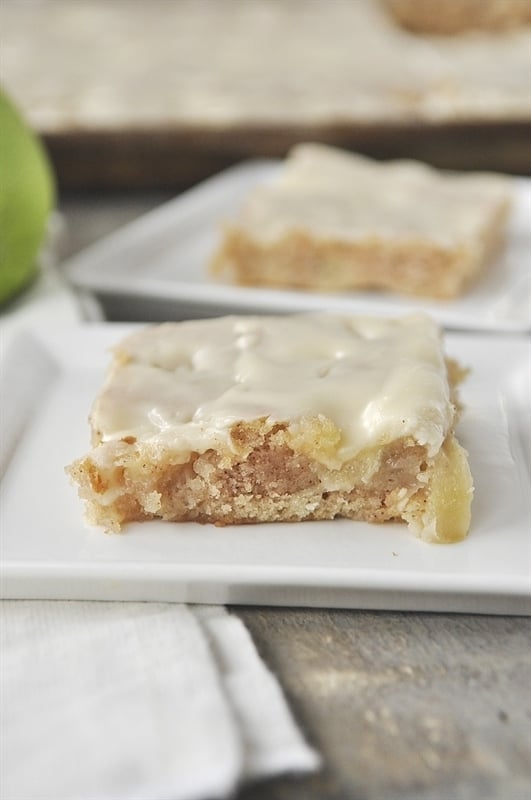 For more apple treats check out these:  My favorite apple cake – Apple Pudding Cake | Apple Pie Ice Cream | French Crumb Apple Pie
Apple Sheet Cake with Maple Glaze
Ingredients
2 cups flour
2 cups sugar
1 tsp cinnamon
1/2 cup butter
1 cup water
1/2 cup shortening
1/2 cup milk
1/2 tsp baking soda
2 eggs
1 tsp vanilla
2 cups granny smith apples peeled and chopped
Glaze
2 Tbsp butter melted
1 Tbsp milk
2 Tbsp maple syrup
1 1/2 cup powdered sugar
1 tsp vanilla
Instructions
In a sauce pan combine butter, water and shortening. Bring to a boil. Stir in flour, sugar, cinnamon and stir to combine.

Add milk, then baking soda, eggs and vanilla to above mixture.

Stir in apples.

Pour into a greased 15 x 13 jelly roll pan.

Bake at 400 degrees for 20 minutes. Cool for 10-15 minutes
Glaze:
Combined melted butter, milk, powdered sugar, maple syrup and vanilla. Add additional milk if needed to make the glaze spreadable.

Stir until smooth.

Pour frosting over cooled cake and spread evenly.