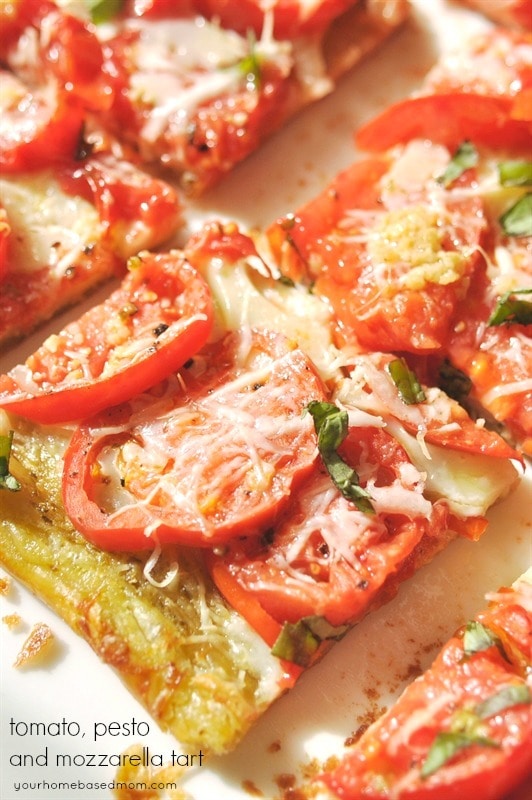 I woke up to two large bowls of tomatoes on my kitchen counter yesterday.
Why is it that they all have to come ripe all at the same time! The tomatoes aren't big this year but they are sweet and juicy.
I knew I had to get busy and start doing something with them. I had book club yesterday morning so I called my friend who was hosting and asked her if I could please bring something – how about a tomato tart I asked? She quickly agreed.
Since book club was in two hours I didn't have a lot of time and I didn't really want to run to the store in my jammies.
So I started opening cupboards and the refrigerator.
I had a frozen puff pastry in the freezer (note to self: always keep a puff pastry in the freezer, you never know when you will need it!) I also grabbed the jar of pesto, the fresh mozzarella I had left over from this, a chunk of fresh Parmesan some garlic and olive oil.  What wouldn't taste good with those ingredients?
I sliced my tomatos and left them to drain on a couple of layers of paper towels.  I gave them a nice shower of salt and pepper.
While the puff pastry thawed  and the tomatoes drained I gave myself a nice quick shower.
Once the pastry was thawed I opened it up and put it onto a parchment or silpat covered cookie sheet. I folded the edges over just a bit and then gave it a nice egg wash. Then I poked it all over with a fork.

I then covered it with a thin layer of pesto and a sprinkling of freshly grated Parmesan cheese.
It then went into a 425 degree oven for about 10 minutes until it was lightly browned.
I then added a layer of shredded mozzarella cheese and my pretty sliced tomatoes.  Add another sprinkling of Parmesan on top.
It then goes back into the oven for another 10 minutes or so.  After it cooled (I served it room temperature) I gave it a sprinkling of some fresh basil.
It was a hit at book club.  In fact, it was so good I made another one for dinner last night since that package of frozen puff pastry comes with two of them.  We grilled up a chicken breast, a nice green salad and a tomato, pesto and mozzarella tart made for a perfect dinner on the back patio!
Do you have a bumper crop of tomatoes this year?  What are you doing with yours?  Think I'll make some of this later this week.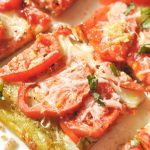 Print
Tomato, Pesto and Mozzarella Tart
Ingredients
1

sheet of frozen puff pastry

thawed

1

egg

beaten

2

Tbsp

pesto

1/2

C

Parmesan cheese

grated and enough to sprinkle on top.

Sliced Tomatoes - number will vary depending on the size of your tomatoes. Mine were small so I used about 6-7. If they are larger you may only need 2-3.

1/2

tsp

salt

1/2

tsp

freshly ground pepper

1

C

mozzarella cheese

grated

1

Tbsp

olive oil

1

tsp

garlic

chopped

2

Tbsp

fresh basil

sliced
Instructions
Heat oven to 425 degrees.

Place pastry on cookie sheet covered with parchment or a silpat.

Fold edges up to form a rim. Poke over the crust bottom with a fork.

Brush with beaten egg.

Spread with pesto.

Sprinkle with Parmesan cheese.

Bake for 10-12 minutes or until golden brown. Put on a cooling rack.

Place sliced tomatoes on several layers of paper towels. Sprinkle with salt and pepper. Allow to sit for about 20 minutes and then blot with a towel to absorb moisture

Sprinkle pastry with mozzarella cheese and place tomatoes on top, overlapping them.

Drizzle with olive oil and garlic.

Sprinkle with additional Parmesan cheese.

Bake for another 8-10 minutes until golden brown. Cool on a wire rack. Serve warm or at room temperature
Adapted from America's Test Kitchen.
Get my Weekly Menu Plan for FREE!
Receive my FREE "What's for Dinner?" Meal Planning Course, a copy of my FREE ebook that includes my most popular recipes and my FREE weekly Meal Plan.